Are you tired of dealing with PDF files that contain unwanted margins or extra content? Or maybe you need to adjust the aspect ratio of your PDF pages to make them more readable on different devices? Whatever your reasons are, crop PDF pages can be a useful and time-saving technique. And the best part is that you don't even need to install any software or buy any expensive tools. With the help of online PDF crop tools, you can easily crop PDF pages for free and without any hassle. In this blog post, we'll show you how to crop PDF online using some of the best tools available on the web. So let's get started and learn how to crop PDF files like a pro!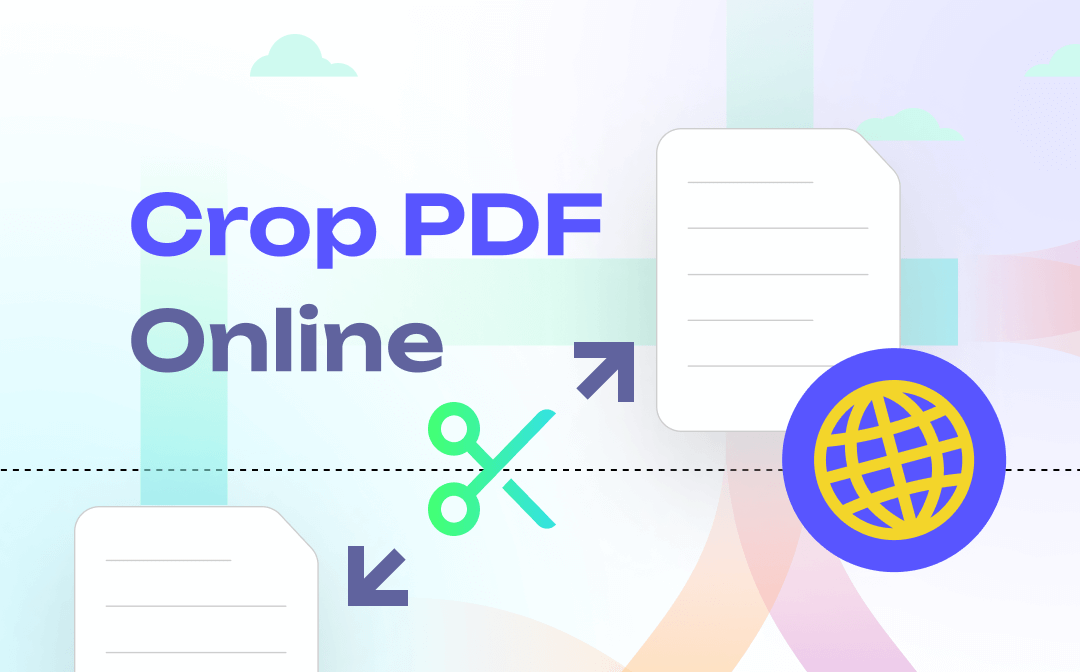 PDFResizer.com
PDFResizer.com is a dedicated online PDF cropper without a desktop program available. As its name suggests, this tool is designed for resizing PDFs. Actually, you can also perform other functions on this website, such as merging, splitting, converting, rotating PDFs, etc., all becomes effortless.
Let's see how to trim a PDF online using PDFResizer.com:
Step 1. Navigate to the official site of PDFResizer.com and click Crop PDF from its top navigation bar.
Step 2. Choose a PDF file from your computer. Then click Upload files!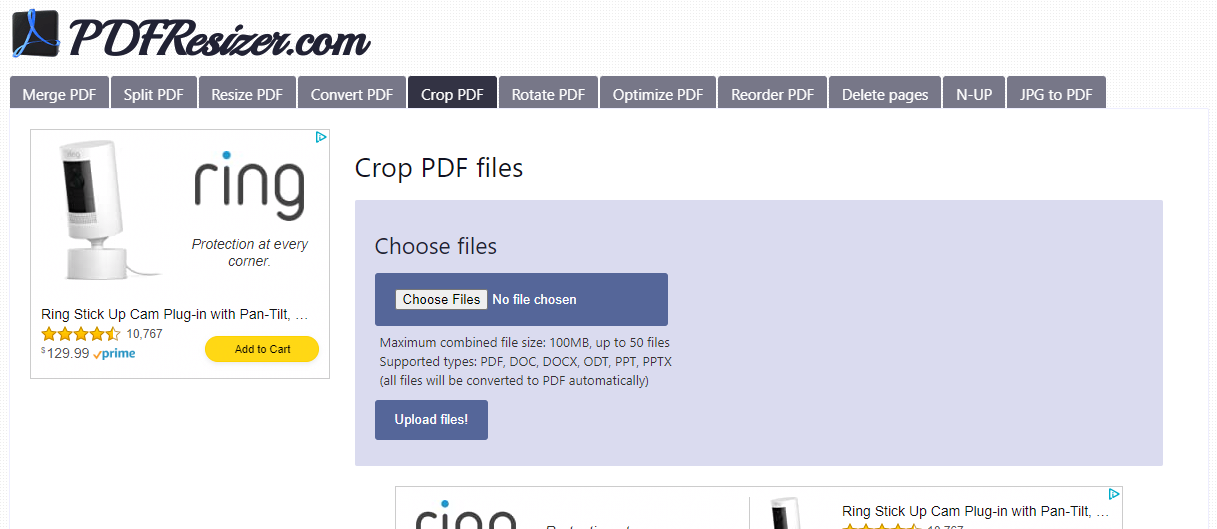 Step 3. Place your mouse over a PDF page and draw an outline that you need to crop.
Step 4. Hit the Crop it! Button to confirm your changes.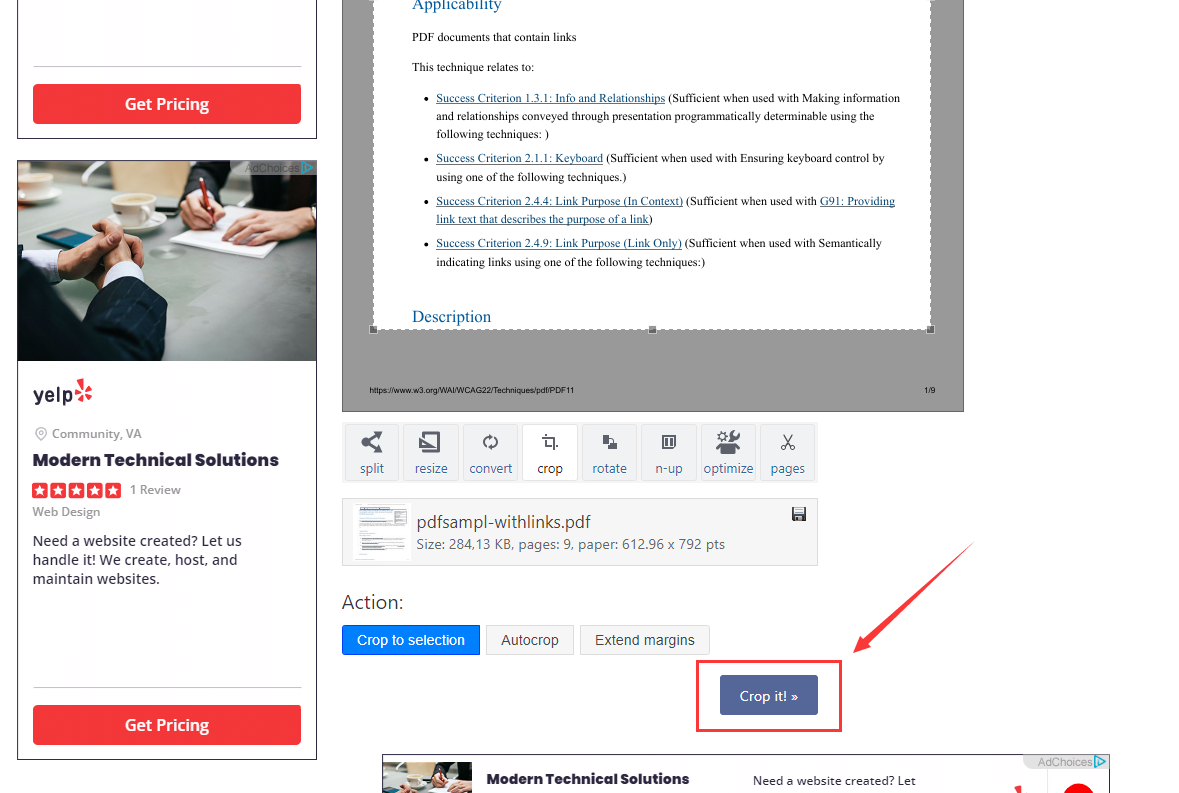 Why you should choose:
Besides PDF, you can also crop Word documents, PowerPoint slides, and Excel spreadsheets because PDFResizer.com will help convert these files into PDFs automatically.
Why you should avoid:
If you only need to crop one page in a PDF, you have to split this PDF file in advance.
Too many advertisement pop-ups are involved.
PDF Candy
At its very beginning, PDF Candy mainly served as an online PDF converter. With its development, more and more PDF-related features are available within this tool. Nowadays, it has already become an all-in-one PDF editing tool that offers comprehensive online services. With 7 years of development, plus it allows users to perform all functions for free, resulting in PDF Candy gaining much popularity and active users per day.
Check the following content to crop PDF online with PDF Candy:
Step 1. Open the PDF Candy website and select Crop PDF from Other PDF tools.
Step 2. Import your PDF file by clicking + ADD FILE.
Step 3. Adjust the crop line with your mouse and click on the Crop PDF button.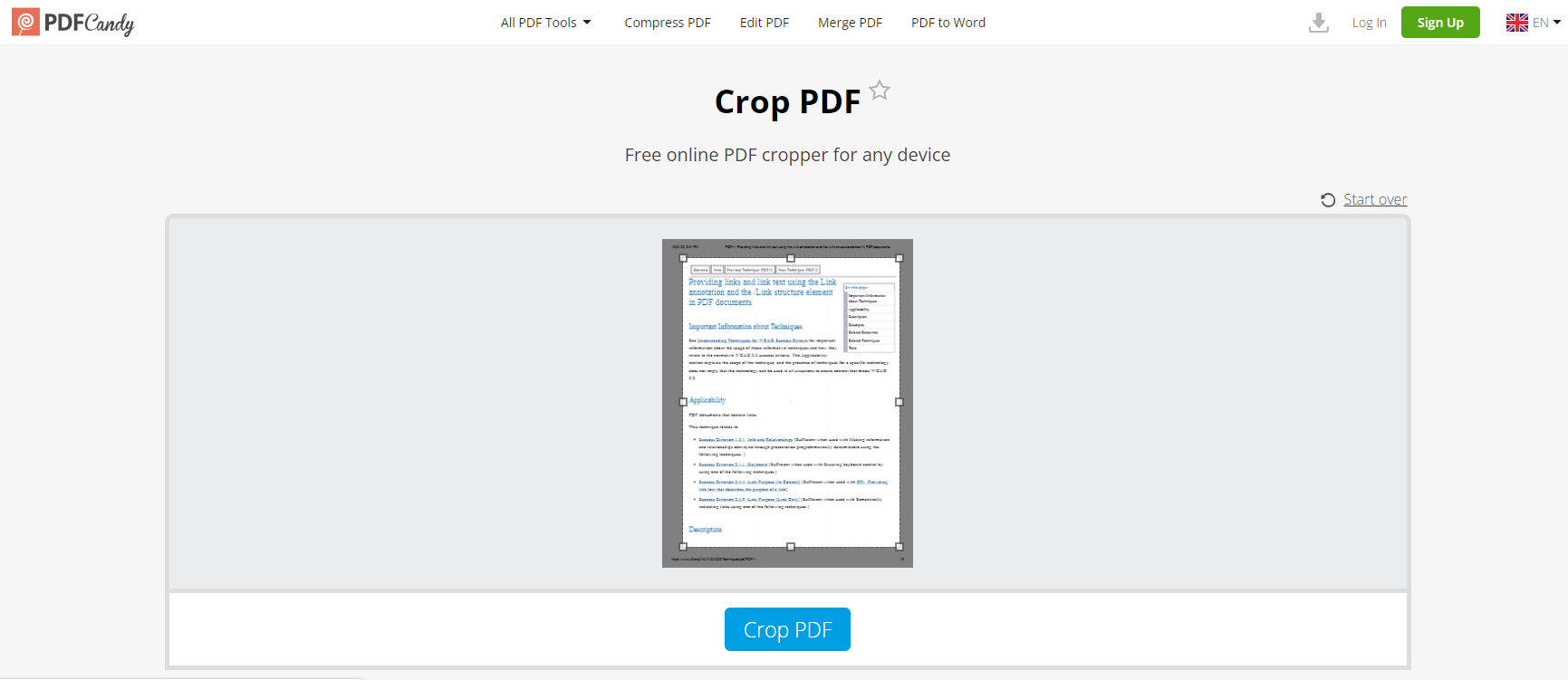 Why you should choose:
Nearly 50 features are provided in this PDF tool.
A desktop program and Chrome extension are also available.
Why you should avoid:
The preview image is too small to check.
Only one free task is offered per hour.
Sejda PDF Editor
"Easy, pleasant, and productive PDF editor." As claimed by itself, Sejda PDF Editor does offer users a clear and navigable interface. Compared to most other online PDF editors, it doesn't present you with many advertisements. And 3 free tasks per hour are guaranteed, which means you can almost use it without spending a penny.
The steps of crop PDF online with Sejda PDF editor can be concluded as followed:
Step 1. Navigate to Sejda.com and select Crop from the All Tools center.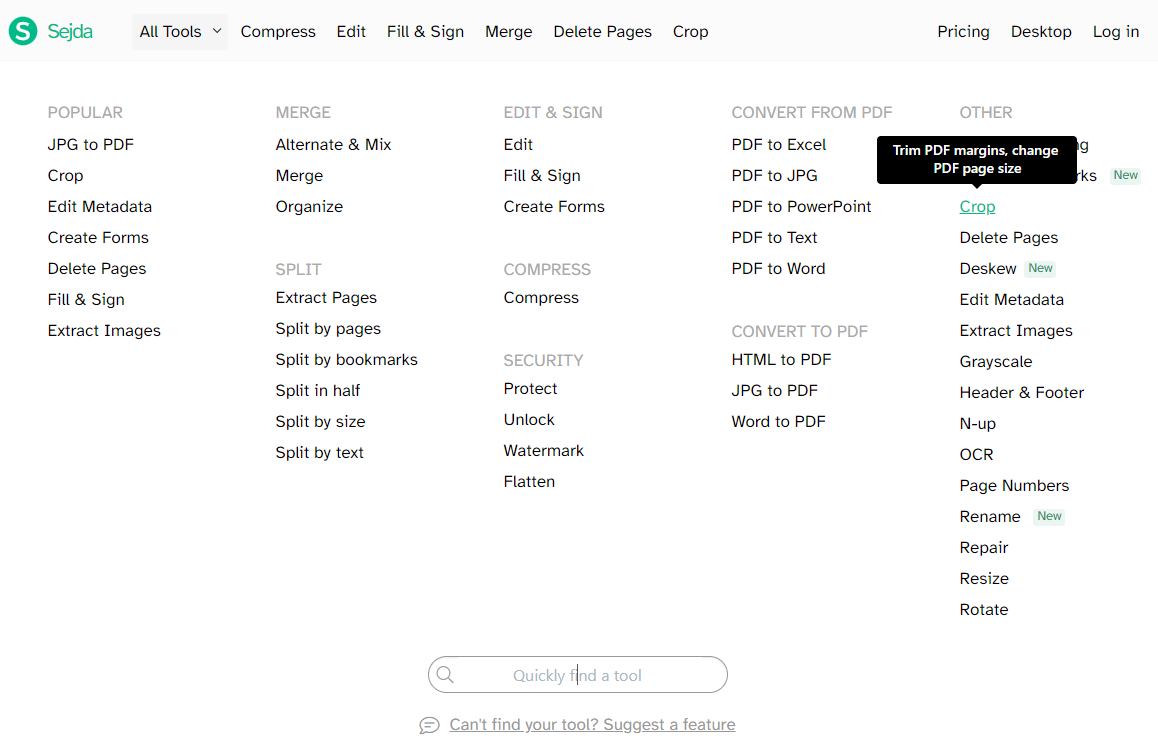 Step 2. Upload the PDF file you want to crop. Sejda PDF offers three crop options: Automatic, Automatic maximum crop, and Manual. Select one and tap the Continue button.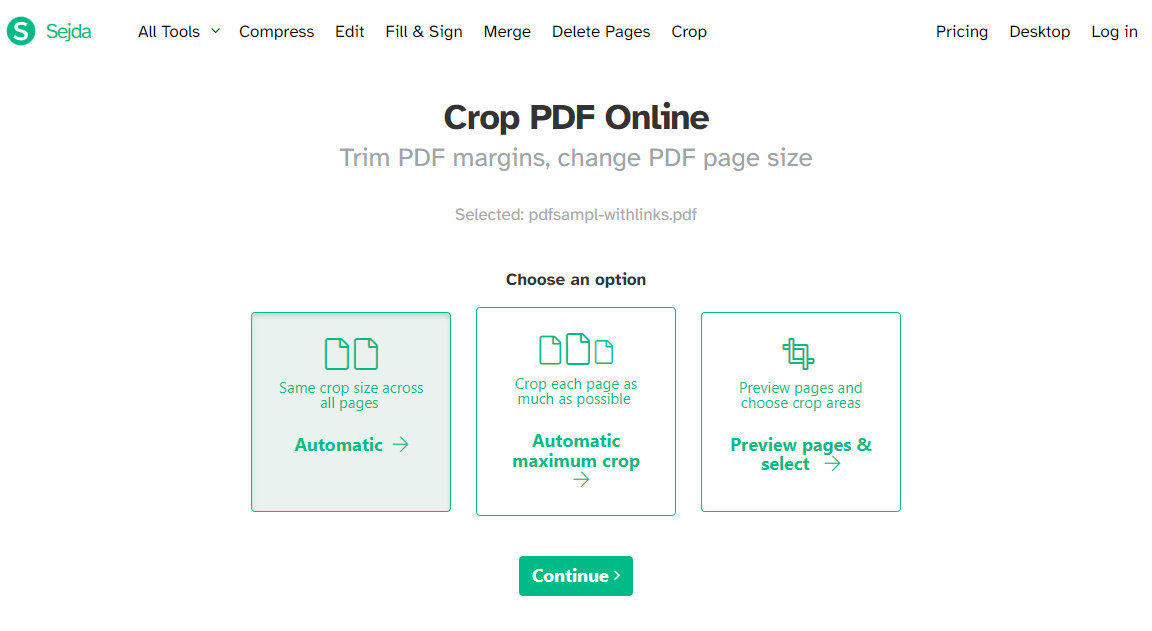 Step 3. Drag the crop line to adjust it. Alternatively, you can input numbers for four edges in your PDF.
Step 4. Once adjusted well, click Crop PDF to start the process. Then download it manually.
Why you should choose:
Sejda PDF Editor releases all its features for free use three times an hour.
No edited PDF files will be added with annoying watermarks.
No advertisements. No signup or login is required.
Why you should avoid:
When using the crop PDF feature, modifying one page will also change other pages.
Sejda PDF Editor is limited if you seek advanced PDF-related features.
Bonus Part: A Handy Desktop PDF Cropper
A great desktop PDF cropper going to be introduced as a bonus part of this blog. All the functions we've mentioned in this article are also acquirable in SwifDoo PDF. It's a Windows-based PDF editor that works smoothly on Windows 11, 10, 8, 7, and XP. Actually, SwifDoo PDF also released an online tool, which is used for converting PDFs to other editable file formats and vice versa.
When cropping PDF files with SwifDoo PDF, you can manipulate a dedicated page without changing other pages. In addition, it also allows you to customize the page range if you have different pages that need to be cropped.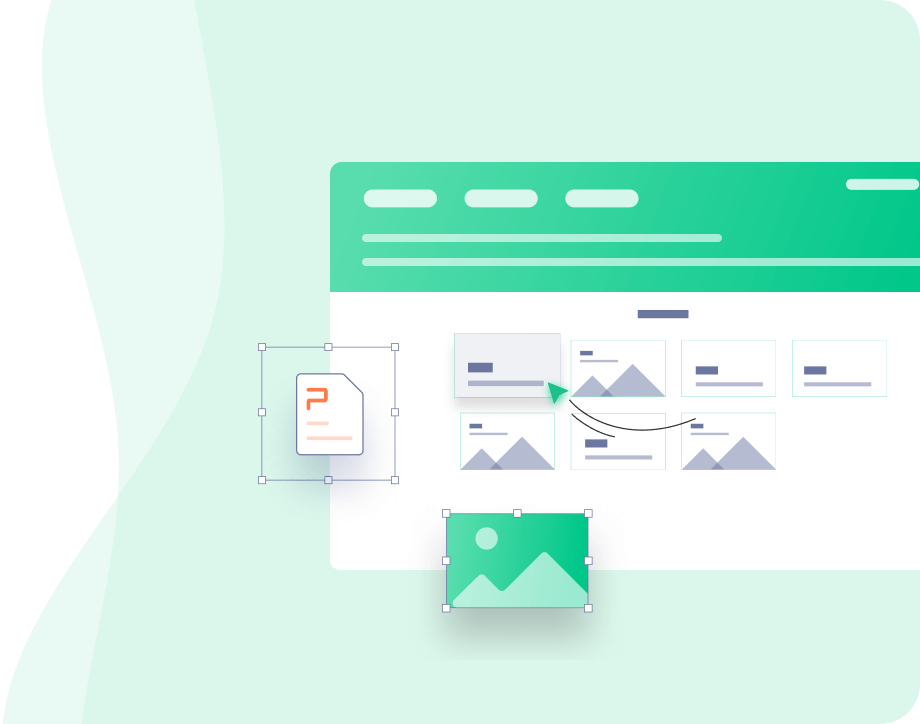 SwifDoo PDF: All-in-One PDF Editor
Annotate PDFs by adding notes, bookmarks, etc.
Convert PDFs to Word, Excel, and other editable files
Edit, compress, organize, and split PDFs
Free Download
Windows 11/10/8.1/7/XP
Here's a simple guide to using SwifDoo PDF to trim a PDF:
Free download and launch SwifDoo PDF on your PC.
2. Open the PDF file you need to resize and click Edit > Crop in the top menu bar.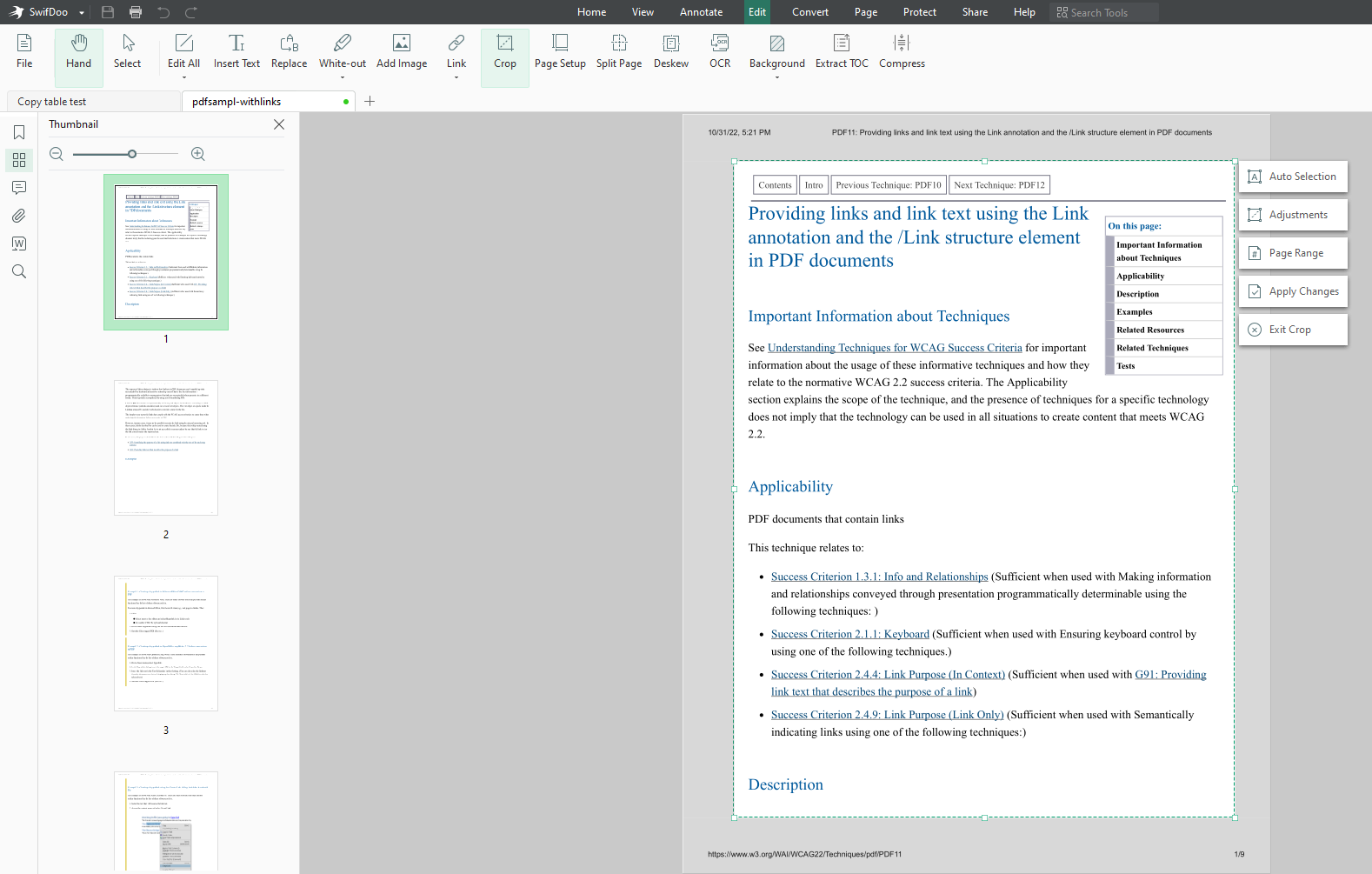 3. Resize the PDF as per your requirements. Then save the edited PDF file.
Why you should choose:
Using desktop program doesn't require any Internet connection.
SwifDoo PDF serves as not only a handy PDF cropper, but also a powerful PDF translator, PDF compressor, PDF editor, etc.
All new users are offered a 7-day free trial to thoroughly test this PDF tool.
Why you should avoid:
It's only available on Windows 11/8.1/7/XP.
The End
In this blog, we've introduced 3 online PDF croppers, with their pros and cons covered. No matter what PDF tool you choose, it can help you crop PDF online without a hassle. In addition, the best Windows PDF cropper, SwifDoo PDF, is also worth a try if you prefer using desktop programs. Free download now and give it a try today!