Introduction:
PDF files are ubiquitous today with broad compatibility across various platforms or systems. But
PDF format
has its limitation. For instance, when there is a need to copy and paste tables or forms from PDF bank statements or invoices to excel files, you may find you can not cut it. One of the best methods to get around the issue is to
convert PDF to Excel
format with software like
SwifDoo PDF
.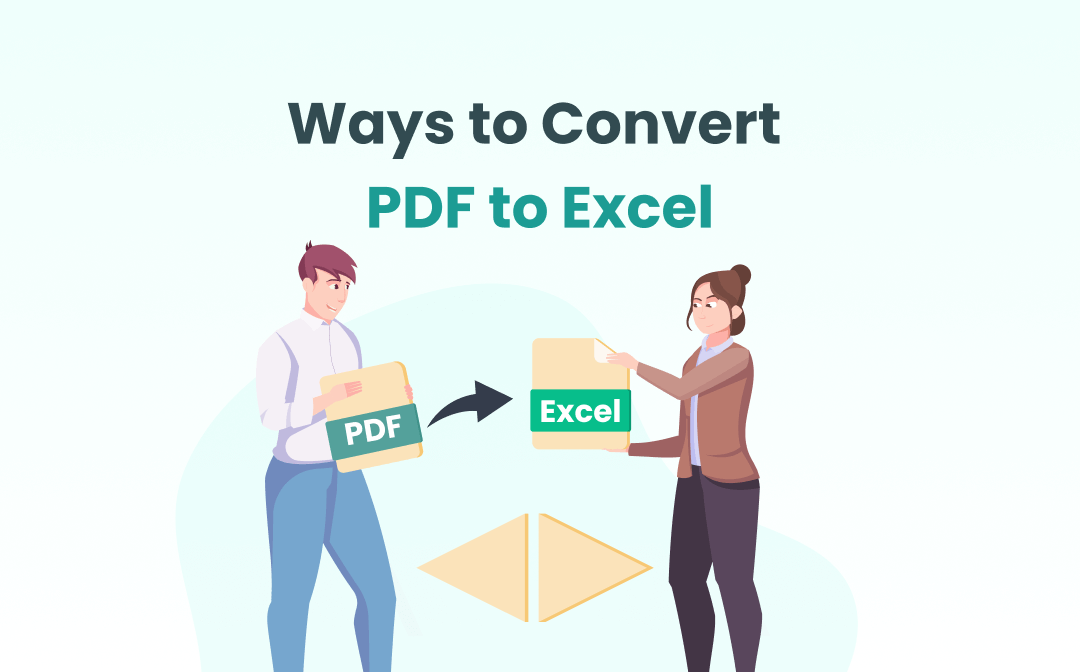 An Excel file is a spreadsheet with common filename extensions .xlsx and .xls., which may contain worksheets or workbooks. To make minimal adjustments to tables or forms, converting a PDF to an Excel file requires keeping original formatting intact as much as possible. To meet the goal, we've compiled several best offline and online converters for Windows, macOS, and other devices and explained how to convert PDF to Excel with them.
Convert PDF to Excel Offline
A desktop-based PDF program is a must-have for converting a PDF to an Excel document offline. The advantages of using desktop programs include: users can access their features at any time on PCs, and your files are relatively safe compared to using online converters. A desktop application has the ability to convert multiple PDF documents to Excel files at once, which will save you much time and energy. What's more, an offline PDF software product normally has more tools rather than just a converter to meet almost all PDF-related needs.
Based on Windows and macOS operating systems, SwifDoo PDF and Adobe Acrobat are introduced in this part.
How to Convert PDF to Excel on Windows
If you are struggling with converting PDF from/to another format on Windows PCs, SwifDoo PDF comes in handy. SwifDoo PDF's powerful converter allows you to convert PDF to Excel, Word, PPT, CAD, and vice versa with layout and formatting unchanged. With the program, batch converting PDF documents is child's play. A great thing about the SwifDoo PDF desktop application is it can convert a PDF to an Excel file in a single sheet, which is convenient for users to view and edit.
Now check the step-by-step tutorial to find out how to convert PDF to Excel without losing formatting.
Step 1: Free download and launch SwifDoo PDF software. Open up your invoice or bank statement PDF within it;
Step 2: Tap on Convert on the top menu bar, and choose PDF to Excel;

Step 3: Within the SwifDoo PDF Converter dialog box, specify the page range for the conversion;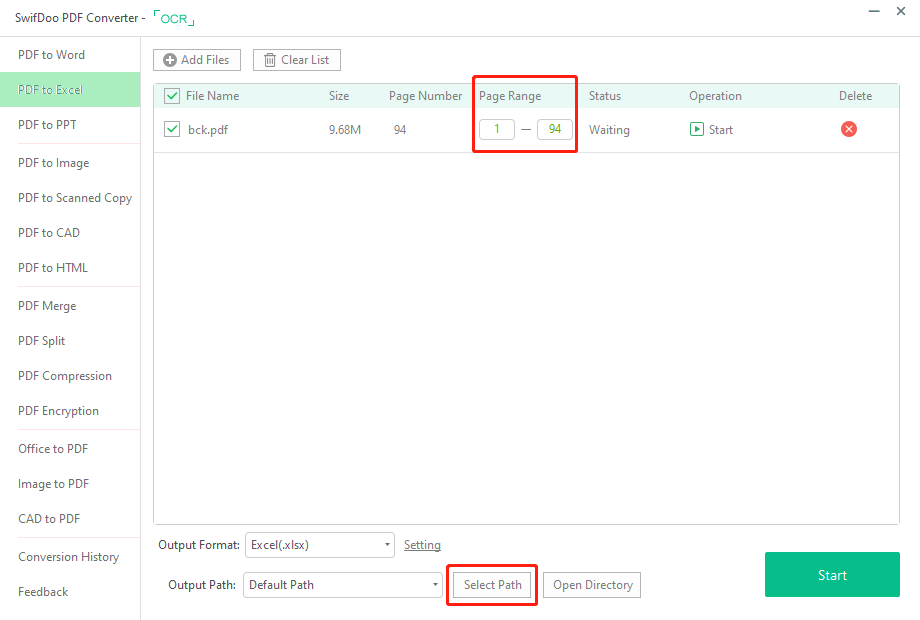 Step 4: Click Select Path at the bottom to select where to save the exported Excel file. Hit Start to convert PDF to Excel.
Tips:
When needed, SwifDoo PDF can convert a permission password-protected PDF to an Excel file with its
PDF decryption feature
. To do so, you need to remove the permission password and then convert the PDF.
SwifDoo PDF software is an all-purpose PDF solution, enabling users not only to convert, but also to compress, rotate, password protect, decrypt PDF documents, and do more with PDFs instantly. We offer a desktop application that can run on Windows 10, Windows 11, Windows 7, and 8. Click the link below to free download SwifDoo PDF.
How Do I Convert Multiple PDF Documents to Excel Files at Once?
SwifDoo PDF makes it easy to convert multiple PDF documents with its batch processing ability. Following Step 1 and Step 2 above, you can click "Add Files" in the SwifDoo PDF Converter interface to import all PDF documents you wish to convert to Excel files. Alternatively, just drag and drop the PDFs into the conversion workspace. Then, adjust the settings and press the "Start" button. This is how to convert PDF to Excel in batch at once.
How Do I Convert a Scanned PDF to an Excel File Using OCR?
Optical Character Recognition (OCR) technology makes the recognition of printed characters in scanned or image-based PDFs no longer a headache. SwifDoo PDF comes with a powerful OCR feature.
To convert your scanned PDF to an Excel file using OCR, you can choose "Setting" in the SwifDoo PDF Converter dialog box to tick "Enable OCR..." before hitting the "Start" button. After converting, the formatting and layout will remain the same to the greatest extent so that you can easily copy the tables and analyze the data.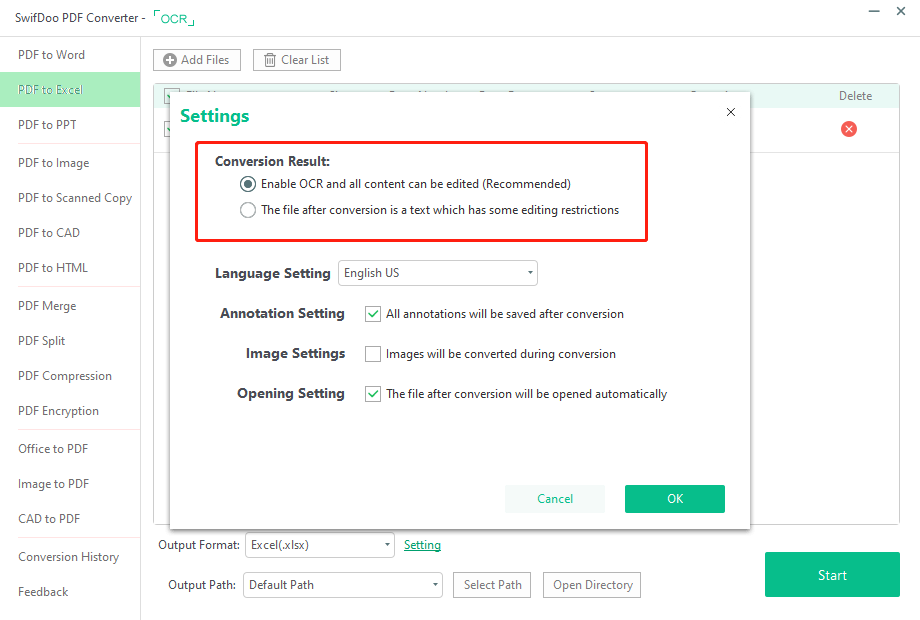 How Do I Convert a PDF to an Excel file without an Email Account?
SwifDoo PDF provides a 7-day free trial for every new user without email information or an account. During the trial, all features are accessible. Therefore, you can convert a PDF document to an Excel file without email as long as you are new to SwifDoo PDF and download the software.
How Do I Edit a PDF File without Converting It?
While we're talking about how to convert PDFs to Excel, what many people really want to know under this question is how to easily edit PDFs. The PDF editing feature of SwifDoo PDF allows you to edit and extract data from a PDF without converting it to Excel.
You can directly change the content and copy and paste the text and images in a PDF to another file. Inserting hyperlinks, text boxes, and external pictures into PDF pages is a piece of cake. But copying and pasting forms from a PDF essentially require converting the PDF to an editable Excel or Word document.
Can I Use SwifDoo PDF on Other Different Devices?
Yes, users can switch different computers or laptops to use SwifDoo PDF. What's more, if you subscribed to a yearly or perpetual plan, the SwifDoo PDF program allows you to perform tasks on 2 devices simultaneously.
How Can I Convert Excel Back to PDF?
Creating a PDF from an Excel file is as easy as pie with SwifDoo PDF. If you want to learn how to convert Excel to PDF, please read the post below.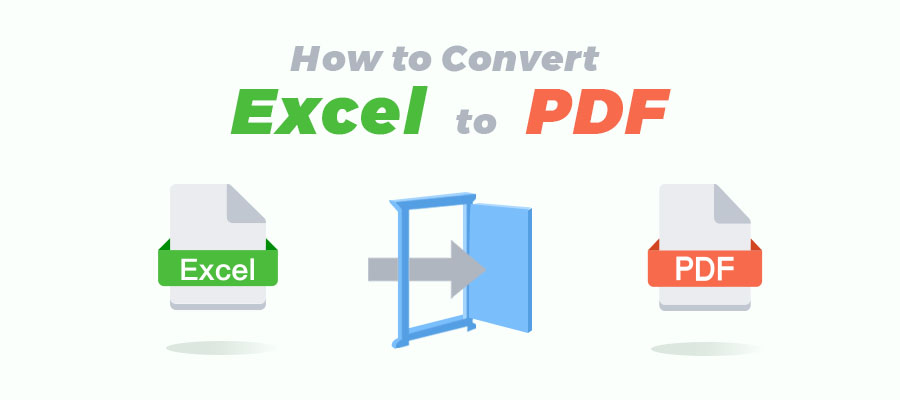 How to Convert Excel (.xls and .xlsx) to PDF with Online & Offline Tools
An Excel having grid lines and borders may lost its data and layout in file transfer. Sometimes we need to save an Excel into a PDF.
READ MORE >
How to Convert PDF to Excel on Mac
Adobe Acrobat Pro DC is one of the most ideal offline PDF conversion software. It lets you instantly convert a PDF to a Microsoft Excel Workbook (.xlsx) or XML Spreadsheet 2003 while keeping the overall formatting. Additionally, Adobe Acrobat is an all-inclusive solution to nearly all PDF-related needs for both Windows and Mac platforms.
Let's take a look at how to convert PDF to Excel on macOS.
Step 1: In Adobe Acrobat Pro, choose Export PDF in the right toolbar;
Step 2: Select the exported file format as spreadsheet and Microsoft Excel Workbook, then click Export;
Step 3: Hit Save to export the PDF as an Excel file. Adobe Acrobat Pro will automatically recognize scanned text in your PDF document if there is.
Tips:
When you don't need to convert a whole PDF, Adobe Acrobat Pro allows you to select and extract only a table area as an Excel sheet.
Though Adobe Acrobat Pro is undoubtedly the market-leading software for PDF document management and manipulation, its price is a little bit high. To convert a PDF to an Excel document on Mac, we will also introduce 2 online converters in the next part.
Convert PDF to Excel Free Online
An online converter usually offers free service every day and can be used on any device. As it runs through a web browser, you don't need to download, install, or register an application, which is suitable for users in urgent need.
How to Convert PDF to Excel Using PDFtoExcelConverter
PDFtoExcelConverter is a 100% free converter that can convert PDF files to Excel files online without email or account. The best part about it is there is no limit on file size or number, which most other online converters have. But you should have a good network connection. Concerning your file security, the website claims all the uploaded PDF files will be permanently deleted from their server after 6 hours and they do not create any backup.
Let's find out how to convert PDF to Excel with this freeware on Mac, Windows, or any other OS online.
Step 1: Click Upload on the converter website to upload the PDF file you wish to convert to an Excel worksheet;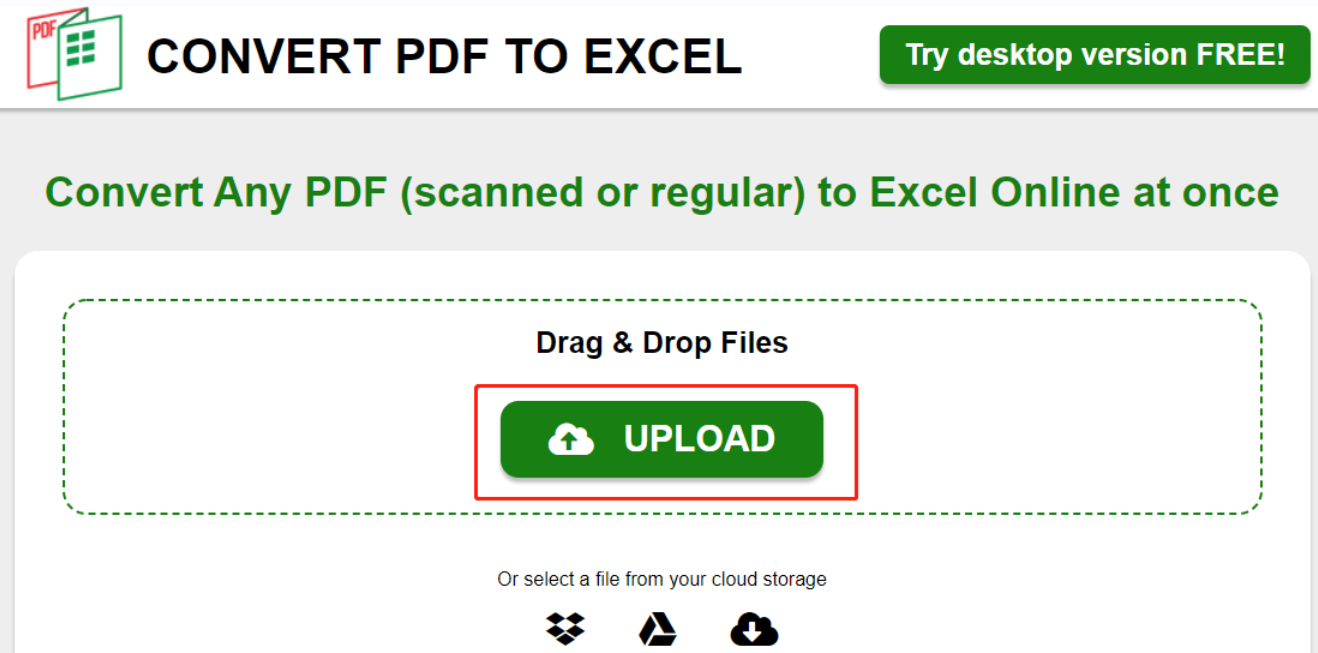 Step 2: Once the PDF is uploaded and automatically converted press the Download button.
This online conversion tool converts a PDF to an Excel file in .xlsx format. OCR runs automatically during converting a scanned PDF but the conversion result seems not that acceptable. lt doesn't support batch conversion. If you want to convert multiple PDFs to Excel files at once or convert a scanned PDF, it's recommended to use desktop software like SwifDoo PDF.
How to Convert PDF to Excel Using Google Drive
If you work regularly with Google Drive through a web browser, a Drive-connected PDF converter is of use. Smallpdf and PDF Converted are two such software allowing you to convert PDF files to Excel files through Google Drive online. The guide to achieving the goal by using Smallpdf is explained in a step-by-step manner.
Step 1: Upload and open a PDF file in your Google Drive. Tap on Open with to choose the app;
Step 2: Click on Tools and select PDF to Excel;
Step 3: Choose Convert to Excel and hit Choose option to start the conversion.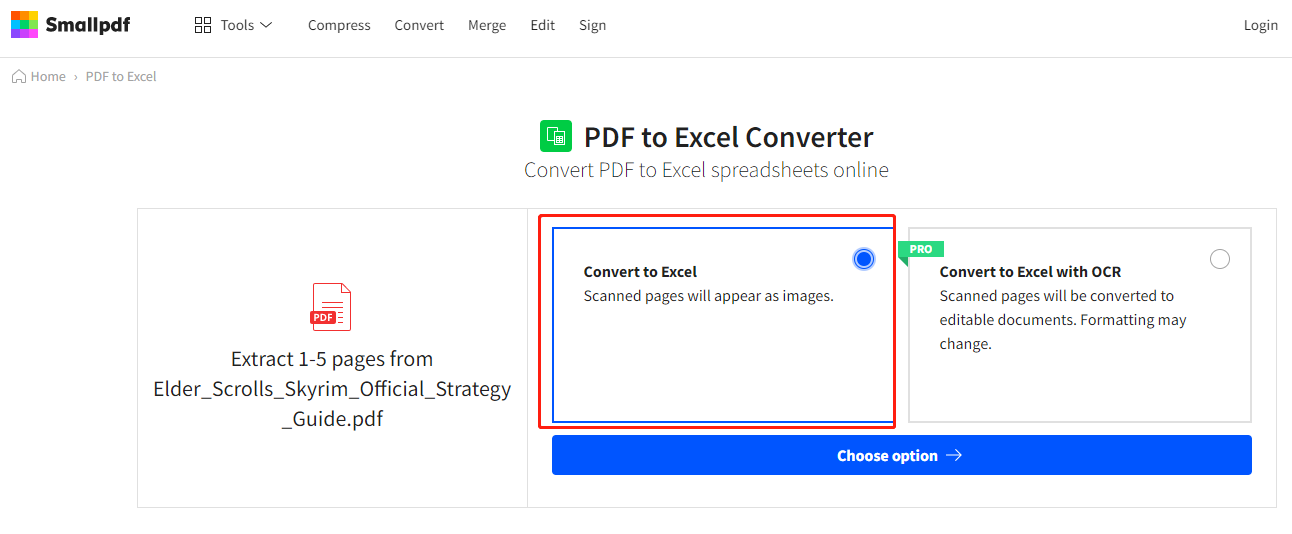 After the conversion is completed, you can save the editable Excel file to Google Drive, or Dropbox or download it to your computer. To convert a scanned or image-based PDF using OCR, you need to upgrade Smallpdf to the Pro version which will require a subscription.
PDF Converted is another freeware in Google drive for you to convert a text-based PDF to an Excel file online. To integrate Smallpdf or PDF Converted to your Drive, you need first go to Google Marketplace Workspace to install it.
What is the Best PDF to Excel Converter?
PDF software has been a must-have for a boatload of businesses, schools, and individuals. The best PDF to Excel conversion software should convert a PDF to an Excel file swiftly without losing formatting, which saves you time and effort to edit the tables or data. It's better to be multi-purpose so that you can turn a batch of PDF files into Excel worksheets or workbooks at once.
Online converters suit those who want to save a PDF document as an Excel worksheet once in a while, and offline/desktop programs better meet your needs for high quality, frequent and efficient PDF conversions.