Introduction:
Excel belongs to the Microsoft Office Suite, a popular spreadsheet program for data analysis and documentation. When sharing or distributing Excel worksheets, it may confuse you that your Excel workbook is displayed in a totally wrong format when opened on different devices. Actually, this is caused mainly by formatting. Here's how to convert Excel to PDF without losing formatting.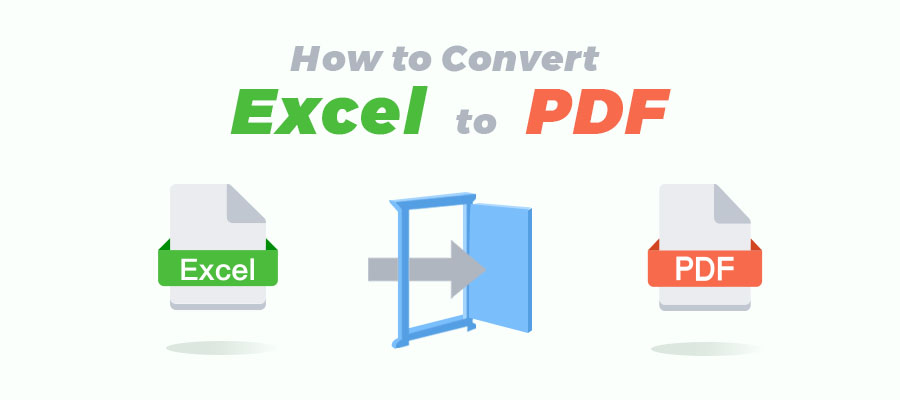 Convert Excel to PDF with Desktop PDF Tools
SwifDoo PDF
SwifDoo PDF is an device-agnostic PDF converter, with the ability to convert multiple Office formats to PDFs, including Excel. As to convert Excel worksheets to PDFs offline, SwifDoo PDF simplifies the conversion process and convert an Excel spreadsheet into a PDF in one page. Let's look at how to work with SwifDoo PDF to convert an Excel into a fillable PDF for free.
Step 1: After downloading and installing SwifDoo PDF on your computer, launch the program;
Step 2: Since this is your first time to opening the application, you can click PDF to Word or PDF to Image to activate the SwifDoo Converter;
Step 3: When a new window pops up, select Office to PDF;
Step 4: Upload the Excel worksheet from a local computer, choose where to store the PDF, and hit the Start button to finalize the conversion process.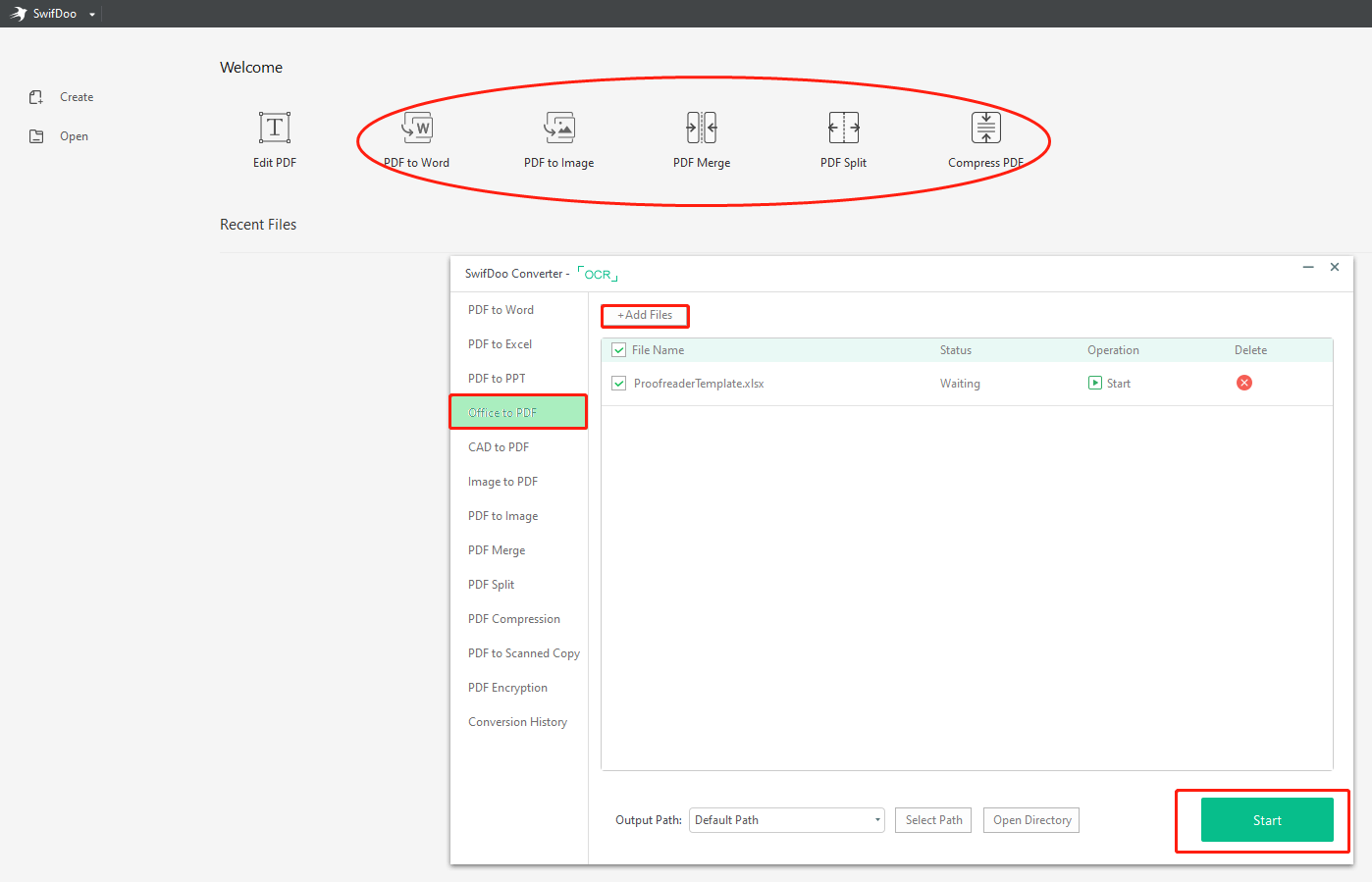 If you need to batch convert multiple Excel files into PDFs, just click "Add Files" to upload more Excel files to the workplace, and that's it. SwifDoo Converter will help you turn these Excel files safe and sound. The conversion speed largely depends on the file size.
Microsoft Office
Before converting Excel to PDF, the priority is to set page layout and design in Excel. These elements are usually ignored and invisible in Excel sheets, but they matter greatly when converted to PDF.
Since PDF displays content page by page, it is crucial to set the page layout in the right orientation and keep/adjust page margins. By clicking on Page Layout, you are allowed to alter the margins, orientation, page size, and other settings.

By Save As
When the layout of your document is correctly organized and everything has been set up accordingly, it's time to start converting. To save the Excel sheet as a PDF document, you can follow the steps below to transform an Excel spreadsheet into a PDF in Office 2010: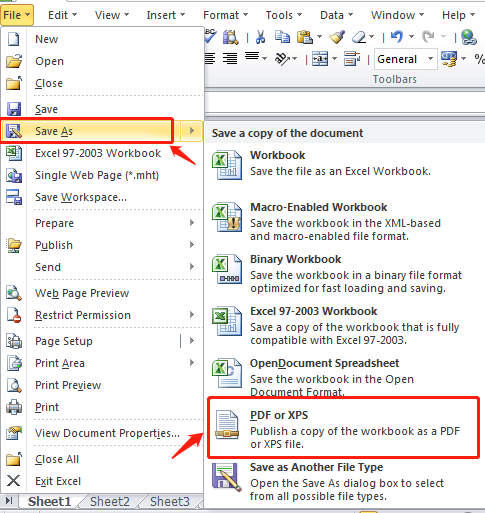 Step 1: First things first, save all the changes made in the Excel file by clicking on the Save icon in the top left corner or by using the Ctrl + S shortcut key;
Step 2: Go to the File tab and click Save as or use F12 to pop-up the following window (see image);
Step 3: Click Browse and a second window will pop up (see image);
Step 4: At this step, you'll be promptedto choose a file location and rename the PDF document.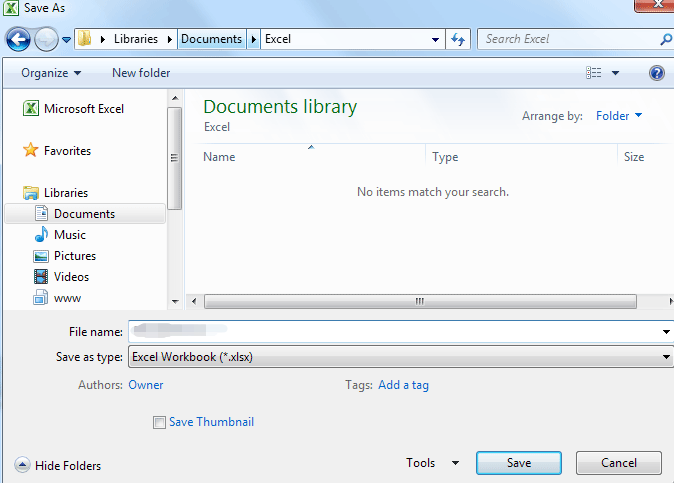 If you need to change the output format, click Save as type to choose .xlsx or .xls.
By Export
If you are running Microsoft Office 2013 on your PC, you can try another method - Export, to transform an Excel document to a PDF, which only takes a few more clicks to finish: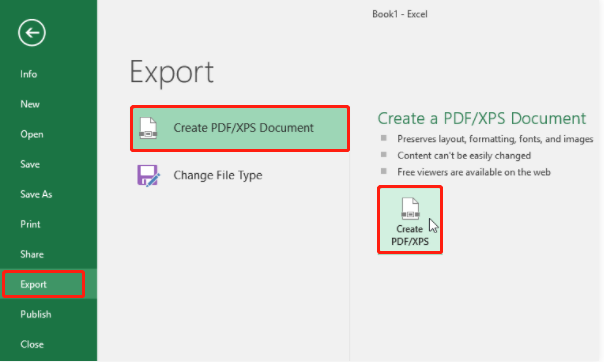 Step 1: Find the File tab and click Export (see image);
Step 2: SelectCreate PDF/XPS Document and the next window will pop up;
Step 3: Enter the file name or change the output location for this PDF document;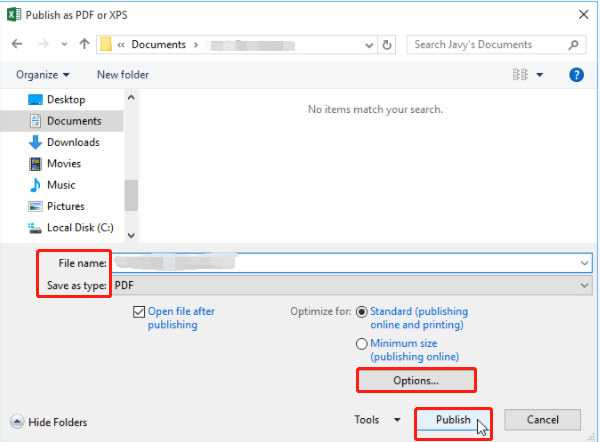 Step 4: If you only want to export aportion of an Excel or make other changes, click Options to make corresponding changes. Don't forget to tick the Entire workbook box if in need of saving the whole Excel worksheet into a PDF.
Convert Excel to PDF on Mac
For Mac users, converting Excel spreadsheets into PDFs is a breeze. With the built-in PDF viewer Preview, users can complete many different conversion tasks, including Excel to PDF conversion. Here's how to:
Step 1: Open the Excel spreadsheet in Preview;
Step 2: Click the File tab and move your cursor to the Print option;
Step 3: Choose Save as PDF in the pop-up Print window.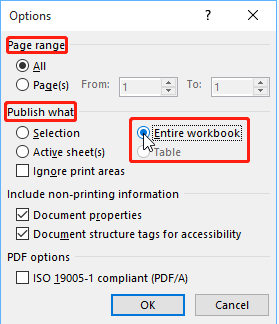 Tips:
Users can rename the newly created PDF and choose where to export the file. If you need, click Security Options to enhance the file security for the PDF. Finally, hit the "Save" button to output the file.
Convert Excel to PDF with Online PDF Tools
Besides the aforementioned program, most web-based PDF converters (Online2PDF, iLovePDF, Zamzar) are available to help you process a large number of digital files, including converting an Excel sheet to a PDF document. Here's the how-to:
Let's take iLovePDF as an example for exploring how to complete the conversion process:
Step 1: Open the official website and select Excel to PDF;
Step 2: Upload your Excel documents from either a local computer or cloud service provider (Google Drive or Dropbox);
Step 3: The newly created PDF document will automatically download once you finish the above operations.

Furthermore, you are free to save this document into your Google Drive or Dropbox account. If all of these methods are inconvenient to you, you can alternatively share a downloadable link or scan a QR code to access the PDF document.
Conclusion
Turning an Excel worksheet into a PDF is an easy work, and the key point is to make use of reliable technologies. To employ a professional PDF program can ensure a time-saving process and the desired conversion results.