Are you tired of buying generic, boring birthday cards from the store? Do you want to add a personal touch to your greetings without spending too much time or money? Look no further than a birthday card maker! With the help of these tools, you can create unique, customized birthday cards that will impress your loved ones and show them how much you care. In this article, we'll explore the benefits of using a birthday card maker, the features to look for, and the top options available in the market. Get ready to unleash your creativity and design the perfect birthday card for any occasion!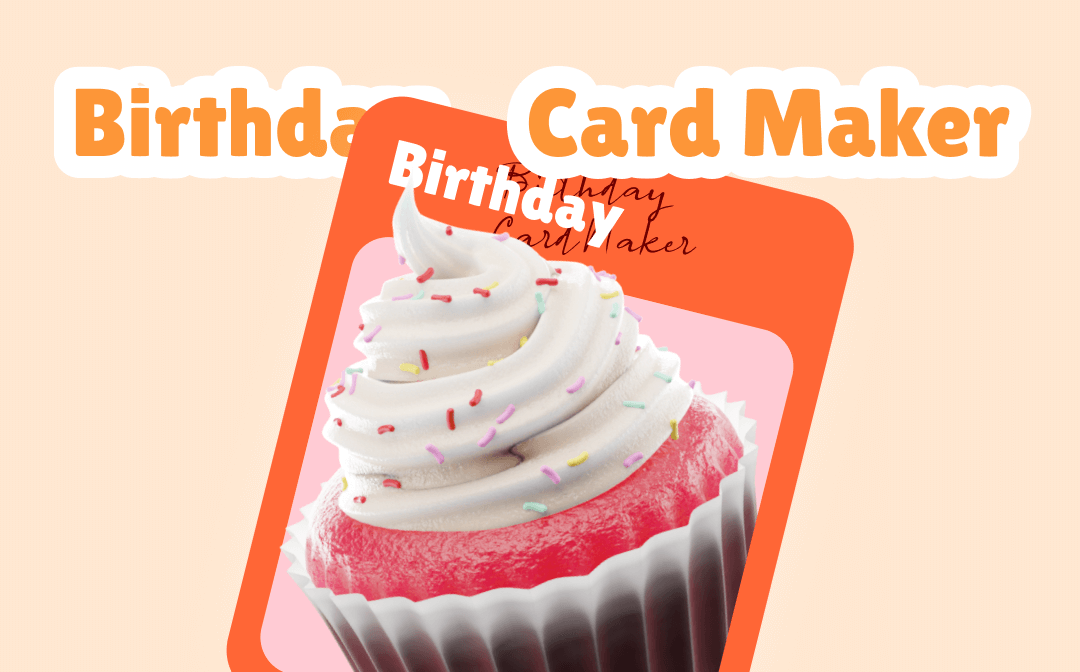 SwifDoo PDF
SwifDoo PDF is a Windows-based PDF editor that provides lots of features to address PDF-related issues. With its aid, you may easily create PDFs from other file formats and blank pages, as well as customize images and text styles in this PDF. You can also print PDFs as per your requirements within this program, offering you great convenience to design a birthday card.
To create a birthday card with SwifDoo PDF, you can collect any related elements from the Internet and use them via SwifDoo PDF to create a unique and special birthday card. In addition, SwifDoo PDF enables you to share a birthday card to email or store it to Dropbox or Google Drive in one click.
Here's how you can use SwifDoo PDF as a birthday card maker:
Step 1. Download and install SwifDoo PDF on your computer.
Step 2. On its homepage, click Create > Blank. Then select a preferred page size and click Confirm.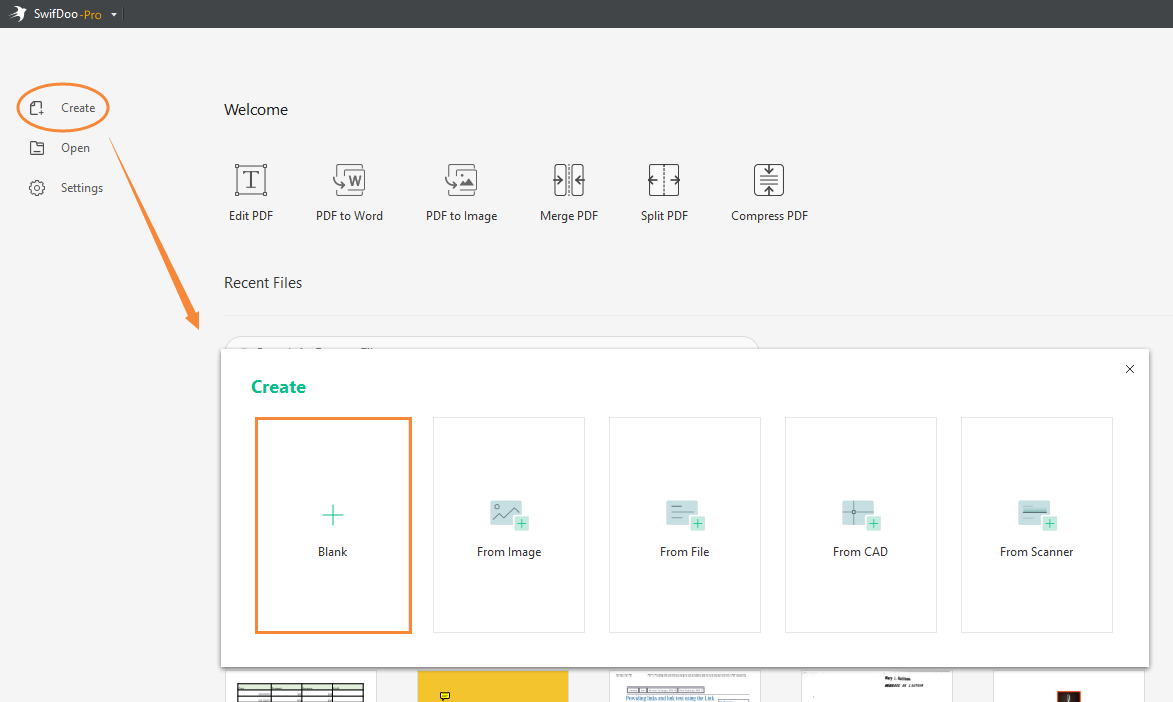 Step 3. Type your greeting words on this PDF page and insert images to the PDF.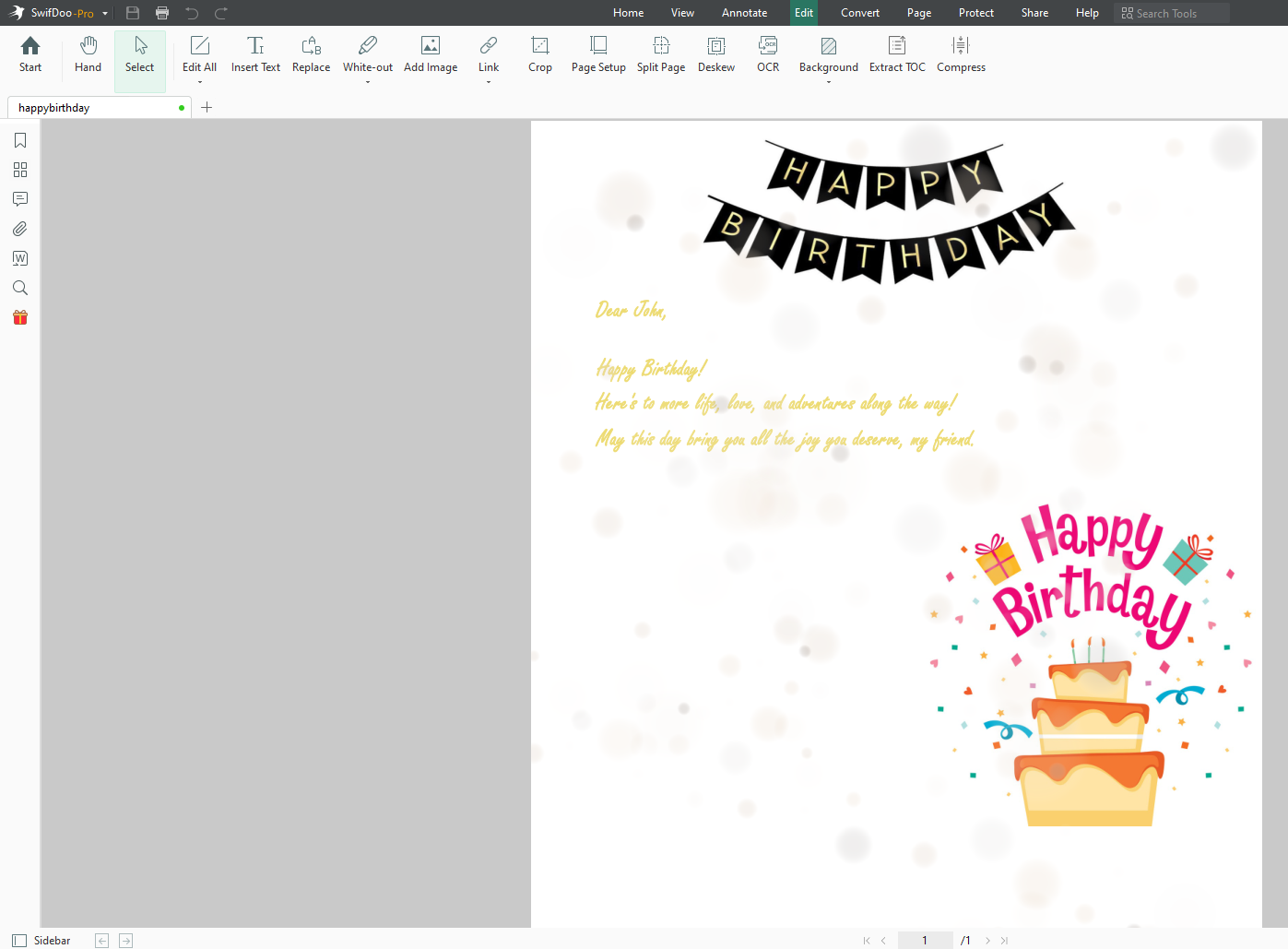 Tips:
SwifDoo PDF offers fonts style as many as Microsoft does, which enables you to create birthday cards with handwriting texts.
Greetings Island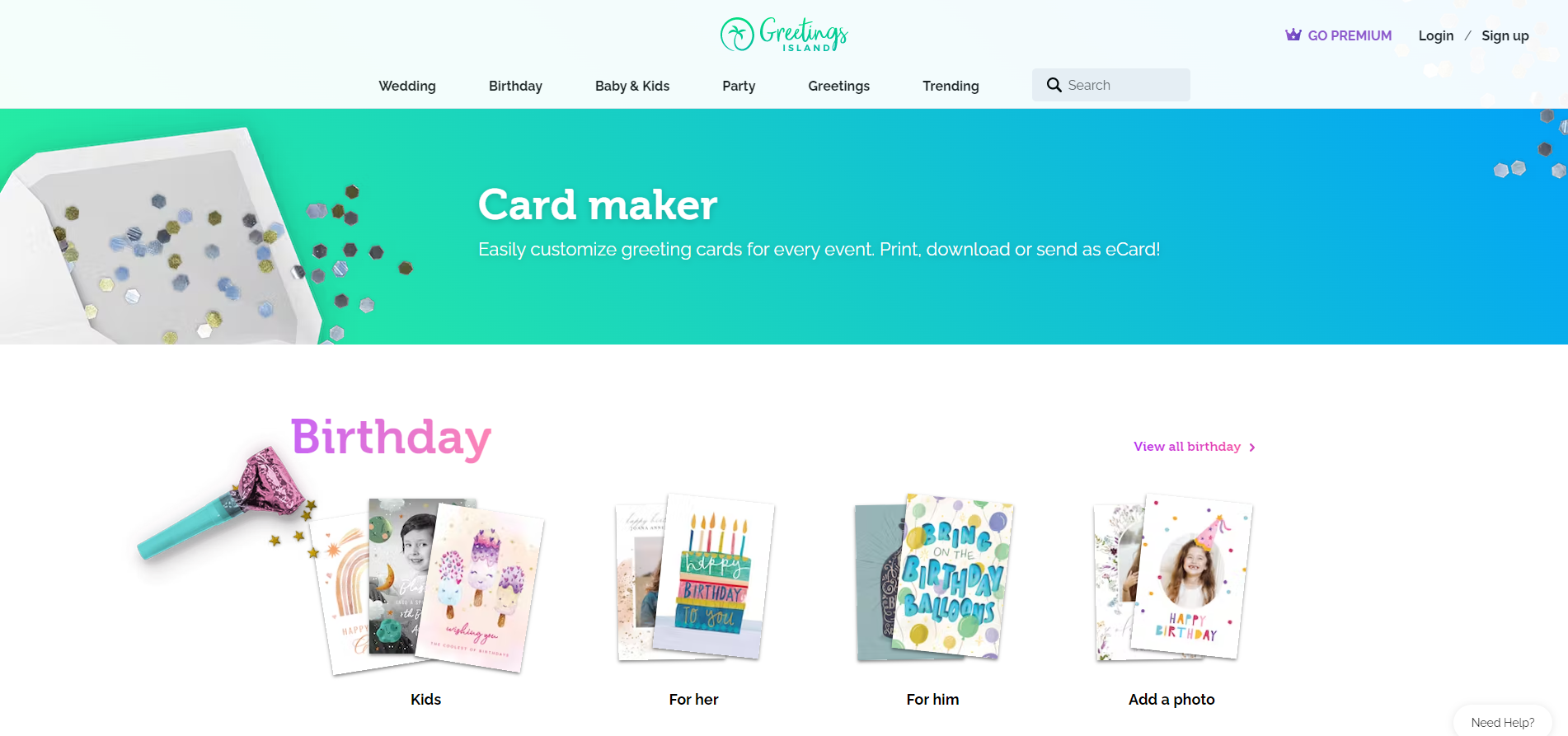 Greetings Island is an online birthday card maker that offers varieties of templates you can use directly. And they have prepared different templates for people, you may use them to design birthday cards for kids, lovers, friends, etc. And it allows you to print and share them online straightforwardly.
Speaking of creating a birthday card, you can customize the layout, upload images, add stickers, and type any words on this card to express your greetings. As for the birthday cards, there are flat cards and folded cards prepared for you, as well as different themes that are well-classified. However, there exists one flaw: if you're running the free version, all birthday cards will be added with a default watermark, and a paid subscription plan is required to remove the watermark.
Also Read: Top 7 Best PDF Translator That You Must Know in 2023 >>
BeFunky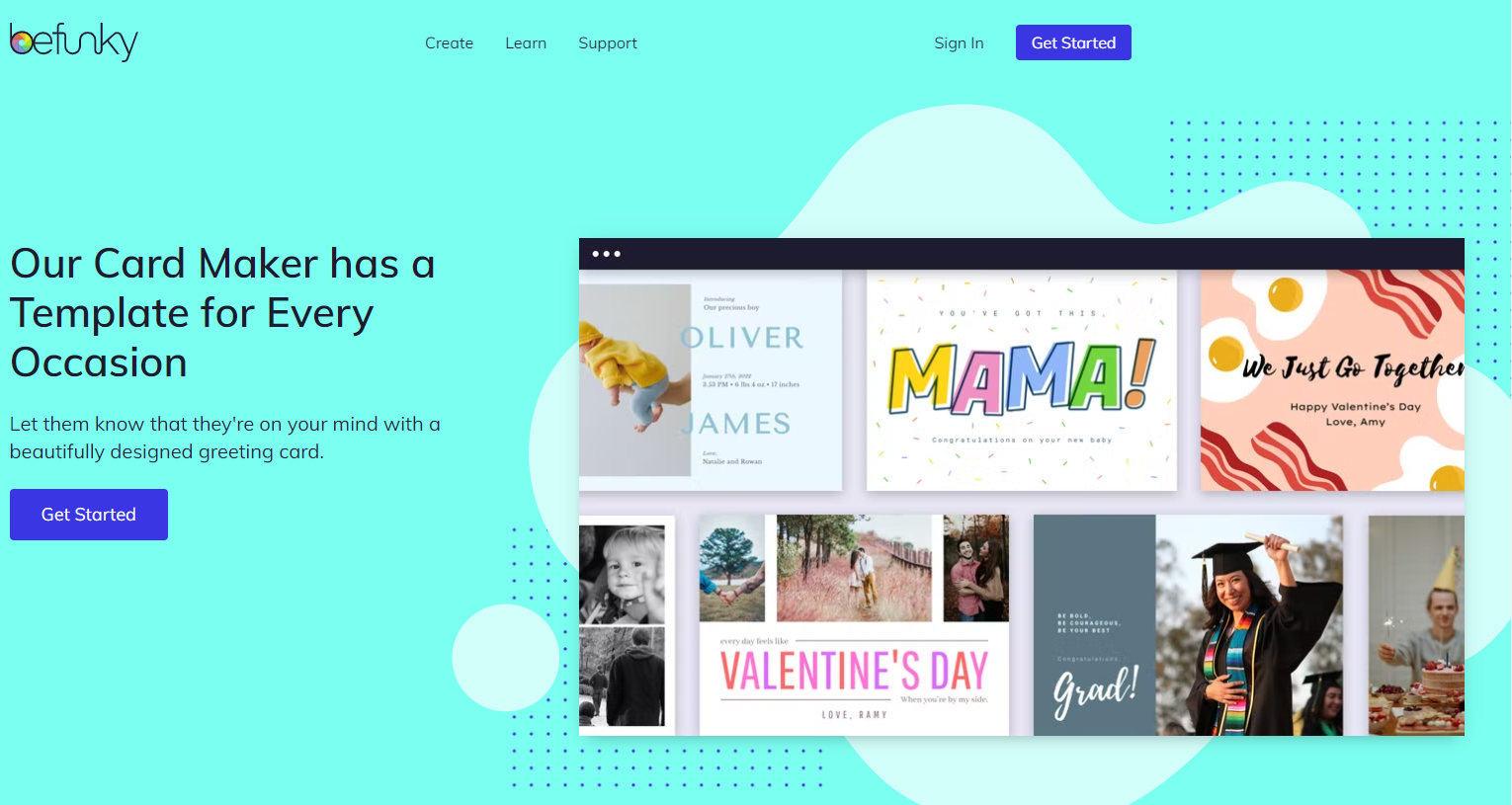 BeFunky is another popular online card maker that offers templates for all occasions. With BeFunky, you can choose from thousands of professionally designed templates, or start from scratch with a blank canvas. The card maker in BeFunky allows you to customize your design in a number of ways. You can choose from a range of fonts, colors, and graphics to make your card truly unique. You can also upload your own images or use images from BeFunky's vast library of stock photos.
One of the standout features of BeFunky's card maker is its user-friendly interface. Even if you have no design experience, you'll find that the tools are easy to use and the process of creating a card is straightforward. The drag-and-drop functionality, for example, makes it easy to move elements around your design and see how they look in real-time.
BeFunky is also available entirely online, which means you don't need to download any software or have any specific hardware to use it. As long as you have an internet connection and a web browser, you can access BeFunky and create your birthday cards from anywhere.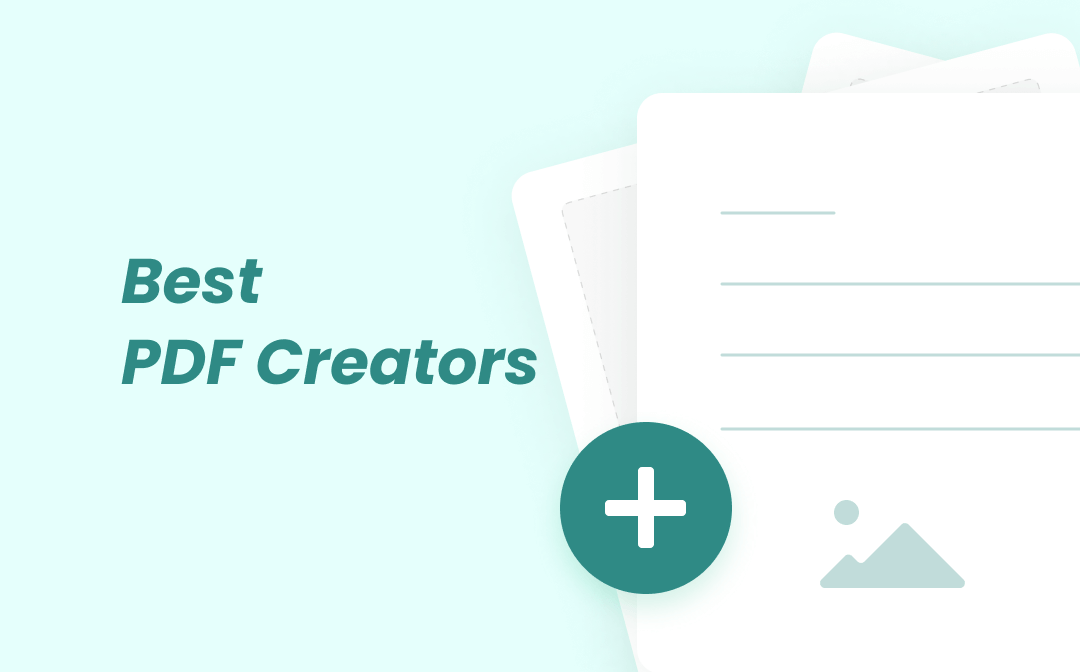 9 Best Free PDF Creators in 2022
Are you looking for online and offline PDF creators to create or print PDF documents on your PC and phone? Find out the 9 best free PDF creators in this post.
READ MORE >
American Greetings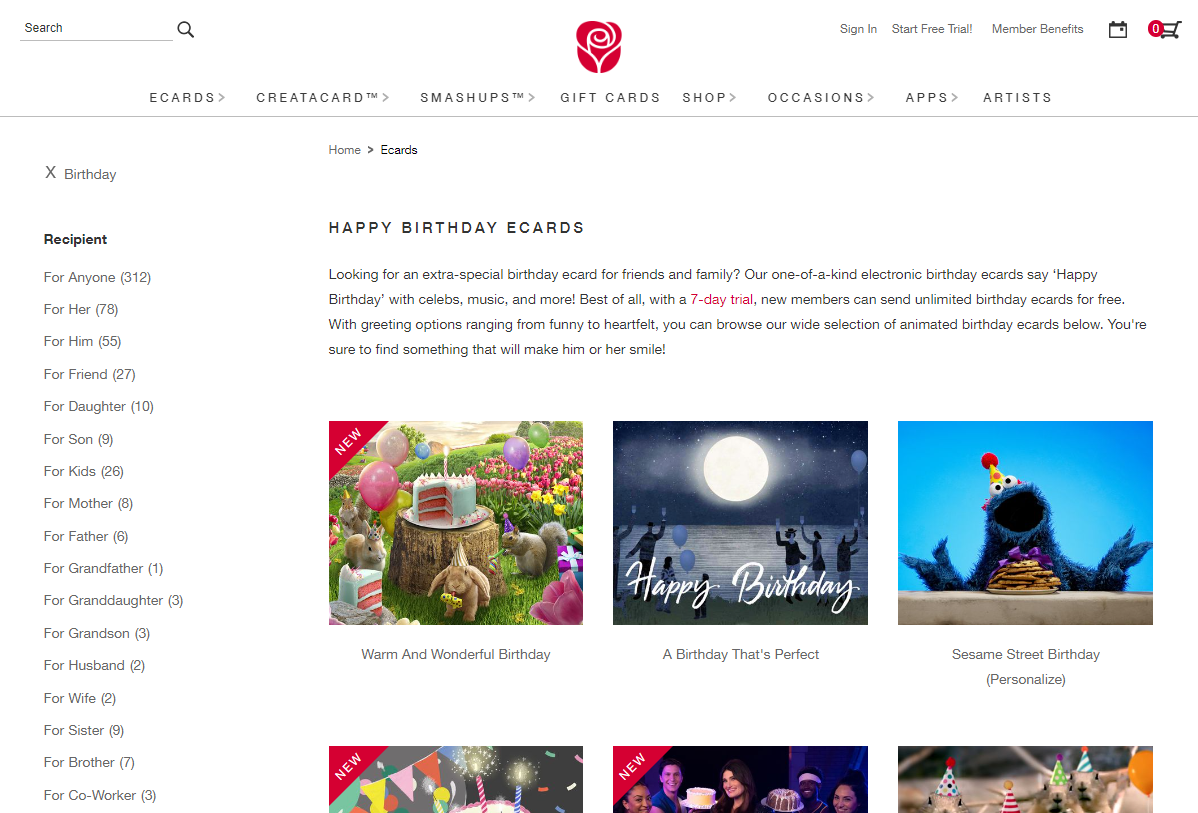 American Greetings provides various features to help you create and customize the perfect card to suit your needs. It stands out with its extensive collection of card designs, catering to different styles and tastes. Whether you prefer heartfelt messages, whimsical designs, or humor-filled greetings, American Greetings has you covered. Moreover, the platform provides multiple customization options, allowing you to personalize your card with photos, text, and graphics that reflect your recipient's personality and preferences.
You can choose from a range of templates and modify your card with your own text, images, and colors. Additionally, American Greetings offers various delivery options, including email and print-at-home cards, giving you the flexibility to send your card in the most convenient way for you and your recipient.
Picsart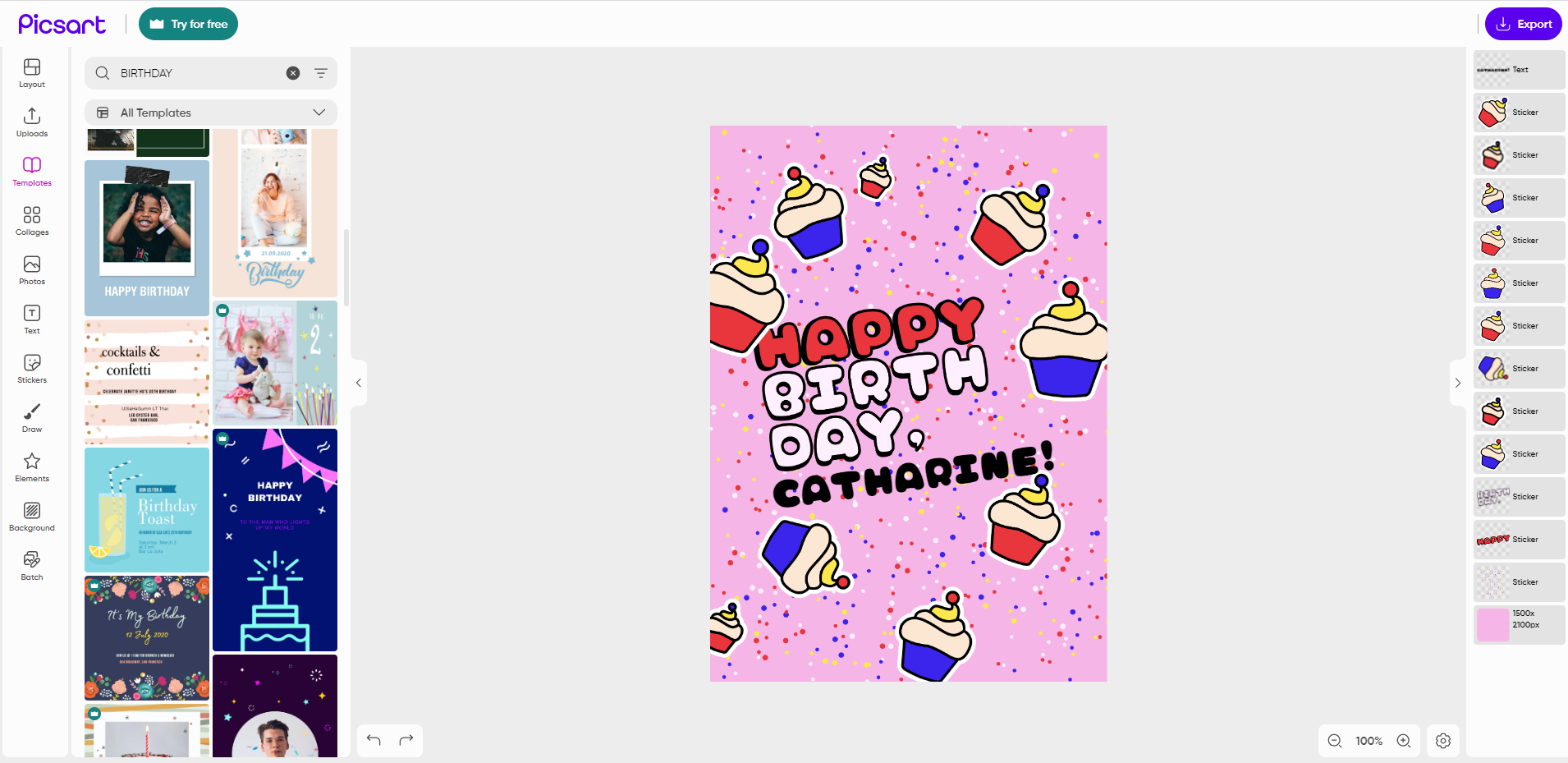 Picsart is a multipurpose photo/video editor that is available on Windows, Android, iOS, and web browsers with ten more languages. It offers layouts for posting on all major social platforms, including Instagram, Facebook, Pinterest, YouTube, etc. And it offers a variety of modern card templates, including birthday cards for all.
In Picsart, many templates are only released to premium users, but a free user can also get an ideal one. And all images, texts, stickers, and other interactive elements in the card templates can be easily modified. What's more, if you want to design a unique birthday card for others, Picsart is also a good way to go.
You May Also Like: Free Methods for Adding Hyperlink to Your PDF >>
The Bottom Line
A birthday card maker is a fantastic tool for anyone who wants to create personalized, heartfelt greetings without breaking the bank. By using one of the top birthday card makers available today, you can save time, express your creativity, and make your loved ones feel special on their big day. Remember to choose a tool with a user-friendly interface, a wide range of templates, and customizable features that suit your needs. With a little practice and these tips, you'll be a birthday card-making pro in no time. Try it out for yourself and see the joy it brings to your friends and family!