Introduction:
When sending important messages or files to others, such as contracts or offers, the PDF format helps prevent the file from being changed by the recipient and keeps the file as it was created originally. Usually, when it comes to important things or formal situations, it's better to use email as your primary method of communication. So, here comes a question: how to send PDF to email?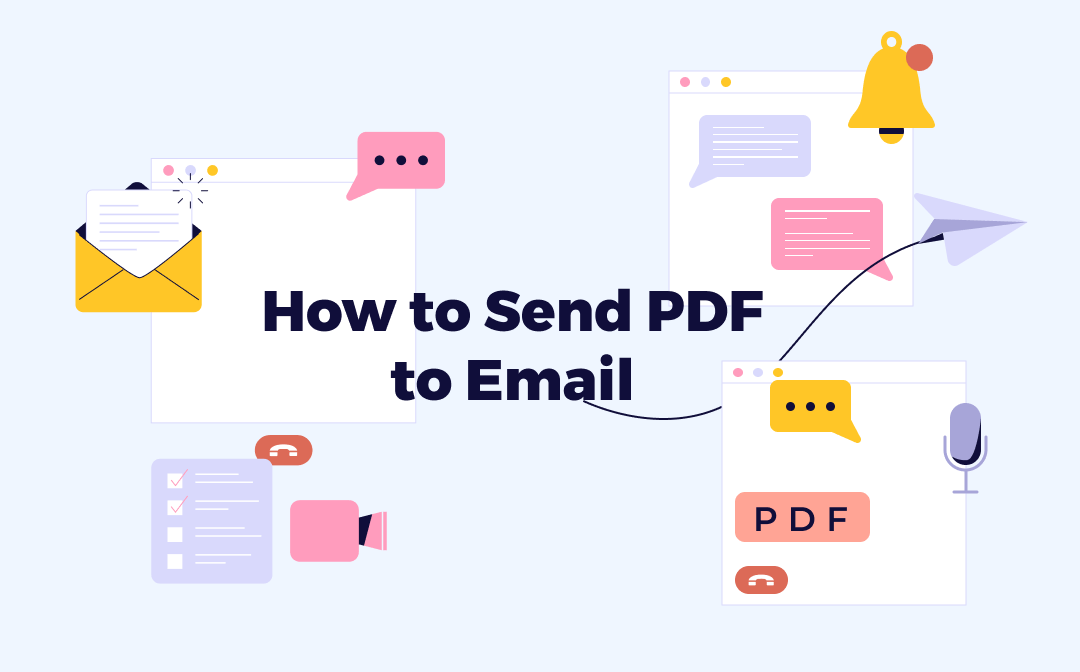 For its broader compatibility with all operating systems and limitations on editing, the PDF file format has received many positive reviews, and users have produced countless PDF files around the world.
If you don't know how to send PDF to email, this post hits the spot and explains all the details about sending a PDF through Gmail and Outlook. Moreover, we also offer you a more convenient way to achieve this by using a dedicated PDF tool.
How to Send a PDF Through Gmail
Gmail was launched by Google itself on April 1, 2004, and it has been used for 18 years. Fast forward to October 2018, Gmail has already gained over 1.5 billion users, and now this number has become 1.8 billion. Gmail always remains the most popular email service worldwide, accounting for 18% of the email service market share.
In fact, it's very easy to send a PDF file as a Gmail attachment. Let's find out how to do it:
Step 1. Login to Gmail and open the new message box;
Step 2. Click the paperclip icon in the bottom navigation bar;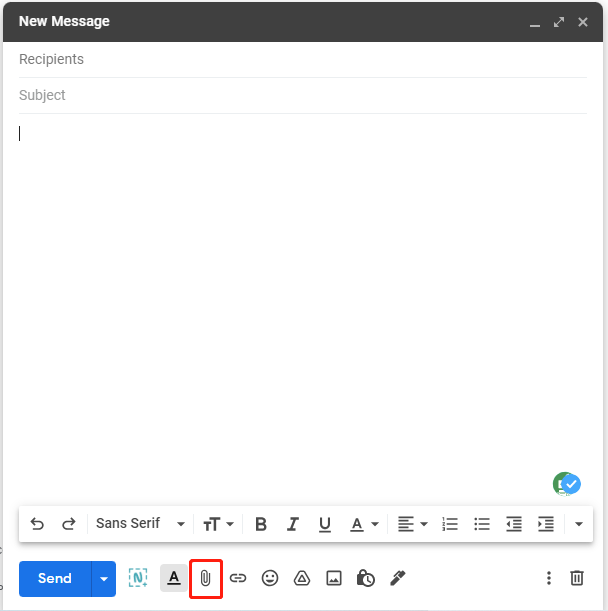 Step 3. Navigate to the folder and select the target PDF file, then click Open;
Step 4. Gmail will start uploading the file automatically, and you'll have successfully attached the PDF file to Gmail once the process is completed.

By attaching your PDF files to the new message box, you can send an email with a PDF file through Gmail easily.
In addition, Gmail offers you a new way to attach PDF files to email, that is, using Google Drive.
There's a shortcut icon that connects to Google Drive. So, you can upload a PDF file directly from Google Drive. Since both products belong to Google, you don't need to log in to another account again.
The only trouble is that you need to upload your PDF files to Google Drive in advance. However, once you store your files to Google Drive, these documents will be kept for a long time, and you can download files whenever you want.
By using Google Drive to upload PDF files to Gmail, you can choose to insert the file as a Drive link or an attachment. Both of these two methods are very convenient for recipients to check out.
How to send a PDF through Google Drive:
Step 1. Upload your file to Google Drive;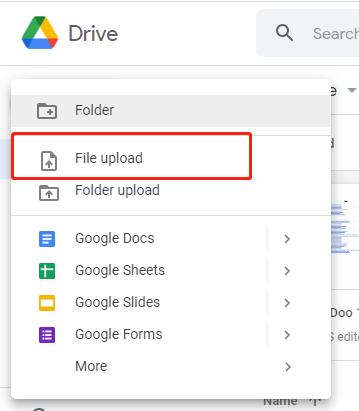 Step 2. Open New Message box in Gmail;
Step 3. Click the Google Drive icon in the bottom navigation bar;
Step 4. Select the file, then click Insert;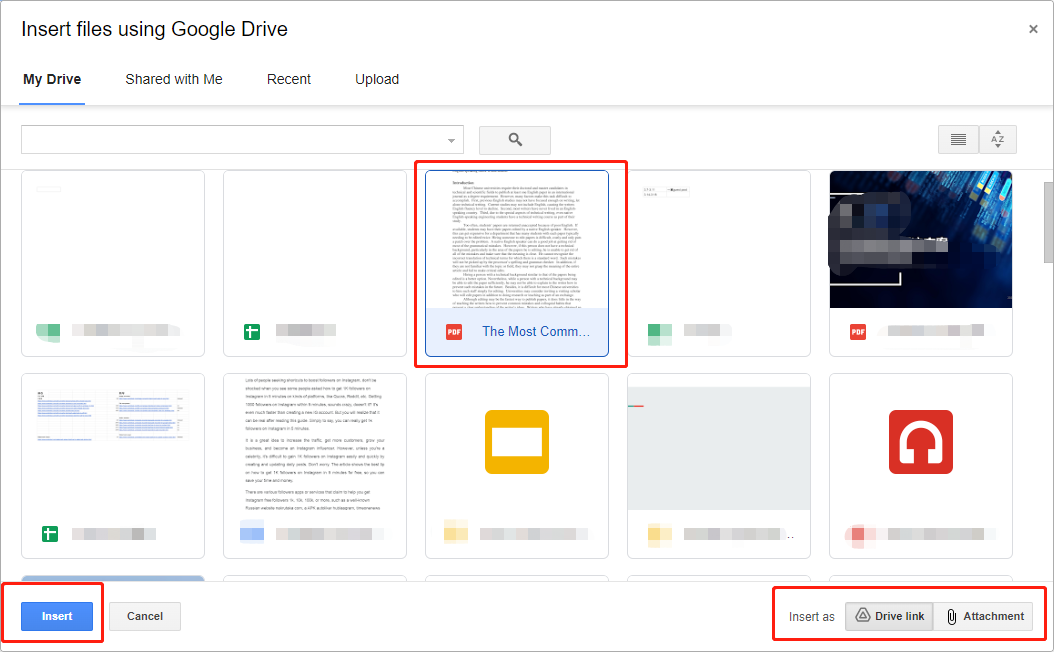 In this way, you've also managed to send a PDF file through Gmail.
How to Send a PDF to Outlook
Besides Gmail, Outlook also had a user market share of 14% in 2020. That is, it has over 34.45 million users worldwide already. So, there's also a need to find out how to send a PDF to Outlook.
In fact, sending PDF files to Outlook is much like sending them to Gmail. Specific steps are given below:
Step 1. Launch Outlook, and click New Email in Home;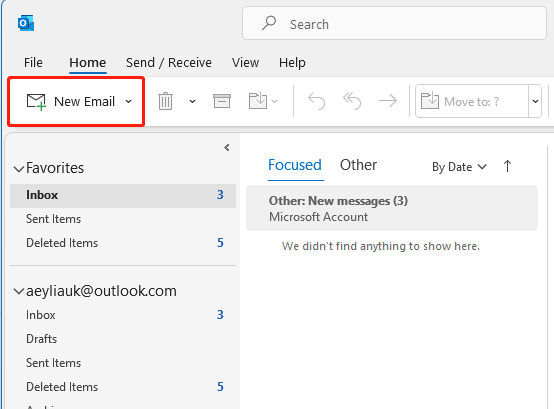 Step 2. Under Message, there's also a paperclip icon that is used to add attachment files;
Step 3. Click the paperclip icon. You can choose PDF files from the recent items. Or you can browse web locations or your PC to get the file.

Almost all email services allow you to send a PDF file as an attachment by simply clicking the paperclip icon. So, don't worry, even if you're using other email servers.
SwifDoo PDF: The Easiest Way to Send PDF to Email
Albeit you can upload PDF files when creating new emails, we must introduce you to an all-around PDF tool that also supports sending PDFs to email in a breeze.
SwifDoo PDF is a dedicated PDF tool that can handle all issues related to a PDF file, including editing, annotating, converting, etc. It also has a built-in sharing feature: Share to enable sending your PDF file to the email, Dropbox, and Google Drive.

Using SwifDoo PDF means you can create and edit PDF files in this program and send them via email directly. It's more convenient and saves a lot of time on attaching PDF files to email.
Advantages of Sending PDF to Email
Sending PDF documents via email attachment has multiple advantages in all aspects. PDF is one of the greatest file formats since it can be opened on all operating systems without format changing or distorting. That's to say, if you use a PDF attachment when sending emails to others, the file will keep all the styles, fonts, tables, and graphics unchanged as they were created.
As for email, compared to those social media platforms, email is still the most widely used tool when referring to important issues. Usually, people take email as a more formal way of communicating.
In addition, email is a free, simple, and quick tool that everyone can use to send and receive mail as long as there's an Internet connection. Moreover, no matter how much time has passed, and no matter what devices you use, your email account keeps all messages and files with no changes. So, you can get them whenever you want to check.
The Bottom Line
Sending a PDF to email is a super secure way to share important messages in work and study. Actually, whenever you need to send files, you'd better convert them to PDF format, because it's not that easy to make changes to this file type. Furthermore, you can use SwifDoo PDF to insert an electronic signature, which adds an advanced layer of protection to your files to protect your copyrights.