PDF has been integrated into daily work and life. What makes PDF a preferable file format is its stability and consistency. This device-agnostic format is ubiquitous in file distribution. Nowadays, when you enter "PDF maker app" on Google's search bar, millions of results flood in. With a great number of PDF creation software options available, here comes a question: what is the best PDF maker app for PC?
If you wonder how to make a PDF file, this post is definitely something you don't want to miss out on. In this post, we have narrowed down your choice and handpicked several of the best PDF maker apps for PC. Let's get into it.
SwifDoo PDF
SwifDoo PDF is an up-and-comer in this industry. When you bump into any problems relevant to PDF, just turn to this comprehensive PDF program. With a sleek and modern user interface, SwifDoo PDF is designed to easily meet all your needs pertaining to PDF. On the subject of how to make a PDF, SwifDoo PDF can be the PDF-making app you trust. Have a look at how this PDF creation software can benefit PDF users:
For users who don't know how to utilize this PDF maker app for Windows, the following tutorial will tell you so:
Step 1: Download and install SwifDoo PDF on your PC;
Open the official website and click "Free Download" to access the installer. When ready, run the installer and hit the "Get Started" button. After this, SwifDoo PDF will be successfully installed on your PC. Click the link below to have this free PDF maker on your PC.
Step 2: Run the program and make a PDF file from scratch.
Launch the software, and choose "Create" in the left top corner. When a new window pops up, choose the way you'd like to create a PDF. SwifDoo PDF now enables users to make an image, an existing file, or a CAD. Additionally, you can also create a blank PDF or scan it to a PDF.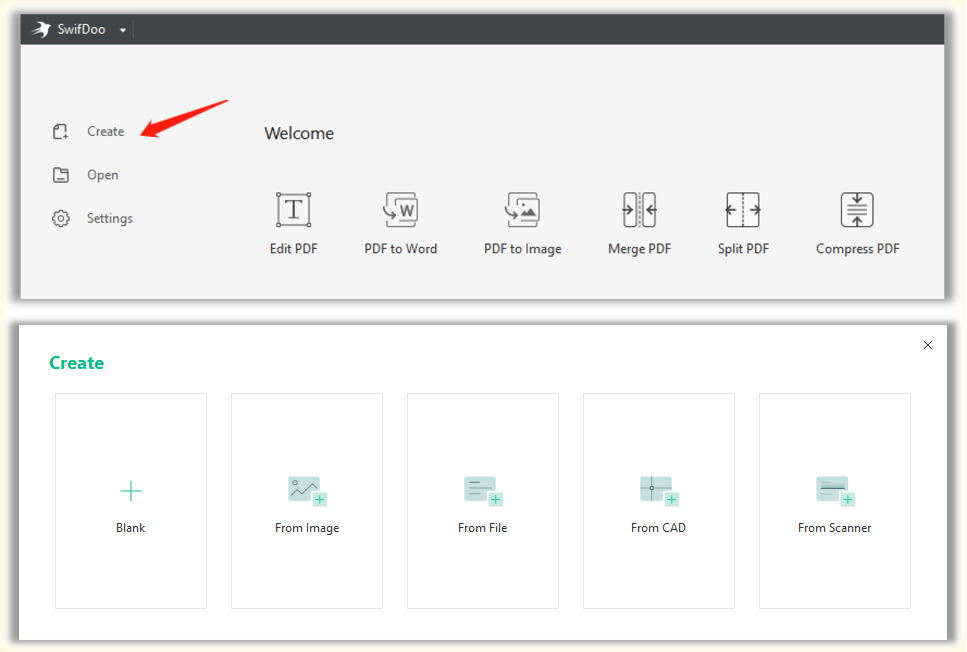 SwifDoo PDF also released a free online PDF maker in addition to the PC version. SwifDoo PDF Online Converter can help you create PDF files from Word, Excel, images, or CAD files. Keep reading:
Step 1: Enter the URL in the search bar to open the website;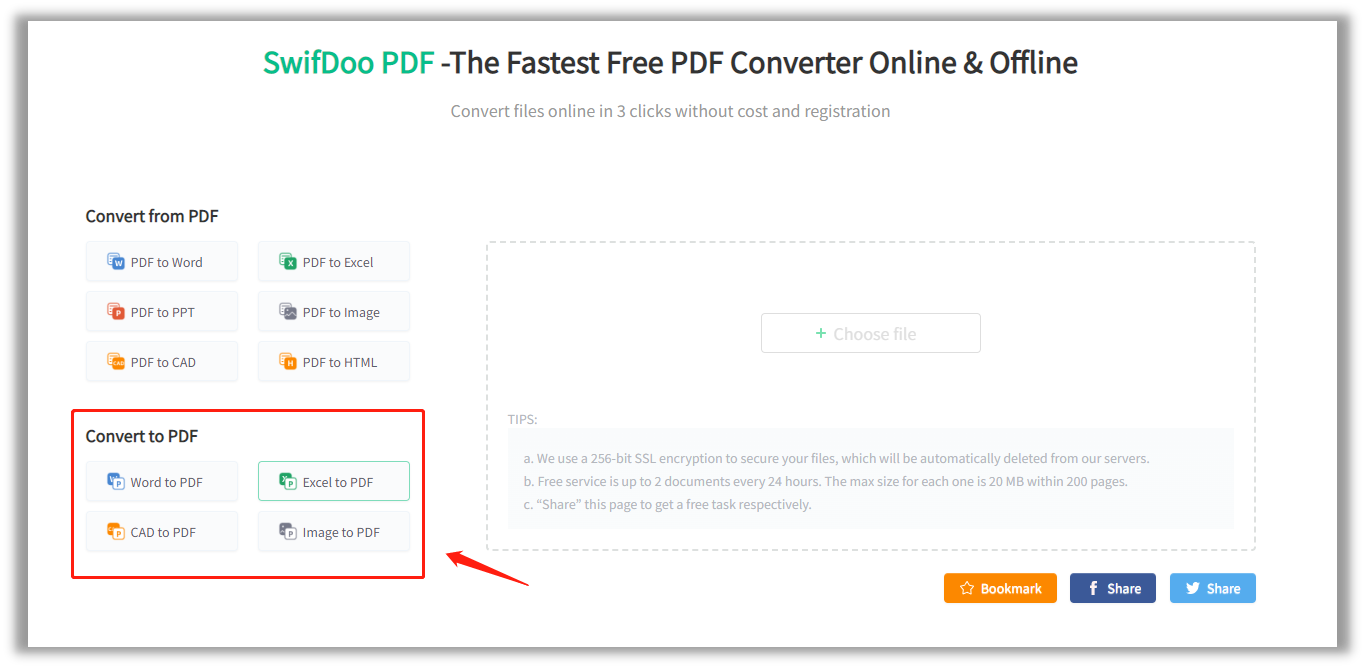 Step 2: Choose any option from the Convert to PDF column: Word to PDF, Excel to PDF, CAD to PDF, and Image to PDF.
This free PDF maker offers two free tasks per day. When you've exhausted your chances, try again tomorrow or download SwifDoo PDF for a free 15-day trial.
Foxit PDF
For business users, Foxit PDF could be a familiar working partner on PC. This is another all-in-one PDF tool for multiple operating systems. At the same time, it is one of the best PDF maker apps. Why? Simply because Foxit PDF offers a handful of methods to make a PDF file. Let's run through how it helps create a PDF document: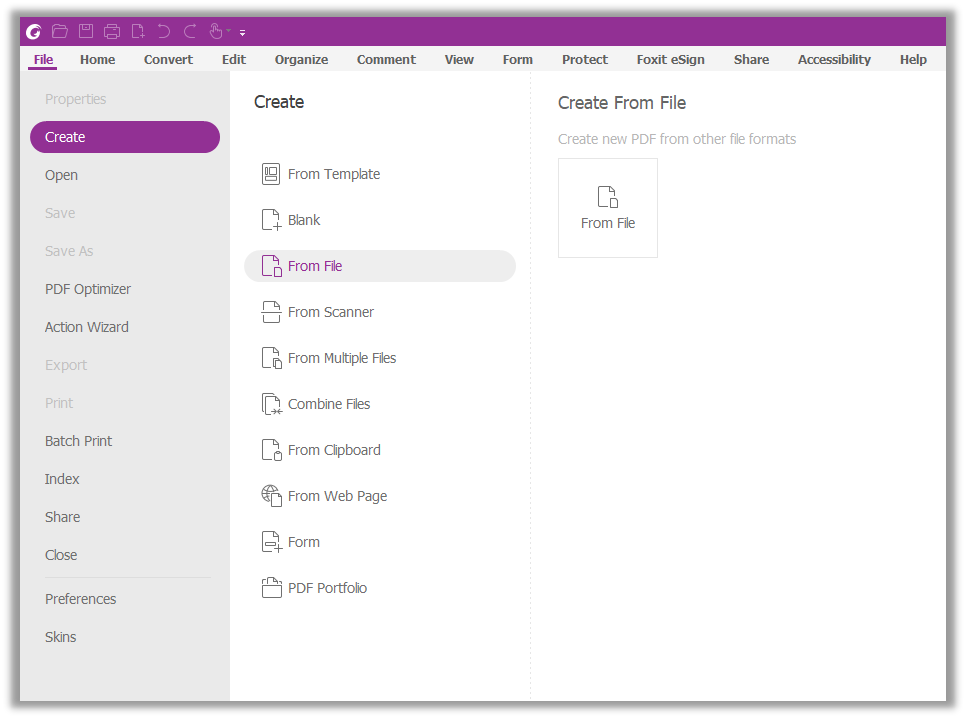 PDFEscape Desktop
If you are scouting for a PDF maker app that both have a desktop and online version, then PDFEscape ticks all the boxes. Based on the online tool, PDFEscape has released its desktop program recently. However, in stark contrast to its online counterpart, PDFEscape Desktop is a paid utility for your PC. For whatever reasons, it is basically an easy-to-use PDF-making app that is worth a shot:

As we have mentioned earlier, PDFEscape Desktop is not a free PDF software program. When all the other features are unclickable, users can still create a PDF without spending a dime.
PDFelement
PDFelement is a popular PDF creator program on Windows, macOS, iOS, and Android. That is to say, this free PDF creation app may be the most compatible one in this list. Despite the fact that PDFelement has fewer options for creating PDF documents, the free PDF template is one of the main reasons we included it on the list.
In PDFelement, there are several menus for PDF creation. Let's get started:
Step 1: Download and launch PDFelement on your PC;
Step 2: When ready, click Create PDF on the left bottom of the home interface;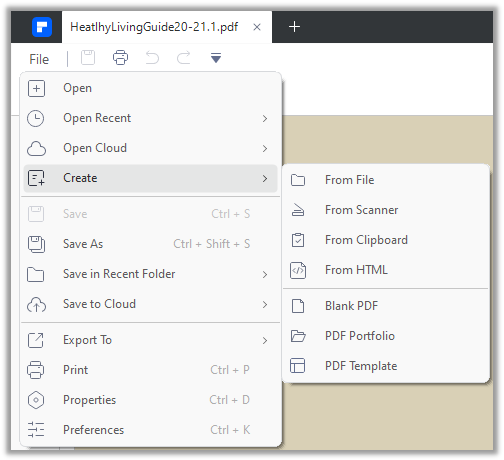 Step 3: Alternatively, you can open a PDF in this software. Then go to File (on the top left corner) > Create.
Follow the steps, and you will find out two extra ways to make a PDF file: a PDF portfolio and a PDF template. You can make the most of the PDF templates to create a PDF without much effort.
PDF24 Tools
The last recommendation is PDF24 Tools, an online and desktop PDF maker. This one has an intuitive user interface, and probably every user finds no difficulty in using it. In spite of the fact that there are many distracting ads on the web page, the functionality is awesome and makes me forget about the interruption. Well, have a closer look at what this PDF maker app can do:
Admittedly, PDF24 Tools is a versatile PDF creation program. It has rendered services for both personal and business users. But please be noted that some features are exclusive to the online version. For example, if you need to make a PDF file using your webcam or phone camera, the only possible way is via the online version.
Summary
In this post, we have already offered the five best PDF maker apps for PC. This article will help you find the best option whether you use Windows, macOS, or a mobile device. If you need a PDF creator for your productivity, SwifDoo PDF can be a good choice. In the end, its desktop and online versions will provide you with the tools you require.