If time is of the essence and you still need to review a single file across many platforms, you can become confused. At this stage, the option to merge PDF documents can help. In addition to being a simple and time-saving option, merging has many other advantages that you will learn about in this article. Let's investigate them!
The Portable Document Format, or PDF, provides a cake-walking experience when managing several files at once. Thankfully, merging multiple PDFs into one single file offers a lot of benefits in terms of its efficacy and ease of usage. If you work with PDF files, combine files from many platforms to manage them successfully.

Let's examine the advantages of PDF merging and demonstrate how its popularity emerged over the period.
Top 8 Advantages of Merging PDF Files
Users are utilizing PDFs at their convenience as their immersive utilization of the format has grown. Users benefit in numerous ways from merging several PDF documents. Let's examine the advantages of PDF merging in order to understand why it is so common in the professional world.
1. Organize all your files efficiently
Merging multiple PDF files and saving them helps you organize your file system. You can make separate folders based on the category and, under every category, merge all files. The systematic arrangements help you quickly locate files while looking for any specific PDF document.
2. Save the space
Merging files reduces their overall size. Hence, the merged PDF files will occupy less system storage and let your PC run at its usual speed. For example, if you are working with graphic files or vector graphs, you should save system space wherever possible. You can keep it if you merge all your high-volume files and organize them as per your needs.
3. Compatible with multiple platforms
If you are working with various platforms, you cannot access all your files on all the devices with their original layout. Therefore, it is helpful to arrange all the files, convert them into PDFs, and then merge them. Now, you can access them from any device with their original structure.
4. Convenient file sharing
You need to maintain the file size when you try to share PDF s on any online platforms. Every platform supports a standard file size, which you cannot transfer if it exceeds. PDF merging helps reduce the file size and maintain the expected file size, which allows for easy sharing anywhere you want.
5. Fast Print
If you keep all files in one merge folder, printing becomes instant with best PDF printers. You do not need to locate each file and go for printing; instead, go for bulk printing and save your pennies and time. Therefore, it's a cost-effective and printer-friendly mode.
6. Privacy and Security
If you are working with crucial data, you need to save it in a highly secured folder. For example, if you combined all of these sensitive documents into a single file, it would be simple to maintain privacy behind a protective shield.
7. Necessary for a few occupations
Similar professions to the judiciary, attorney, and real estate agent include handling paperwork every day. With the aid of a digital file system, you can merge the PDFs and group them by department. Having the file you need to give your customer may swiftly reveal buyers, sellers, and insurance holders.
8. Smartphone friendly
Access to everything from your smartphone has gradually increased with the growth of mobile phone users in every corner of the globe. Hence, you can receive a merged PDF file or share it from your phone; both are possible.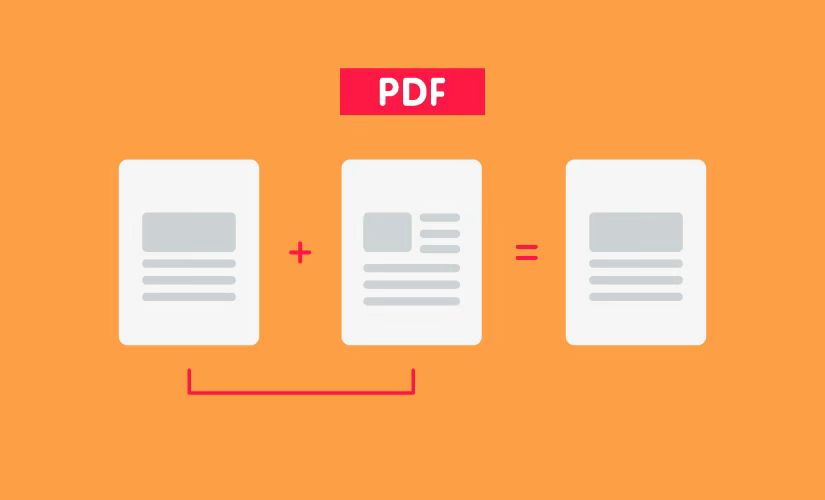 Why PDF Merging Is Popular in Germany?
Utilization of a PDF merger is a time- and labor-saving method that is efficient. Innovative German working professionals have embraced the technical benefits of combining PDF files before sharing or structuring their file system, which is categorized under department names to allow them to quickly find the specific PDF file from the folder. In addition, German professionals use the PDF merge's benefits to stand out in their respective fields.
Once you start using the PDF mergers, you may profit from these evident advantages. Thanks to the benefits, you can constantly remain competitive at work and advance professionally. However, you need dependable and trustworthy software that can accurately complete the merge and help you increase your productivity. So let's find out more about it!
SwifDoo PDF: Merge Your Multiple Files Effortlessly
In PDF language, merging is called combining, and SwifDoo PDF plays the role of a mighty combiner and splitter in this light. SwifDop PDF effortlessly merges all your PDF files and can split them if necessary. With its high-speed functionality, you can quickly merge all the large files without hassle.
Compatible with Windows, SwifDoo PDF can be your one-stop solution to sort out any issue regarding PDF, be it merging, compressing, converting, or editing. The tool can perform all the PDF roles without any trouble.
Why is SwifDoo PDF great for merging PDF?
The software allows PDF conversion and integrates all the data in accordance with your requirements because it takes a variety of file formats. If you're a German professional looking to learn more about the software, familiarize yourself with its features.
The user-friendly, vital features are as follows:
It can merge several files, no matter how large they are;
Its powerful speed can save your precious time;
It's super lightweight and helps with downloading;
You can safeguard your confidential PDFs with password protection;
Along with merge, you can also perform split, edit, compress, e-sign, and many more.
How to merge PDF files in SwifDoo PDF
You can follow the steps below to finish the merging.
Step 1: Install the software and run it on your PC.
Step 2: Open the interface, and click on Merge PDF.
Step 3: In a new window, click on Merge PDF again, next click on Add Files.
Step 4: Select the files from your PC storage and click on the Start button.
Step 5: Within a second, the merge is complete. Click on Open Document. It will redirect you to the Home page, where you can view the merged file.
Concluded Words
Working professionals use PDF mergers to shorten their working time by becoming more productive, organized, and resourceful. Additionally, you may use the simple sharing option to instantly distribute the combined file. Saving is a useful way to share and view Portable Document Files (PDFs).
Merging PDF documents enables you to go one step further and meticulously arrange your file folder. For instance, if you want to complete the process quickly, use SwifDoo PDF to merge all your PDF files for simpler saving, sharing, and reading.