Introduction:
If you are an English speaker and do business with Arabs or read books in Arabic, you may often need to translate Arabic to English. Most office documents and ebooks are made in PDF format. That means, to understand the content, you will frequently translate PDFs from Arabic to English. To improve your productivity and ease your life, it's important to have a good-to-use PDF translator. Read this article to learn the 6 best translator software that you definitely can give a try.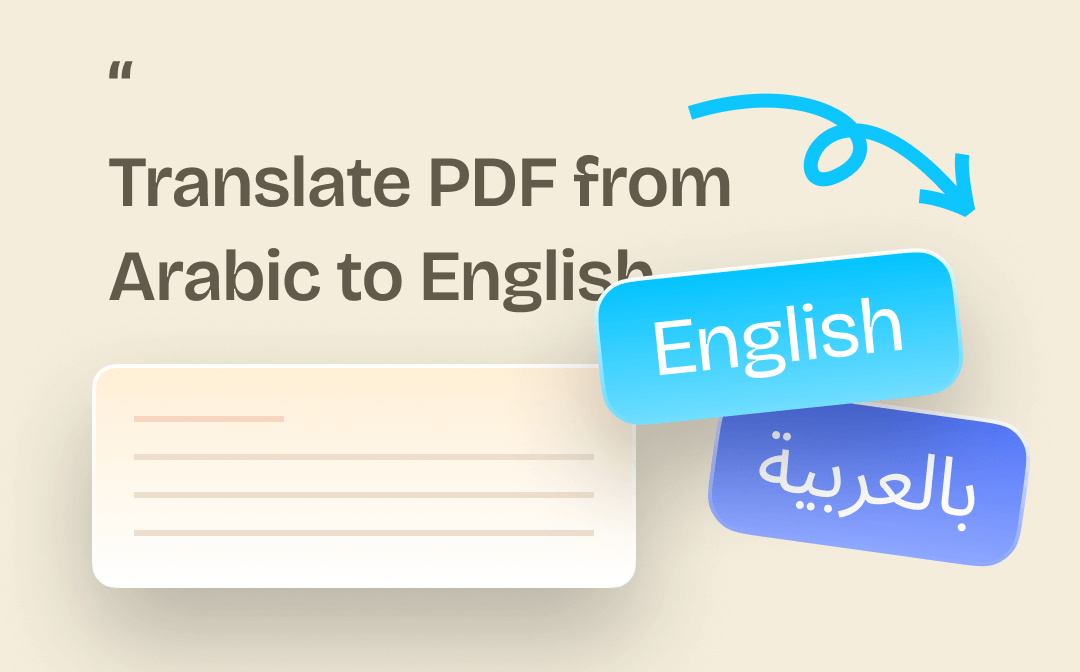 Translate PDF from Arabic to English with SwifDoo PDF
SwifDoo PDF is your ideal PDF translator that can translate PDFs from Arabic to English, English to Arabic, and over 100 languages in the world. It allows you to translate both an entire PDF and specific text in a PDF file. With a streamlined workflow and a user-friendly interface, the application will speed up your translation process. It saves your translation history in case you later review it.
Check out the steps to translate PDF from Arabic to English easily.
Translate an Entire PDF
Step 1: Open Your PDF
First download and install SwifDoo PDF on your computer, launch it and open a PDF file with it by clicking Open or drag-and-drop.

Step 2: Access the Translator Tool
Go to View on the top and choose the Document Translation option on the right side of the secondary toolbar to open the PDF translator.

Step 3: Translate PDF from Arabic to English
Set the original and translated languages, specify the output location, and click Translate to English to start the PDF translation from Arabic to English.

Translate PDF Text
Step 1: Open the PDF
After downloading, installing and opening SwifDoo PDF, drag and drop the PDF to be translated into it.
Step 2: Choose the Translation Option
Drag over the text to select it and hit the Quick Translation icon in the pop-up small toolbar.

Step 3: Translate PDF from Arabic to English
Click the language drop-down buttons to select which languages to translate to and from, then the PDF text translation starts automatically.

The free PDF viewer, SwifDoo PDF allows you to do word count in PDFs for free and offers a 15-day free trial of the most advanced features such as instantly translating words, phrases, sentences or paragraphs in PDFs. Not only translate PDFs from Arabic to English or translate any language to another accurately, but you can do a lot more:
Convert scanned PDFs to Word so the need to convert and translate scanned Arabic PDFs to English PDFs can be met.
Edit text, add notes, highlight text and mark up PDFs.
Compress, delete, extract and separate PDF pages.
Download SwifDoo PDF to start your translation now!
Translate PDF from Arabic to English with 5 Other Translators
To translate PDFs from Arabic to English, there are several other stellar offline and online translators to resort to. Some can directly accomplish the translation and some others will convert your PDF to achieve the goal. They are selected thanks to their clean interfaces and generous translation services. With limitations, they enable you to do the PDF translation from Arabic to English without a complicated process.
#1. Lingvanex
Lingvanex is a translator app downloadable on Windows, macOS, iOS, and Android. It can translate PDFs from Arabic to English, and deal with Word and other documents. It supports 100+ languages. The free version allows limited text translation and document translation requires the pro version. You can copy and paste text from PDFs to translate for free. The pricing of the pro version for straightforward Arabic to English translation on PDFs is a little high and no flexible plans are available.
The interface is a little lag. The time the PDF translator takes to translate PDFs from Arabic to English is longer. A good part is that you can download the language packages to work offline. But please note that you can only do that with a subscription. To translate Arabic to English for PDFs with a free trial, you need to provide the payment info.
#2. Reverso
Reverso is a popular online PDF translator that enables you to translate PDFs from Arabic to English and English to Arabic in a web browser for free. It also comes with a dictionary and pronunciation aids. The cutting-edge AI-powered translation service can translate German, Spanish and other 20+ languages as well. When an Arabic to English PDF translation is completed, it will automatically convert PDF to Word for the translated copy's free download.

The software has a simple interface but is heavy and can slow your computer. To translate a PDF from Arabic to English, choose the "Translate documents" option, change the language setting, and upload a PDF. There is a 2.5 MB file size limit. The translator lacks extensive vocabulary. The translation results sometimes may be confusing.
#3. Google Translate
Google Translate is a free PDF translator to translate PDFs from Arabic to English online, which also translates text and other office documents. The maximum file size it allows processing is 10MB. Only the desktop web translation software but not the mobile version can translate whole documents. To convert and translate Arabic PDF to English PDF online for free, choose "Documents" on the translation page, select the source and target languages, upload your PDF and click "Translate".

The drawback of using Google Translate to translate PDFs from Arabic to English is the translated documents are watermarked. You can remove watermarks from PDFs using a PDF editor. Besides, you can't perform scanned Arabic PDF to English PDF translation with the translator. Some users complain about the translation quality.
#4. TranslateFX
TranslateFX does a good job of translating financial and legal documents. While it doesn't support uploading PDFs, you are still able to translate PDFs from Arabic to English with it. The method is to turn your PDF into a PowerPoint, Word or Excel file that the translator can handle, using a PDF converter. The document translation tool runs on both computers and phones in browsers. It lets you translate an Arabic PDF file to an English PDF file online for free without registration.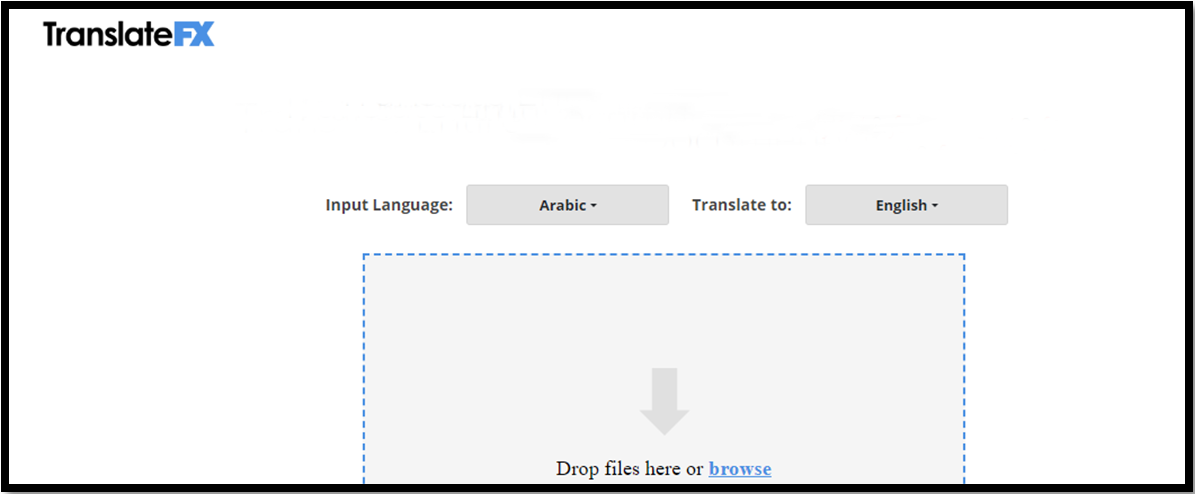 The free service allows you to translate a PDF from Arabic to English with a 1500-word limit. You have to provide your email to receive the translation within 5 minutes. Except for PDF file translation from Arabic to English, 17 more language translations can be fulfilled.
#5. Google Docs
Another way to translate a PDF file from Arabic to English is using Google Docs. The free cloud-based platform can open and convert your PDF into a Google Doc and then allows you to choose the Translate document tool. The first step to translate PDFs from Arabic to English is to log into Google Drive and upload the PDF documents. Then right-click on one of them to open it.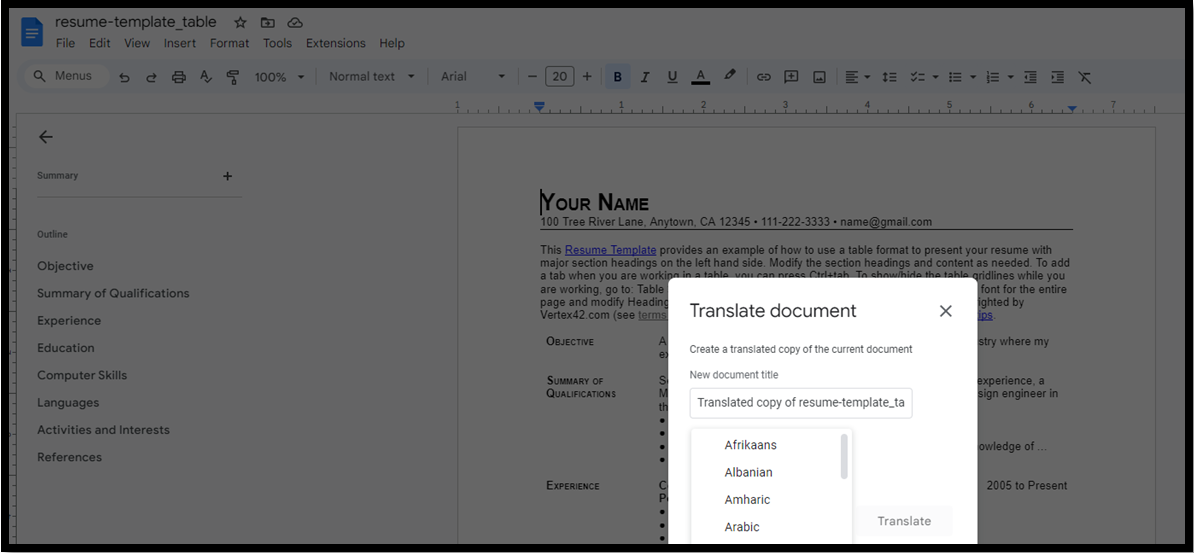 The disadvantage of this translator is the translation may be misleading as the converted files may lose some formatting and layout.
Final Words
This post is written to save you time looking for and comparing tons of translators on the market. Among the top 6 options, online ones are suitable for small, non-confidential or sensitive documents. They are best for allowing you to translate Arabic to English in PDFs without installing software on your computer.
However, if your PDF is large in size and frequently needs to do translation on PDFs, SwifDoo PDF won't let you down. The PDF editor recommended by PCWorld can be freely downloaded to translate PDFs from Arabic to English on Windows safely and timely.