Introduction:
Scanned PDFs are image-only PDFs that only contain photographed images of pages without any text layer. Unlike digitally created PDFs, scanned PDFs aren't searchable, and the text content can't be modified or annotated randomly. However, the OCR technology can help convert scanned PDF to Word documents, thus making it possible to edit scanned PDFs.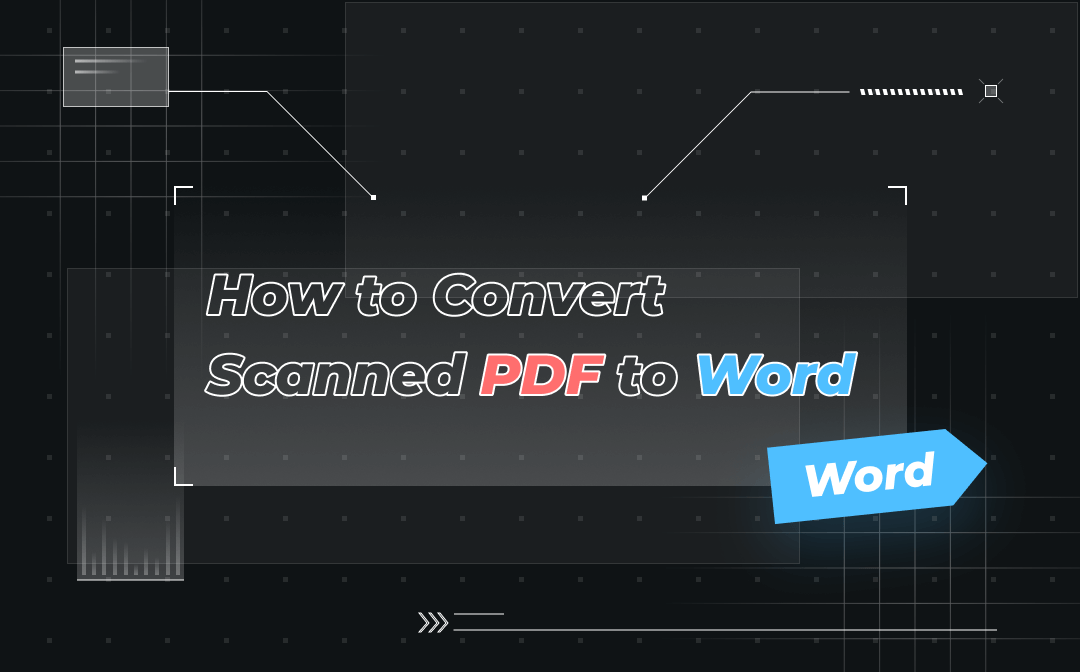 Many PDF editors now support the OCR technology, which makes image-only PDFs editable and searchable. In the following content, we will lay out detailed tips and thorough information to teach you how to convert scanned PDF to Word.
What is OCR?
To put it simply, OCR (Optical Character Recognition) is a technology used to scan and analyze scanned documents or images and extract the text content to convert them into a machine-readable form. Using OCR, scanned documents can be modified as easily as Word documents.
How to Convert Scanned PDF to Word
As we've mentioned before, you can't edit or annotate scanned PDFs because they don't contain any recognizable text, and all text is covered in images. So far, the best way to make scanned PDFs editable is to convert them to other file formats. You can complete this conversion without breaking a sweat by using SwifDoo PDF.
SwifDoo PDF, one of the most popular scanned PDF to Word converters, has an OCR feature with high accuracy and rapid word recognition. It offers four output modes: document with text and images, text with original formatting, searchable text and images (non-editable), and pure text. Each mode is easily understood by its name.
More importantly, SwifDoo PDF enables you to select languages manually to ensure the accuracy of the converted files. All the major languages are supported when using SwifDoo PDF's OCR feature, including English, German, Spanish, Chinese, Korean, etc.
Here is how to convert scanned PDF to Word in minor steps with the use of SwifDoo PDF:
Step 1. Download and install SwifDoo PDF on your computer;
Step 2. Run SwifDoo PDF, then click PDF to Word on the homepage;
Step 3. Upload the scanned PDF document in the operating area and click Start to convert it to a Word document.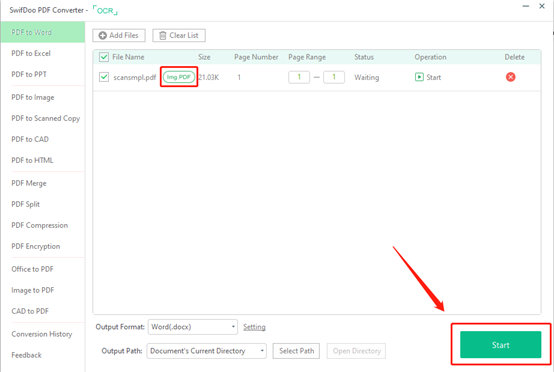 In addition, if you're reluctant to download any software on your computer, you can use SwifDoo PDF's online converter.
Let's see how to convert scanned PDF to Word online for free:
Step 1. Open SwifDoo PDF's website and click Convert PDF in the top navigation bar;
Step 2. Select PDF to Word under Convert from PDF;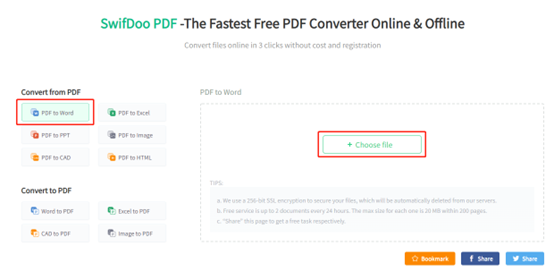 Step 3. Choose the image-only PDF on your computer. SwifDoo PDF's online converter will start converting scanned PDF to Word documents automatically after opening successfully;
Step 4. Download the converted Word document.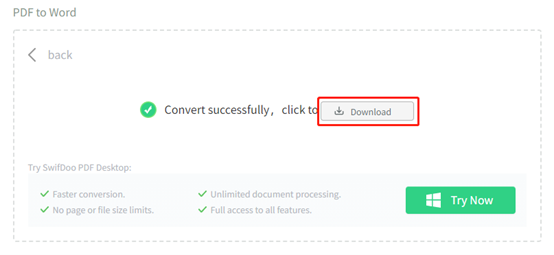 You'll find that there's no difference in the converted files no matter what method you use. In addition, all the formatting in the original files is well contained even after converting. More crucially, not even a piece of advertising will be seen on SwifDoo PDF's website or desktop software, so you won't get disturbed by unnecessary information on the whole process.
What Is a Scanned PDF?
Usually, PDFs are classified into three types: real PDFs or digitally created PDFs, scanned PDFs, and searchable PDFs.
Real PDFs are born as PDFs. They are created by Microsoft Word, Excel, dedicated PDF creators, and many other office programs. Real PDFs contain recognized text and pictures, and they can be easily selected, edited, deleted, resized, and moved.
Scanned PDFs, also known as image-only PDFs, are created by scanning hard copy documents or converting images to PDF documents. These PDFs only contain images without any recognizable text content. However, these files can be converted from non-readable text into readable text with an OCR (Optical Character Recognition) engine. In fact, the OCR engine just simply adds an underlying text layer to the document, so the converted file still can't be taken as a real PDF.
As the name has suggested, searchable PDFs are PDF documents whose text content can be searched, copied, pasted, and annotated. It's almost indistinguishable between searchable PDFs and real PDFs. However, searchable PDFs come from using OCR technology to scan image-only PDFs, so these PDFs contain both a text layer and an image layer.
Is SwifDoo PDF Free & Safe?
In a word, yes, SwifDoo PDF is indeed a free and safe scanned PDF to word converter.
SwifDoo PDF provides a free trial with full access to all its features, so you can test the program out before purchasing it. For unregistered and registered users, a 15-day free trial is offered. This period is long enough for most people to gauge whether SwifDoo PDF is suitable for their needs.
Additionally, SwifDoo PDF uses 256-bit SSL encryption to secure users' documents. Consequently, the file will be deleted automatically from the server once the conversion is completed. You don't have to worry about any information leakage.
The Bottom Line
With the guide above, you can convert scanned PDF to Word documents easily! SwifDoo PDF is a feature-rich and well-designed PDF editor. Besides serving as a PDF converter, SwifDoo PDF can also be used to solve all common PDF issues. No doubt, you'll be surprised by its powerful features. Download and use it right now!