All PDF files have metadata, which shows all the file's detailed information. When creating a PDF file, it will automatically include special PDF metadata. However, if you want to customize the description, you need to edit PDF metadata manually. But how? Is there any simple method to change metadata? Read this article to learn more.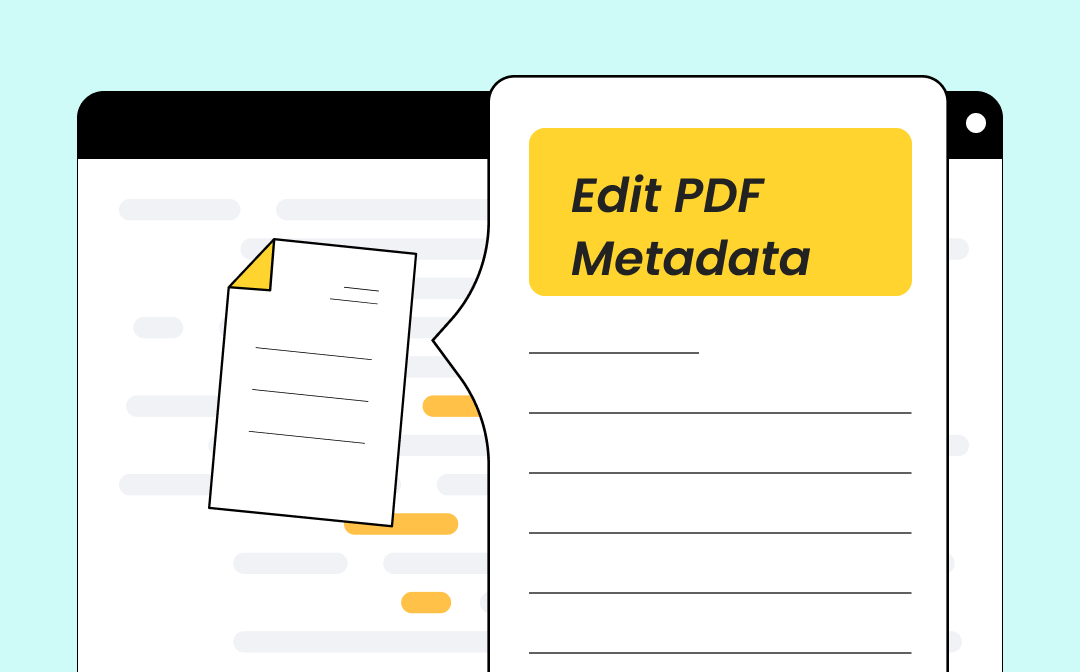 What Is PDF Metadata?
In a word, "PDF metadata" refers to a piece of detailed data about the PDF file. It mainly contains the file name, type, folder path, file size, creating date, modifying date, author of the PDF file, etc. With PDF metadata, you can learn all about a PDF file's related information and get a general impression of it.
To view PDF metadata, right-click your PDF file and select Properties > Details.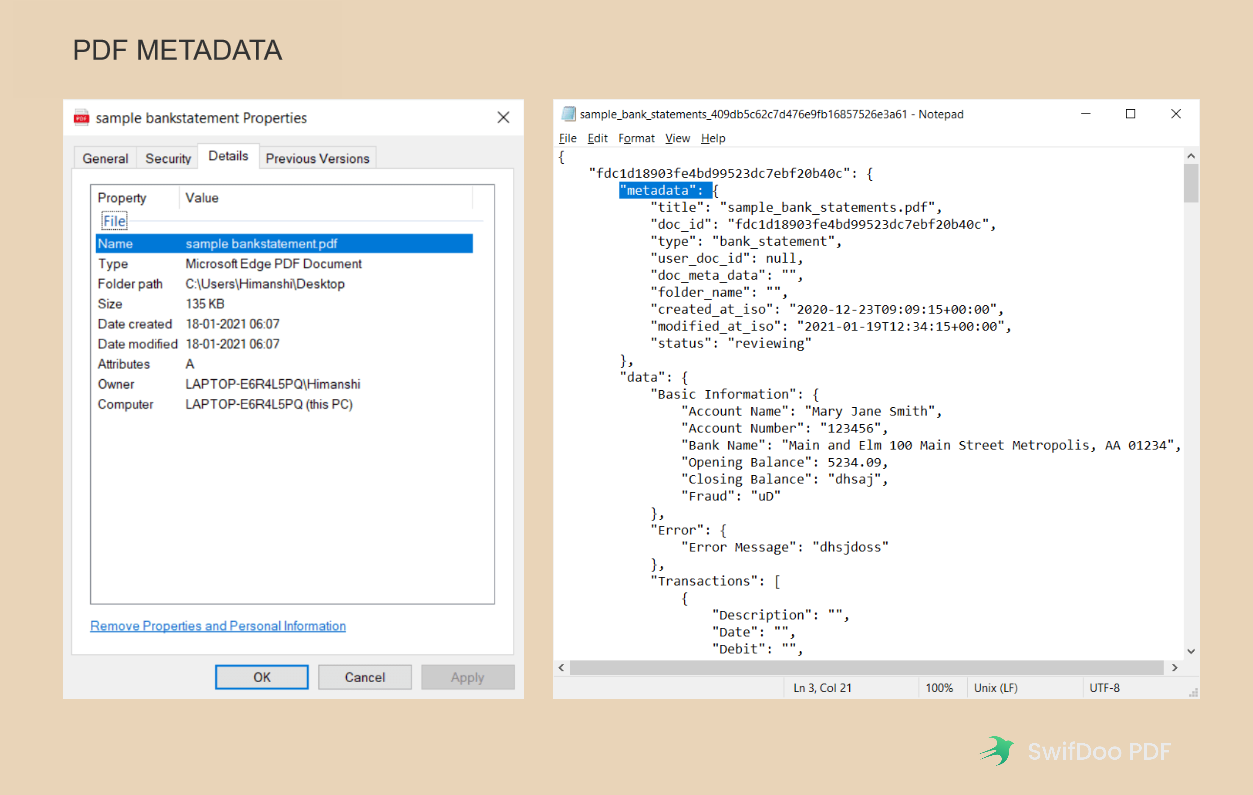 How to Edit PDF Metadata Online
Modifying PDF metadata means you can customize the PDF metadata information, which is meaningful when you have special requirements. Many online tools can help edit PDF metadata, saving you much time and effort. In this part, we've selected two popular online PDF editors to help you change PDF properties. Just keep reading.
Edit PDF Metadata with PDFCandy
PDFCandy is a comprehensive online PDF editor, and it has a dedicated webpage to help edit PDF metadata. PDFCandy allows you to edit PDF properties in no time. All information about your PDF files, such as author, title, dates, etc., can be changed with the PDFCandy online tool. Here is the detailed guide:
Step 1. Navigate to the PDFCandy webpage and click All PDF Tools on its homepage to select Edit metadata.

Step 2. Click ADD FILE to upload the PDF file you want to change.
Step 3. Input the new information that you need to change and click "Apply changes."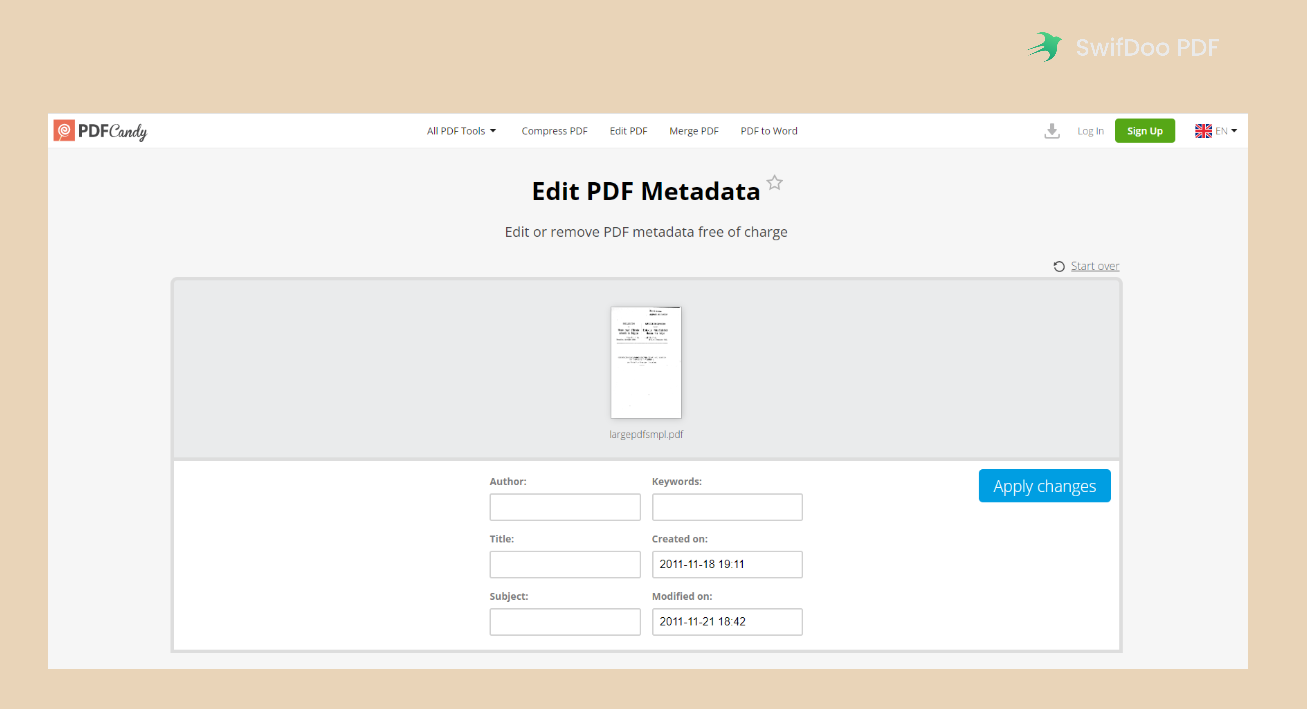 Note:
As the image shows, a PDF file's author, keywords, title, subject, create date, and modify date can be changed as per your requirements.
Step 4. Press the Download file button to save the edited PDF file to your computer.
Tips:
PDFCandy also produces a dedicated link for every edited PDF file, which enables you to share the file with others conveniently. Additionally, a number of direct tabs are also available under the download button to make it simple for you to compress, merge, arrange, split, protect, and modify the edited PDF.
In addition, PDFCandy has released a Chrome PDF editor extension, which provides you with an alternative method to change PDF metadata online. And there is a small pop-up window showing on its homepage, allowing you to install the extension without breaking a sweat.
Edit PDF Metadata with 2PDF.com
Numerous free online PDF tools are integrated into 2PDF.com, enabling you to edit, merge, divide, compress, and convert PDF files for free. Because of its user interface's clarity and simplicity, you can quickly find the utility.
It's also very easy to use 2PDF.com to edit PDF metadata. Let's find out the details:
Step 1. Go to your browser and search for 2PDF.com to land on its website.
Step 2. Click All tools and select Edit PDF metadata.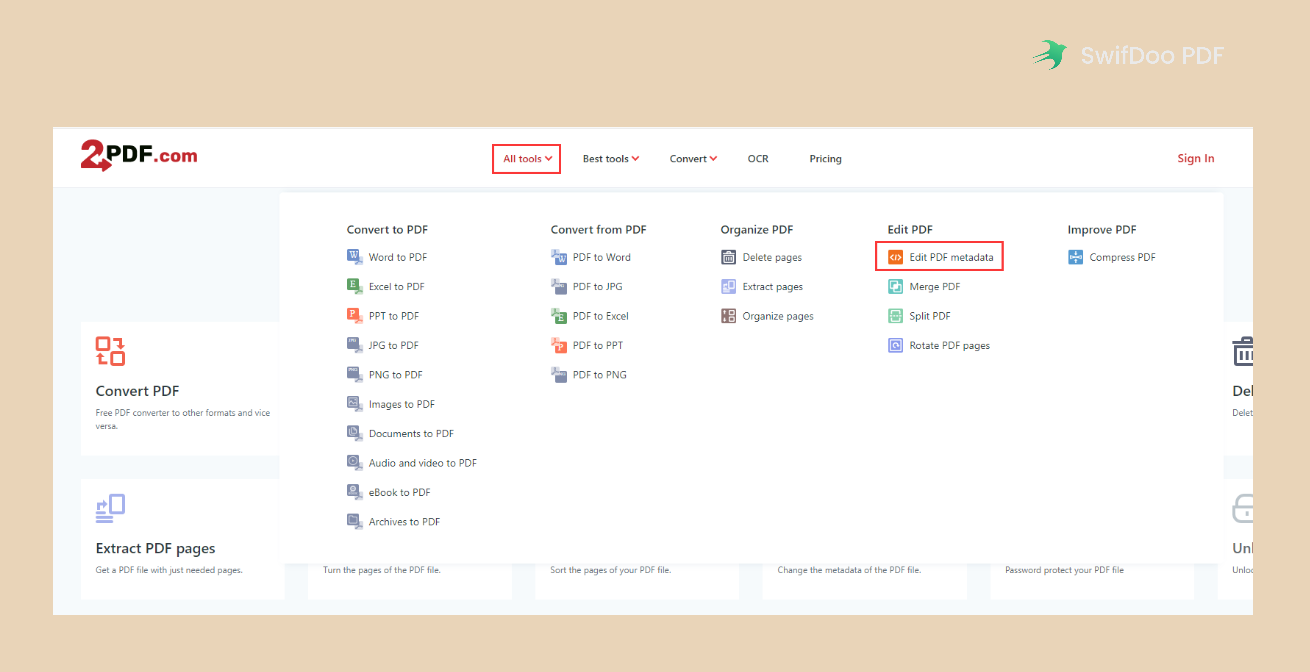 Step 3. Import your PDF file into the "Drop file here" area. Then, to change the properties of the PDF, type all relevant information.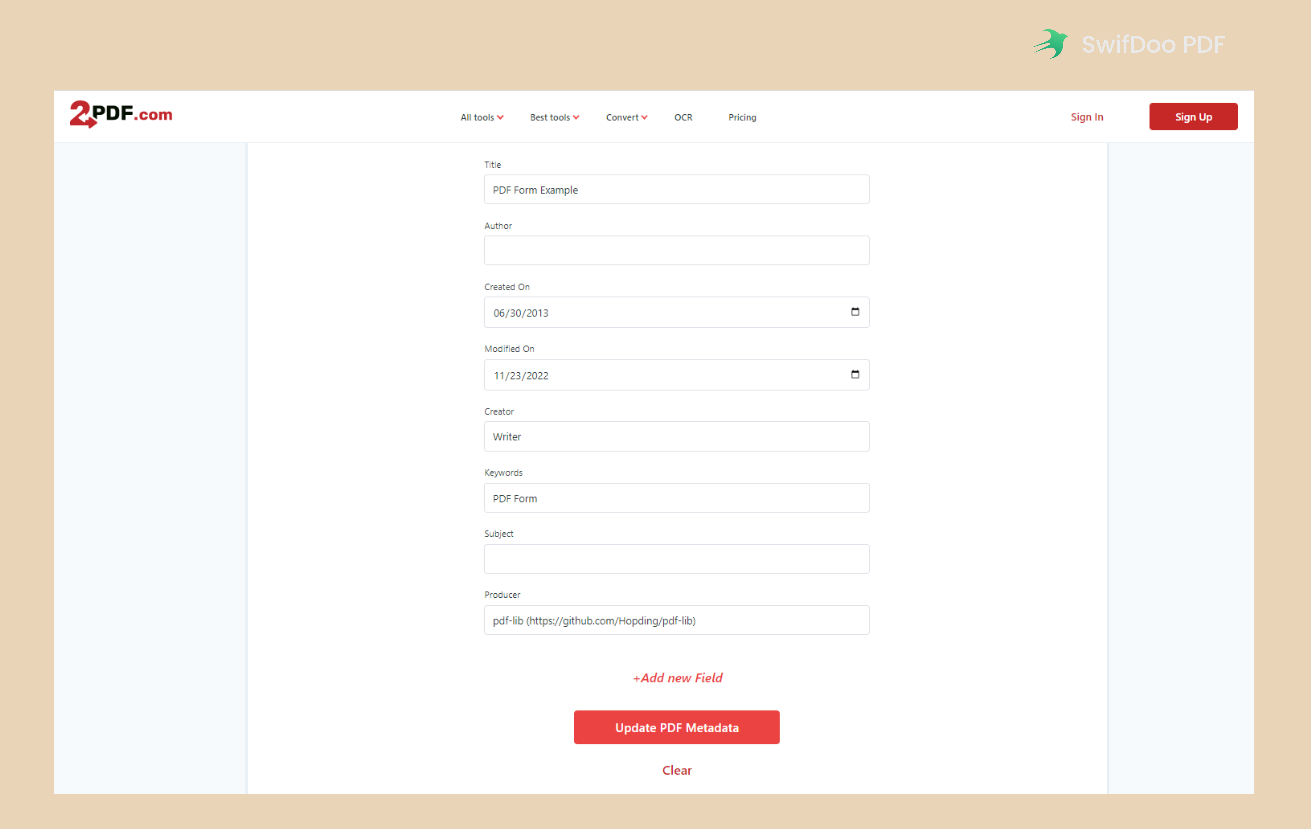 Tips:
In addition to the common data, 2PDF.com allows you to add new fields, so you can create new information for your PDF files.
Step 4. After typing all the information, click Update PDF Metadata and download the file manually.
Admittedly, 2PDF.com has two pricing plans that require money: Standard and Professional. Its Free version can also satisfy most regular users because there is no big difference among them.
How to Edit PDF Metadata Offline
When in an emergency, using online tools can be a good choice. However, if you're offline and there's no Internet connection, a desktop program can help you a lot! In this part, we've also selected two desktop programs to help you modify PDF metadata offline. Let's read on!
Adobe Acrobat
You can always get a solution on Adobe Acrobat when confronting a PDF-related issue. Adobe was the company that first invented the PDF file format, so it makes sense to manipulate PDF files with Acrobat.
When editing PDF files, Acrobat provides you with a series of professional tools to make changes in PDFs. If you're in editing mode, you can modify the text, images, links, headers, footers, watermarks, crop PDF pages, etc., offering you great convenience.
It's very easy to edit PDF metadata in Acrobat, and it allows you to change all information with security. Here's how:
Step 1. Open your PDF file with Acrobat.
Step 2. Click File > Properties in the top left corner.
Step 3. Now, you'll see a document properties dialog box, showing all the related information about this PDF file, such as its description, security settings, fonts, etc. Click one tab and you can modify it as per your requirements.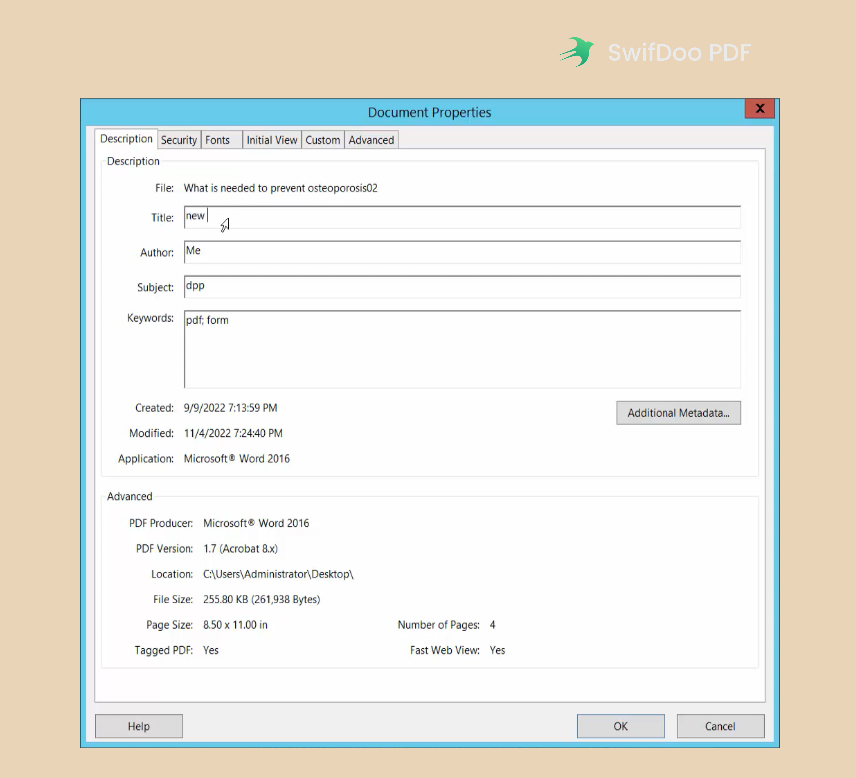 Step 4. Click File > Save as to store the edited PDF file on your computer.
Tips:
There's an "
Additional Metadata
" button in the document properties dialog box. It enables you to add new descriptive information to your PDF files.
Sejda PDF
Sejda PDF is a comprehensive and multi-platform service for modifying PDF files. It works smoothly online and offers desktop applications for Windows, Mac, and Linux, making itself warmly welcomed by its users. In addition, Sejda PDF desktop has a very simple and clear interface. Even if you've never used Sejda PDF before, you can locate the feature you need in seconds.
More crucially, Sejda PDF lets you update PDF metadata for free, unlike Acrobat, which has pricey purchasing plans. It enables users to complete 3 jobs without paying any money each day, which can undoubtedly cover the needs of regular users.
To edit PDF metadata for free with Sejda PDF, follow the steps below:
Step 1. Download the Sejda PDF desktop version on your computer.
Step 2. Put your mouse on the All Tools tab and click Edit Metadata in the OTHER part.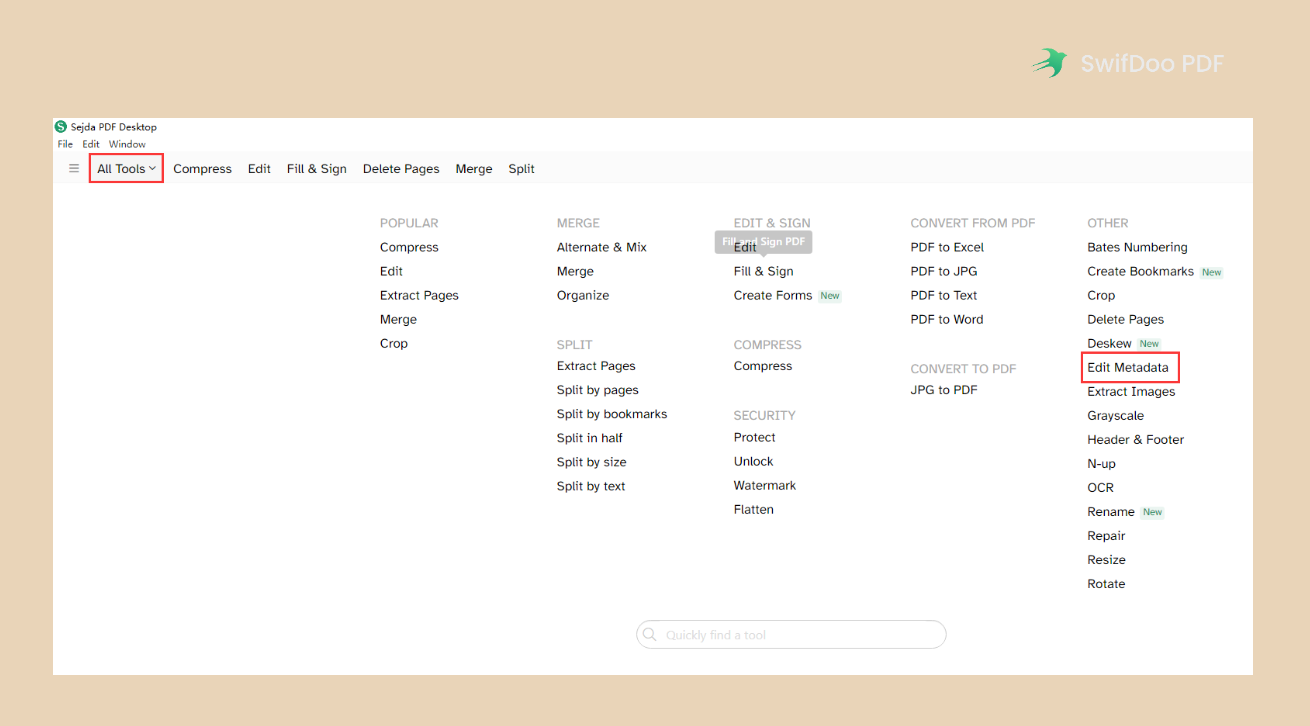 Step 3. Open the PDF file you need to edit metadata for by clicking the Choose PDF files button. There are two options for you to process: Remove all metadata and Change metadata. Select one and press "Continue."
Step 4. Modify the corresponding information at this step. Sejda PDF also allows you to add new fields with a direct tab. Once everything in place, click Update PDF Metadata to confirm your changes.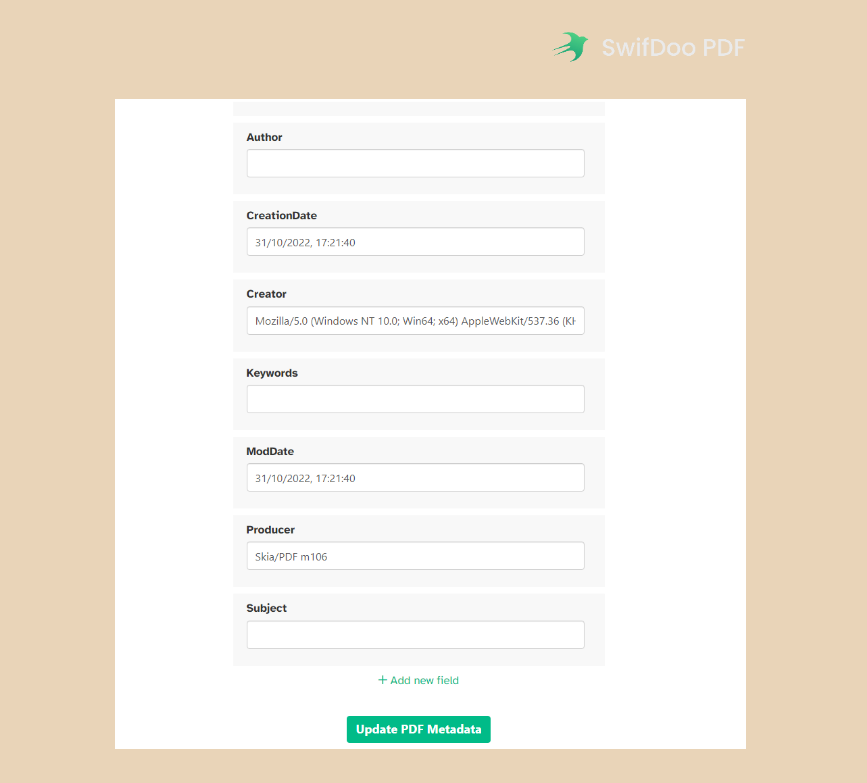 Note:
Up to 200 pages or 50 MB of documents and 3 jobs each day are free of charge.
Bonus Part: A Top-Rated PDF Editor
In addition to all the PDF tools mentioned above, we have a warmly welcomed and robust PDF editor to offer you as a decent addition to your software library: SwifDoo PDF. This program can help you work with PDF files with its solid features to edit, convert, compress, merge, and protect PDFs with ease, etc.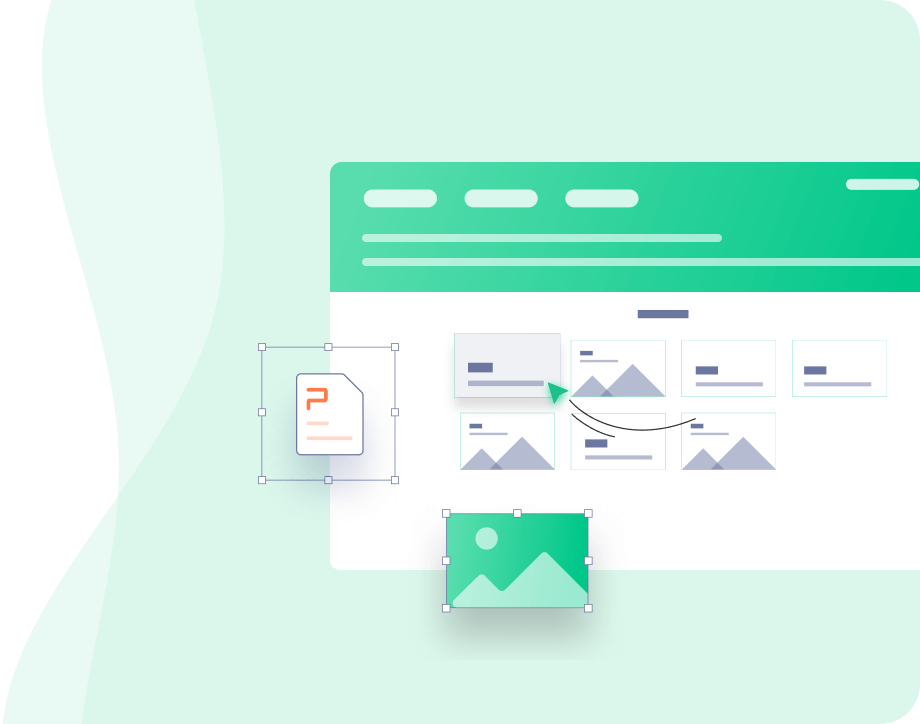 SwifDoo PDF: All-in-One Free PDF Software
Annotate PDFs by adding notes, bookmarks, etc
Convert PDFs to Word, Excel, and other editable files
Edit, compress, organize, and split PDFs
Free Download
Windows 11/10/8.1/7/XP
SwifDoo PDF enables you to edit PDFs as easily as Word documents. If you try it once, you'll find how simple, powerful, and easy to navigate it is! Honestly, some features are not available in SwifDoo PDF, for example, editing PDF metadata, which will be available soon. You might notice that it does have some exclusive features, such as serving as a real-time PDF translator to help you translate PDF files when reading.

SwifDoo PDF sets a much more reasonable price than most other PDF programs on the market, and you're also granted lots of functionalities to edit PDF files. So, why not give it a try? You won't regret using SwifDoo PDF!
Conclusion
That's all about modifying PDF metadata both online and offline. There are 4 methods introduced in total, giving you many choices. With a dedicated feature designed, it's not difficult to edit PDF metadata anymore. Also, we've brought a relatively new PDF editor to the table to offer you an alternative. Free download SwifDoo PDF and manage PDF files easily!