Introduction:
Document translation is increasingly important in the globalization age as more and more people from different countries work together through the Internet. However, translating PDF documents is still challenging. Not as easy as you can do with an editable Word file, the text in a PDF can not be edited, or be copied in many cases. Then how do you translate PDFs with minimal effort?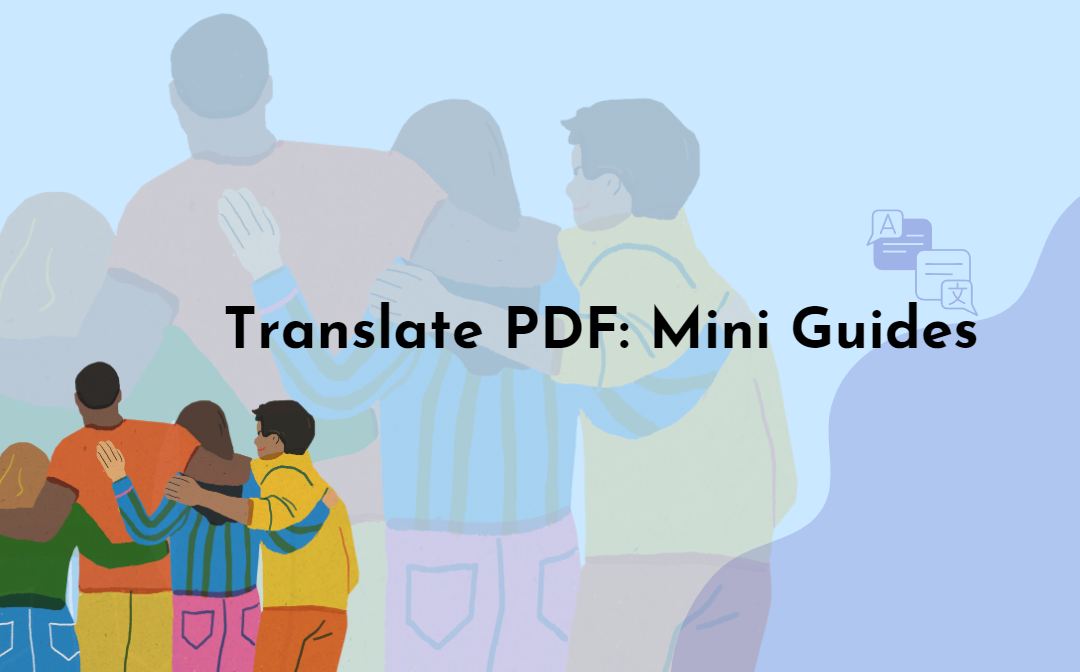 Thanks to some effective PDF translators, PDF to Word converters and PDF editors like SwifDoo PDF, translating PDF files has never been this easier. This post will introduce how to translate a PDF from one language into another easily using desktop PDF software and an online translator.
Translate PDF with SwifDoo PDF
SwifDoo PDF is a feature-rich PDF software application that enables you to compress, split, and edit PDF files, convert PDFs to Word and other formats and vice versa, and more. The software provides a straightforward way to translate PDFs with its Quick Translation feature and allows you to copy and paste the translation results. It translates text and your file between English and 100+ other languages in the world.
Now let's see how SwifDoo PDF makes it easy to translate a PDF.
Step 1: Free download, install and launch the software, then open your PDF document with it;
Step 2: Select a piece of text and choose Quick Translation in the pop-up mini-toolbar;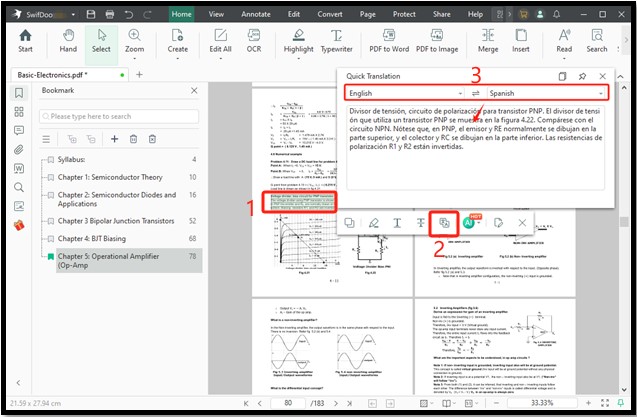 Step 3: Choose the original language and target language, then the software will translate the selected text in your PDF automatically.

The handy PDF software enables you to translate up to 400 characters in a PDF at a time and you can use this method to translate your whole PDF quickly. It simplifies your translation work, saving you the trouble of copying text to a document translator and pasting the translation results to another document.
Tips:
If the mini toolbar is disabled and doesn't show when you select the text, click the "Quick Translation" button under the "Home" or "View" tab, or go to "SwifDoo" > "Setting" to enable it.
If you want to translate PDFs yourself to ensure the translation quality, instead of using machine translation, take advantage of SwifDoo PDF to convert the PDF to a Word file so that you can directly start the translation under the specific text. This method also works with scanned PDFs. In addition, when it's not necessary to translate an entire PDF page or create translations in another file, you can use the software to edit the PDF to write your translated sentences or paragraph.
Translate a PDF after Converting PDF to Word
SwifDoo PDF comes with advanced OCR technology, enabling you to turn normal and scanned PDFs into editable documents without losing the overall layout and formatting.
Let's take a closer look at how SwifDoo PDF converter converts PDF to Word to help you translate a PDF.
Step 1: Launch the software and open up a PDF file with it;
Step 2: Choose Convert and select PDF to Word;

Step 3: Click Setting in the converter dialog box to set the PDF language and more options for accurate text recognition, select the output path and tap Start.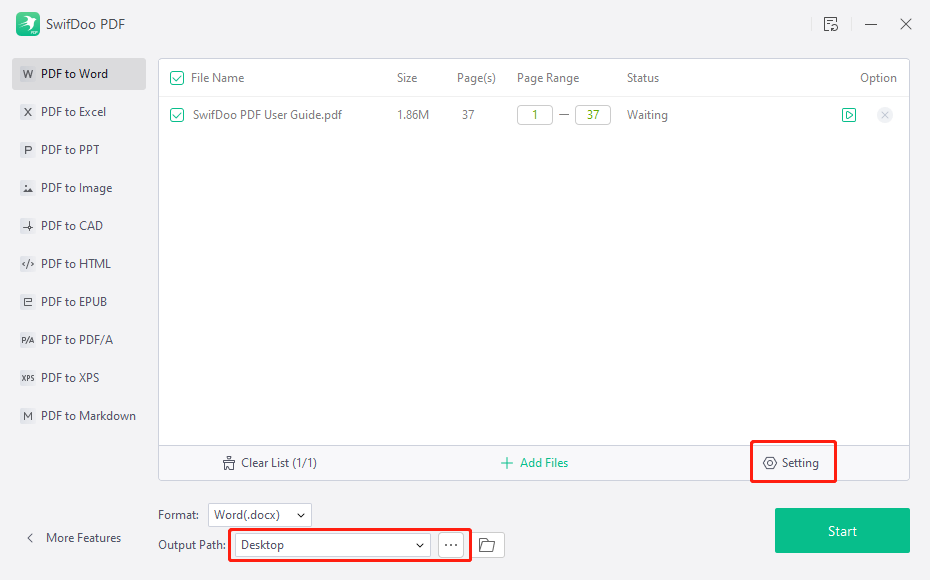 Once the PDF to Word conversion is completed, you can open the Word file to do the PDF translating yourself.
Tips: If you need to translate scanned PDFs, you can not only convert PDF to Word and also OCR PDF to make it editable. So you are able to copy and paste the text to a translator.
Translate PDF with the Editing Tool
SwifDoo PDF allows you to easily type and edit your translation on the original content. Check out how to translate the text in a PDF with the software's editing feature.
Step 1: Drag and drop your PDF file into the PDF software;
Step 2: Tap Edit on the top menu bar and choose Edit All, translate the text as you want, and replace the original text with the translation;

Step 3: Hit Insert Text to add your translated words anywhere on PDF pages.
That is all about how a desktop PDF translator, PDF editor and converter lets you translate a PDF faster. Apart from using SwifDoo PDF, you may also want to translate your PDF by Google Translate and other online translation apps or tools, then keep reading.
Translate PDF with Google Translate
Speaking of how to translate PDFs, we would like to first mention Google Translate. If you often do translation work, you must be familiar with it, one of the most used machine translation services and online translators developed by Google. Google Translate also translates Word, Excel files, web pages, sentences and phrases without cost.
Here is a concise instruction on how Google Translate translates a PDF document.
Step 1: Search and get into Google Translate online service page in Chrome or another browser;
Step 2: Choose Documents, then click Browse your computer to upload the PDF file you want to translate;

Step 3: Tap drop-down arrows on two sides to select which language you need to translate the document from and to;
Step 4: Hit Translate, then download and save the translated PDF.
Google Translate translates PDF files for free and supports 100+ languages, from Spanish to English, English to Spanish, Japanese to English, French to English, and much more. During the translation, the formatting and layout will not change much normally.
Note:
Google Translate only translates a document smaller than 10 MB, thus you can use SwifDoo PDF to compress or
separate larger PDF pages
to meet the requirement.
But there is one thing you should note some special PDF documents may not be translated by Google Translate. So how do you translate such a PDF successfully? That is what we are going to cover with another PDF translation software.
Translate a PDF with DeepL
If you translate PDF files frequently, a reliable and professional PDF translator will save you time, which generates translations with fewer mistakes. This is where DeepL comes in. It even translates some documents that may not be translated by Google Translate. Every month, DeepL allows you to free translate 3 PDF files online and keep the formatting to the greatest extent.
Find out the quick steps to translate a PDF online and for free.
Step 1: Choose Translate files at DeepL workplace;
Step 2: Click Select from your computer to upload the PDF that you need to translate;
Step 3: Choose target language and the PDF translation tool starts translating the PDF document automatically.
Like Google Translate, DeepL is also a neural machine translation service provider, and it offers 24+ most popular languages. Whether you want to translate a PDF from Spanish to English, French to English, Japanese to English, or vice versa, the translation tool will meet your need at its best. It offers monthly and yearly subscription plans. When needed, you can use it with a paid account for more file translations.
Translate PDF with DeftPDF Online
DeftPDF is a PDF file management tool that can translate PDF files online for free. More than that, it can also translate Word, PPT, Excel and other types of files. The PDF translation tool enables you to translate a PDF from Dutch to English, Italian to English, Russian to English, Spanish to English, and so on. Now get to learn how to translate your document online for free.
Step 1: Search DeftPDF translate pdf in any browser and enter into its workstation;
Step 2: Click UPLOAD PDF FILE to upload a PDF, choose translation languages and hit TRANSLATE.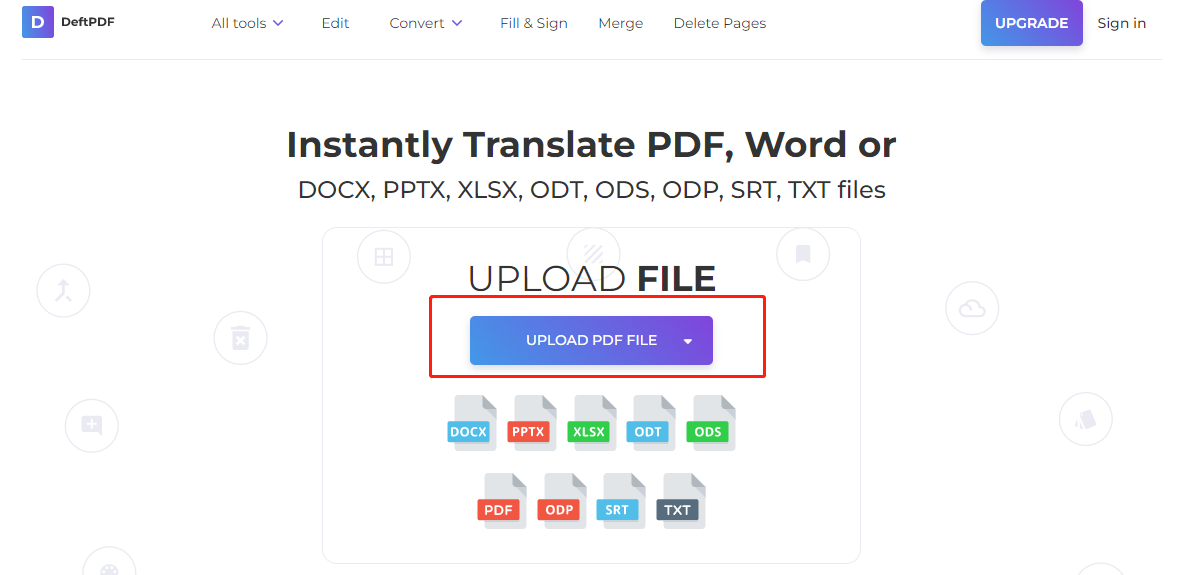 Note:
There are some limitations for free PDF translations: up to 200 pages or 50 Mb in total, 3 tasks per hour.
How to Translate a PDF with Chrome Extension
Regarding how to translate a PDF in Chrome, an extension like Instant Multilingual PDF/HTML/TXT Translator is required. With this add-on, you can instantly translate the text in a PDF while reading, without opening or accessing any software. Follow the brief tutorial to translate your PDF in Chrome.
Step 1: Add Instant Multilingual PDF/HTML/TXT Translator from Chrome Web Store to your Chrome;
Step 2: Click Extensions icon in the top right corner of Chrome, hit More actions and choose Manage extension to allow access to file URLs;
Step 3: Open your PDF in Chrome, select and right-click on the text you want to translate, and choose the translation extension.
Using the Chrome extension, you have to set the target language in "Extension options" before translation. You can manually copy the translated text but not download a translated PDF.
Conclusion
Translating a PDF from one language to another is not a big problem with machine translation software irrespective of Google Translate, Chrome extension or any other mentioned translator. Additionally, a PDF editing application might be essential when you wish to translate yourself or your PDF is too large to be translated by an online translator. Even if you have translated a PDF, SwifDoo PDF is useful to make changes to the document.
Looking for an all-purpose PDF tool to help translate your PDF documents? Get SwifDoo PDF to deal with all related issues with ease.