If you want to read documents or ebooks on an ebook reader, the EPUB format is a superior choice. Compared to PDF documents, EPUB files are re-flowable, responsive and can deliver a better reading experience. Because of that, many authors, publishers, and ebook lovers often require a PDF to EPUB converter to convert PDF to EPUB format. Among all the converters on the market, which are the best?
PDF files are one of the file types that's the hardest to deal with. Converting PDF to EPUB is even harder. To make your work simpler, you'll need to know the efficient and quality converter software to use. This article lists the 6 best PDF to EPUB converters available offline and online. You can go through the introductions to them and choose your favorite one.
1. SwifDoo PDF
When it comes to a lightweight, fast, and powerful PDF to EPUB converter, SwifDoo PDF has a place. The software can swiftly convert multiple PDF documents to EPUB files in one go. Better yet, it allows you to choose only necessary pages in PDFs for conversion. The leading text recognition and conversion technology ensure reliable conversion results. To instantly and better enjoy your EPUB book reading, turn to this PDF to EPUB converter software.
There is a lot you can do with SwifDoo PDF. The software not only allows you to convert PDF to EPUB, and has a complete set of other PDF tools. These tools enable you to edit, compress, merge, split, sign, and protect PDFs. Moreover, the software application is one of the best EPUB to PDF converters.
Advantages of SwifDoo PDF
The best PDF to EPUB converter with a small size, quick response, and batch conversion ability
Convert PDFs to EPUB files without losing formatting and support large files
Convert PDFs to Word, Excel, PowerPoint, TXT, images, and various other files, and vice versa
Edit, compress, split, merge, and organize PDFs
Easy-to-navigate ribbon-style menus and interface
2. Calibre
Calibre is a fantastic ebook viewer, manager, and converter. It is open-source and compatible with Windows, Mac, and Linux. The outstanding part about this PDF to EPUB converter is the support for converting PDF to EPUB for free. After conversion, you can directly open and read the EPUB books without leaving the app.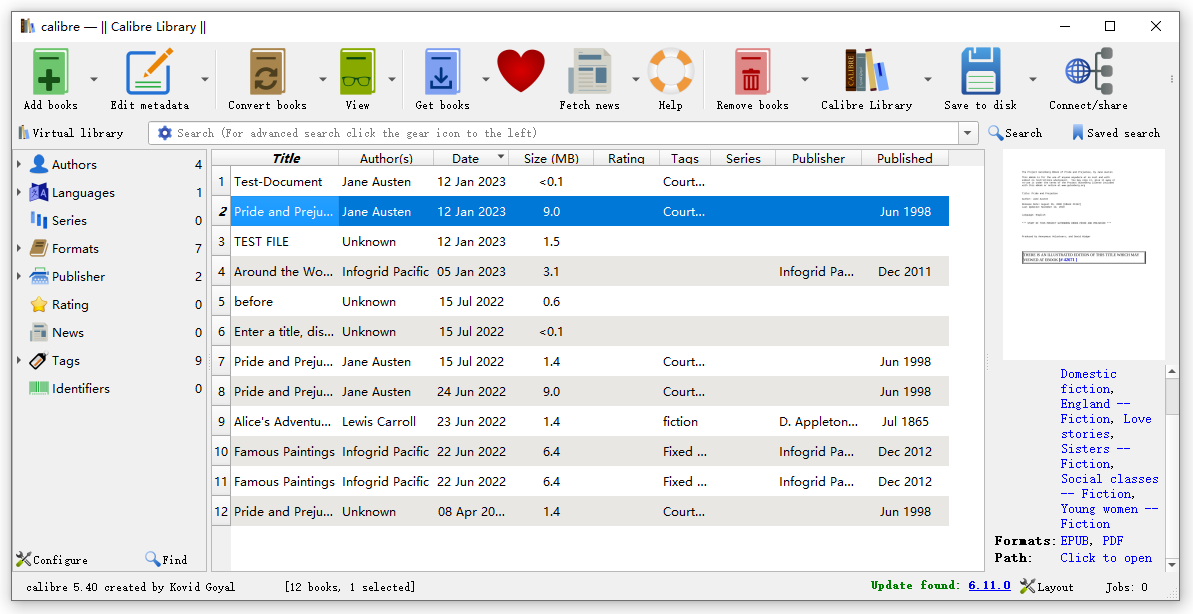 Not just free PDF to EPUB converter software, Calibre lets you do so much more. It also allows you to convert PDFs to older Kindle-supported formats such as MOBI and AZW3 at no cost.
3. Aiseesoft PDF to ePub Converter
Aiseesoft PDF to ePub Converter is a dedicated PDF to EPUB converter software with a 15-day free trial. It lets you convert lots of PDFs to EPUB files at once. This converter is good at converting documents in different languages, including English, German, and French. The interface is simple, clean and has no ads. The downsides are the trial version watermarks output files and there are no other features or tools. After the trial, you have to register as a premium user.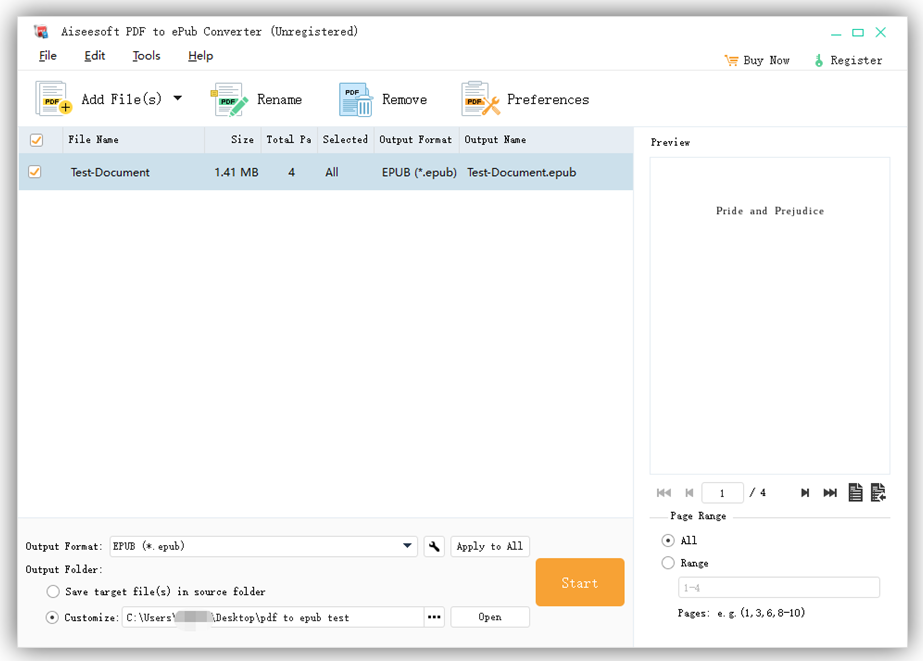 4. AnyMP4 PDF Converter Ultimate
Another best PDF to EPUB converter on the list is AnyMP4 PDF Converter Ultimate. Like the before mentioned SwifDoo PDF and other converters, the software adopts OCR technology to keep the original file quality. Before converting, you can preview your PDF file and select pages for processing. The PDF to EPUB converter is designed for full version free download for Windows and Mac.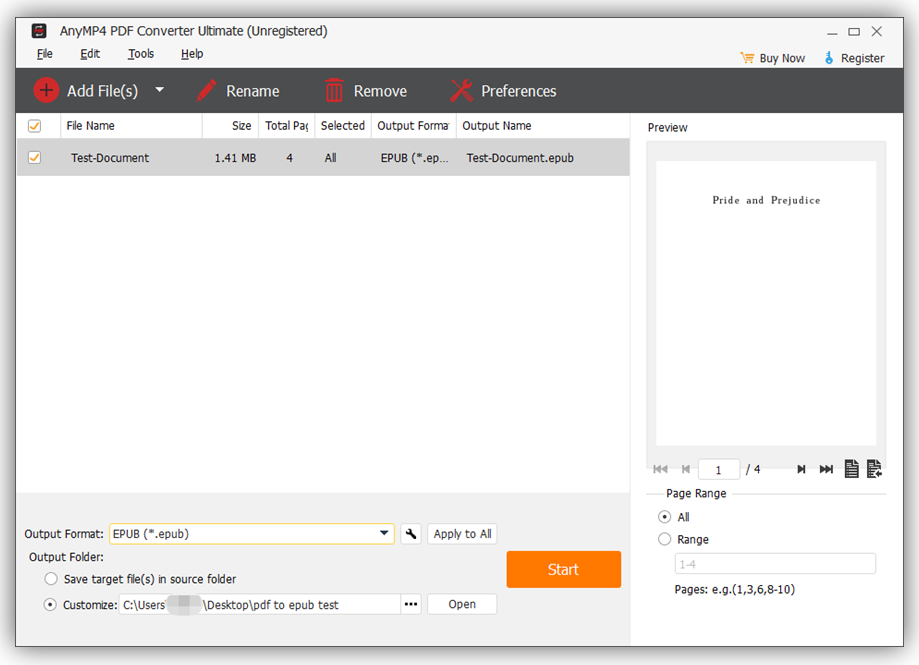 The software is one of the top PDF converters. It also converts PDF files to common Office documents, such as Word, JPEG, and TXT. You can utilize its free trial to convert your PDFs to EPUB, and these office files for free. However, the converted files will be watermarked with its logo.
5. Convertio
Not everyone is fond of using offline applications, and you may prefer online tools to convert files. In this case, you can go for the online free PDF to EPUB converter, Convertio. This is a versatile converter that can convert PDFs to EPUB, MOBI, images, presentations, and other file types. The web service provides an ad-free interface.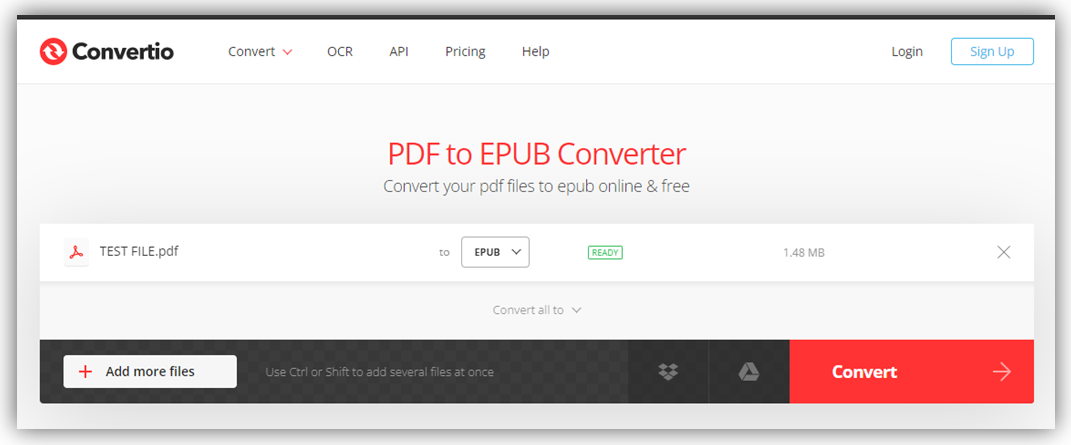 The best PDF to EPUB converter software available online offers free service with limitations. The file size should not exceed 100MB and you can convert no more than 10 files in 24 hours. Any online converter is not suitable for confidential or important documents for privacy reasons.
6. PDF to Epub Converter
If you wish to convert PDF to EPUB and read the converted EPUB books on a mobile device, consider installing a PDF to EPUB converter app on your phone. The app PDF to Epub Converter, as its name suggests, is created to convert PDF books into EPUB files. It can convert scanned PDFs when required. This app is downloadable on an iPhone and iPad.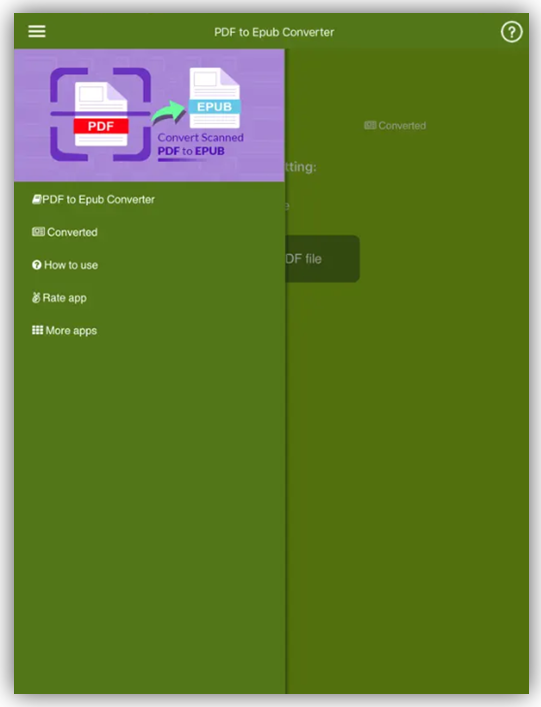 Why Convert PDF to EPUB
With these PDF to EPUB converters developed but is converting PDF to EPUB good? Why is EPUB better than PDF? Perhaps you have asked yourself or others these questions. The answer is both formats have their pros and cons, and EPUB may be better than PDF in some aspects. Here are several benefits of PDF to EPUB conversion.
Improved reading experience: Content in PDFs is organized in a fixed layout. When you convert a PDF to an EPUB book, the file can always automatically and flexibly match the screen size. Converting PDF to ePUB is a way to make eBooks reading more pleasing.
Higher security: EPUB format supports Digital Rights Management or DRM standards. That's one of the benefits of converting PDF to ePUB with a PDF to EPUB converter.
Widely popular with e-readers: If you are a Kindle user, you can create EPUB files from PDFs to read on Kindle. EPUB is now supported by Kindle.
Final Words
If you are trying to find what tool converts PDF to EPUB, this article has you covered. Among the 6 best PDF to EPUB converters, you can pick the one that you like most or switch between different software to meet your different needs. If you wish to perform more tasks on your documents, it's recommended to employ the all-in-one software, SwifDoo PDF.
FAQs
What is the best free PDF to EPUB converter?
The best PDF to EPUB converter comes down to your personal or business needs. Calirbe is superior for ebook lovers without much need to deal with documents. It's a PDF to EPUB converter best for compatibility with multiple devices (Windows, Mac, and Linux) and free service. SwifDoo PDF is also the go-to choice to convert PDF to EPUB ebook format. This PDF to ePUB converter can be freely downloaded for Windows 7, 8, 10, and 11.
Does Adobe Acrobat convert PDF to EPUB?
Adobe Acrobat doesn't have the feature to convert PDF to EPUB format. It cannot convert PDF to any ebook format or vice versa. The only way to achieve the conversion is to convert PDF to Word in Adobe and then export Word as EPUB using the Mac Pages app or some e-readers on Windows.