Converting PDF to EPUB has been a great need among people who prefer reading files (especially books) on electronic devices. EPUB files can be opened on all major eBook readers, giving you much convenience when reading books paperless. In this article, we offered you a thorough explanation of how to convert PDF to EPUB with ease and introduced you to the best PDF to EPUB converter. Let's check them out!
PDF vs EPUB
You may have already known every detail about PDF file format while knowing little about EPUB. This part focuses more on giving you a basic impression of these two file formats. Check the following content to learn more!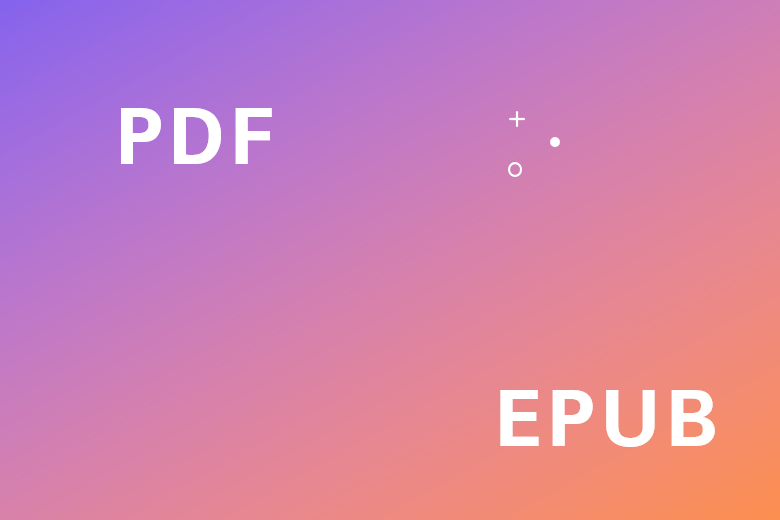 What Is PDF File Format?
Short for Portable Document Format, PDF was mainly designed to share and store files. It can be used to present text and images electronically as well as remain all formatting and styles as they were created initially. The PDF file format has been warmly welcomed since it's self-contained on all devices and operating systems.
What Is EPUB File Format?
EPUB stands for electronic publication, belonging to the Open eBook file format. It's the most common format for eBook reading, which makes it much more welcomed and often used among people who like reading without physical books. More importantly, the EPUB file format is compatible with almost all electronic readers, enabling you to read books on Windows, Mac, Android, and iOS with ease.
Convert PDF to EPUB on Windows
The first part goes with converting PDF to EPUB on Windows, and we will offer you the best PDF to EPUB converter on Windows.
SwifDoo PDF
SwifDoo PDF enables you to convert PDF to EPUB for free on Windows operating systems. It's neither too professional as Adobe Acrobat nor too simple as some small utilities. You can find all the PDF-related features you need within this software and thus better manipulate your PDF files.
SwifDoo PDF offers both online and offline converters, providing you with alternatives to convert PDF files. Moreover, it enables you to turn files for free by giving you a free trial in the desktop program and free tasks online. Check the details below to learn how to convert PDF to EPUB on Windows for free:
Step 1. Free download SwifDoo PDF on your Windows PC.
Step 2. On the homepage, click PDF to Word to open the SwifDoo PDF converter window and select PDF to EPUB from the left menu bar.
Step 3. Click Add Files to import your PDF file. Then hit the Start button to convert PDF to EPUB.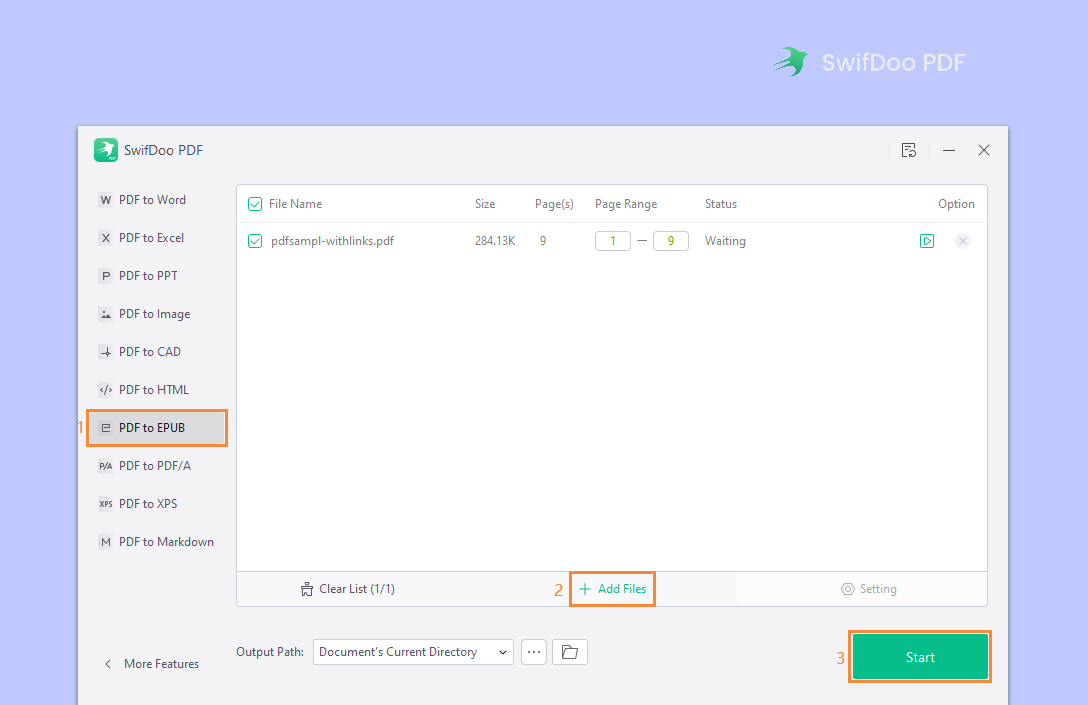 SwifDoo PDF allows you to batch-convert PDF files to EPUB, which saves you much time and effort. With this powerful PDF editor, you can also convert EPUB to PDF, as well as many other file formats.
Calibre
Calibre is an open-source and cross-platform suite of eBook program. It's one of the best eBook managers, and also serves as a handy PDF to EPUB converter. You can use it as an electronic library to classify books by authors, languages, publishers, formats, etc. If you happen to be looking forward to a virtual library as well as an eBook formats converter, Calibre can fit you for sure.
Calibre can be used to convert PDF to EPUB, MOBI, and vice versa. What's more, it's a free program that releases all features without payment required. And you can get Calibre on all major OS, including Windows, macOS, and Linux, as well as Android and iOS. To convert PDF to EPUB with Calibre, follow the guide below:
Step 1. Download and install Calibre on your computer/mobile device.
Step 2. Click Add books to open your PDF file in Calibre and select it.
Step 3. Press the Convert books button and select EPUB from the drop-down menu of the Output format.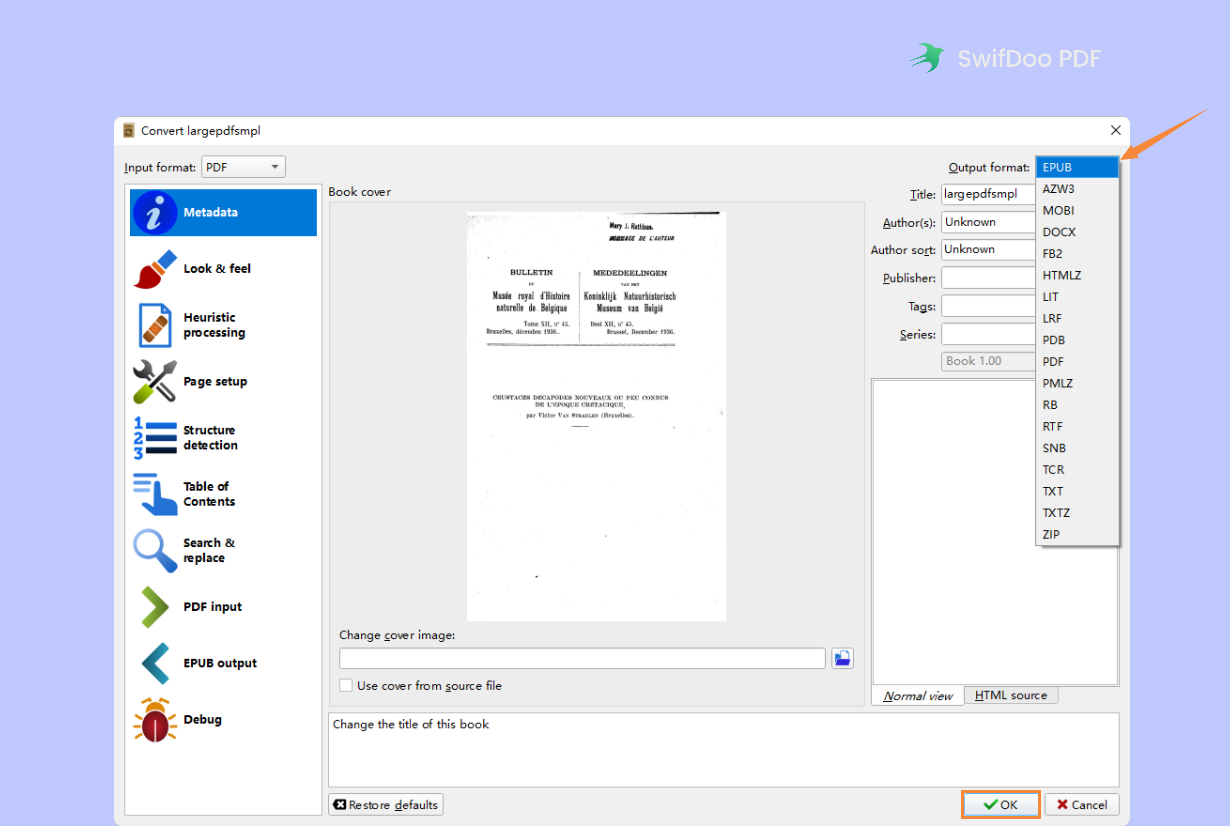 Step 4. Click OK to start the conversion.
Double-click the converted file in the Jobs dialog box, and then you can check and copy the text content and paste them anywhere you like. In addition, as you can see when selecting file formats, besides converting PDF to EPUB, Calibre also enables you to convert PDF to MOBI, HTMLZ, LIT, ZIP, and so on.
Convert PDF to EPUB on Mac
Preview mainly serves as the default PDF editor on macOS. However, you cannot use it as a PDF to EPUB converter this time. Nevertheless, you can use the Pages app to save a PDF file as an EPUB document, and a third-party tool can also help you a lot.
Pages
The Pages app is a built-in app on macOS, mainly used to process Word documents on Mac, iPad, and iPhone devices. It offers you with many Apple-designed templates to create reports, digital books, resumes, posters, and more. More importantly, it allows you to convert PDF to EPUB on Mac straightforwardly. After opening a PDF file in Pages, click File > Export to, and you can easily get an EPUB file for free.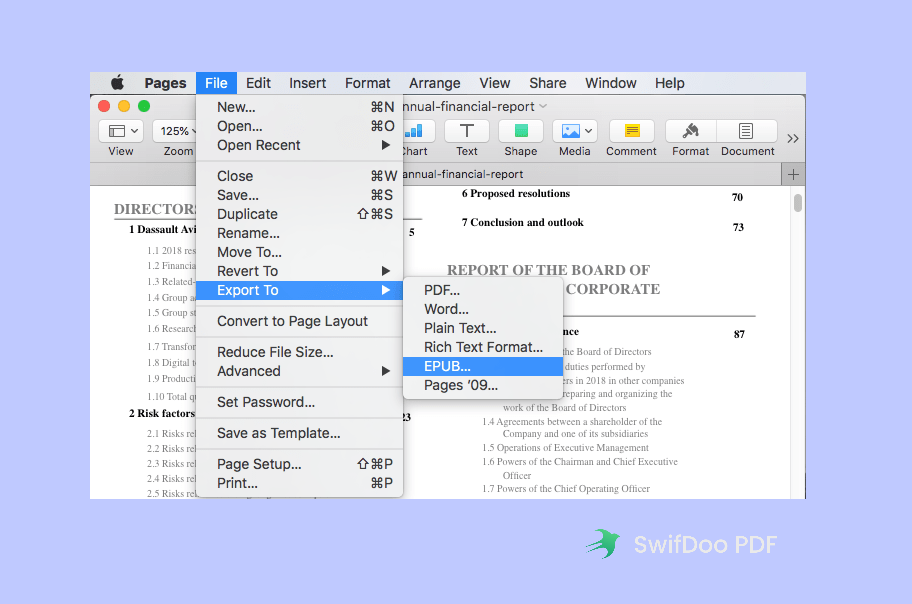 You May Also Like: Best PDF Converters Offline and Online in 2022 >>
Calibre
We've introduced Calibre to convert PDF to EPUB on Windows, and also mentioned that it runs smoothly on Mac and Linux. Plus, it's a free application without any annoying advertisements. Therefore, Calibre is at the top of our list to convert PDF to EPUB on Mac.
To export a PDF as an EPUB file with Calibre on Mac, the steps are nearly the same as that on Windows. If you're at a loss, go back and check the previous part.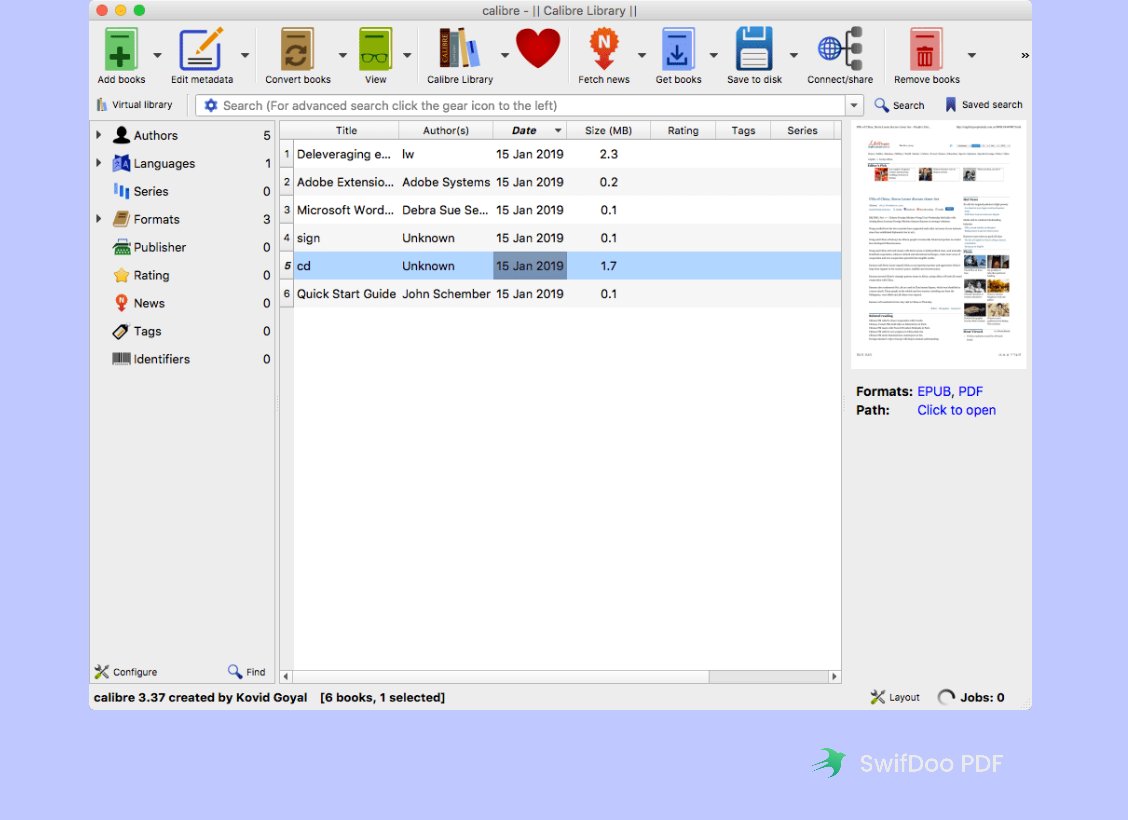 Final Thoughts
With so many powerful converters in the market, it's not a problem to convert files anymore. In this article, we offered you with three handy tools to convert PDF to EPUB, and two of them are free and easy to use. Free download SwifDoo PDF or Calibre and use them right now!
FAQ
How to Convert PDF to EPUB Online
Google Drive and Google Docs can help you convert PDF to EPUB online with ease. By using these two utilities, you don't have to pay any money or worry about unsafety. The following steps explain how you can save a PDF as an EPUB file:
Upload your PDF file to Google Drive.
Right-click this PDF and open it with Google Docs.
Go to File > Download as and select EPUB Publication as your output file format.