Introduction:
Text and PDF files are two familiar file formats in daily use. While these two types of files enjoy high compatibility, we may occasionally need to convert TXT to PDF. Why? A PDF document cannot be edited or modified, so it is widely used in a variety of scenarios, including work handover, job hunting, and academic purposes. The post narrows down the 5 best TXT to PDF converters you should try.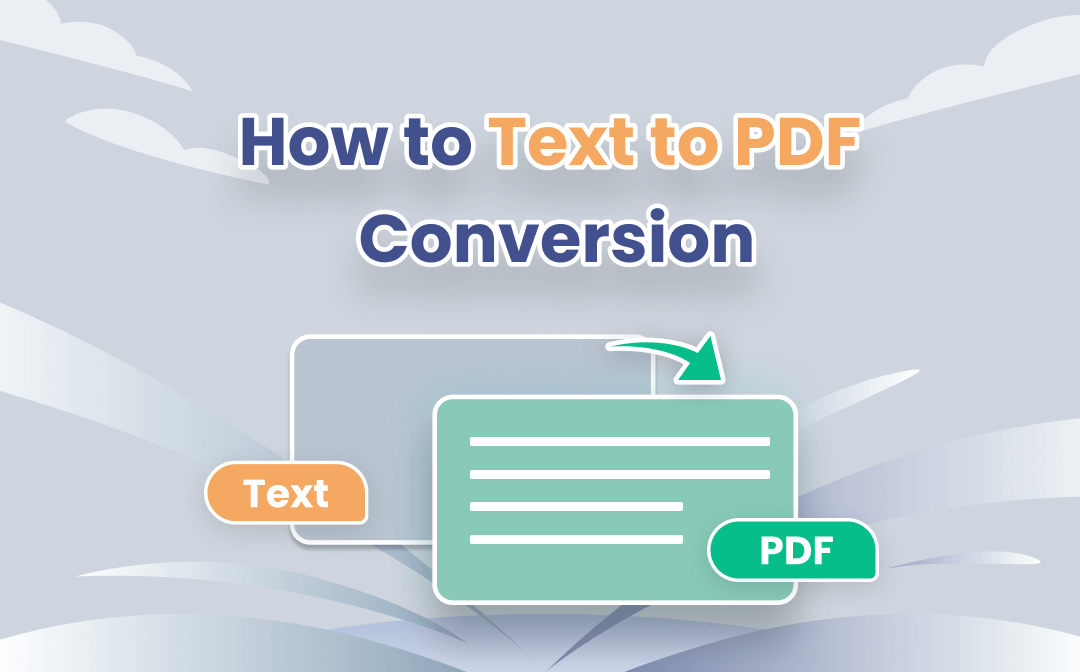 The mature conversion technology makes it less of a problem to convert TXT to PDF. However, in the face of numerous PDF products, which one should you rely on? Should you utilize desktop software or online tools? Considering all your needs, we've listed several trustworthy applications to deal with TXT to PDF conversion.
SwifDoo PDF
SwifDoo PDF is designed for Windows users to tackle different PDF-related tasks. One of the useful features is file conversion. The ability to convert multiple types of file formats makes it a comprehensive PDF converter. We list this product not for its ability to convert PDFs, but for its overall performance. Let's have a glimpse at how the SwifDoo PDF converter can benefit you:
Save PDF as Word, Excel, or PowerPoint files;
Convert PDF to JPG, BMP, PNG, and TIFF;
Export PDF as DWG or DXF;
Change Microsoft Office files to images in different file formats;
Turn PDF into EPUB or vice versa.
Considering how to convert a text file to a PDF, SwifDoo PDF is undoubtedly out of question. Check out the detailed step-by-step tutorial below:
Step 1: Download the program from the official website or the Microsoft AppSource;
Step 2: Launch the software and open a PDF in it;
Step 3: Click TXT to PDF from the main menu;

Step 4: When the window pops up, choose Add Files to load the text file(s) to the workstation. Once ready, press the Start button to convert this .txt file to a .pdf document.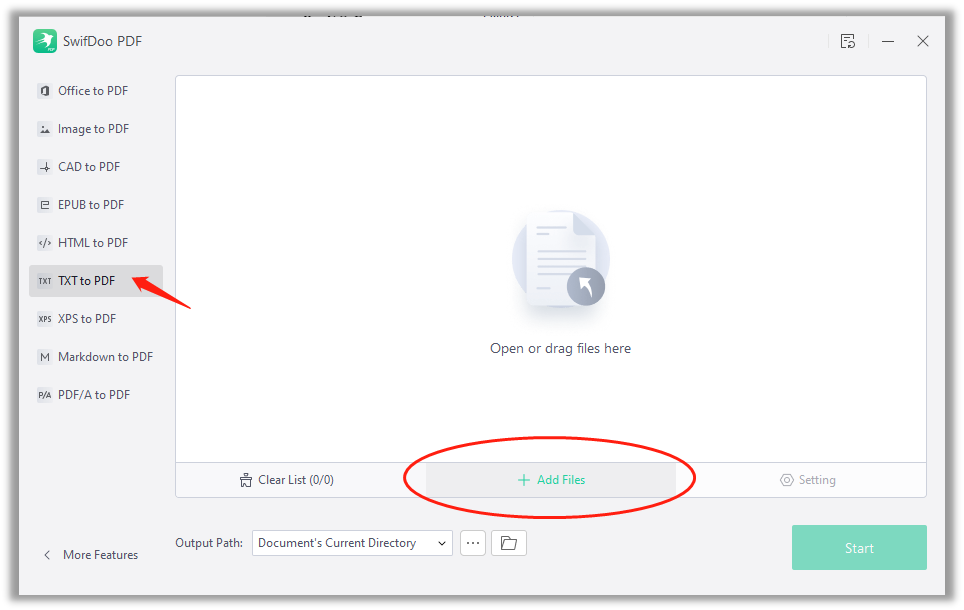 Price: $69/year; $129/perpetual;
Platform: Web/Windows
Pros
Full-set conversion tools for Windows users
Lightweight and easy-to-navigate
15-day free trial
Cons
Only available on Windows
Verdict
SwifDoo PDF is not only a text to PDF converter. It has integrated other commonly-used features into the module so as to make itself a multifaceted tool. Aside from this toolkit, SwifDoo PDF is a qualified PDF editor, annotator, and manager. In spite of being functional, it has a reasonable and flexible pricing strategy to cater to different needs.
Zamzar
Maybe you've never heard of this file converter and think this brand name is strange, but I'm sure you will be amazed by the powerful features ZAMZAR provides. This is a dedicated file conversion tool with a full set of converters that helps convert songs, videos, images, and documents into any desired format.
If all you need is an easy-to-use TXT to PDF converter, ZAMZAR is a solid choice and won't let you down. Converting a TXT file to a PDF only requires several clicks:
Step 1: Type the URL on the address bar;
Step 2: Click Choose Files to upload the .txt file to the workstation. ZAMZAR supports uploading text files from local folder, Box, Dropbox, Google Drive, and OneDrive;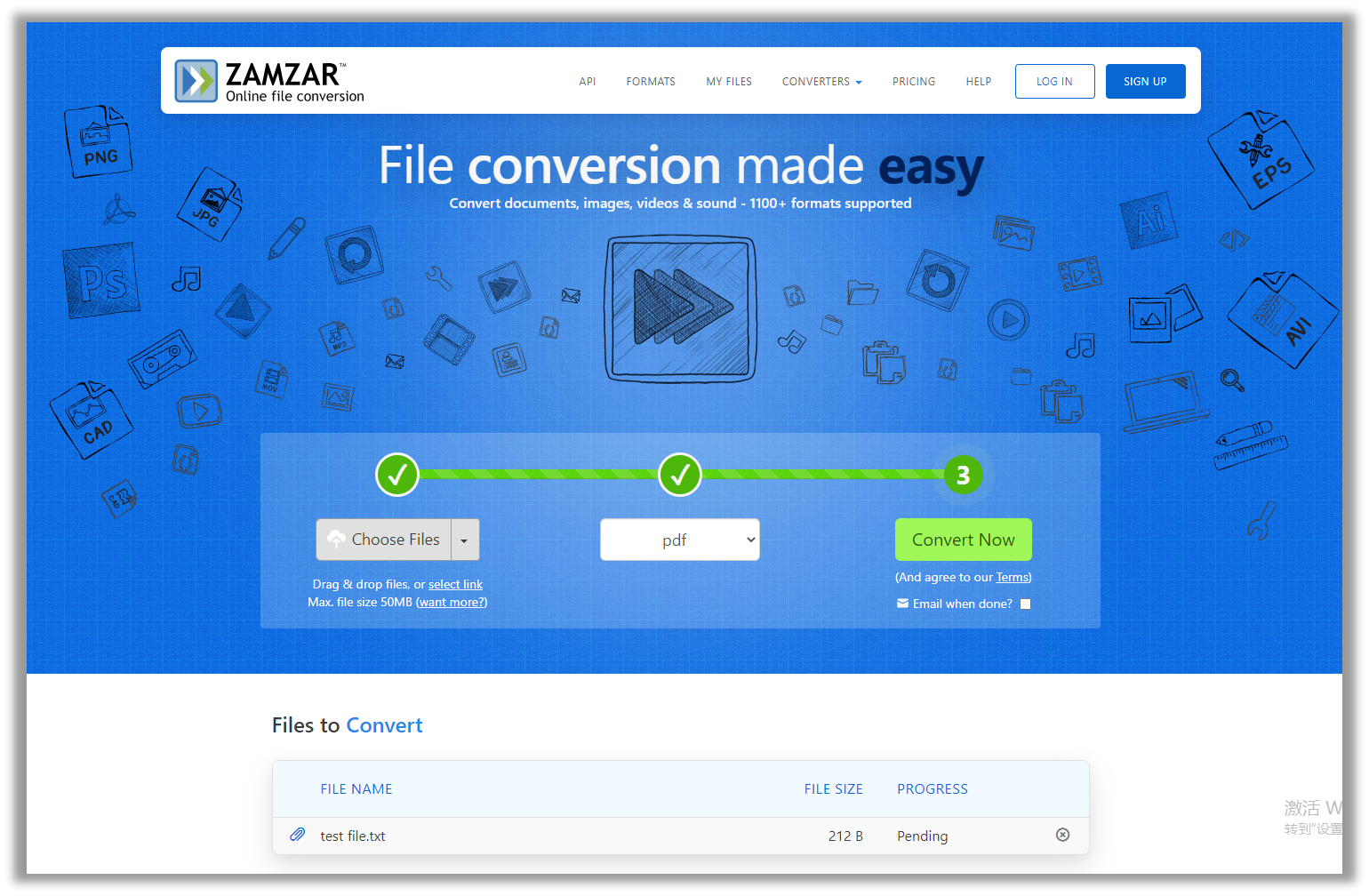 Step 3: In the Convert to drop-down menu, choose .pdf as the output format;
Step 4: Press the Convert Now button to start converting TXT to PDF, then hit the Download button to save the PDF document locally.
Price: $9/Basic; $16/Pro; $25/Business
Platform: Online
Pros
No ads on the official website
Powerful conversion features
Cons
Limited free tasks and file size
Verdict
Zamzar is absolutely worth a try if you need an all-in-one file converter online. However, this is not a free tool. In other words, when you run out of the provided free tasks, you can either upgrade your account or turn away in disappointment.
Soda PDF
Here comes Soda PDF, another comprehensive PDF software program on Windows and the web. Soda PDF, unlike the previous product ZAMZAR, is a versatile PDF tool that can organize PDF pages, e-sign documents, and convert files of various formats, including TXT to PDF conversion. Learn how to easily convert an a.txt file to a PDF:
Step 1: Type the website's URL into the search bar;
Step 2: Click on the Convert to PDF button and then select a .txt file from the local folder by choosing BROWSE;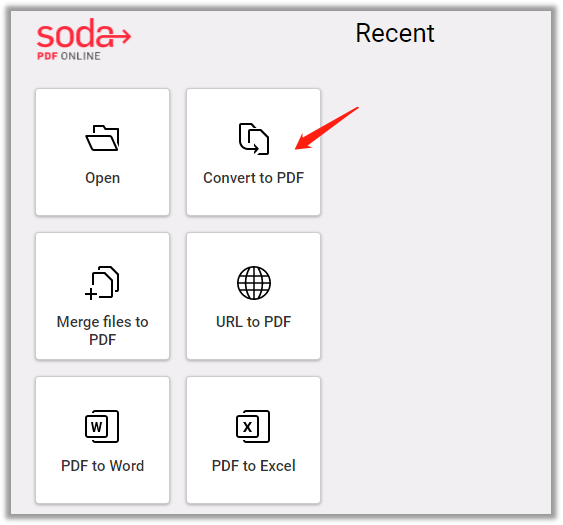 Step 3: When the text file is opened, select Download to convert this TXT file to a PDF.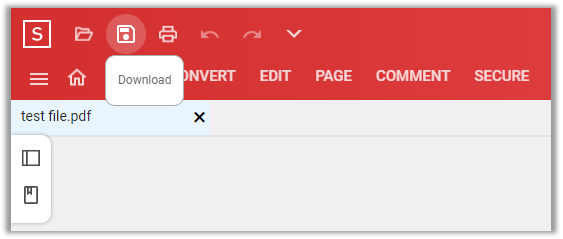 As we said earlier, Soda PDF Online is a versatile tool to address all PDF-related issues. Even though the TXT to PDF conversion is free, that doesn't mean this is a free online PDF converter. When you make any changes to the file, there's always a window popping out to remind users of upgrading the free account.
What's more, users have to go through the steps of registration, logging in, and saving documents. Converting a TXT file to a PDF is an easy job, and it's not necessary to invest too much time in the entire process.
Price: $2.99/month; $4.99/one-time payment
Platform: Web/Windows
Pros
Simplified TXT to the PDF conversion process
Ability to edit, sign, convert and manage PDF documents
8 common languages supported
Cons
Ads displayed on the main interface
The sophisticated process when making changes to a document as a new user
Verdict
Soda PDF provides both an online and Windows version to reach a wider user base. If you are a Soda PDF Desktop user, then its online version is a huge help when in urgent need. Otherwise, the whole process is not convenient to use. But regarding TXT to PDF conversion, Soda PDF Online is a handy tool.
Qoppa PDF Studio
If you require an all-in-one PDF software program to deal with complicated PDF problems on different operating systems, including Windows, macOS, Linux, and Unix, then Qoppa PDF Studio hits the spot.
This product enables users to organize PDF pages, annotate PDF files, create fillable PDF forms, and create PDFs from TXT files. The TXT to PDF conversion process is similar to that of Soda PDF; just follow the guide below to see how easy it is:
Step 1: Download and install the software on your computer;
Step 2: Launch the program and click From File in the column of Create PDF;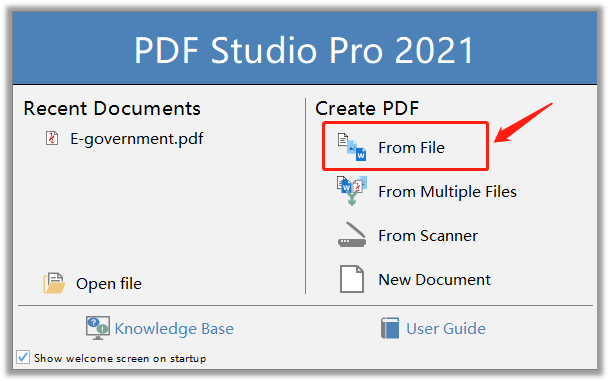 Step 3: Choose Save or Save as on the quick access toolbar.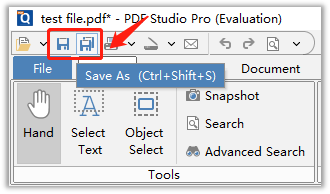 Just within three steps, your TXT files will be effortlessly converted to PDFs. If there are multiple TXT files, things may come differently:
Step 1: In the Create PDF column, click From Multiple Files.
Step 2: When a new window pops up, select Add files to upload the TXT files to the workplace;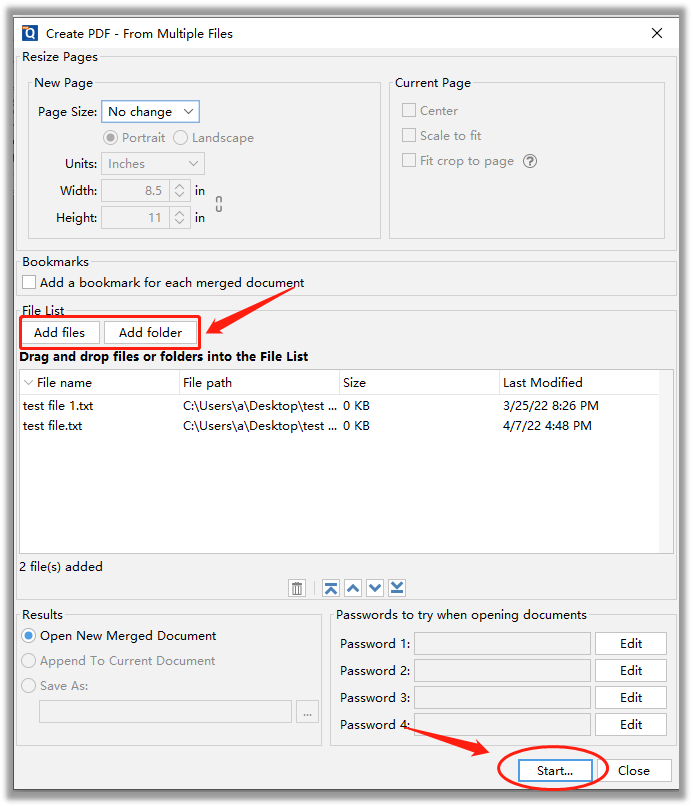 Step 3: If you need to change the page size, just click the drop-down menu of the page size. When ready, click Start to convert multiple TXT files into a single PDF document.
However, during the review, what's disappointing is that if the original text file contains Asian or Arabic characters, these elements will get lost after conversion. In addition, if you are not a paid user of this program, the newly created PDF will be watermarked.
Price: $89/Standard; $129/Pro (the more you buy, the lower price you enjoy)
Platform: Mac, Windows, Linux
Pros
Free to use
Intuitive user interface (features available only to Pro users will be marked)
Full set of PDF tools
Cons
Watermarks on PDF documents for non-paid users
Limited features for free users
Verdict
Qoppa PDF Studio is a comprehensive PDF expert in this industry. With all the necessary features integrated into the operation interface, users can find what they want easily.
LibreOffice
The above recommendations are not a real sense of free tool, therefore we'd like to mention an open-source office tool that can convert TXT files to PDFs, LibreOffice. This is a free office productivity suite that works similarly to Microsoft Office. Though it is not a professional TXT to PDF converter, its performance is desirable and can fulfill your fundamental need for TXT to PDF conversion. Have a look at how this word processor works out the problem:
Step 1: Download and install LibreOffice from the official website. The process may take a while as the installer is more than 700MB;
Step 2: Start the program and click Open File on the left column;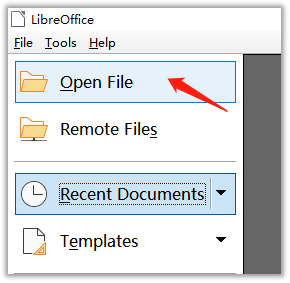 Step 3: Upload the text files from the local folder;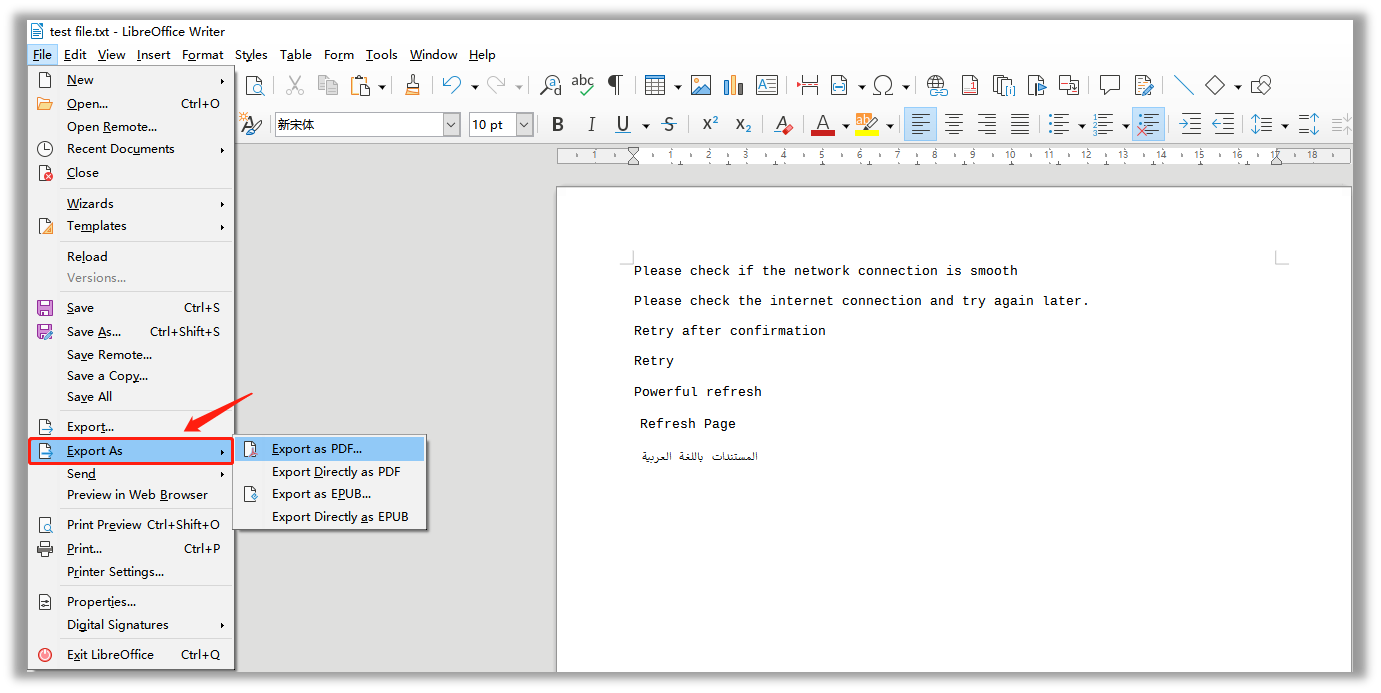 Step 4: Click Export As, then in the drop-down menu of PDF Options, hit the Export button to successfully convert this text file to a PDF document.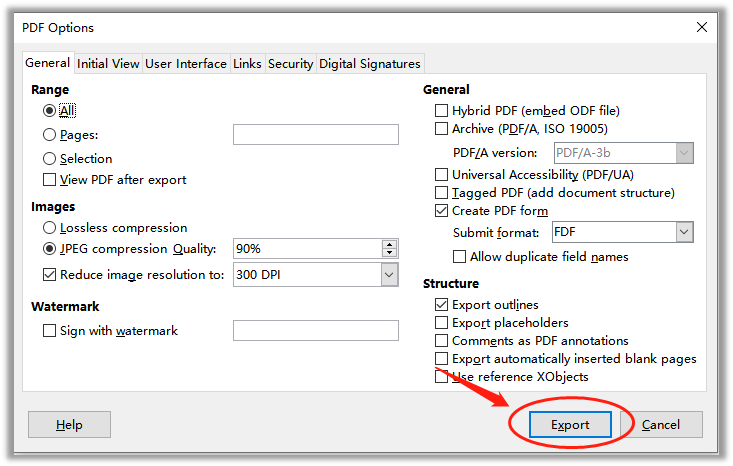 Note:
Please be aware that LibreOffice is not a dedicated PDF program without the ability of batch processing. If you need to convert multiple text files into individual PDF file, this method goes nowhere.
Pros
Fast and easy conversion
Clean interface
No fees needed
Cons
No batch processing ability
Verdict
Though not a feature-rich PDF converter, LibreOffice can open MS Office formats (Word, Excel, PowerPoint), HTML, and text files. When these files are opened, it is extremely easy to perform file conversion just as the above steps demonstrate. What's more, if you need an office suite to enhance productivity, this software can be an alternative to MS Office, but definitely not a drop-in replacement.
To Sum Up
In the end, we come to the conclusion: TXT to PDF conversion is not a common feature as expected, which requires users to create a PDF from a TXT file in the main menu. Online converters cut a deal and provide an easy method to finish the file conversion.
PDF to TXT conversion is relatively simple for desktop programs, as many professional PDF software programs bundle this feature into the converter, such as SwifDoo PDF.