Plain text files are easy to be opened on multiple operating systems (Windows, Linux and Mac). This file format enjoys a smaller file size compared with other file formats, including PDF. Therefore, in some situations, users may need to convert a PDF document to a readable text file.
Almost no PDF editors can directly edit Microsoft Word on the existing text. If you want to edit a PDF file, converting a PDF document to a TXT document might be the right choice. This article dives into saving a PDF file as an editable plain text with both online and offline approaches.
How to Convert PDFs into Text Files with Free Desktop Tools
SwifDoo PDF
If you are frequently required to deal with a number of PDF documents, it is advisable to download a desktop PDF converter to help you as free online tools have some limitations on file size, conversion speed, and storage space. Therefore, a professional desktop tool is worth a shot. Let's see how to work with SwifDoo PDF, a trustworthy PDF to text converter:
Enter https://www.swifdoo.com/ on the search bar and click Free Download on the homepage;
After the software is successfully installed on your device, launch SwifDoo PDF;
Right after you upload the file, select PDF to TXT in the tab of Convert.
SwiDoo PDF Converter accelerates the whole conversion process which only takes you a second, and at the same time it supports to export PDFs to many other file formats, such as MS Office formats, HTML, CAD, and images. So go download the powerful converter to enhance your working efficiency.

And if your PDF document happens to be a scanned or image only PDF, SwifDoo PDF enables you to save the scanned PDF as a plain text file by performing OCR. This widespread technology is mainly used to recognize text within images. By applying OCR technology, you can obtain the desired conversion result.
How to Convert PDFs to Text files on Mac
For Mac users, saving a PDF file into a text file may be a little bit complicated without the help of any external PDF programs. The conversion process may require two different applications, namely Preview and TextEdit. Here's how to extract text from a PDF on Mac:
Open a PDF document using Preview and copy the text by choosing Text Selection in Tools;
Drag your mouse over the document to select which to copy;
Click Copy in the tab Edit;
Launch TextEdit and paste the text you have already copied previously;
TickSmart copy/paste under Options to ensure correct spacing.
If the process is not as easy as you expect, keep reading to know how to use web-based tools to convert a PDF into a text in a few clicks.
How to Convert PDFs into Text Files Online
The quickest and easiest way to convert PDF files is to make full use of free online tools. Users needn't download and install external software, just simply add your files to the specific field. Most basic needs can be met by online PDF converters.
Google Docs
Google Docs is an Internet-based word processor, available on multiple operating systems, including Windows, macOS, iOS, and Android. Google Docs is a real-time document editor which is convenient for collaboration. The following steps is about how to export a PDF into a plain text file:
Log in Google Drive with your Google account;
Open the PDF document that needs to be converted;
Right click the file, and select Google Docs in Open with;
When you are redirected to Google Docs page, select File and then click Download;
Choose Plain Text (.txt file) among different file formats.

Google Docs is a free online PDF to text converter, however the conversion results may vary due to the complexity of a PDF document. Simply put, if you want the PDF to text conversion result to reproduce the original text and formatting to the maximum extent, your PDF should not contain any multi-media content, such as video, audio, and images.
PDF2Go
Anyone who needs a simple but effective web-based PDF editor can embrace PDF2Go.com. It is an online PDF editor that enables users to edit PDF documents, as well as converting many different files to PDF. With respect, to convert a PDF into a text file, the process is not complicated with the help of this versatile online PDF tool. Here's how: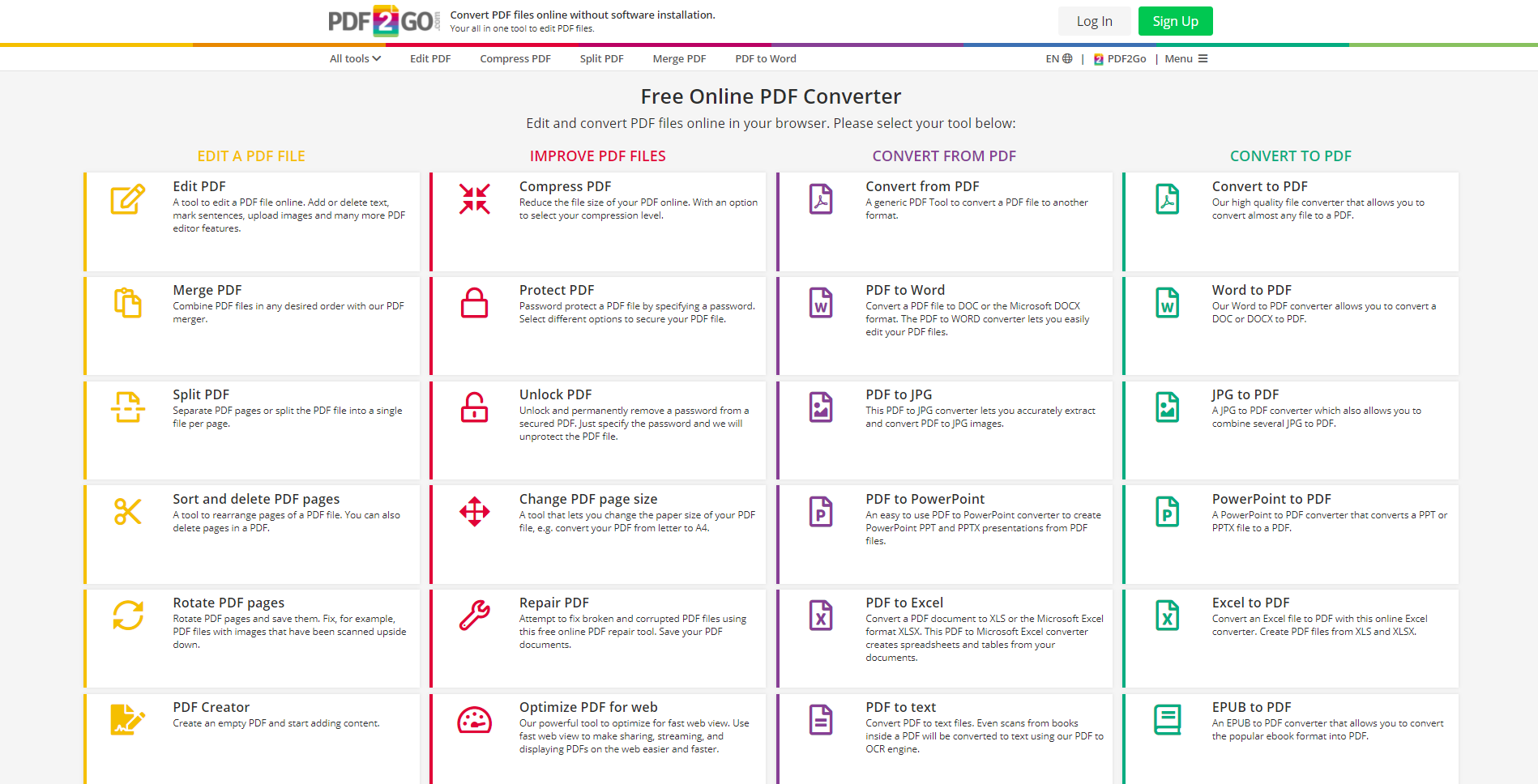 Visit the homepage of PDF2Go. Go to All toolsand look for PDF to Text below Convert from PDF;
After you are redirected to another page, you can upload the document which is needed to be converted,through several different options: by entering URL of the designated PDF; by uploading the file stored in the cloud platforms including Dropbox and Google Drive;
When you have added the document to the clipboard, check the language setting to get the best precise conversion results;
Subsequent to the successful upload of the PDF document, hit Start. The conversion speed and time is subject to the file size.
Then, this converted document will be automatically downloaded into the local device. Users don't need to make further operations since the process is standardized.
ZAMZAR
While this name seems a little weird, it is a good PDF online converter. According to the founder, ZAMZAR gets its name from a character in the book "The Metamorphosis".
With the mission to provide high quality file conversions for as many file formats as possible, Zamzar supports conversion among various formats, which is rarely seen in other online tools. In terms of how to easily convert PDFs into text files, Zamzar never lags behind other rivals.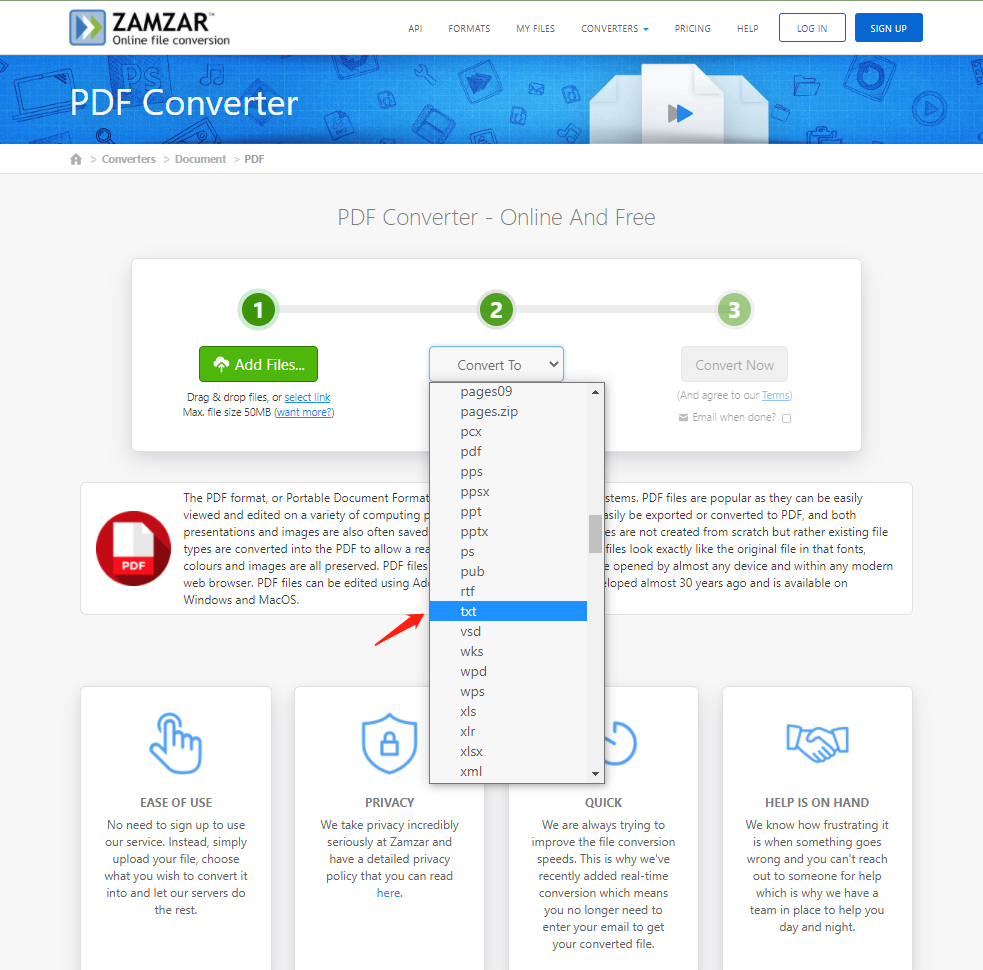 Go to zamzar.com and add your documents. Please note the PDF document should be under If the size is larger than this, it suggeststhe user to try a Pro version;
In the Convert tostep, you can choose the format you need. For this article, you need to locate txt under the document formats;
Next, hit the Convert nowand start the whole conversion process;
After several seconds, you are allowed to download the converted document by clicking Download.
What is a text file?
A text file is a type of digital and non-executable computer file that contains only text (letters, numbers, and symbols) and has no special formatting such as bold text, italic text, images, etc. Text files are identified with the a .txt filename extension.
The simplicity of text files have made it a commonly used format for storing information: no special software required to create a text file; making changes to the file or modifying data within the document incredibly easy. Almost all software can read and write text files irrespective of operation systems and platforms.
FAQs about Converting PDF to Text
Q: Can MS Word convert PDF to text?
A: No, Microsoft Word users cannot directly save a PDF document into a text file. The conversion process may involve using of OCR technology while MS Office Suite lacks this feature. It is recommended to use the above PDF to text converters.
Q: How do i convert PDF to text on Linux?
A: Linux users can use an eBook application Calibre or command line utility pdftotext to save a PDF file as a plain text file. For more information, please visit this website.
Q: How to Convert PDF to Text using Python?
A: Python is a concise and easy-to-read programming language. If you are running Python on Windows and need to convert PDF pages to a text file, download the two required tools - Poppler and pdftotext module first. Follow the steps:
import pdftotext
# Load your PDF
with open("Target.pdf", "rb") as f:
pdf = pdftotext.PDF(f)
# Save all text to a txt file.
with open('output.txt', 'w') as f:
write("\n\n".join(pdf))