PDF signing, especially e-signatures, can save time as you do not need to print out the document, sign it, scan it, and then mail it to the destination. A time-consuming process can be saved if you are ready to use a free document signing application. Puzzled? Read the article and learn how to do it.
A document signature makes the agreement file authentic and genuine to your receiver. Before mailing it, you can enter your e-signature at the end of the draft. Free online document signing applications are available if you are not aware of them. Additionally, we will provide a free document signing software list in today's post so you can pick the best one for your PDF signing.
To help you narrow down your internet search, here is a list of the best document-signing software.
SwifDoo PDF
If you're looking for free document signing apps, here is our first pick: SwifDoo PDF. SwifDoo PDF is equipped with advanced technology to meet current trends. It offers all its high-end features for free. The best part is that it takes up less system storage but performs the task with lightning speed. The lightweight software allows you to add an e-signature to your PDF file before mailing it to your client.
The benefits of the software
The software offers many other functions, like merging, compressing, and splitting PDF documents
It provides a PDF encryption facility with double-layer security code protection to prevent unauthorized access
It allows you to highlight parts of your document
It allows you to convert your PDF to another file format or vice versa
It can share your PDFs to Google Drive, Email, and Dropbox.
How to sign a PDF document in SwifDoo PDF
To finish the task, follow the simple steps below:
Step 1: Download the program on your PC and run it;
Step 2: Open a PDF, and click on Protect;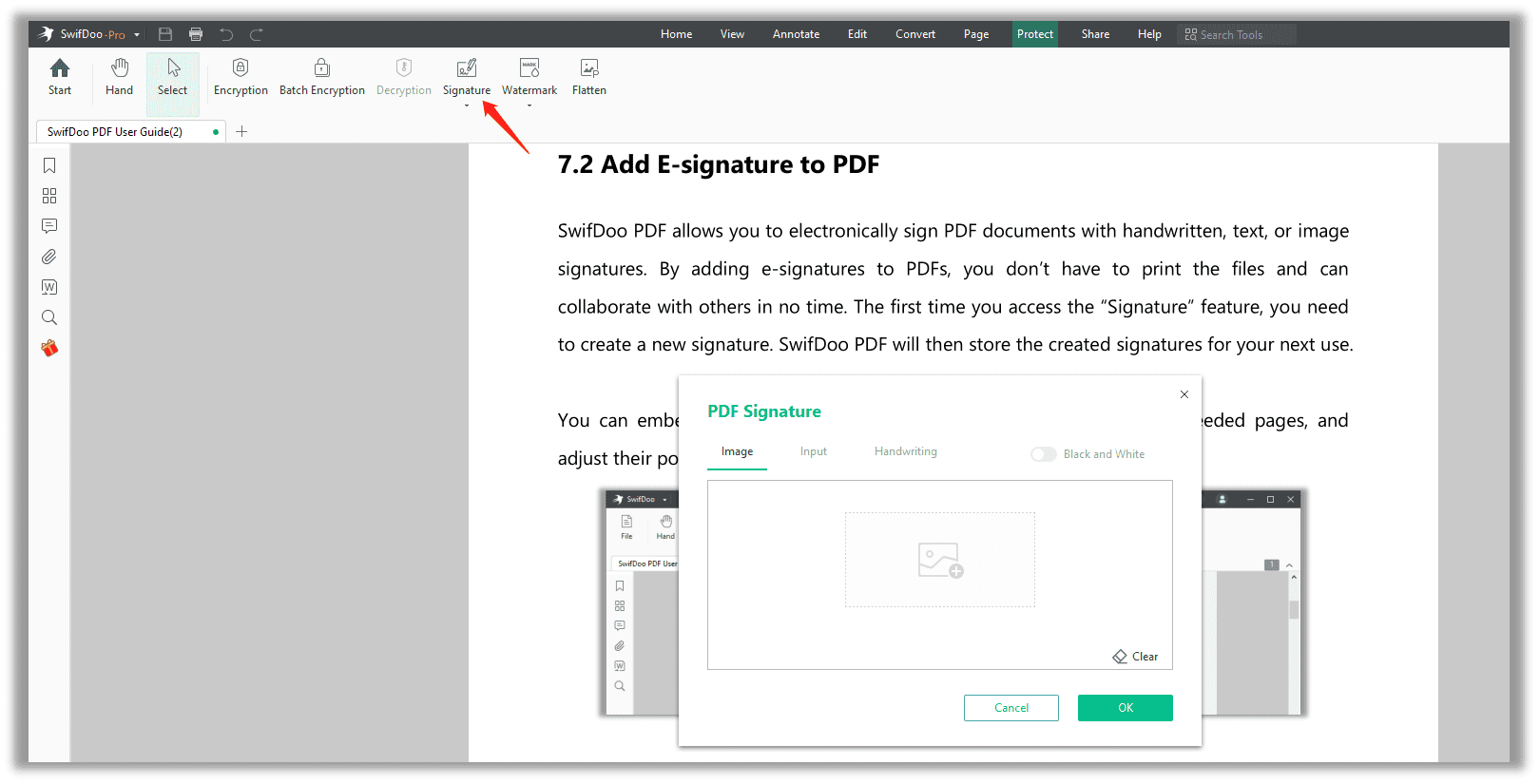 Step 3: You'll see a page open with various options; click on Signature. In the drop-down menu, click on Create New Signature;
Step 4: A signature box will open with three options; click on the Input. Now spell out your signing name. You can change the font style;
Step 5: Once you finalize your signature, click on it and place it on the document where it's needed.
Your e-signature is perfectly created, and the document containing it carries an authentic digital value.
DocuSign
DocuSign, a company based in the United States, allows you to sign documents on your agreement or contract file. The e-signature app is a cloud-based program compatible with various devices. It secures your files and protects signed documents from unauthorized access. One of the best free document signing apps provides four pricing plans along with free access.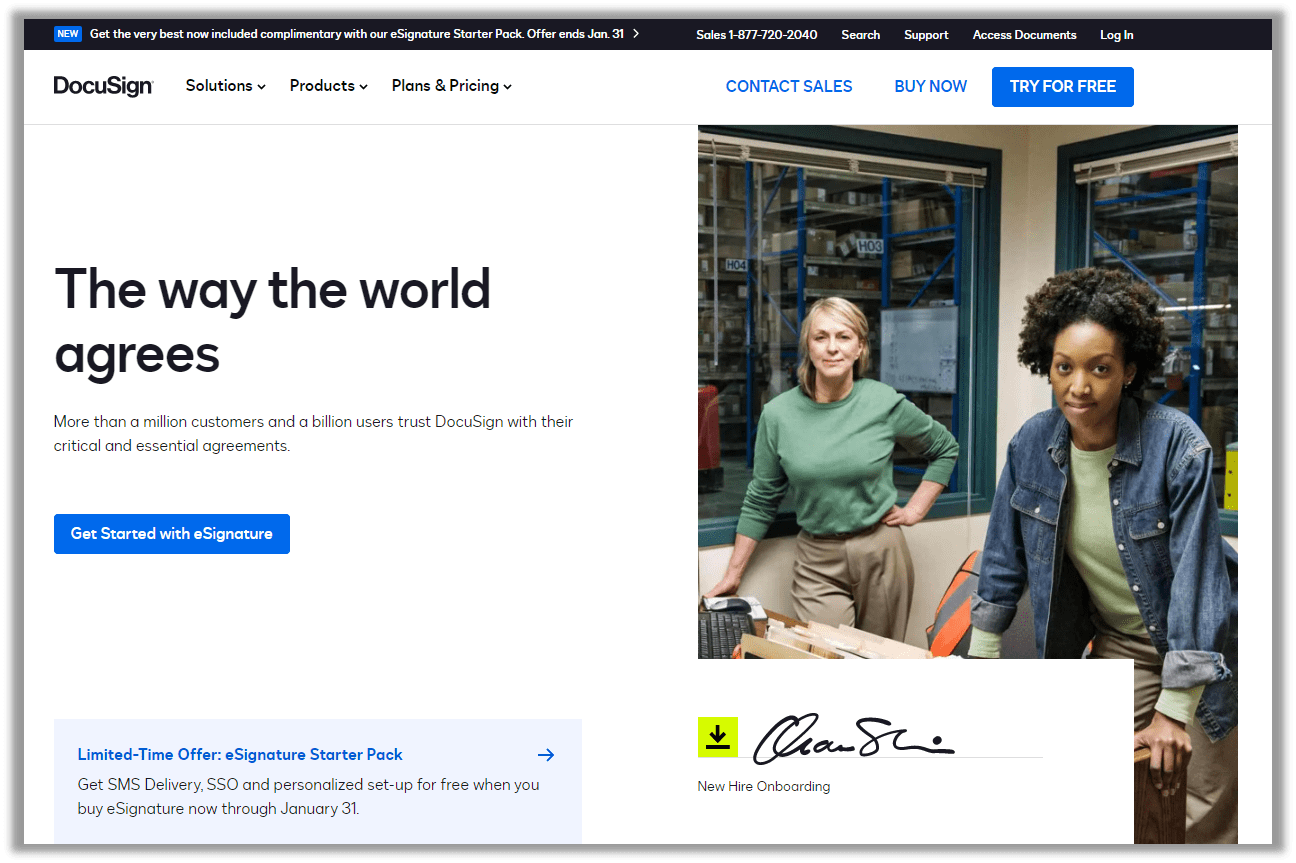 A Personal plan will cost you $10 per month, a Standard plan will cost you $25 per month, and a Business Pro plan will cost you $40 per month. You can enhance your plan by calling their customer care service if you need customized features. In general terms, the software is user-friendly.
Eversign
If you're looking for a free online document signing site, Eversign can serve your purpose. Though it's an online tool, it's legally binding, and your signature will be protected through 256-bit SSL encryption. You can use the technology to sign your digital papers using various devices because it can integrate with your device quickly. You can try your first signature for free, and if you want to continue its service, you need to pay.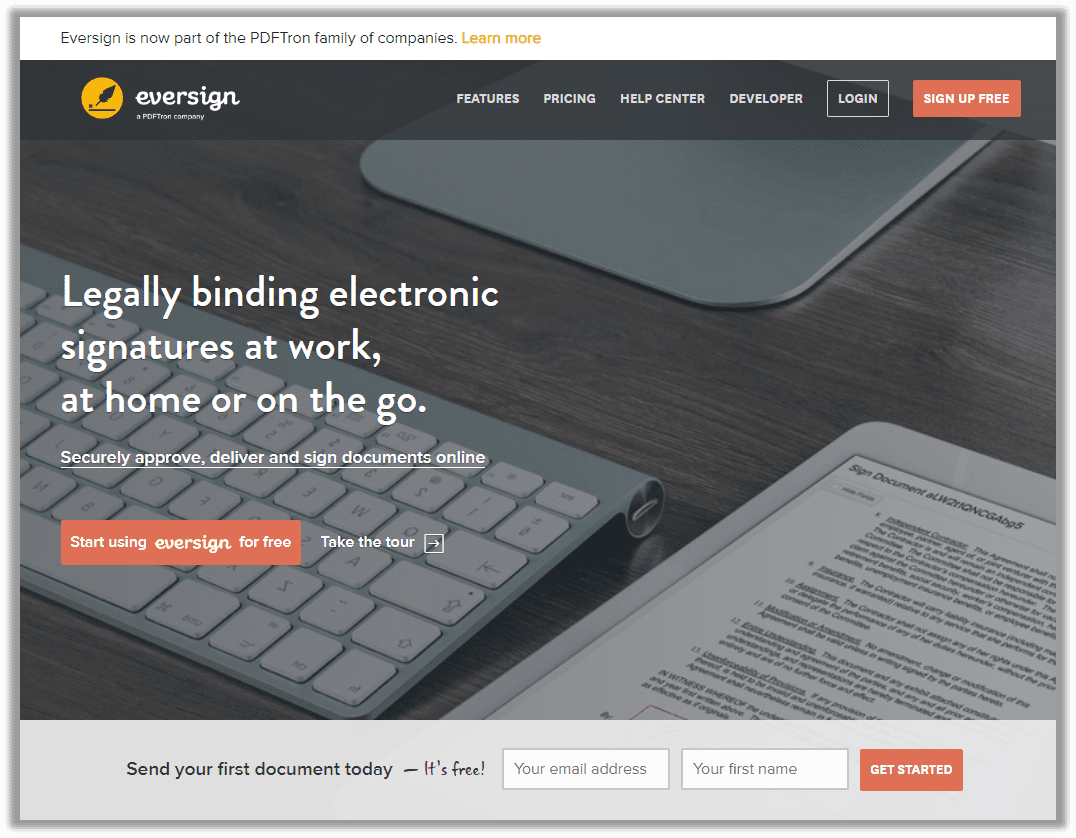 Its plans start at $9.99 for Basic, $39.99 for Professional, and $79.99 for Professional Plus. Though all these plans are monthly, the amount will be calculated as yearly billing. With Eversign's free online document signing app, you can go for the Enterprise plan for a customized signature, and the price will be based on your business volumes.
Signaturely
Signaturely is another professional signing program for your business. The free online document signing program offers a simple technique to sign your digital files. You need to upload your files, create an account, and that's it. You can share your documents with email addresses at a good speed. The sign will be legally validated.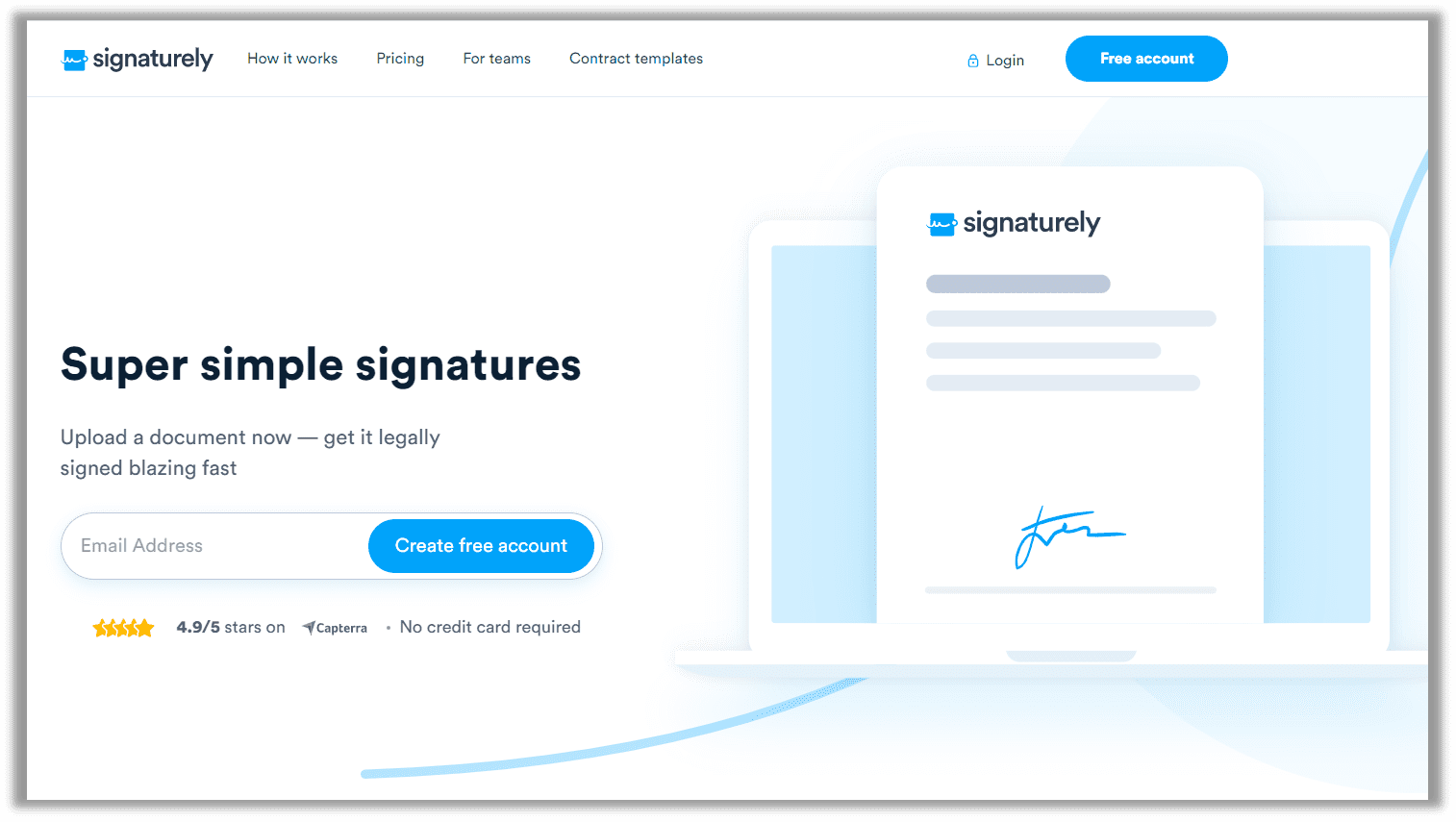 Further, you'll get document templates for repeated sharing. It'll share your time. You can sign three papers for free every month, and if you want to continue the service, you need to pay. There are two user plans: the Personal plan for $20 and the Business for $30 per month. If you subscribe to the service, they'll plant a tree with your money. This way, they go paperless and take good care of the environment.
SignRequest
The ISO 27001-certified tool SignRequest is another trustworthy platform for document signing. The free document signing tool provides a secure e-signature that you can use for your business. Your signature will be secured and legally authentic. Further, the online tool is 256-bit AES encrypted to protect it from online threats. You can arrange all your signed documents in one place and use them when required.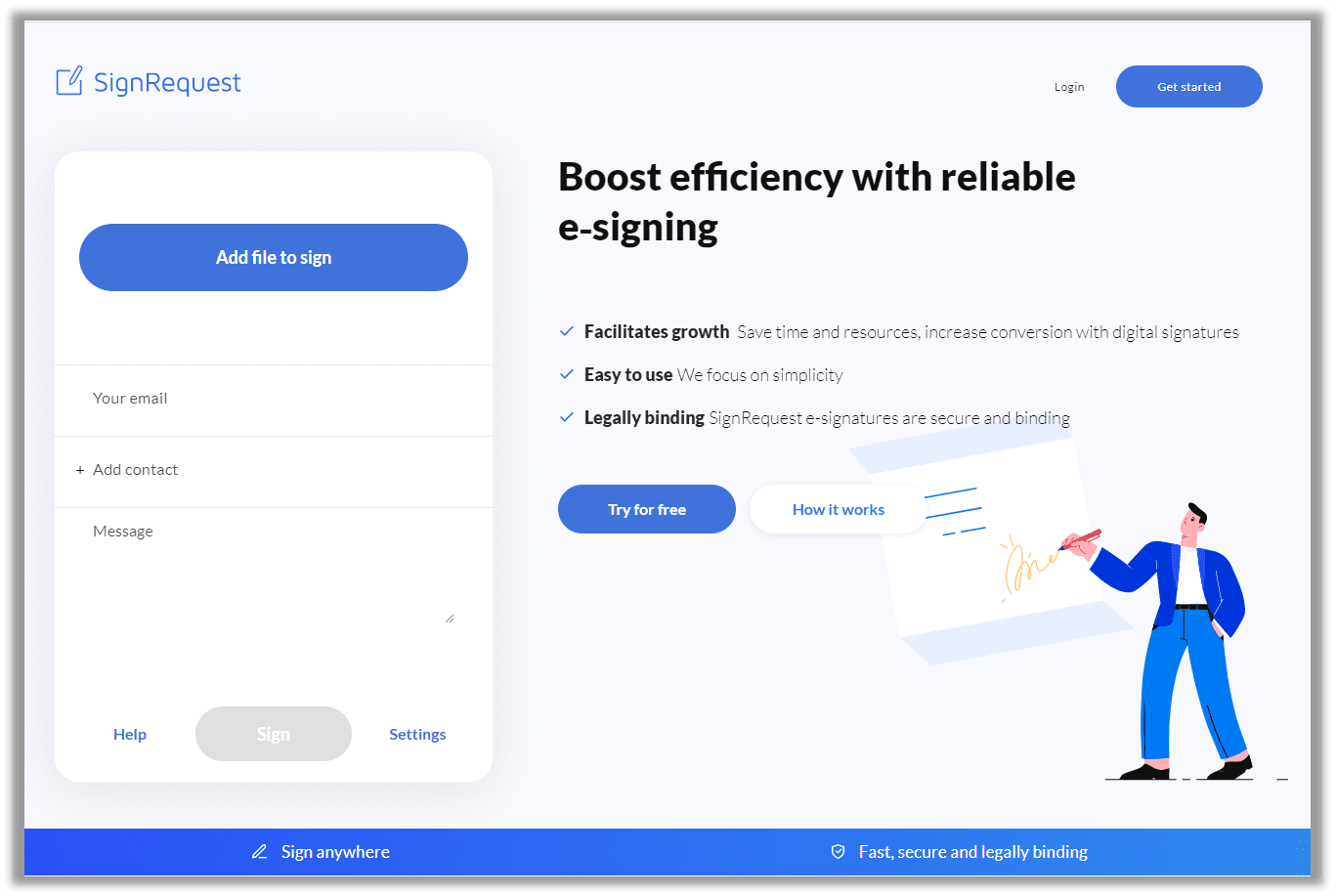 The service is partially free and comes with two plans, Professional and Business. Professional starts at €9 per user, and Business for €15 per single user. The billing will be monthly, and you can explore the exclusive features of SignRequest. It's integrated with Google Workspace, TOPdesk, Zapier, and Slack.
SignNow
SignNow is a comprehensive document signature solution. You can use it to review, share, track, and store documents on any device. As an electronic signature creator, you can add signature fields, draw your signature on mobile devices, and have documents signed by different recipients.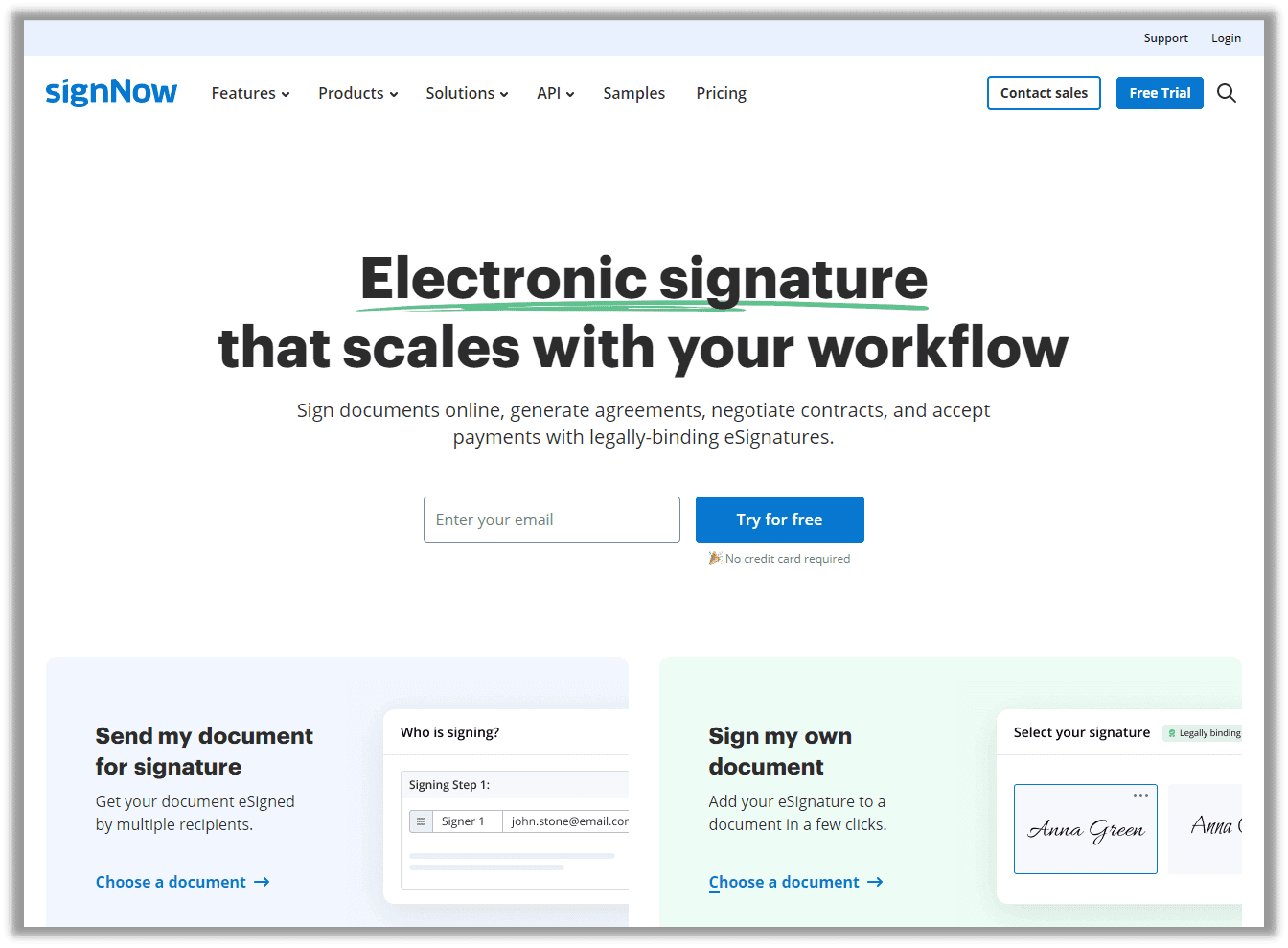 On top of this, this is a team collaboration platform you can make the most to improve communication: creating team documents, keeping track of these files, and specifying a team admin.
It offers four tiers of pricing strategies: Business, Business Premium, Enterprise, and Business Cloud. Which package you choose is relative to your team size and actual needs.
OneSpan
OneSpan electronic signature can smoothen your document signing process with a few clicks. It offers many valuable features for its users and supports Microsoft document formats as well. You can access the tool from your mobile and use the signature for commercial loans.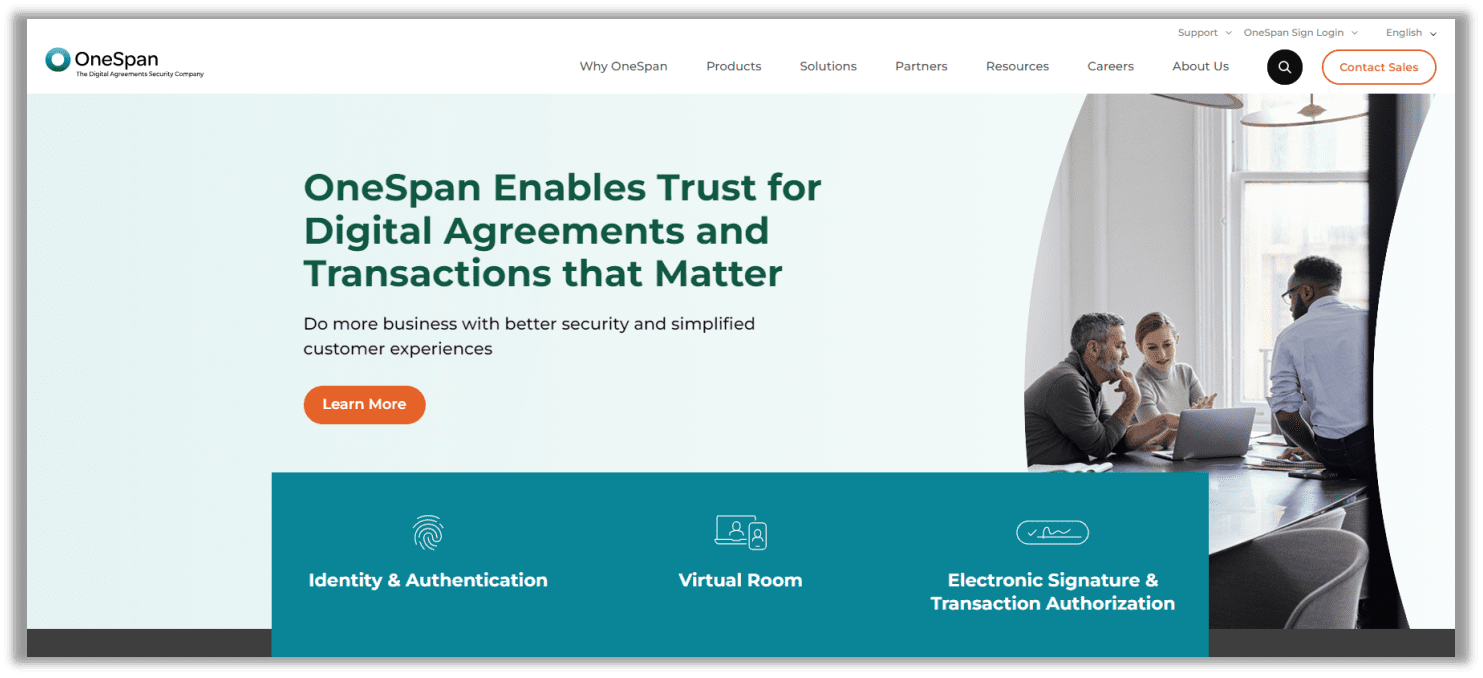 You can avail of the free demo; if you want to continue, you need to pay. Its Professional plan starts at $20 per user. And it's Enterprise plan is customized based on business volume and your requirements.
Signeasy
To use Signeasy, you need to log in with your ID and password. Following easy-to-use steps, you can enter your signature on your digital agreement papers or company contracts. The tool offers multiple recipients, multi-document envelopes, and reusable templates. The best part is that you can collect public signing links in bulk without creating separate signature requests. The tool is integrated with Google Docs, Microsoft Outlook, Salesforce, and Microsoft Teams, like modern workplaces that provide the best free document signing apps compatible with various devices like Android, iOS, and PC.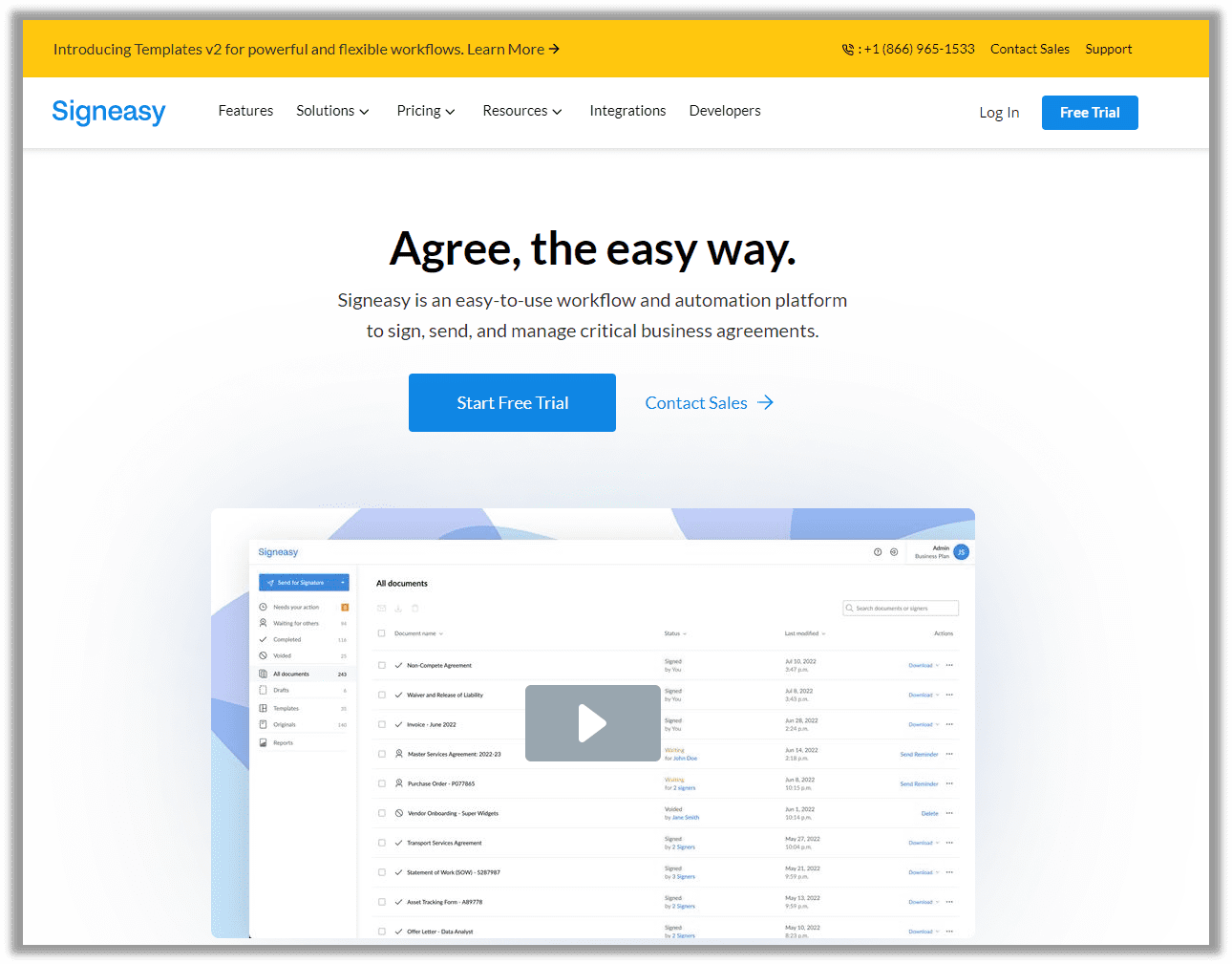 Signeasy has three plans, Business for $30 per user, Team for $15, and Essential for $10. All these prices are for single users.
Summary
In this modern work culture, users emphasize paperless activity, which will benefit our natural ecosystem, and our pockets as well. In this light, we have discussed the top 8 free document signing programs for e-signatures on important digital documents. Needless to say, the benefits of e-signature meet the modern trend to save time, paper, and money.
With all of its advanced features, the SwifDoo PDF tool is the best choice for your electronic signature. Save the document or mail your correspondence as needed. In addition, its highly secured tool offers a 100% safe and secure e-sign process digitally.