Introduction:
Both PDF and JPEG are the most used file formats. The former is created for presenting text or image-based documents and the latter is for images. JPEG images are easy to access with built-in image viewers on nearly all devices such as smartphones and laptops while PDF files require a third-party PDF reader to open on many mobile devices. That results in the demand for PDF to JPEG conversion.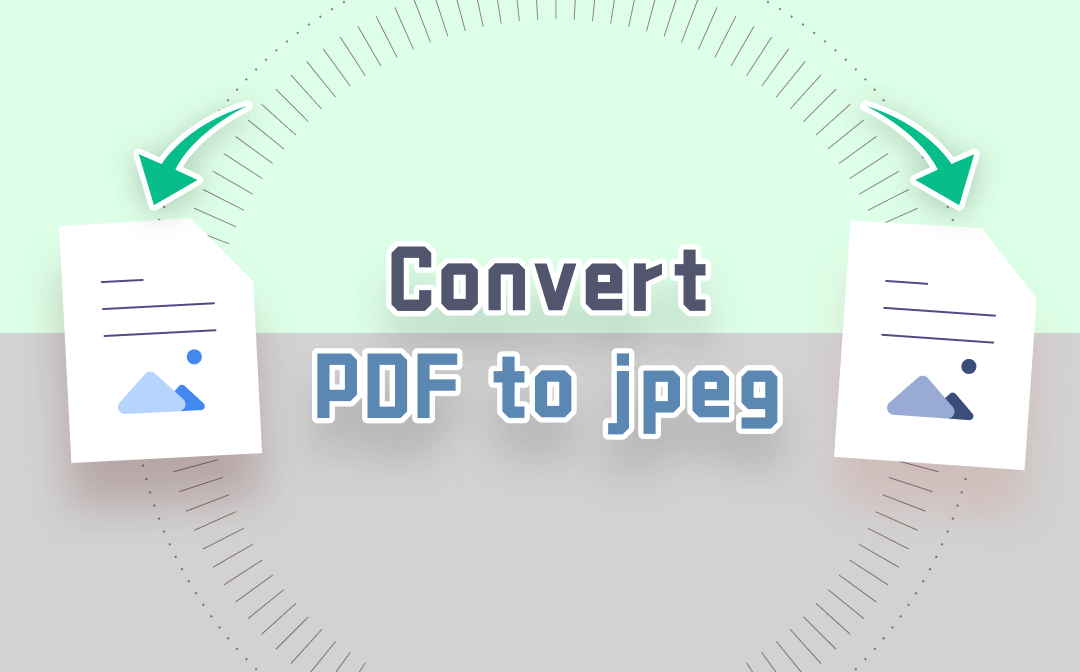 This post will walk you through 5 free and paid ways to convert PDF to JPEG format on Windows, Mac, and the web.
JPG vs JPEG
In case of any confusion about JPG and JPEG, a simple introduction to them is given before we dive into how to convert PDF to JPEG.
JPEG and JPG actually refer to the same image format which is Joint Photographic Experts Group. A JPEG image is considered a JPG image. JPEG or JPG image files use the .jpeg or .jpg filename extensions.
JPEG is shortened to JPG because the Microsoft MS-DOS and early Windows systems didn't support four-letter file extensions. As the operating systems evolve, the JPEG and JPG filename extensions are interchangeable on Windows, Mac, and most other devices. That means you can replace .jpg with .jpeg and vice versa without changing the image.
Convert PDF to JPEG with SwifDoo PDF
SwifDoo PDF is a versatile PDF program that allows you to edit, merge, split PDFs, and convert PDF files to JPEG images on Windows 10, 8, 7, and XP. It can convert a multi-page PDF into one JPEG image or individual image files, and batch convert multiple PDFs to JPEG images at once. What's important, the PDF to JPEG converter offers different resolution options for the output images. It can also convert a PDF to grayscale so as to convert it to black and white JPEG images.
Take a look at how to convert your PDF to high-resolution JPEG image file(s).
Step 1: Free download, launch the software, and choose PDF to Image in the home interface;

Step 2: Once the SwifDoo PDF Converter dialogue box comes out, click Add Files to import your PDF;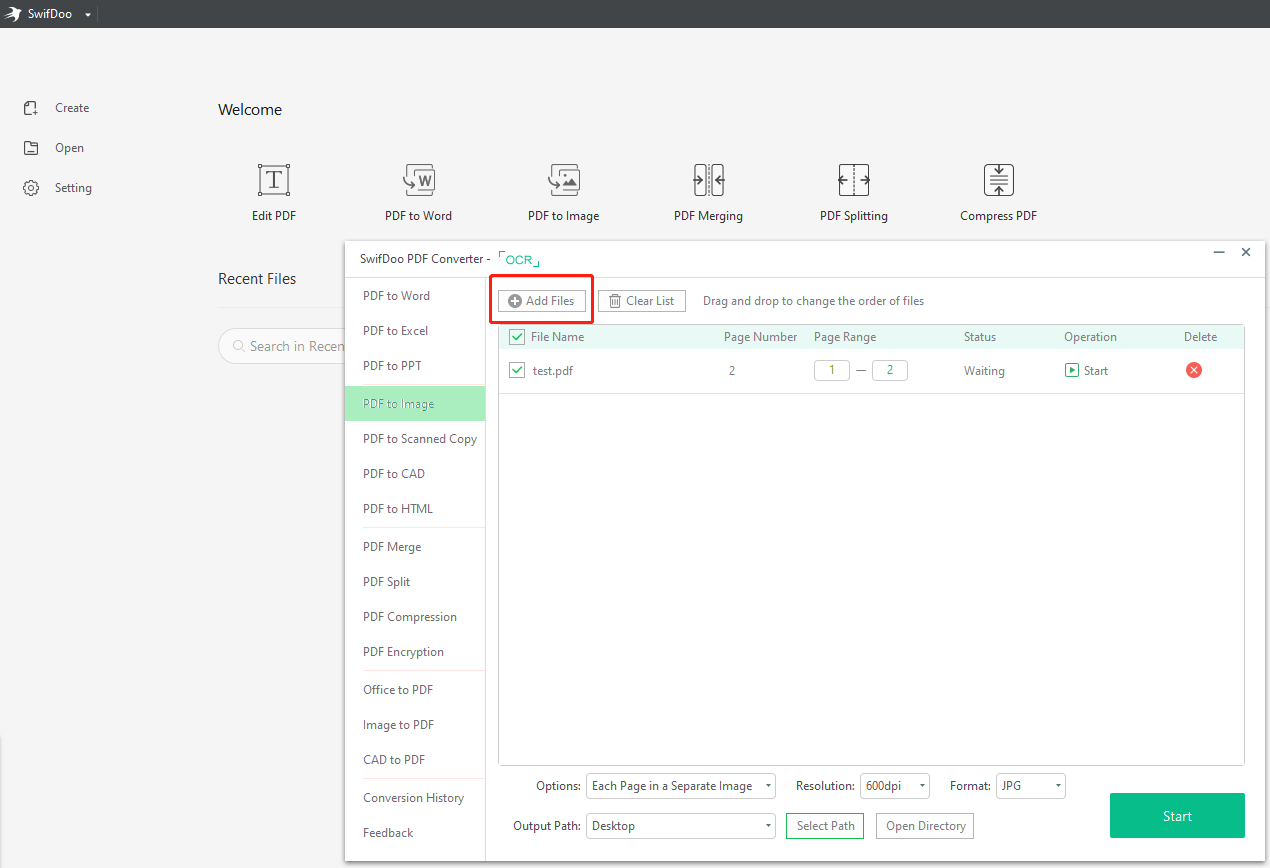 Step 3: Select the output format as JPG, choose your preferred image resolution and where to save the output files;
Step 4: Hit Start to convert your PDF to JPEG images with the .jpg extension;
Step 5: You can change the filename extension to .jpeg in the output file folder by adding the letter e.
Tips:
If you have a lot of PDF files to convert to JPEG images, select and import or drag and drop all the PDFs into the conversion box.
The PDF to JPEG converter converts each PDF page to a separate JPEG image by default. To save your PDF containing multiple pages as one JPEG file, select "Selected Pages in an Image File" from the "Options" drop-down menu within the "SwifDoo PDF Converter" box. You can specify which pages to convert by entering the start and end page numbers under "Page Range".
Note:
When "Each Page in a Separate Image" in the "Options" menu is selected, you can convert your PDF to 72, 96, 200, 300, or 600 DPI JPEG or JPG images. If turning a multi-page PDF into one image, there are 72 DPI and 96 PDI to choose.
SwifDoo PDF enables you to convert PDF files to JPEG images without changing the font or image quality. But when needed, it lets you edit the text easily. If your PDF is full of images and you want to convert it to smaller images, for example, less than 200KB or 100KB, you can compress the PDF file first with the SwifDoo PDF compressor or split the PDF into smaller files before using the conversion tool.
How can I convert a PDF with digital signatures to JPEG images?
You can directly convert a PDF file to JPEG images with digital signatures preserved but the signatures become parts of the images and are invalid. Or, use SwifDoo PDF to remove the signatures from your PDF file before the PDF to JPEG conversion.
Can I convert a PDF with passwords to JPEG images?
If a PDF file is protected by passwords that you forgot, you will fail to convert it to JPEG images. However, using a PDF password remover to remove the passwords from the PDF can help successfully convert the file to images.
How do I convert multiple JPEG images to PDFs when needed?
SwifDoo PDF is more than a PDF to JPEG converter and also a JPEG to PDF converter, allowing you to convert JPEG images to PDFs in batches with a couple of clicks.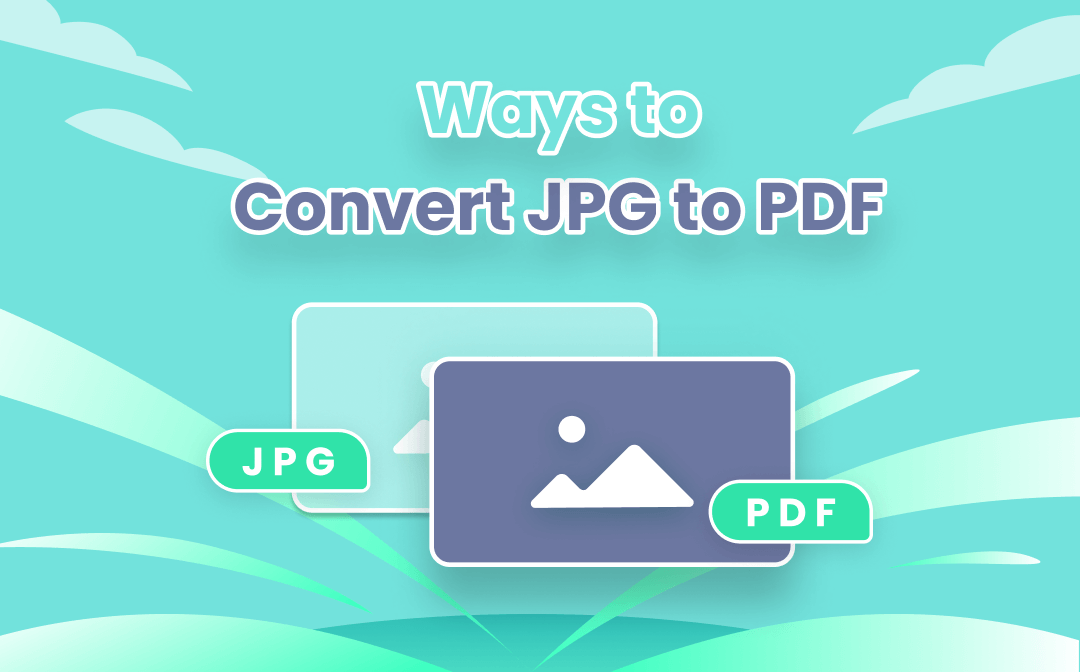 JPG to PDF - Free Solutions to Convert JPG Images to PDFs
When you need to convert JPG to PDF, a professional PDF converter is all you need to maintain the image quality. See how to change JPG into PDF for free.
READ MORE >
How to Convert PDF to JPEG with Adobe Photoshop
Those who work with Mac devices can open and save PDFs as JPEG images for free with the pre-installed application on the OS, Preview, but here we wish to introduce another PDF to JPEG converter available for Mac OS, Adobe Photoshop. The famous graphics editor can convert a multi-page PDF into individual JPEG images and a whole image folder into JPEG, TIFF, or PSD files. You can run the software on both Windows and Mac OS.
The following steps show the PDF to JPEG conversion process.
Step 1: Open a PDF file with Adobe Photoshop;
Step 2: Go to File > Save As;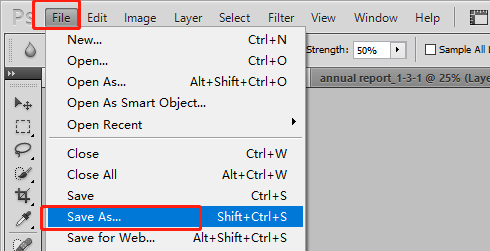 Step 3: Choose JPEG from the Format drop-down list, select a folder and click Save to convert the current PDF page to a JPEG image in Photoshop;
Step 4: Repeat Step 2 and 3 to save all your PDF pages as JPEG images.
PDF to JPEG Converter: Adobe Acrobat Pro DC
Both Preview and Adobe Photoshop convert one PDF page to one JPEG image at a time. To quickly convert a batch of PDFs to high-quality JPEGs at once on Mac, consider using Adobe Acrobat Pro DC, the top PDF software product on the market. It also allows you to split, compress, and remove digital signatures from PDFs, which help convert large or digitally signed PDFs.
Here is how to convert PDF to JPEG in Adobe Acrobat Pro DC.
Step 1: Launch Adobe Acrobat and open a PDF with it;
Step 2: Tap Tools on the top and click Export PDF;

Step 3: Choose Image and select the image format as JPEG;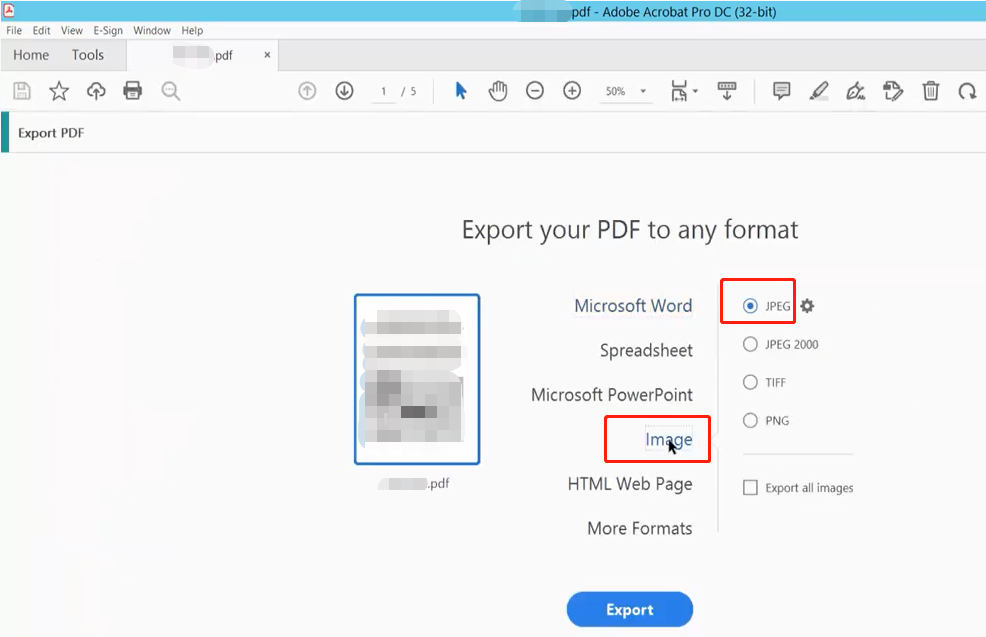 Step 4: Hit Export at the bottom to convert your multi-page PDF to separate JPEG files.
Once JPEG is selected as the exported format in Step 3 before the PDF to JPEG conversion, you can click the gear icon beside it to access the "Save As JPEG Settings" window to change the settings for the converted images. The window allows you to choose the image resolution so that you can convert PDFs to 1200 or 2400 pixels/inch high-quality JPEG images. Adobe Acrobat also enables you to convert your colored PDF to black and white images if required.
Tips:
For batch PDF to JPEG conversion, you need to open a PDF in Acrobat, go to "Tools" > "Action Wizard" > "New Action", choose "Save & Export" > the "Save" option in the drop-down list, click the "Add to Right-Hand Pane" icon in the middle, tap "Specify Settings" to select the exported format as JPEG, hit "OK" and "Save" to create an action. After that, click the newly created action in the right "ACTIONS LIST" pane to add all the PDFs you want to convert, then hit "Start".
While Adobe Acrobat is powerful in manipulating PDFs, its subscription fee is high and the interface is complex.
Convert PDFs to JPEG Images Online Using Convertio
Convertio online file converter makes it easier than ever to convert PDF to JPEG format on Windows, Mac, Linux, and any other device. Most converters only convert PDFs to JPEG images with the .jpg extension while it has both the .jpeg and .jpg extension options. What's the best, the web document conversion tool enables you to turn multiple PDFs into JPEG images in one fell swoop for free without installing desktop software.
Let's see how to easily convert PDF files to JPEG (.jpeg) files online.
Step 1: Access the online converter in any browser and click Choose Files to upload the PDFs you need to convert;
Step 2: Tap the Convert all to drop-down menu to select Image > JPEG, or choose the output format for each file individually;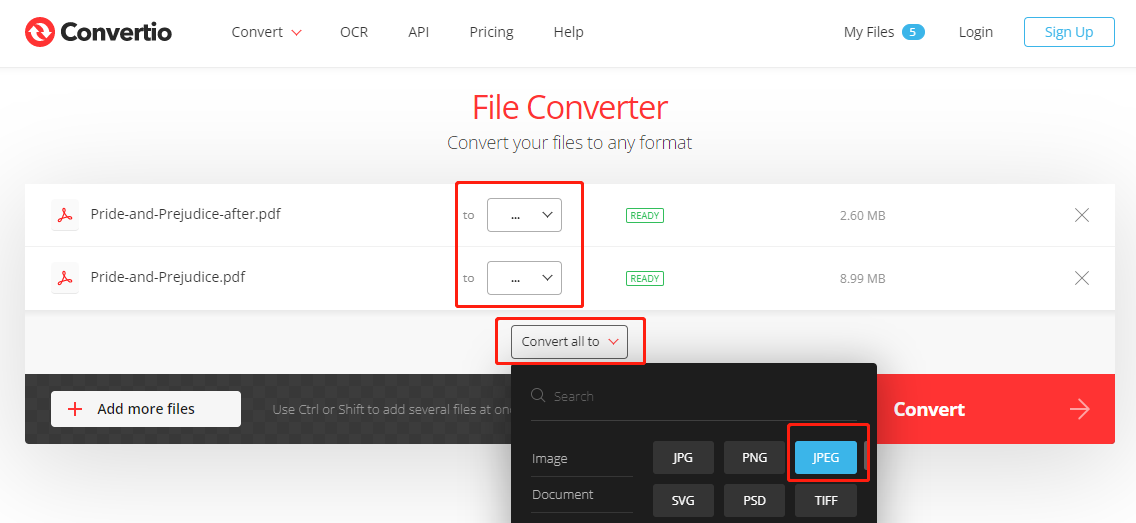 Step 3: Hit Convert to complete the PDF to JPEG conversion.
After conversion, click "Download" and the converter will automatically save these PDFs as JPEG images in a zip file.
SwifDoo PDF Online Converter
If you want to convert PDF to JPEG online for free, SwifDoo PDF online converter is at your service. It can convert PDFs to or from various formats such as Excel XLSX, Word DOCX, CAD, etc. The method to convert a PDF to JPEG images is explained below.
Step 1: Tap Convert PDF on the top of the SwifDoo website in any browser;
Step 2: Choose PDF to Image and click Choose file to upload your PDF;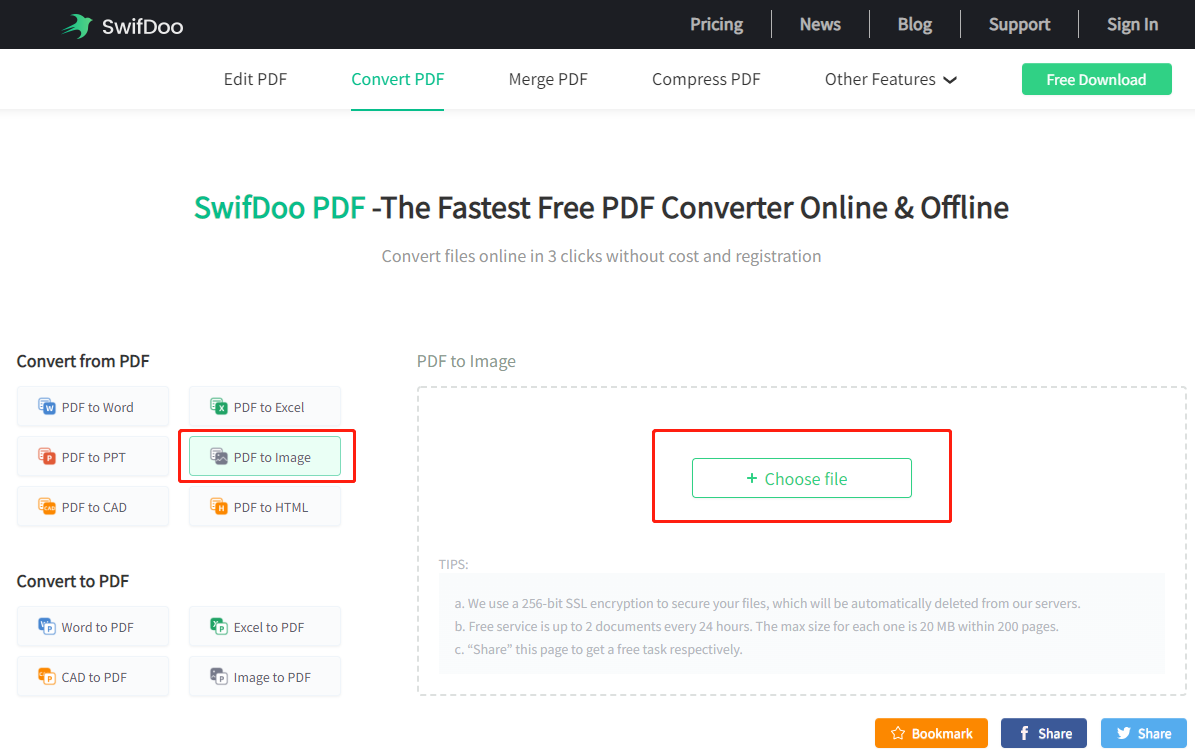 Step 3: Download and save your PDF as JPEG images after the converter converts the file automatically.
Final Thoughts
After going through this post, you may question: what is the best PDF to JPEG converter? All 5 free and paid programs or software are the go-to solutions. As for desktop software, SwifDoo PDF is lightweight and allows new users to convert PDFs to supported formats for free without signing up for the first 7 days. The 2 online converters in this article let you convert PDFs to JPEG files on the web effortlessly. Desktop programs have more capabilities than online tools.
Choose the one that you like most and give it a try.