Introduction:
PDF has been widely used in various industries, such as educational, financial, governmental, legal, medical and real-estate. This file format born to be uneditable and is compatible with all OS and portable devices, which makes it gain popularity in a rapid speed. When sending or storing PDF files, it's better to reduce their file size. But, how to compress a PDF is the foremost problem you must solve.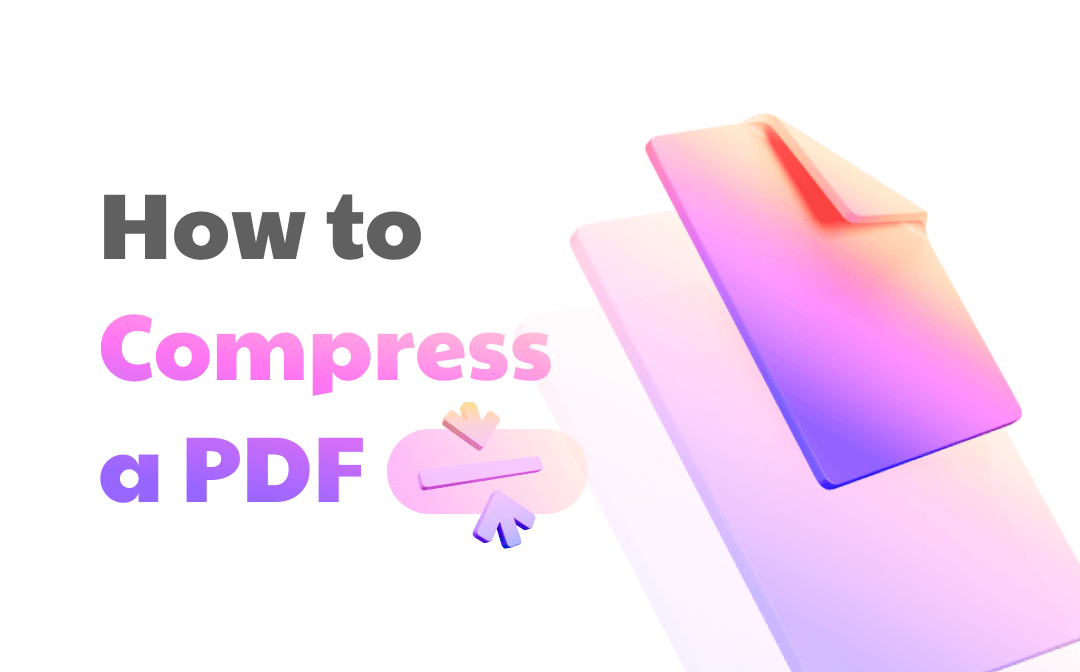 If your disk space is limited, or you want to save time on sending large PDF files to others, compressing PDF files can help you a lot. In this article, we've introduced you to thorough solutions on how to compress a PDF on different operating systems and with distinct PDF tools. Let's read on.
How to Compress a PDF on Windows
This post is mainly divided into three parts, and we focus on Windows operating system in the first part. After reading the following content, you'll learn the top 2 best PDF compressors that work smoothly on Windows.
SwifDoo PDF
SwifDoo PDF is considered the best PDF compressor among all the PDF tools we've used. It works well on all major Windows versions, covering Windows 7 to Windows 11. This PDF editor allows you to customize the compression level of your PDF files. To be specific, you can select different degrees of compression as per your requirements, which is quite convenient.
To compress a PDF file for free on Windows, check the details below:
Step 1. Free download SwifDoo PDF on your PC;
Step 2. Open the PDF file you want to compress. Click Edit > Compress;
Step 3. Choose a compression level and click on the Start button.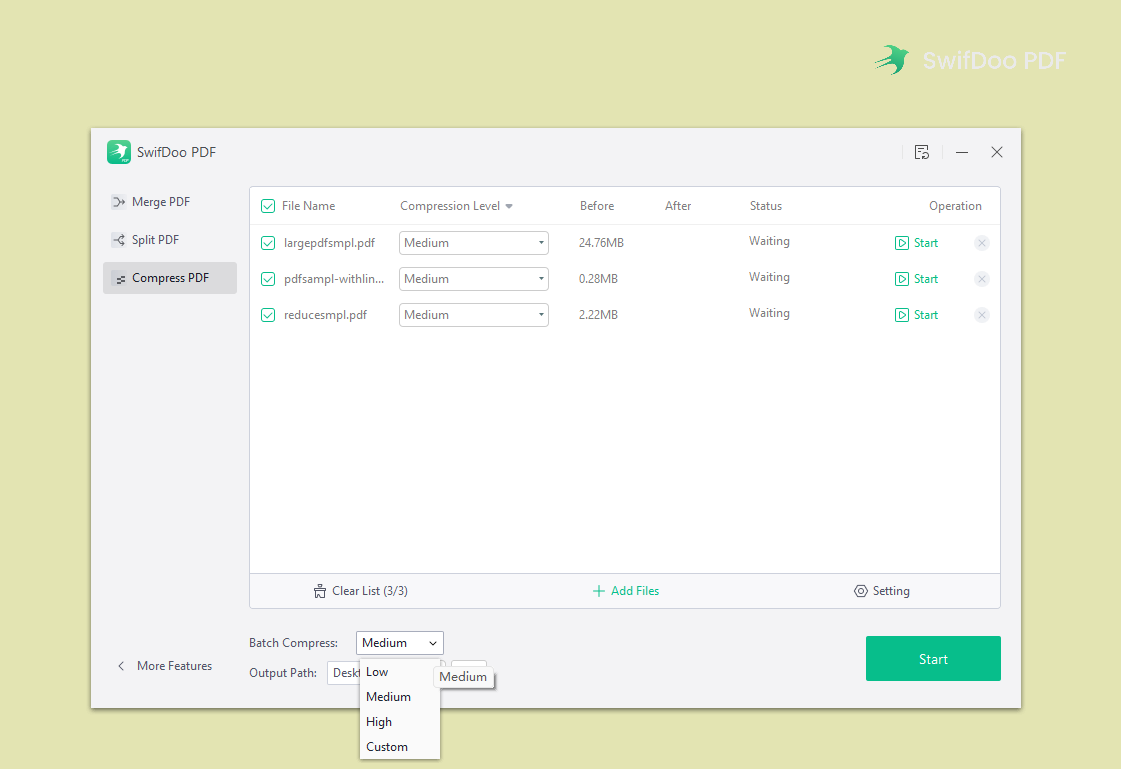 With SwifDoo PDF installed on your computer, you can easily reduce your PDF files' sizes. This program also enables you to compress PDF files in bulk, which saves you a lot of time when manipulating multiple documents. In addition, SwifDoo PDF also serves as an image compressor since the release of its new version.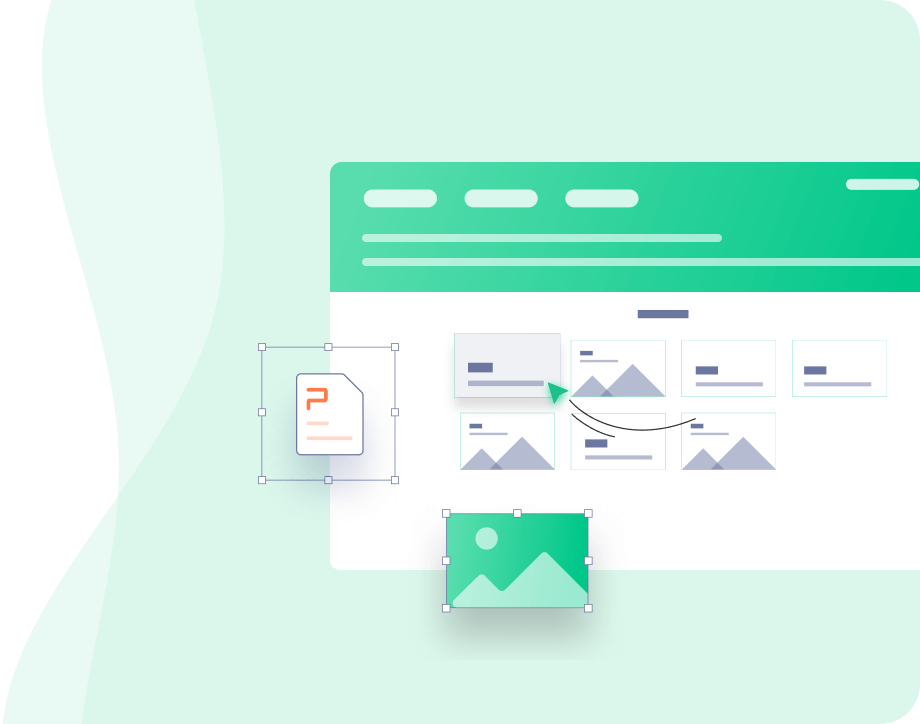 SwifDoo PDF: All-in-One Free PDF Software
Annotate PDFs by adding notes, bookmarks, etc
Convert PDFs to Word, Excel, and other editable files
Edit, compress, organize, and split PDFs
Free Download
Windows 11/10/8.1/7/XP
Adobe Acrobat
You'll always get a solution in Adobe Acrobat when facing PDF-related issues. Acrobat is the first-generation PDF editor. With such a long history, Acrobat has gained much popularity and received many positive comments.
Compressing PDFs with Adobe Acrobat takes only seconds. It has made this process as simple as possible. You can easily reduce a PDF file size by clicking File > Compress PDF (can also appear as Reduce File Size in the menu.)
There's a more complex way that can help you compress PDF files without losing quality. It will take more time, but you can keep all the images in your PDF file in a relatively high quality.
Check the steps below to find out how to compress a PDF file without losing formatting:
Step 1. Download Adobe Acrobat DC Pro on your computer;
Step 2. Open your PDF file and go to Tools to select Optimize PDF;
Step 3. Click Advanced Optimization in the menu bar. Then adjust all quality as High and Lossless in the PDF Optimizer dialog box. Click OK to apply your changes;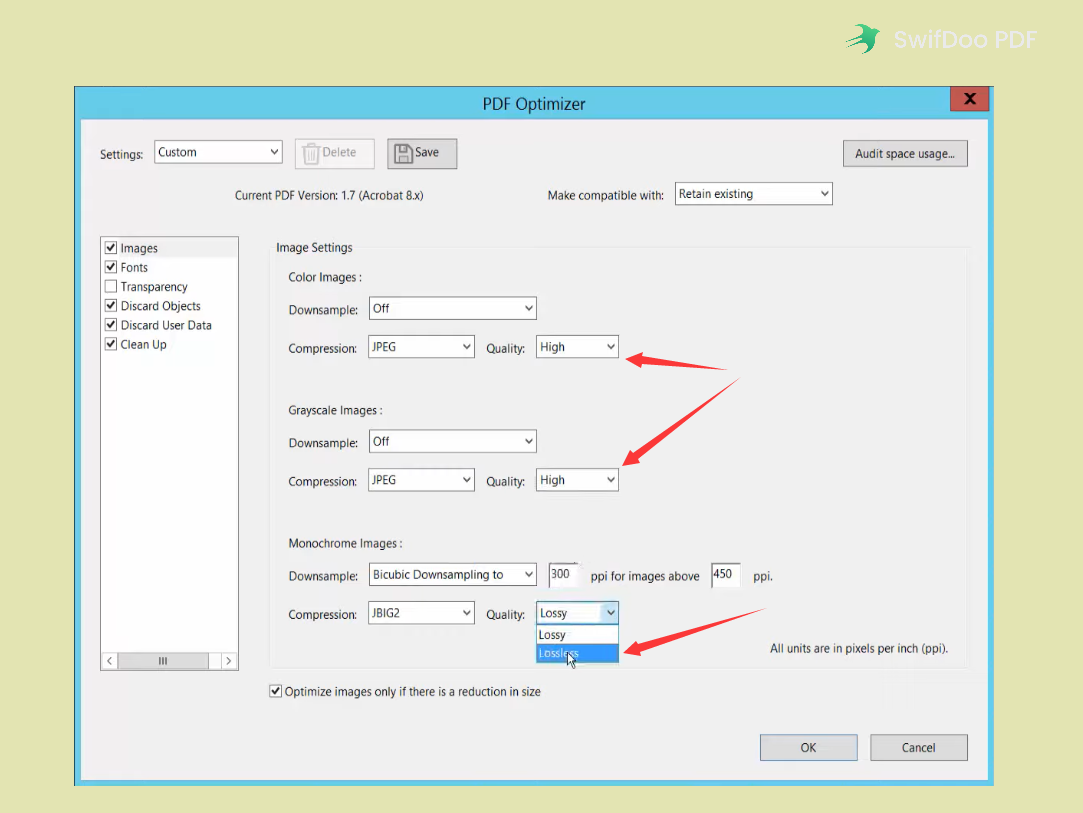 Step 4. Select a destination to save your compressed PDF file.
By selecting quality as lossless, you can reduce your PDF file size easily without worrying about damaging the quality of images in the file.
How to Compress a PDF on Mac
In fact, you can also use Adobe Acrobat to compress PDFs on macOS, and the steps are nearly the same. However, there's a free solution to compress PDF files on Mac: using Preview.
Preview
Preview is an in-built app on macOS, enabling you to open and edit PDFs/images without breaking a sweat. Preview is embedded with all the basic features that allows you to make simple changes to PDF files.
As for requiring compressing PDF files on Mac, Preview is definitely your go-to tool. You don't have to download any third-party PDF compressor or even pay for them. Preview can help you decrease the PDF file size in seconds. Let's see how to compress a PDF size for free on Mac:
Step 1. Open your PDF file with Preview;
Step 2. Go to the top navigation bar and click File > Export;
Step 3. Select PDF from the drop-down menu of Format;
Step 4. Open the Quartz Filter menu and choose Reduced File Size. Then click Save.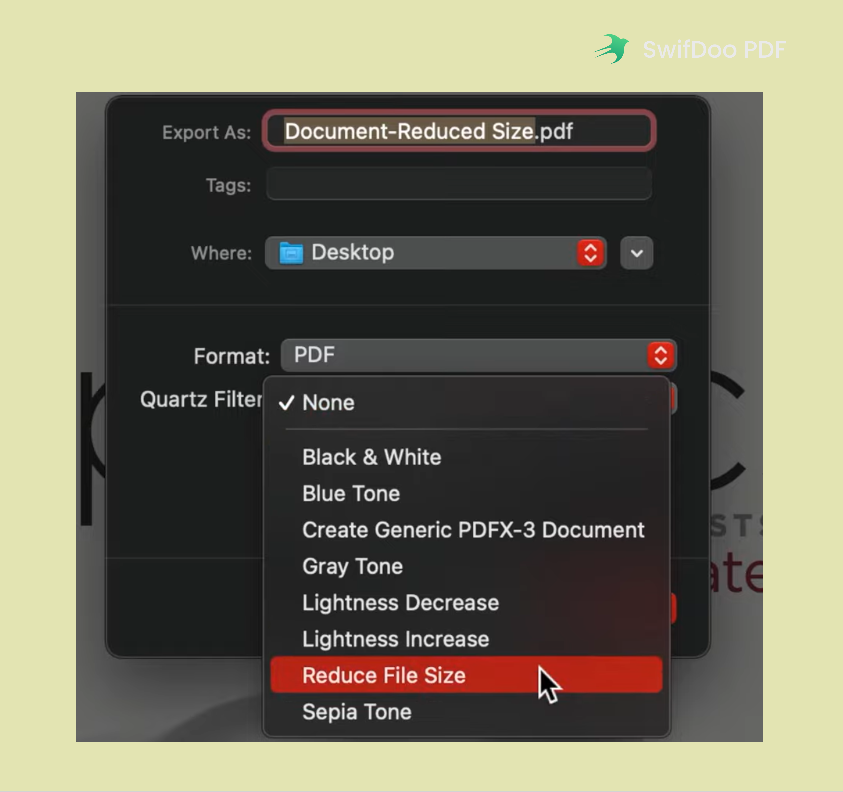 Admittedly, Preview is not as powerful as other professional PDF editor programs. However, it can help you encrypt PDFs with passwords, annotate PDFs, convert PDFs to images, etc. all basic editing is free and easy.
How to Compress a PDF Online
The above three PDF compressors are all desktop programs. In case you prefer to use online tools, we also offer you an alternative: COMPRESS2GO, enabling you to process your PDF files through a web browser.
COMPRESS2GO
COMPRESS2GO is a free online file compressor. Besides PDFs, you can also use this tool to compress images and videos. In addition, it can be used to create ZIP/archive files directly. Nevertheless, other advanced editing features are not available on COMPRESS2GO, and this could be a big drawback.
Follow the guide below to learn how to compress a PDF file online:
Step 1. Navigate to the COMPRESS2GO website and click Compress PDF on the homepage;
Step 2. Press Choose File button to upload your PDF file. You can also import files from Dropbox and Google Drive;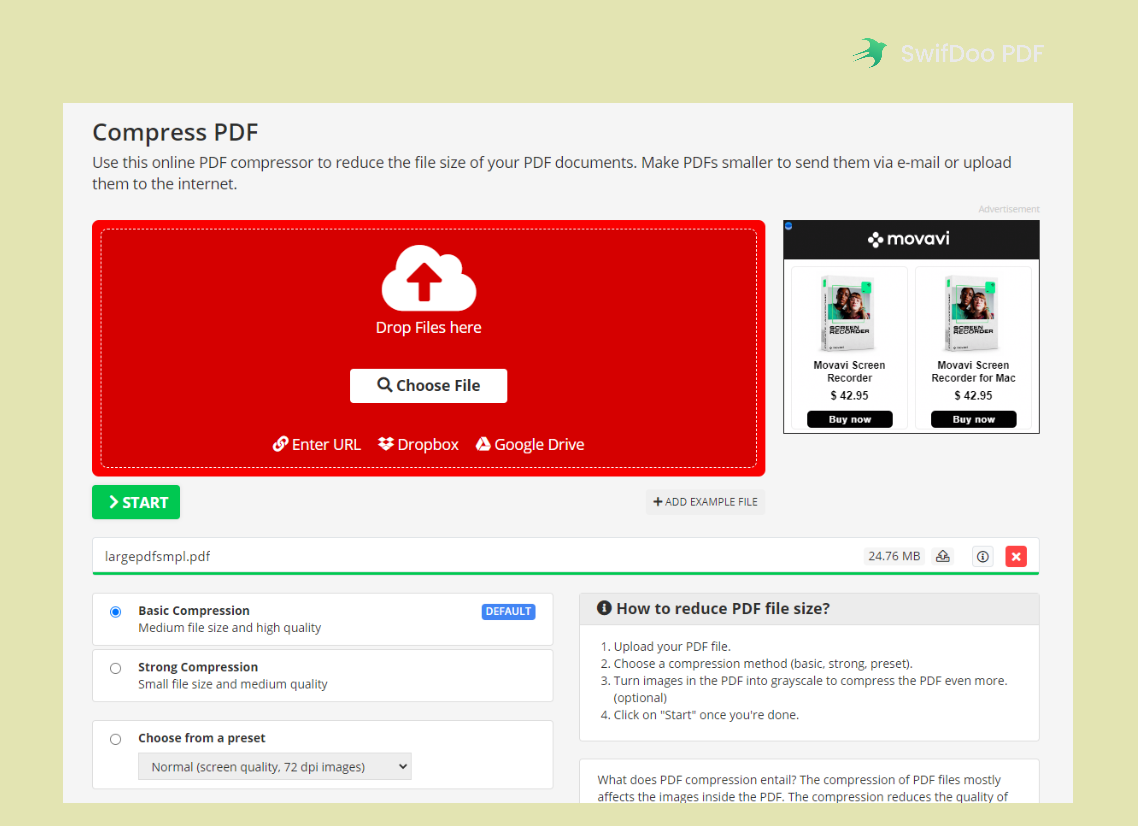 Step 3. Select a compression level and click on the Start button;
Step 4. Download the compressed PDF file to your computer manually.
Using online PDF compressors can save a lot of time and reduce the extra pressure that causes your disk. By simply searching on your browser, you'll see many online PDF tools, and it's very easy to use.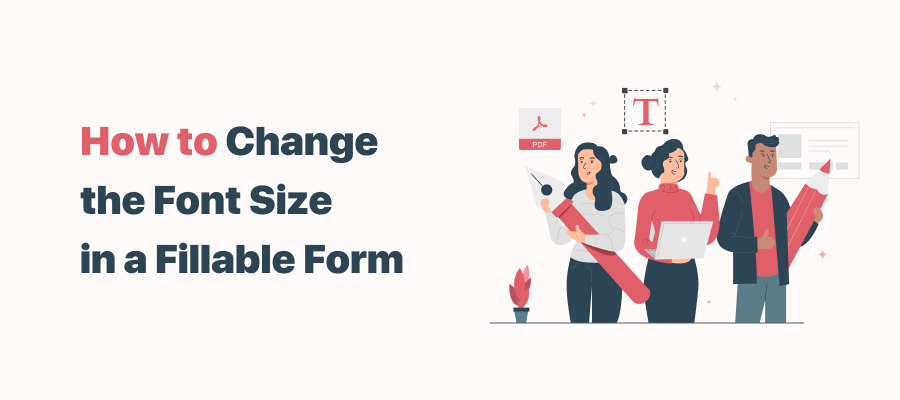 5 Approaches to Change the Font Size within a PDF Form Field
If you want to figure out how to edit or change the font size in a fillable PDF form to make the PDF look more consistent, this post can help.
READ MORE >
The End
After learning how to compress a PDF, you can better manage PDF files. When sending large files to others, you'll spend less time than others. Archiving compressed PDF files can also reduce the file size and store your disk space a lot. If you're running a Windows operating system, we recommend you try SwifDoo PDF, which can help organize your PDF files well!