Introduction:
The reliance on mobile devices has exerted a great impact on our daily life, and one of the changes is how we read. When mobile reading becomes a popular habit, new electronic book formats crop up to facilitate reading on a variety of digital devices. Since some formats are exclusive to a certain platform, we may find it inevitable to perform file conversions, such as PDF to MOBI.
We may have unconsciously read a PDF Ebook; nevertheless, PDF is not an ideal format for reading. This format was meant for printing and file sharing because of the never-changing formatting and layout. MOBI (now AZW3) is an Ebook format used merely by Amazon's Kindle devices. With a smaller file size and functionality, MOBI is a popular Ebook format, especially it is under the protection of Digital Rights Management, an effective method to guarantee copyright and legal viewing.
Therefore, this poses a question: how to convert PDF to MOBI. This article revolves around several approaches to converting a PDF to a MOBI file without losing formatting. Here we go!
Convert PDF to MOBI on Windows
Calibre
If you are seeking a robust Ebook format converter, Calibre is the program you cannot ignore. This one-stop Ebook management software can meet all your needs for PDF to Ebook conversions. Aside from that, Calibre can display, edit, create, and synchronize Ebooks with different E-readers.
What blows me away is this is an open-source program running on mainstream operating systems, such as Windows, macOS, and Linux. OK, let's cut to the chase and figure out how the PDF to MOBI converter helps:
Step 1: Download and install Calibre on your PC;
Step 2: Launch the program and click Add books on the main menu;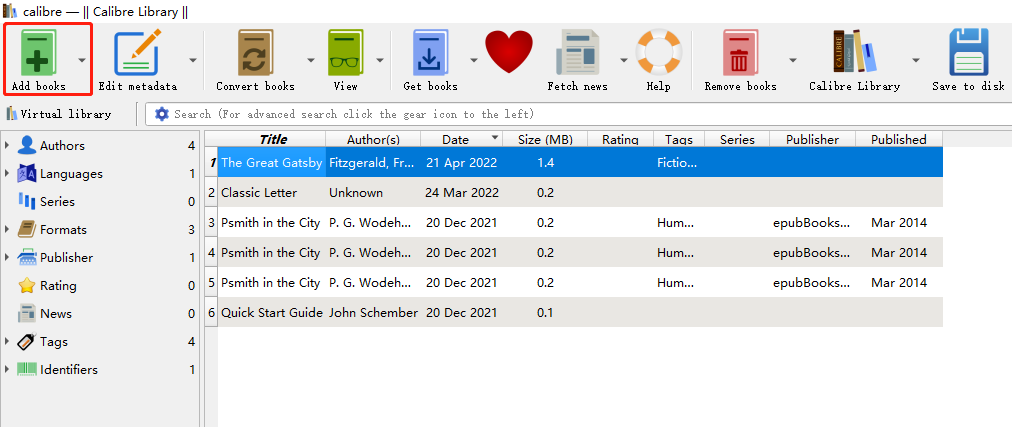 Step 3: Upload a PDF file from a local folder, then select Convert books to continue.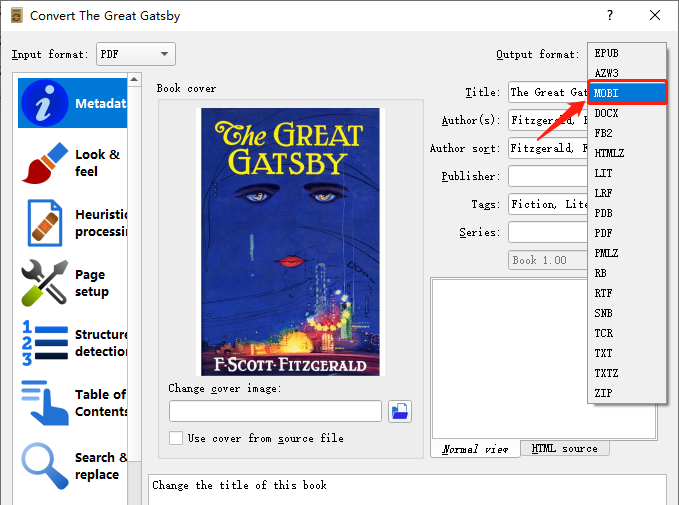 As an expert in Ebook management, Calibre can update metadata, adjust page size, font style, and layout, and search & replace expressions in an Ebook. From the perspective of functionality, Calibre can be dubbed the best PDF to MOBI converter on Windows and macOS. Furthermore, this program is open-source, which means it is completely free. When everyone says that nothing is free, Calibre illustrates that freeware is also worthy of attention.
Convert PDF to MOBI on Mac
In some cases, macOS users may need a PDF to MOBI converter to save a PDF as an Ebook. In addition to Calibre, this cream of the crop in Ebook management software, is there any other way to deal with this file conversion? Yes, iPubSoft is a useful one.
iPubSoft PDF to MOBI Converter for Mac
As the name suggests, iPubSoft is a professional productivity suite on Windows, macOS, and mobile. It aims to provide all-round service for your Ebook-related issues, including the PDF to MOBI conversion. For those new users (both on Windows and macOS), this software offers a user-friendly interface and step-by-step guide, which greatly ensures usability. It promises to render high-quality conversion results by employing unique techniques to maintain the original elements without losing formatting.
OK, let's dive into how this app readily converts PDF to MOBI on Mac:
Step 1: Download the app from the App Store or the official website;
Step 2: Run the program. When ready, choose Add File to load up the needed PDF;
Step 3: Navigate to the Output Folder on the bottom, then click Start to convert the current PDF to a MOBI file.
This program can assist users who have PDFs to convert to MOBI format. The batch conversion service can convert a large number of PDF files in one fell swoop in the background service, allowing users to focus on other tasks. In addition, iPubSoft offers a macOS ePub creator. That is, users may make ePub books on Mac devices right away from a variety of file kinds.
It's worth noting that this application isn't free. Users must pay for the service after the free trial period has ended.
Convert PDF to MOBI Online
Although there aren't many available PDF to MOBI converters on Windows and macOS, however, it is quite easy to convert a PDF to a MOBI file online. We have an excellent online converter in the industry, among which Zamzar is definitely worth mentioning. Now, follow the instruction below to easily convert a PDF document to a MOBI file within a few clicks:
Zamzar
It doesn't matter if you have already heard of this name, Zamzar. This is a specialized file converter based on the internet. Honestly, it can handle every format you can think of, including movies, photos, documents, audio, Ebooks, and archives. The conversion process is made easy and every new user has no trouble getting what he/she wants in a couple of clicks. If you need an online tool to convert PDF to MOBI, keep reading:
Step 1: Type the URL on the address bar and open the official website;
Step 2: When the page completely loads, click Choose Files to upload the PDF file from the local folder or any cloud storage platform, such as Google Drive, Dropbox, Box, or OneDrive;

Step 3: Choose MOBI as the output format in the Convert To drop-down menu;

Step 4: Hit the Download button to save this MOBI file locally.
The whole conversion takes less than one minute, however, the time varies depending on the size of the file. Recently, Zamzar released a desktop app, and thus Windows and Mac can access the amazing features. The only demerit is this is not a totally free PDF to MOBI converter, users should upgrade to the premium plan when users run out of the three free tasks.
We won't go into too much detail because most online PDF to MOBI converters operate in the same way. CloudConvert, Convertio, FreeConvert, and Online-Convert are examples of web-based solutions. Users can pick whatever one they like.
Wrapping Up
In summary, file conversion is not much of an issue anymore. These excellent PDF to MOBI converters can help you get from "cannot" to "can." Without altering the layout or structure, a PDF may be instantly converted to any desired target format. Calibre is the go-to if you have such a requirement. But if you need to make modifications to a PDF document, SwifDoo PDF is a great tool.