If you want to read a light and interesting book to relax your body and mind, why not try a romantic comedy novel? The Love Hypothesis is a heartwarming romcom and a TikTok sensation that's worth considering. It is a book that can make you experience a different kind of pleasure and vivid story.
Try giving The Love Hypothesis a chance to discover why it is so popular as a romantic novel. Read this article to quickly go through the basic information about the book, how to read The Love Hypothesis PDF, synopsis of it and more.
Information about The Love Hypothesis
Here is an overview of the book, including the author, book selling, age rating and sequel information.
About the Book and Author
The charming and delightful The Love Hypothesis is written by Ali Hazelwood, a writer and neuroscience professor from Italy and living in the US. This romantic novel was published on September 14, 2021, by Berkley Books. The theme of this book focuses on the love of women in the field of science, STEM, abuse of power, and the handling of intimate relationships.
Amazon named The Love Hypothesis the best romance book of 2021. Since its publication, it has rapidly won 4 to 5 stars on the world's large site for book lovers, Goodreads. According to a publisher, the book has sold over 750,000 copies. It is also a New York Times best seller.
Age Rating
The Love Hypothesis is more appropriate or okay for readers aged 18 and up. It depends on how much adult content you can read.
Sequel
The Love Hypothesis doesn't have a sequel or book 2. There is no series but you can read the author's other books next in the order: Love on the Brain, Love, Theoretically. These books are created to be read independently.
The Love Hypothesis PDF: Read Online or Download
If you are a loyal PDF user, you might wish to gain the The Love Hypothesis PDF to read online for free or read in your free PDF reader app. With a PDF ebook, you can easily read anywhere and anytime, on your mobile phone or computer. Thanks to the internet and online libraries like ZLibrary.to and Pdf Glare, it's possible to get the PDF full book for free online viewing or offline reading.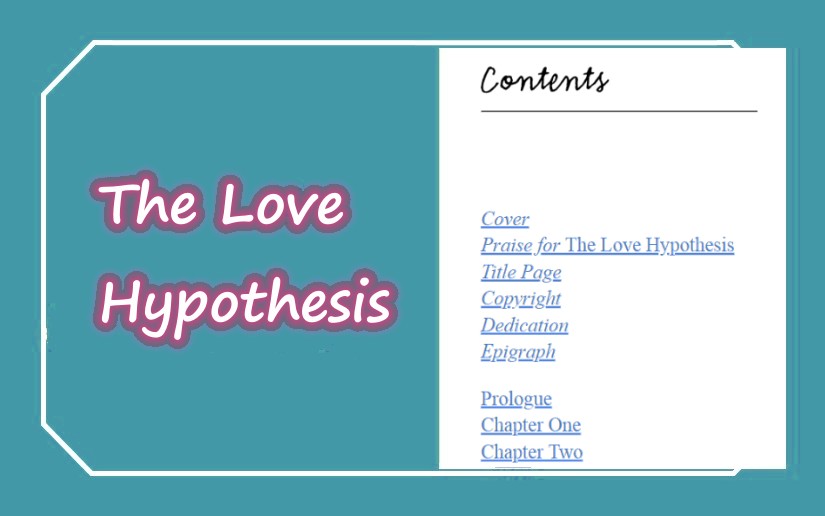 The Love Hypothesis
If you have ever purchased or downloaded The Love Hypothesis from online ebook stores or any other sources, and are looking for a tool to convert the ebook formats in order to read on a selected device, you must download SwifDoo PDF to have a try.
It offers the most powerful functions for decrypting and converting any ebooks to PDF and ePub.
Or you can continue reading The Love Hypothesis online.
Read Online
When you save and open your free The Love Hypothesis PDF, you can highlight text, add notes, and type words to annotate it. SwifDoo PDF also allows you to do word count in the PDF book. If you would like to read with your e-reader such as a Kindle device, it's simple to convert the PDF to EPUB format. Better yet, when you are tired of staring at the screen, use the PDF reading aloud feature to make the book a kind of audiobook.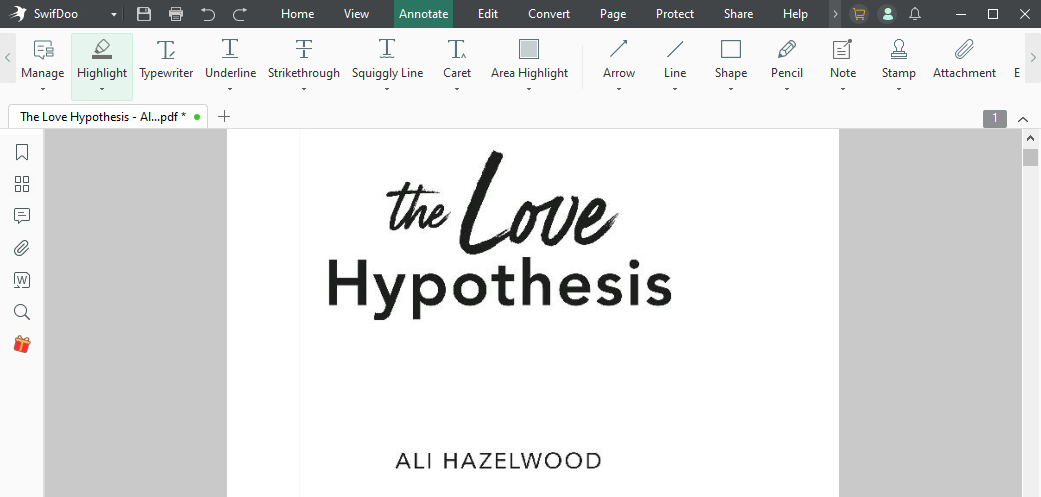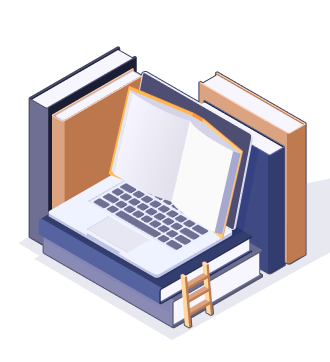 SwifDoo PDF: The Best PDF Reader and Editor
View a PDF book in multiple layouts
Read PDFs out loud, and translate PDFs
Add annotations to PDF books
Bookmark PDF book pages
Free Download
Windows 11/10/8.1/7/XP
Synopsis of The Love Hypothesis
Before your The Love Hypothesis PDF reading, checking a short book summary might be helpful to understand what it is really about. The story centers on 2 main characters which are Olive Smith and Dr. Adam Carlsen. Other characters include Olive's best friend and roommate who are Anh Pham and Malcolm, and Adam's friends that are Holden Rodriquez and Dr. Tom Benton.
Olive is a third-year biology Ph.D. candidate at Stanford. Adam is a young hotshot biology professor at Stanford. They establish a fake romantic relationship with each other for their respective reasons. They pretend to date in order to persuade their friends and others. After spending time together and getting to know each other, the two realize that they have fallen in love. However, after a scientific conference in Boston, they break up due to Adam's friend, Tom.
How will Olive and Adam in The Love Hypothesis develop and end next? Can these two fictional people continue to write a beautiful love story? Why not start reading this book and personally experience this romantic journey? The story portrays and subverts many metaphors used in classic romantic stories and will bring you a pleasing new experience.
The Love Hypothesis Quotes
Read a few quotes from The Love Hypothesis to remember and use the beautiful sentences for yourself. Or just enjoy the great creation you may like.
"I wish you could see yourself the way I see you."
"I'm starting to wonder if this is what being in love is. Being okay with ripping yourself to shreds, so the other person can stay whole."
"What you have now, it will have to be enough."
The Origin of the Book
The Love Hypothesis by Ali Hazelwood is based on a Star Wars fan fiction work, the "Reylo" fanfic. The book or fan-fiction was released as Head Over Feet on the web in 2018 and it's about the romantic relationship between Rey and Kylo Ren in Star Wars. The cover of the book still uses the fan art produced while it's a fan-fiction, specifically the two main characters.
More about the Romance Novel
The Love Hypothesis hardcover is for sale on Walmart and purchase online at $40.11, and being re-sold on eBay at $22.49. You can buy a paperback book with 400 pages and a Kindle book with 383 pages from Amazon.
There are 22 chapters in the The Love Hypothesis book and the author of the book has a bonus chapter from Adams POV. You can sign up for her newsletter to read it online.
Books like The Love Hypothesis: Several books that have similar synopsis are Act Like You Mean It by Shae Sanders, Gouda Friends by Cathy Yardley, and Marriage for One by Ella Maise. You can read them after the introduced book in this article.
Other books by the author: Ali Hazelwood's other bestselling books are Love on the Brain and Loathe to Love You. More of her books include Under One Roof, Below Zero, and Love, Theoretically.
Conclusion
At this moment, you may have known better about The Love Hypothesis, this hot romance novel. The adapted movie and the origin related to this book have also been covered in case you are interested. Think about your own situation and decide whether you can and want to read it. Paying for literature is always valuable because these works enrich your life.
From this article, you can also discover where The Love Hypothesis PDF is available and a PDF tool to enhance and assist your reading and learning experience. For ebook lovers, you can go to our free ebook hub for more articles.
FAQs
Q: Is The Love Hypothesis an LGBTQ book?
A: No, it is not in the LGBTQ genre but a normal romance novel telling a story between a boy and a girl.
Q: Is The Love Hypothesis spicy?
A: The book is considered spicy as it has some spicy scenes in a few chapters like Chapter 16. Make sure you're the right age to read or skip the chapters.
Q: Will The Love Hypothesis be a movie?
A: The earlier news on Deadline Hollywood said that The Love Hypothesis movie will be made by Bisous Pictures, The Elizabeth Cantillon and MRC Film's romance label. Bisous Pictures will adapt the original book together with the author Ali Hazelwood.
The movie's release date is not announced. No news about the movie's cast yet. However, Adam Driver and Daisy Ridley are recommended by many readers to star as Adam and Olive. Since the romance novel is going to be a movie, who do you want to play the characters?