Metadata in a PDF document usually refers to the document properties or information about the PDF. It typically contains the PDF's author, creation date, and copyright information. To distribute PDF files without revealing personal and identifying information, you probably want to remove metadata from PDF. But you might be struggling to do that.
It's known that any PDF editing is not easy. So, this post is going to show you how to remove metadata from PDF with 3 methods. No complicated process, and you can follow the step-by-step guides to learn.
Method 1: Remove Metadata from PDF Using Adobe Acrobat Pro DC
Adobe Acrobat Pro DC, as the leading PDF software, unsurprisingly has the function to remove metadata from PDF documents. The software can remove the author, title, subject, creation date, and other data of a PDF. It also lets you remove hidden information to completely remove PDF metadata. The whole process takes just a few clicks. If needed, Acrobat has more editing tools for you to further edit PDF files.
Check the 4 steps to discover how to remove metadata from PDF in Adobe Acrobat Pro DC.
Step 1: Open your PDF document in Acrobat Pro, choose File and select Properties from the drop-down list;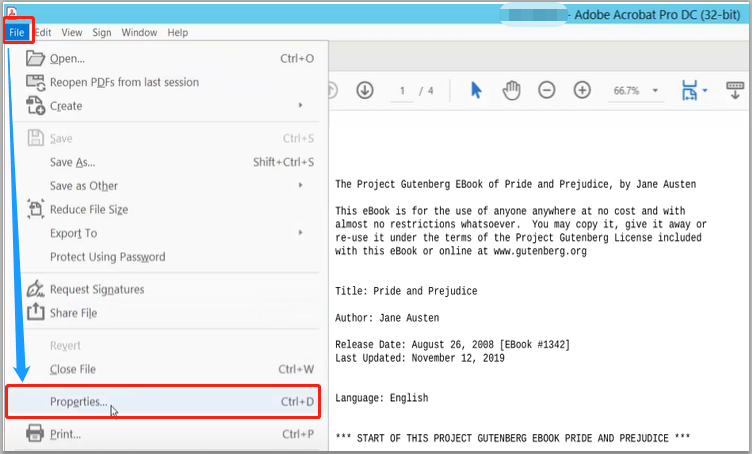 Step 2: Delete the metadata in the fillable fields under the Description option;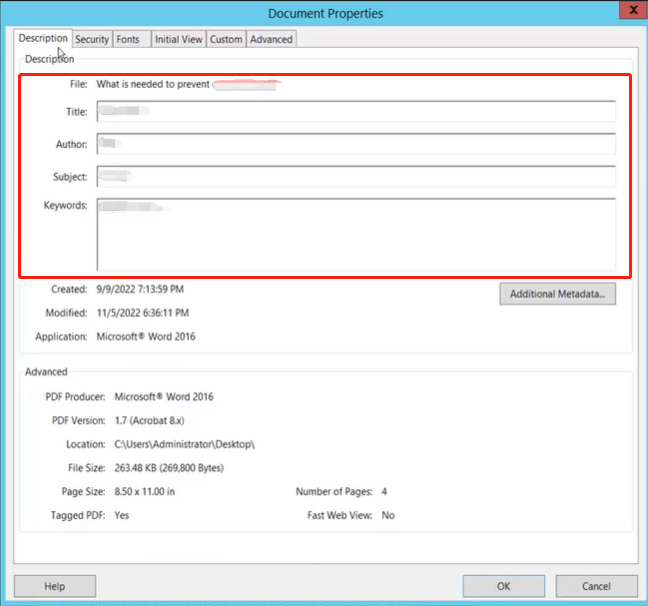 Step 3: Tap Additional Metadata to change the copyright status and delete other information;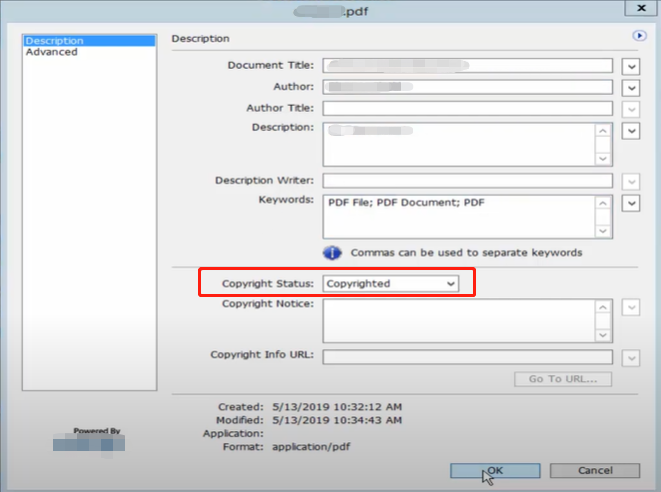 Step 4: Click OK to confirm your actions and remove metadata from this PDF, then save a copy of the PDF file.
After using the above method to remove metadata from PDF files, choose "Tools" > "Protect" > "Remove Hidden Information" to remove hidden data. You can run the Adobe Acrobat Pro DC software program on both Windows and Mac to do all the work. Please note that the free Adobe Reader doesn't allow you to remove PDF metadata.
Tips:
When the "Document Properties" window opens after Step 1, you can change or
edit the PDF metadata
to hide the real information. This is another way to protect the sensitive metadata instead of removing it.
Method 2: Remove Metadata from PDF with Nitro PDF Pro
Nitro PDF Pro gives another way to remove metadata from PDFs on Mac or Windows desktop. It is one of the best PDF editors with the ability to tackle almost all the PDF tasks. The PDF program can remove all traces of PDF metadata including document creation date, and reference numbers. It is also one of the top PDF redaction tools to remove visible confidential text or images in a PDF file.
Here is a brief tutorial on how to remove metadata from PDF files with Nitro PDF Pro.
Step 1: Launch the PDF software and open a PDF document with it;
Step 2: Navigate to the Protect tab on the top to click Remove Metadata;

Step 3: Press the OK button and the PDF editor will remove metadata of the PDF right away.

Using Nitro PDF Pro, you can remove all metadata from PDF document properties and page resources in just 3 clicks. To tell if you have successfully removed metadata of PDFs, right-click on a PDF page and choose "Document Properties" to check the defined metadata fields.
Method 3: Remove Metadata from PDF with Sejda
If you are seeking a way to remove metadata from a PDF without Adobe or any paid apps, Sejda is an excellent choice. It is an online browser-based PDF metadata remover and PDF editor. The software allows you to update or change the metadata or completely delete all metadata. You can access it to organize and annotate PDF documents as well.
Take a look at how to remove metadata from PDFs online for free using Sejda.
Step 1: Get into the online tool's site from any device, such as Linux and Mac, and choose All Tools > Edit Metadata;

Step 2: Upload the PDF you need to remove metadata from;
Step 3: Choose Remove all metadata and click Continue to scrub metadata from this PDF;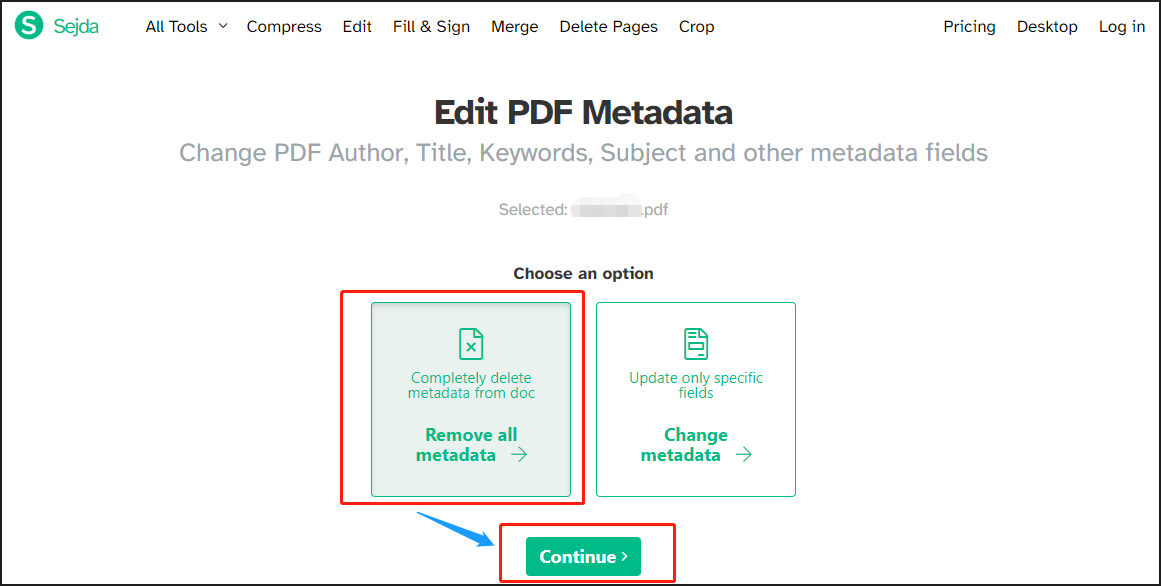 Step 4: Download and save the PDF without metadata. Repeat the steps to strip metadata from more your PDFs.
Removing metadata from PDF documents with this software is free and doesn't require your registration. There is no app download need either. However, the free service only supports less than 50MB files. If you have multiple PDFs to remove metadata from, perhaps a premium account is necessary.
The Best PDF Editor to Edit Your PDF Files
The 3 methods introduced make it no longer a daunting task to remove metadata from PDF files. If you just need to perform the PDF metadata removal task occasionally, the free trial of these software is enough. To make other edits to PDFs, it's better to turn to a more affordable PDF editor.
Let's say you need to edit text and images in PDFs, convert, compress, or organize PDFs. SwifDoo PDF is a stellar option to do the job. It is a space-saving, fast, and feature-rich PDF editor. It also lets you check the metadata or properties status of a PDF. For example, when you have removed PDF metadata online, open the PDF file in SwifDoo PDF, and choose SwifDoo > Document Properties.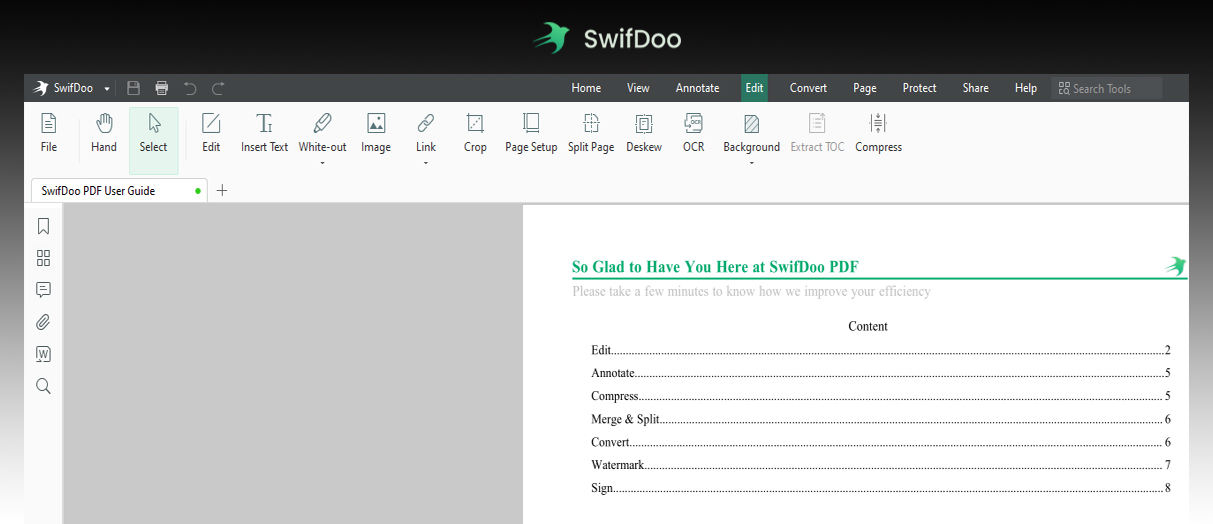 Conclusion
This post explains how to remove metadata from PDFs in a step-by-step manner. Depending on your preferences, you can select any of the PDF metadata removers. If possible, try to adopt professional desktop software as they seem to protect your privacy better. They not only help remove property details from PDF files, but has a wide range of other powerful features. To do more with PDF, try SwifDoo PDF for free.
Frequently Asked Questions about Remove Metadata from PDF
1. Does converting PDF remove metadata?
Converting PDF files will only remove revision metadata but cannot clear description metadata. The resulting files still have the detailed information about them, such as the file's author, creation data, and modification date. You can use the methods in this post to remove metadata from PDFs.
2. How do I view PDF metadata in Windows?
For those who don't know where PDF metadata is stored, there are two ways to view metadata in a PDF. One is to right-click on the PDF in File Explorer and choose "Properties" to read the details. The other is to open your PDF in a PDF reader like SwifDoo PDF, go to SwifDoo > Document Properties.
3. How do I edit a PDF without metadata?
The mentioned online Sejda, Adobe Acrobat and other software allow you to edit a PDF and PDF metadata. When you have removed metadata from a PDF, you can edit the PDF with SwifDoo PDF editor.