Introduction:
Perhaps every day you need to handle PDF documents, from quotation sheets and contracts to data reports and various learning materials. One of the most popular software for modifying and updating PDFs is PDFescape editor. This is a comprehensive PDF program that not only lets you edit text and images but also does many more with PDFs.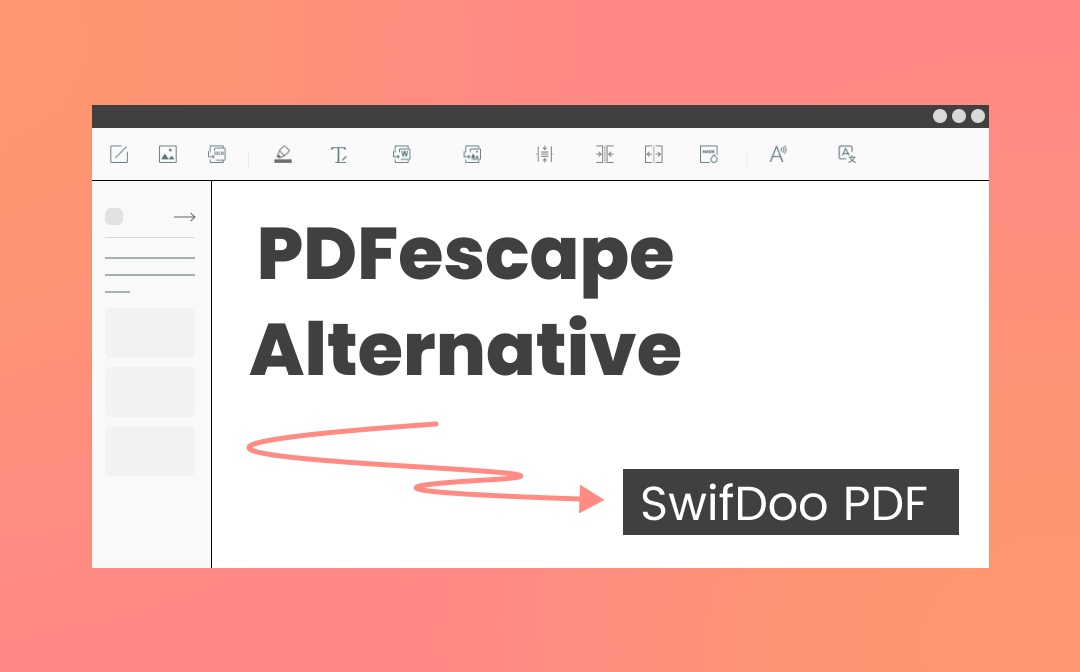 While the PDFescape editor is excellent, you may be unhappy with some of its downsides. In view of that, we will introduce an alternative to it to escape you from the hassle of dealing with PDFs. You can combine the two apps to do your PDF editing work easily.
The Top Alternative to PDFescape Editor
PDFescape has gained a great number of users with its small size and rich features. You can rely on it to edit existing content or add new content in PDFs. The PDF editor also allows you to change the PDF background, rotate, delete, and split PDF pages, etc. Similar to the PDFescape editor, SwifDoo PDF is also one of the most simple-to-use and powerful PDF editing software for Windows.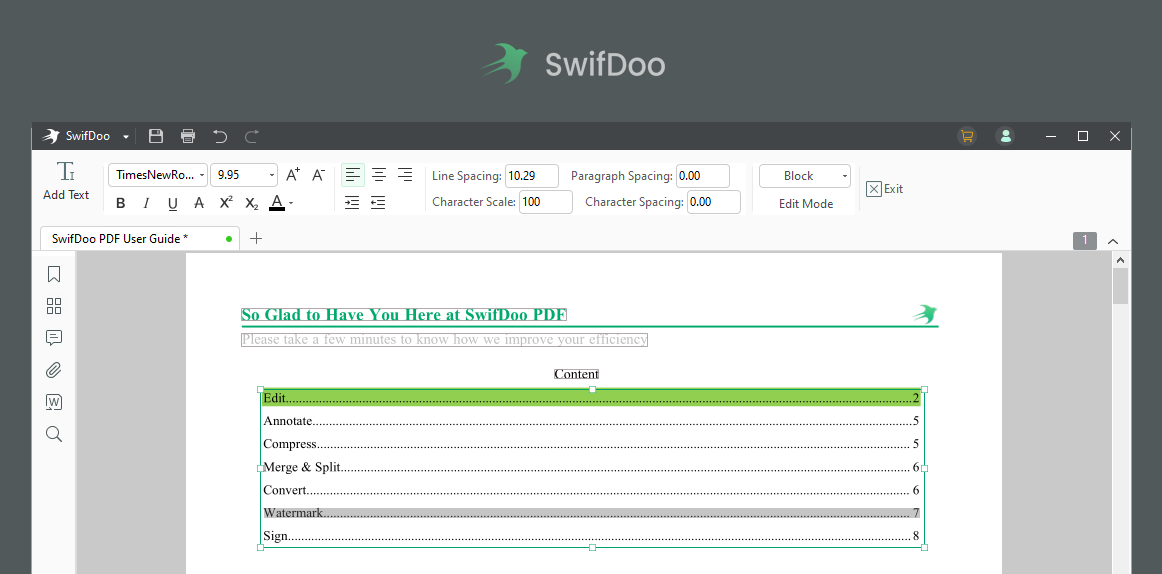 The SwifDoo PDF editor has an extensive selection of PDF editing options, just like the PDFescape editor. From changing text to organizing pages, converting, and protecting PDFs, it is designed to increase your ability to modify and update PDF files efficiently. In terms of the user interface, the software has modern and ribbon-style menus, so you can navigate between different tools without a hassle. What's better, the program is incredibly small and fast.
To further understand why the SwifDoo PDF editor is recommended as the best alternative to the PDFescape editor, check the following feature list. It has what's included in PDFescape and a lot of more special features.
The program is equipped with a complete set of PDF editing tools. These tools allow you to add, delete, or edit text and images, and crop pages in a PDF. Redacting specific data and creating hyperlinks in PDFs is also a piece of cake using the tools. You can format PDF content within the app like in Word.
The PDF editing tools can change the PDF page size, and OCR PDFs. You can also utilize them to rotate, delete, extract, and rearrange PDF pages just like what you can do in the PDFescape editor.
The PDF program makes PDF annotating, PDF compression, PDF conversion, PDF merging, and PDF translation a snap. It can do PDF word count for you to count how many words and characters are in your PDF documents in one click.
It is also an image converter, image and Office document compressor. It converts between two image formats and compresses Word, Excel, PowerPoint, PDF, and image files.
As you may know that the PDFescape editor has both desktop and online versions. SwifDoo PDF also has an online converter for converting PDFs to Word, Excel, or other formats and vice versa.
One of the most remarkable features of the SwifDoo PDF editor is the ability to add or remove watermarks from PDFs. The software also enables you to sign and encrypt PDFs with passwords.
A great feature of the PDF editor is converting text to speech for reading PDFs aloud.
How to Edit a PDF with the PDFescape Editor Alternative
The steps to edit a PDF file with the SwifDoo PDF editor are as follows. The whole process is the same straightforward and intuitive as the PDFescape editor.
Step 1: Open a PDF File
Once you have downloaded and installed SwifDoo PDF for free, launch the program and open a PDF file with it. You can click the "Edit PDF" tab in the first interface to select a PDF from your device. Or, click "Open" to open the file and then choose the "Edit" menu.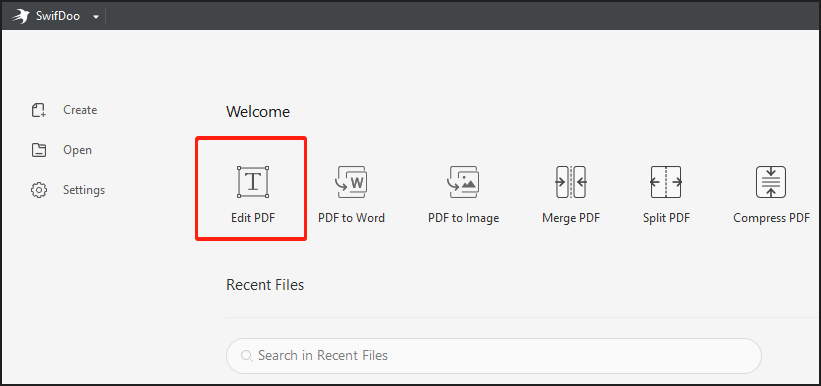 Step 2: Choose the PDF Editing Tools
After your PDF is opened with the PDF editor, go to the "Edit" option under the Edit tab. Then your document will become editable. All the text is surrounded by text boxes. Exit the text editing mode, and you can choose other editing tools.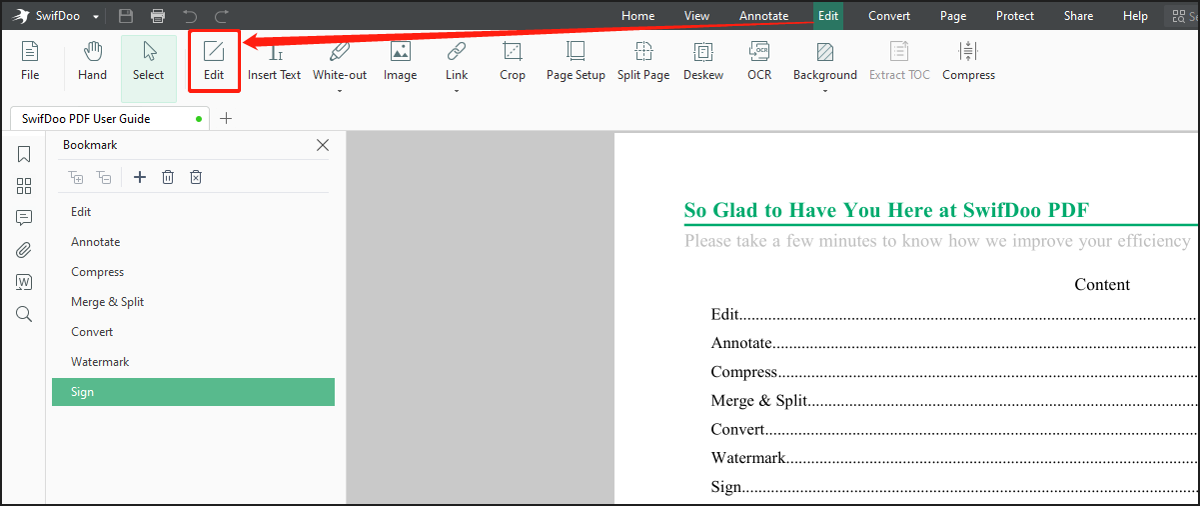 Step 3: Edit the PDF File
Like editing PDFs with the PDFescape editor, you can replace or delete original text, and type new text within your PDF. Pick the "Insert Text" tool to add text boxes to any area on your PDF pages for adding any notes. You can use the formatting tools to alter the text size, color, and more text properties. When you open a PDF, click an image and hit the "Edit image" icon shown as a pen to rotate, resize, and adjust the transparency of the image.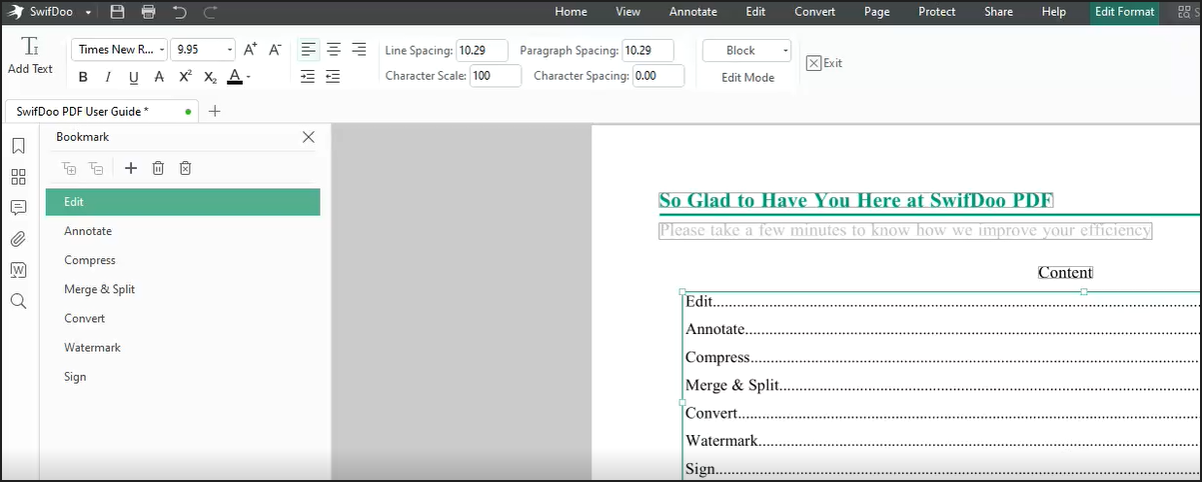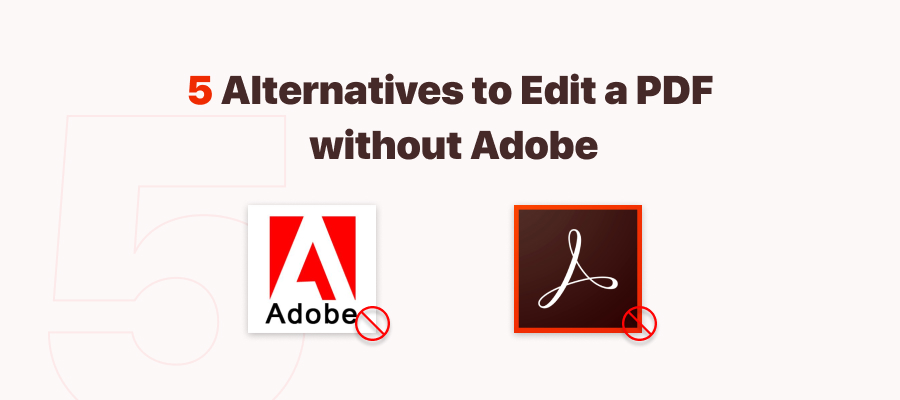 How to Edit a PDF Without Adobe Acrobat: 6 Alternative PDF Editors
As to how to edit a PDF, many people would think of Adobe. Are there any Adobe Acrobat alternatives? Keep reading to know how to edit a PDF without Adobe.
READ MORE >
Edit Your PDF with PDFescape Editor
The desktop PDFescape editor allows you to edit text and images in a PDF with an array of tools. You can change the text font, size, color, and other properties. Resizing and rotating images are no problem. If you wish to edit a PDF with the editor, learn the step-by-step guide below.

Step 1: Launch the PDFescape editor on your computer, click "Open PDF" to select "Computer" and "Browse" to select and open a PDF file;
Step 2: Tap the "EDIT" menu and choose the "Edit" option in the drop-down menu;
Step 3: Click the text you need to edit, and you can delete it or type additional content. Use the formatting tools under the Edit mode to alter the text color or size. You can move the text box where you like;
Step 4: Hit a picture in your PDF, then move it to the location you desire. Drag the bounding box handle to resize the image, and hover your cursor over the top of the image to rotate it.
| | | |
| --- | --- | --- |
| | SwifDoo PDF | PDFescape |
| Rating | 4.8 | 4.6 |
| Interface | Modern | Out-dated |
| Features | Unlimited use of all features with the pro version | Lock some features for the premium version |
Conclusion
PDFescape is an excellent PDF editor. For most people, the main reason for using the software is the fact that it is small, affordable, and feature-rich. It helps solve most of your needs for editing PDFs. If you want another program comparable to the PDFescape editor, take a look at SwifDoo PDF. It enjoys the same and even better cost-performance ratio.
Frequently Asked Questions
Is PDFescape really free?
The online PDFescape is free to use but has limitations on file size. The desktop PDFescape editor provides you a free trial and after the trial, you need to upgrade to its premium version for accessing most of its features.
Does PDFescape have watermark?
The document edited by and output from the software won't be watermarked. However, when your free trial has expired, you can only make some basic edits to your PDF such as highlighting text.
What is the best PDF editor for free?
Among many best free PDF editors for Windows, SwifDoo PDF is worth trying. It is the rising star in the PDF software industry and offers users great support for functions, ease of use, and cost.