Introduction:
As a member of an international team, sometimes, you need to perform PDF translation from English to Bengali to better understand the content and take further steps. Today, powerful machine translation makes the task less challenging and more efficient. You can effortlessly complete the job in real-time at an affordable price or even for free.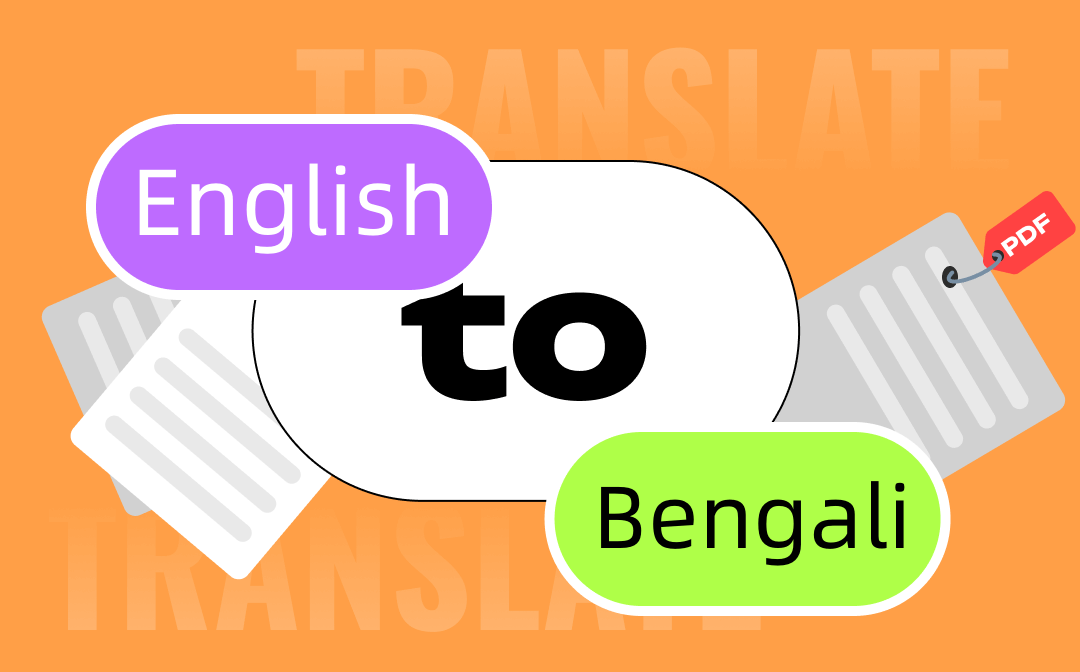 If you want to choose a convinient PDF translator from English to Bengali, this post features a detailed introduction to some practical tools to help you convert English PDFs to Bengali PDF documents at your fingertips, together with a full-fledged desktop PDF translator packed with PDF editing features.
Best PDF Translator from English to Bengali for Windows
If you often deal with PDFs for your work or business, you might need a proficient PDF editor equipped with the English to Bengali translation feature. This can save you from the trouble of running multiple programs and decreasing the strain on your computer's CPU. You can translate the English PDF and add notes to the PDF text for better collaboration at the same time with only one program.
SwifDoo PDF
SwifDoo PDF provides an impeccable option to do quick PDF translation. It is a stickler for accuracy and quality when translating an English PDF to a Bengali PDF file. It helps you understand the file content more flexibly: you can either translate the text sentence by sentence, paragraph by paragraph, or directly translate the whole file.
Here is a simple tutorial to perform PDF translation from English to Bengali:
Step 1: Enable the Quick Translation feature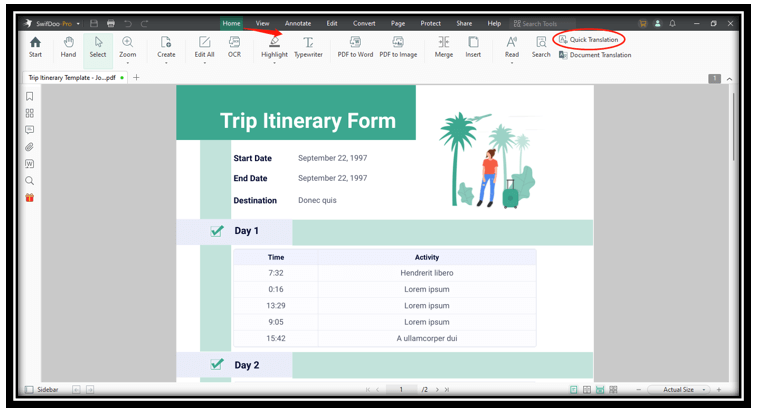 Download and install the PDF translator onto your Windows PC or laptop. Click the "Open" tab to add your target English PDF file to the program and open it. Under the "Home" button, choose "Quick Translation". Or you can find the same feature by clicking "View".
Step 2: Conduct English to Bengali translation

Select the sentence or paragraph that needs translation. When a window pops up, choose the source and target languages as English and Bengali. Then it will do the PDF translation from English to Bengali in a trice.
Step 3: Use Document Translation (alternative tip)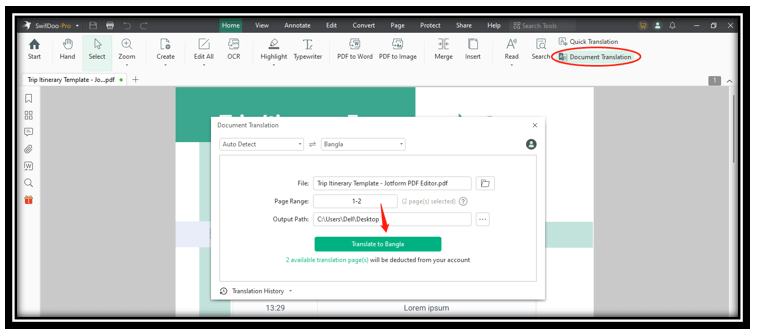 Alternatively, you can try the Document Translation feature to straightforwardly translate the whole English PDF to Bengali PDF by choosing "Document Translation". It can automatically detect your source language. All you need to do is set the output language as Bangla and tap "Translate to Bangla".
Best PDF Translator from English to Bengali Online
An online PDF translator from English to Bengali excels in translating English PDFs to Bengali PDFs on any device you use. Besides, some PDF translating tools offer free services and you still can enjoy accurate translation results.
TranslatorBox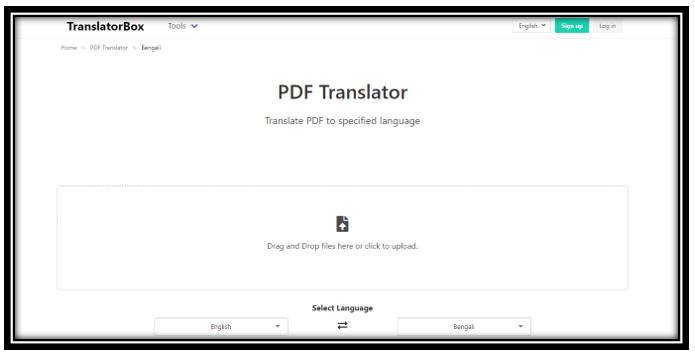 TranslatorBox is an easy-to-use website to conduct PDF translations from English to Bengali. With one click, it can translate one English PDF file to Bengali swiftly. In addition, it doesn't limit the uploaded file number or size so that you can translate as many PDFs as you can. The only drawback is that you need to register before using its service.
India Translate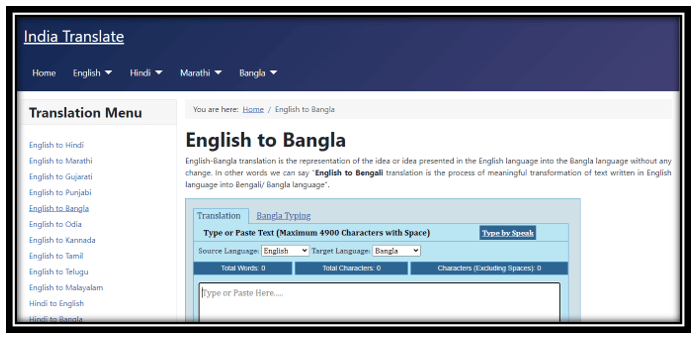 India Translate is another online site capable of performing free English to Bengali translation. Although it cannot directly translate English PDFs to Bengali PDF files, it allows you to copy the PDF text and paste it to the indicated box and save the translated words as a text or Word file. You can translate up to 4,900 characters at a time. Hence, this tool is suitable for translating PDFs with short text.
Shabdkosh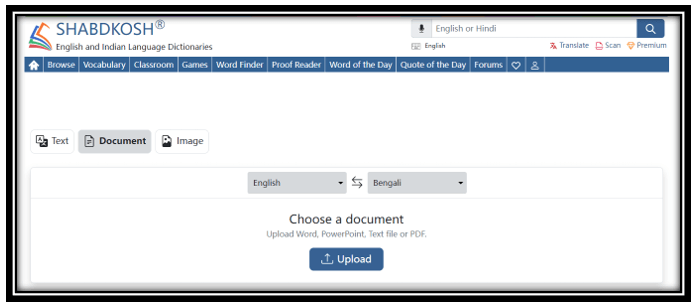 As a website designed to be a comprehensive language dictionary, Shabdkosh allows you to translate your file to any other language or vice versa. It has a PDF translator from English to Bengali with accuracy. You need to purchase its premium plan to access the service. In addition to translating English PDFs, the site lets you translate a picture or a piece of text straightforwardly.
Lingvanex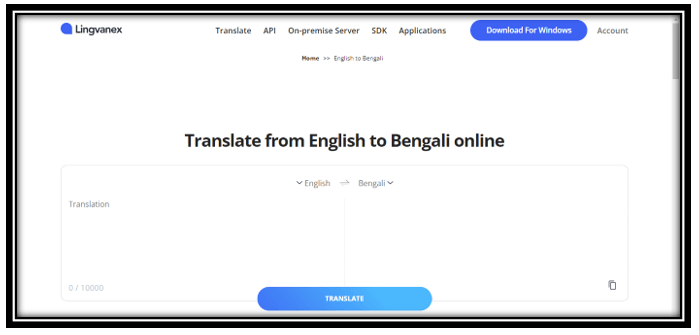 Lingvanes provides free English to Bengali translation services online. Just like India Translate, this tool requires you to copy and paste PDF text to perform the translation. It allows you to translate English text with up to 10,000 characters and no registration is needed. It also provides a Windows-based translator to convert English PDFs to Bengali PDFs in one click. Besides, audio and website translation is available as well.
Mate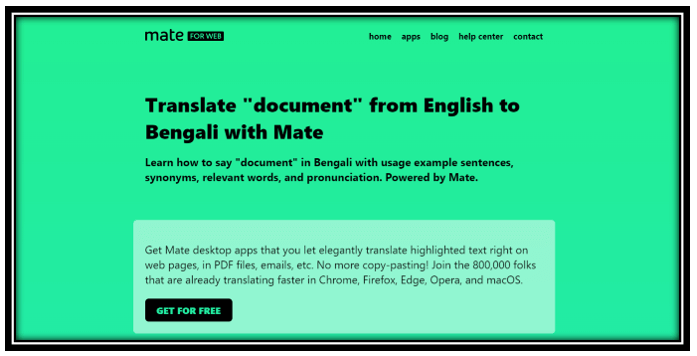 Mate has a free online website to translate English PDF text to Bengali without charge. It doesn't limit the character number and you can copy the whole file content to translate precisely. However, the processing speed is a little slower than other recommended tools and the input text will display above the workspace, which is user-unfriendly. The desktop app can translate PDF files, websites, and other files with ease.
Google Translate

The last recommended PDF translator from English to Bengali is Google Translate. As one of the most popular online translators, it enables you to convert English PDFs into Bengali PDFs easily for free without any limits. The machine translation engine automatically detects the source language of your file and seamlessly translates it to the target language. You need to download the translation first to view the results.
If you need more PDF translators to translate English PDFs to Bengali PDF files, this article could be helpful: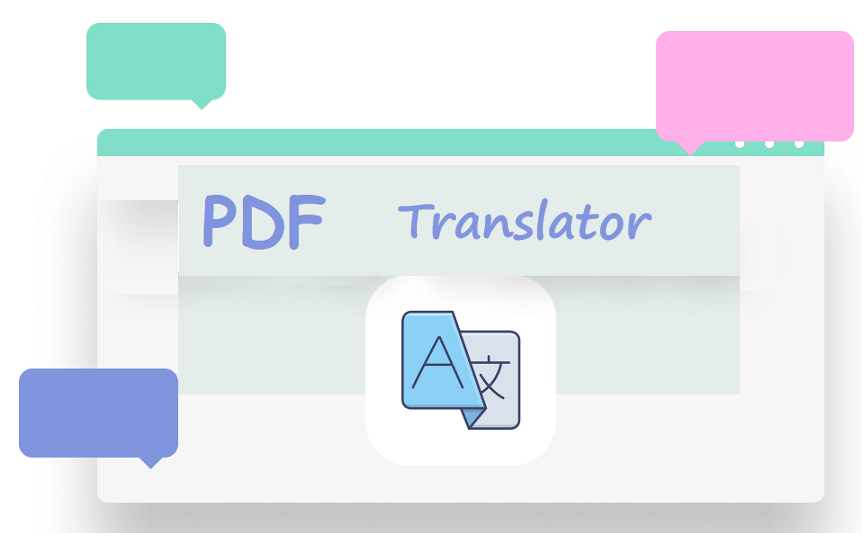 Top 11 Best PDF Translator That You Must Know in 2023
Check this post to find out the 11 best PDF translators in 2023. We've tested and selected them from different aspects to help you translate your PDF documents.
READ MORE >
Last Words
This article provides seven handy tools to do PDF translation from English to Bengali easily. From the listed translators, online translators are more flexible and you can access their services on Windows, Mac, or mobile phones. However, these tools only offer a single function and cannot satisfy your other potential needs related to PDFs.
If you need to translate English PDFs to Bengali for business and collaboration, a desktop PDF translator and editor like SwifDoo PDF outperforms online software. It helps you swiftly understand the PDF content with accuracy and make annotations to better collaborate with your colleagues.