Previously, copying text from PDFs to Word or any other type of document has been difficult and users have found it annoying to find the selected text is mis-formatted and does not meet their editing needs. This article seeks to address how to copy text from PDF for easier editing.
Copying Text from PDFs with Desktop PDF Editors
How to Copy Text from PDF on Windows
SwifDoo PDF
As a versatile desktop PDF program, SwifDoo PDF is both an eligible PDF editor and converter. If you need to copy words from a PDF document and paste them anywhere, there are usually two methods to achieve this goal, i.e. directly copying text and converting the PDF into an editable format.
Copy Text
For those whose work involves a large number of PDFs every day, a desktop PDF program can greatly improve working efficiency and productivity. The basic feature of a professional PDF tool includes directly copying text from a PDF document, and SwifDoo PDF is no exception. Here's how to do it:
Download SwifDoo PDF from the official website, and install the program on your device;
Launch the software and upload the PDF document as needed;
Place your cursor at the place where you want to copy;
Drag over an area to select the content, and use shortcut key Ctrl +C or right click the selected text and choose Copy Selected Content.
However, if you attempt to directly copy selected text to a document, the problem of formatting still remains. As the following image shows, the indent of the left picture is different from that of the right one. If you are required to copy text, you may need to readjust the formatting which is time consuming. That's why we need to learn how to convert text.

Convert
Converting text is a preferable option while editing, as it retains document integrity and keeps as much of the original formatting as possible. By converting text rather than copying, users don't have to be concerned with mis-formatting and misused fonts. Let's look at how to utilize SwifDoo PDF converter to copy text:
Launch the PDF program and click PDF to Word;
Add your PDF document to the workplace;
Confirm the output path and choose Start;
Open the converted Word file and start copying text.
How to Copy Text from PDFs on Mac
For Mac users, you don't need to rely on any additional software to copy text. Apple's built-in word processor and PDF viewer has it all and fulfills your needs for copying text from a PDF to text, emails, or other documents.
Open your PDF file with Preview;
Click Text Selectionin the tab Choose Text;
Navigate to the text where you need to copy, and left click the mouse to select the text;
Choose Edit to select Copy.
If you need to save a part of the page as a separate image, Preview can help with that as well:
Choose Tools to select Rectangular Selection;
Use your cursor to drag over an area on the page;
Click Copy in the Edit menu.
Copying Text from PDFs with Online Tools
Google Chrome
An Internet browser not only allows you to search for something, but can help you view a PDF document. Let's take Google Chrome for example as it has the biggest share in the market.
Right click the PDF file to choose Open with;
Select Google Chrometo open the PDF;
Navigate to the word or phrase you need to copy and left click your mouse;
Click Ctrl + Cor right click the selected text to choose Copy.
Text Extractor
Thanks to rapid development of technology, we can choose some professional online PDF extraction tools to export your PDF as pure text, for instance, ExtractPDF.com. This online program is not a text extractor, it can extract graphs, fonts, charts within a PDF. What impresses me is this tool requires no registration and payment.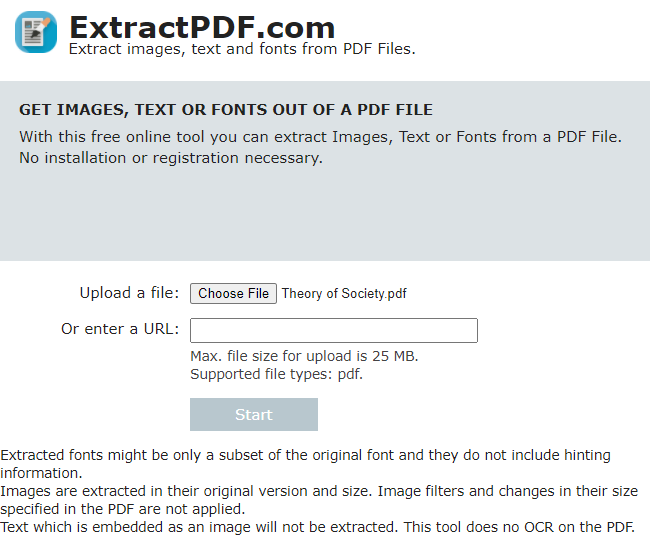 Type the URL on any browser;
Upload a PDF file from local computer or enter the URL of the PDF;
Click Start to extract the text within the PDF;
Choose Text to copy the text.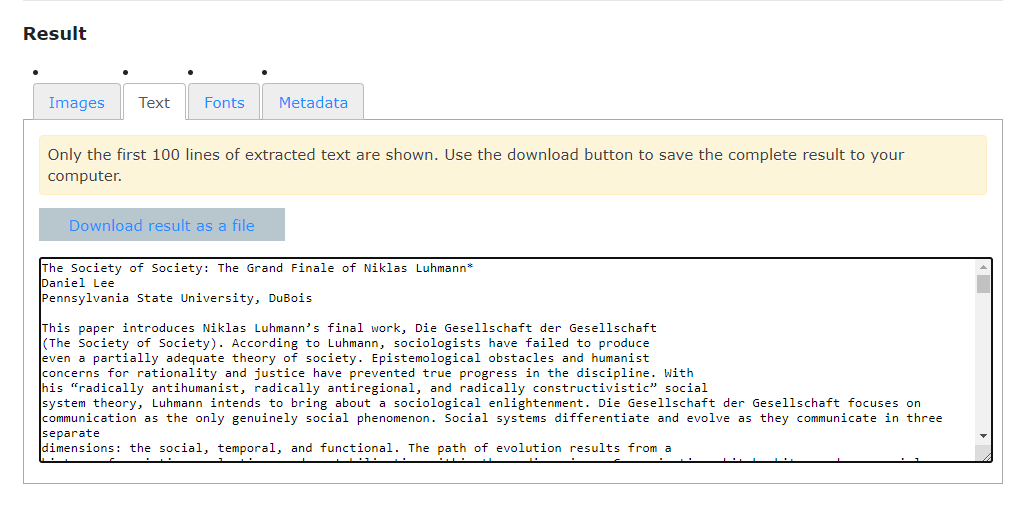 This powerful text extractor enables you to copy image, fonts, and metadata in this PDF document. However, the biggest disadvantage of this application is in its file size limit of 25 MB.
Reasons That May Cause Failures in Copying Text
At times, users may face difficulty in copying text from PDF due to the way the document has been saved; such as secured or encrypted PDF, or image-only. The following details ways to deal with these types of PDF.
Image-only PDF
First things first, what is scanned PDF or image-only PDF? This type of PDF is often created by scanning physical paper documents or converting camera photos to PDF without the use of OCR technology.
The content is completely locked within an image and has no underlying text layer. Simply put, this document only contains the scanned image and is not searchable and editable. The only solution to copy text from a scanned PDF is to perform OCR.
OCR stands for Optical Character Recognition, which is to recognizing text by converting images of typed or printed text into machine-encoded text. In this way, you can copy text from scanned PDF. PDF applications like SwifDoo PDF, Foxit PDF, Nitro PDF, provide good-quality OCR results.
Secured PDF
At times, someone may send you a PDF file and you find it un-editable. Usually, this is because the sender may have set certain editing permissions for the current file so that you are unable to edit or copy any text. Many developers have noticed this trend and have provided an "Unlock PDF" feature to remove PDF password security and permissions. iLovePDF is one such program who can copy text from a secured PDF.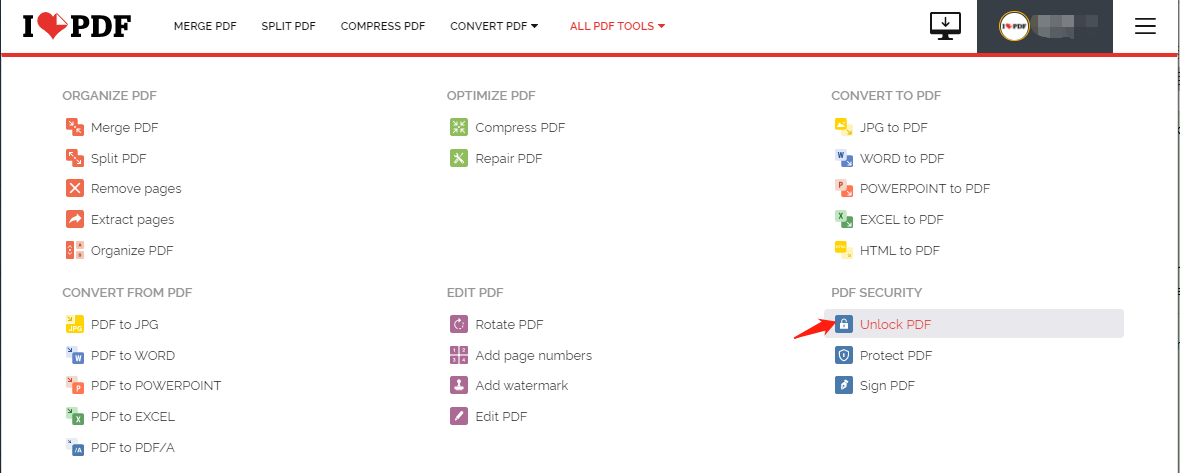 Enter iLovePDF's URL on the search bar and click Unlock PDF;
Upload the secured PDF and choose Unlock;
Select Download unlocked PDFs and the password protection is successfully removed.
Now, you can copy text from secured PDFs easily.
FAQs about Copying Text
Q: How do I copy text from a picture to a PDF?
A: It was almost impossible to copy text from a picture in the past. However, now there is professional PDF software that can help. Take SwifDoo PDF for example:
Download SwifDoo PDF and install;
Launch the program and drag the picture to the operation panel;
Click Image to PDF under Convert;
Once completed, open the new file;
Click Recognize Documentto make the current document editable.
However, this solution is applicable to images with less complicated formatting, such as forms.