Introduction:
DXF (Drawing Exchange Format) or AutoCAD DXF, is a popular Computer-Aided Design (
CAD
) file format developed by
Autodesk
. Because of the broad compatibility with most CAD programs, DXF files are frequently used for sharing 2D or 3D drawings in many sectors. However, at times you may receive CAD drawings exported in PDF format, to better understand the design,
PDF to DXF
conversion may be required.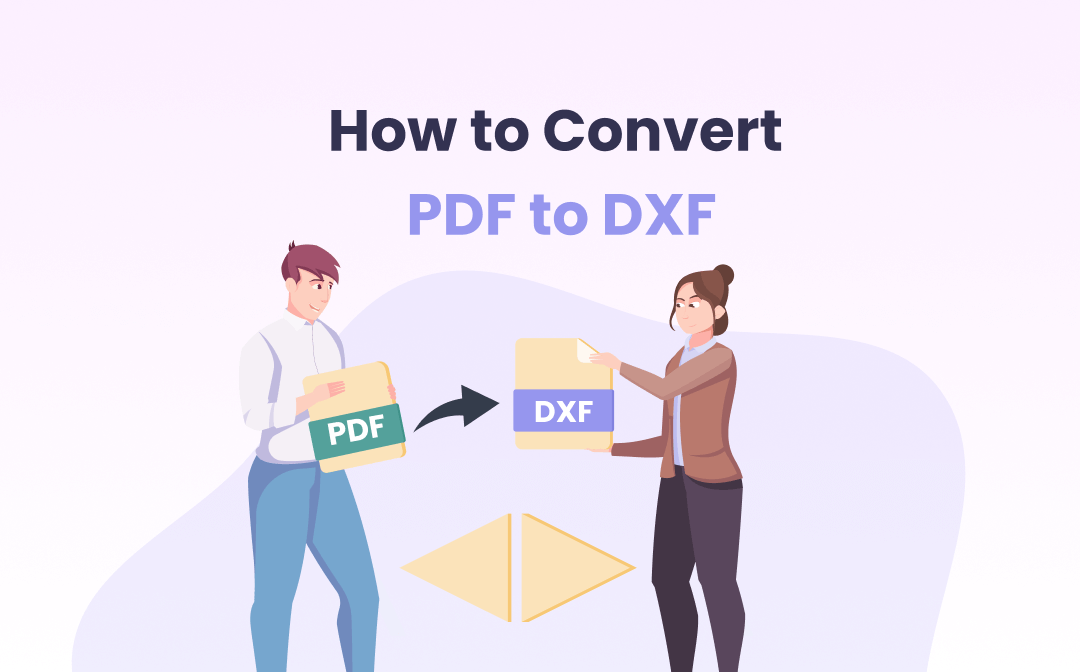 Converting a PDF file is easy with the help of a PDF program. Considering your different needs, we will share the 4 best PDF to DXF converters available on Windows, Mac, Linux and the web.
SwifDoo PDF (Desktop Software)
Inkscape (Desktop Software)
CloudConvert (Online)
Zamzar (Online)
SwifDoo PDF
Whether your computer runs a Windows 7, 8, 10 operating system or the newest Windows 11, SwifDoo PDF is your good partner for PDF to DXF conversion. Its simple-to-use and efficient PDF to DXF converter allows you to convert a PDF to a DXF drawing within just seconds. You can also import multiple PDF drawings at once without breaking a sweat for batch conversion.
Check out how to easily convert a PDF file to a CAD (.dxf) drawing on Windows.
Step 1: Free download and launch SwifDoo PDF. Click Open in the home tab to import your PDF;
Step 2: Tap on the Convert menu on the top and choose PDF to CAD;

Step 3: Specify a page range and select the output format as .dxf in SwifDoo PDF Converter;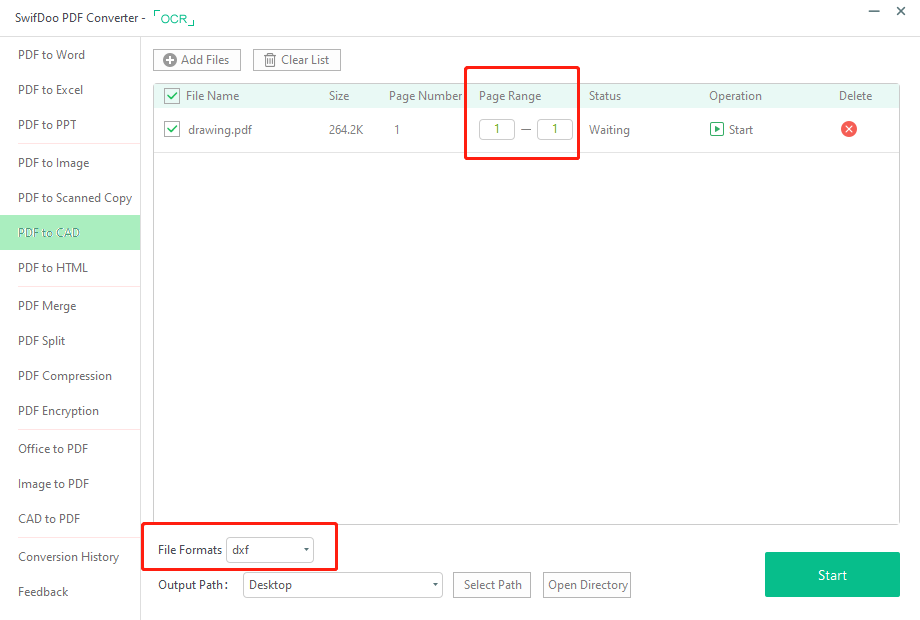 Step 4: Choose a folder to save the DXF file, then press the Start button to complete the PDF to DXF conversion.
In a matter of few clicks, you can successfully convert a PDF drawing to a DXF file without losing the layers or dimensions. When the need arises, you can click "Add Files" within the "SwifDoo PDF Converter" dialog box to upload more PDF drawings for batch conversion. The recommended software allows you to convert files for free in the first 15 days. With powerful conversion capability and quick response, it's considered the best PDF to DXF converter by millions of users.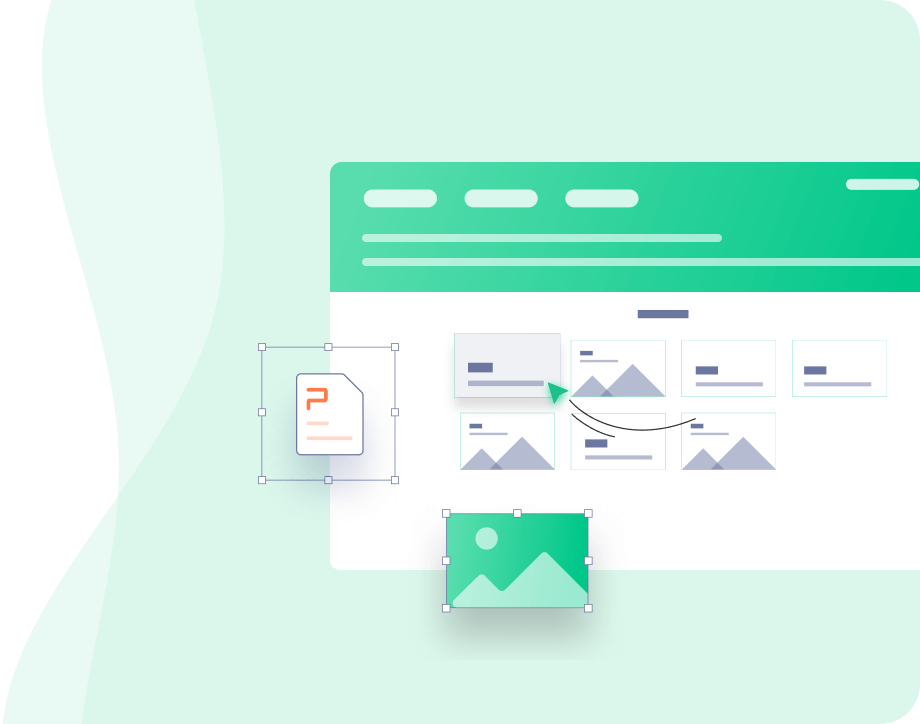 SwifDoo PDF - Best PDF Converter and Editor
All-in-one software with PDF conversion, editing, organizing, and more tools
Batch processing ability
15-day free trial
Free Download
Windows 11/10/8.1/7/XP
SwifDoo PDF also has the ability to convert PDF to DWG, another widely used CAD file format. Besides, it lets you convert DXF or DWG files to PDF documents as well. SwifDoo PDF is more than an offline PDF to CAD or CAD to PDF converter. It allows users to convert PDF to Word, Excel, JPG, PNG, TXT, and a lot of other formats, and vice versa.
Tips:
If you are reluctant to download, install or register a desktop application, SwifDoo PDF free online converter comes in handy. Tap "Convert PDF" on the top of SwifDoo website and you will be able to
convert PDF from/to another format online
for free.
Inkscape
When it comes to turning PDF to DXF, Inkscape is worth mentioning. Inkscape is a free and open-source software application that can import and export many file formats, including PDF, DXF, PNG, SVG, and PS. Specifically, it is a vector graphics editor used to create, edit vector images, view, and export other types of files. Thanks to its developers, you can use ths software as an open-source PDF to DXF converter on Microsoft Windows, MacOS (10.11-12.0) and Linux PCs.
Take a look at how the open-source freeware works.
Step 1: Go to File and Open to open a PDF drawing you need to convert to an AutoCAD DXF file;
Step 2: Click File and choose Save As;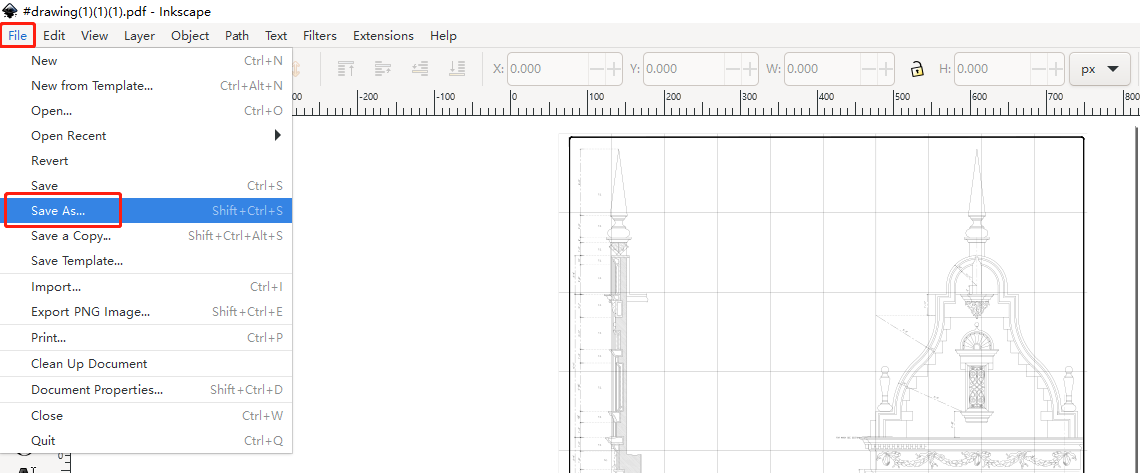 Step 3: Select the exported file format as AutoCAD DXF R12 or AutoCAD DXF R14. Hit Save and click OK.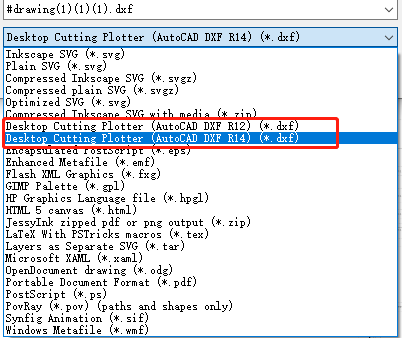 Apart from viewing AutoCAD DXF files and saving PDF as DXF, Inkscape also allows you to make changes to your drawing with a set of tools such as curved lines and eraser.
Note:
For different operating systems, you need to download different versions of this free and open-source software: Inkscape 0.92.3 for Windows Vista, XP; Inkscape 0.92.4 or higher for Windows 7 and higher.
CloudConvert
CloudConvert is one of the best converters that allows users to convert PDF, CAD, video, audio, ebook, and many other types of files online without installing any application. You can use this free online tool to instantly convert multiple PDF documents to DXF files at once without an email account via a web browser.
The following steps explain how to save PDF as DXF for free.
Step 1: Search the free online PDF to DXF converter on the Internet and enter into its website;
Step 2: Click Select File on the home page to upload the PDF document you wish to convert;

Step 3: Hit the Convert to drop-down button to select the exported format as Cad > DXF;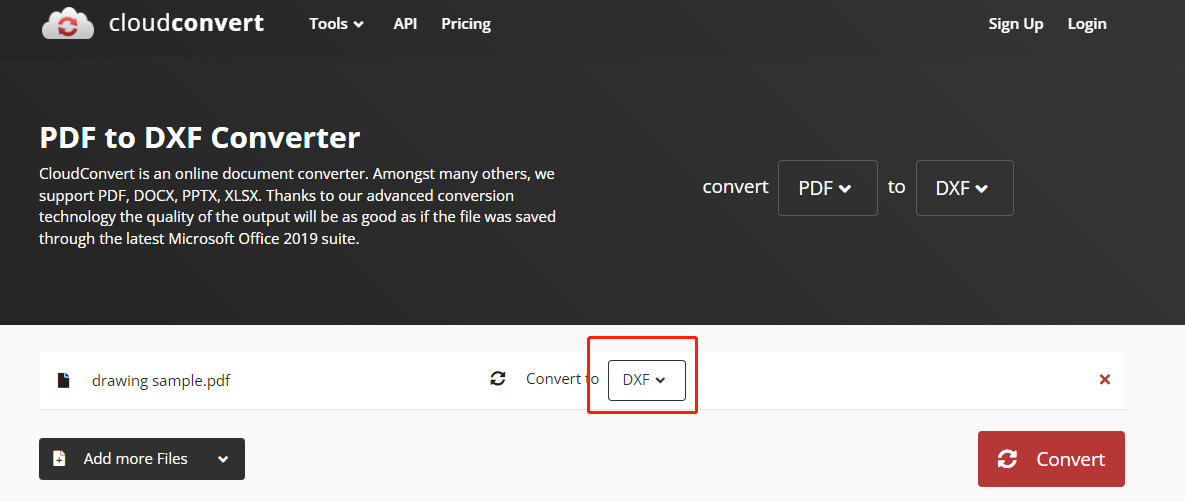 Step 4: Press Convert.
Once the conversion is completed, click "Download" to download and save the CAD (.dxf) file. If you want to convert several PDF files to DXF drawings at the same time, click "Add Files" after the first PDF is uploaded. The powerful PDF to DXF freeware will swiftly create individual DXF files from these PDF documents in one go.
What's the best about the software is it has no limit on file size. Thus converting a large PDF to a DXF file is not a problem. But it should be noted that the free service only lets you convert up to 25 documents every 24 hours. For any one who wants to convert PDF to DWG, the online converter may not help, though it can convert DWG to PDF. If you have the need, use SwifDoo PDF online converter, another tool coming next, or refer to the recommended post at the end.
Zamzar
Zamzar is another free and online PDF to DXF converter without the need of email registration. It can batch convert several documents at once but have a maximum size limit of 50Mb. That is to say the total size of all uploaded PDF files should not exceed 50Mb. This online converter also converts PDF to DWG, PS, SVG, JPG, PNG, EPUB and many other formats. It is an all-inclusive conversion solution.
This is the tutorial to convert PDF to DXF online for free.
Step 1: Search the converter in Google Chrome or another search engine and get into its web page;
Step 2: Tap Choose Files to upload your PDF documents and click the Convert To drop-down menu to select CAD Formats > dxf;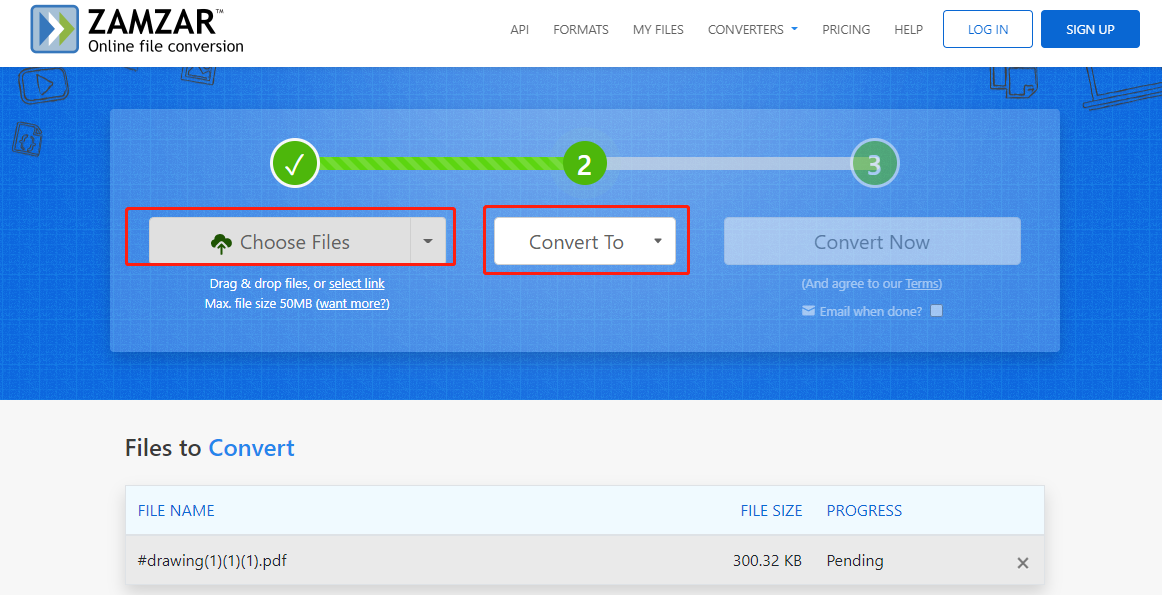 Step 3: Press the Convert Now button;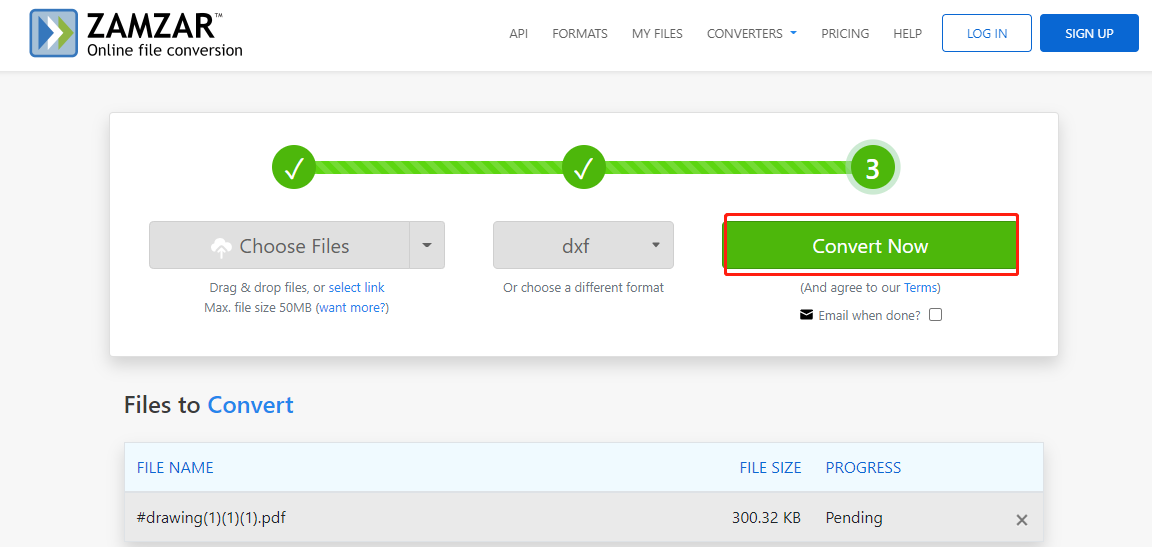 After the conversion finished, hit "Download" to save the DXF file. With this PDF to DXF online converter, you know how to change a PDF to a DXF without downloading application. It enables you to perform 2 tasks per day. For unlimited conversions, it requires a paid account.
For more PDF to CAD (.dwg, .dxf) converters, please have a look at the recommended post.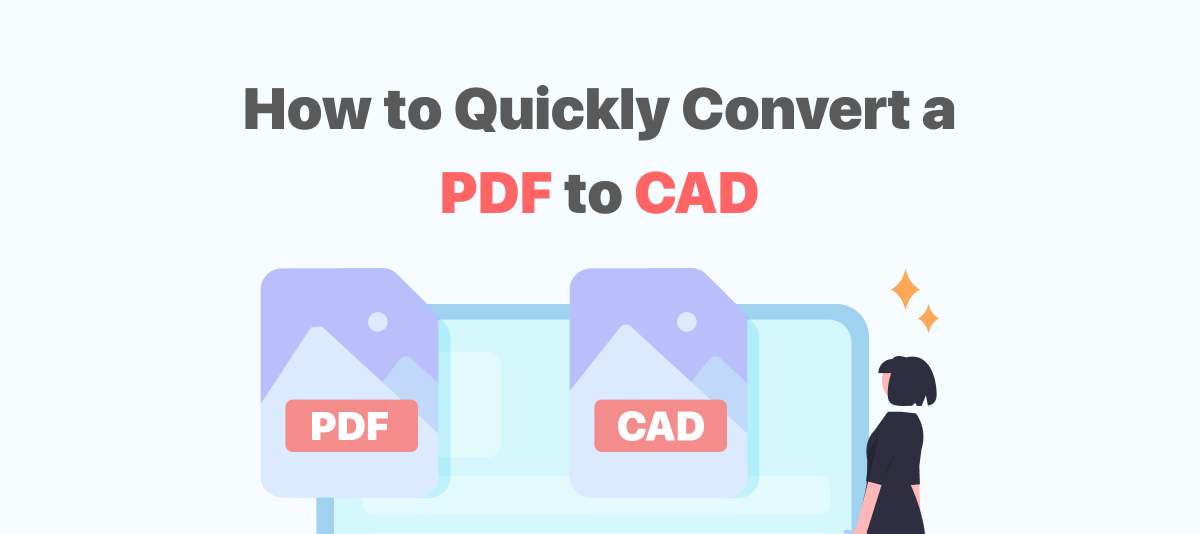 [2023 Newest] How to Convert PDF to CAD Easily
AutoCAD files (.dwg, .dxf) are popular among industrial designers. When receiving a PDF drawing, do you know how to convert it to a CAD file?
READ MORE >
Final Words
Converting PDFs to DXF files does not come easily unless you have a good-to-use converter or conversion software. For those who only deal with PDF documents occasionally, the open-source and online PDF to DXF converters that are free to use are good. But they are not the best choices for high quality and continual conversion tasks.
If you want to be more productive, why not invest in a dedicated and affordable software product? As to any Windows platforms, SwifDoo PDF will be your ideal productivity software to convert PDF files to high quality DXF files and do much more with your office documents.
Frequently Asked Questions
1. What is the best program that converts PDF to DXF or DWG?
Considering your personal needs and software compatibility, you may choose the one that suits you best. If you have only a few PDF documents for conversion and are running a Mac or Linux device, SwifDoo PDF online converter, Inkscape and the other two web tools are all good to use. However, for batch and high-quality PDF to DWG or DXF conversion, the desktop-based SwifDoo PDF software is the best. SwifDoo PDF supports both DXF and DWG formats and is much more afforable than many other similar programs.
2. Is it safe to convert PDF documents to DXF files online?
The introduced online converters have their own privacy policy for files. For example, SwifDoo PDF online converter uses a 256-bit SSL encryption to secure your files and all your uploaded files will be automatically deleted from the server. For highly confidential documents, we recommend that you use desktop PDF software for all PDF document conversion and manipulation tasks, including converting PDFs to DXF files.
3. How do I import a PDF into CAD?
You can import the objects or data from a PDF file into a CAD file in AutoCAD. Open a drawing file in AutoCAD, go to "Insert" >"PDF Import" >"PDF Import", select a PDF to click "Open", choose the page you want to import, set the options for specifying which objects to import (such as geometry, raster images, etc.). Change other settings as needed and click "OK".
It's also viable to make a PDF a DXF file using a PDF to DXF converter and then import it into CAD easily.
4. Can I edit a PDF in AutoCAD?
You can edit a PDF drawing in AutoCAD by first importing it into a newly created or existing drawing file. Due to the characteristics of the PDF format and the file analysis capabilities of AutoCAD to be improved, the imported PDF file may not look like the original. For example, the text is broken down into individual characters. To edit only the text in a PDF, SwifDoo PDF editor is useful. Or, convert PDF to DXF to edit the file in AutoCAD using the introduced methods.
5. What is a DXF file?
A DXF file is a vector drawing file in which you can view and edit specific objects with CAD programs. It's more compatible with different software than a DWG drawing file. Now, it's easy to convert a PDF to a DXF file and vice versa with a proper document converter.