Introduction:
CAD is an influential industrial art widely used in many fields, including industrial and agricultural design and computer animation. AutoCAD, and its native file format DWG, can be considered one of the most commonly used CAD software and file formats.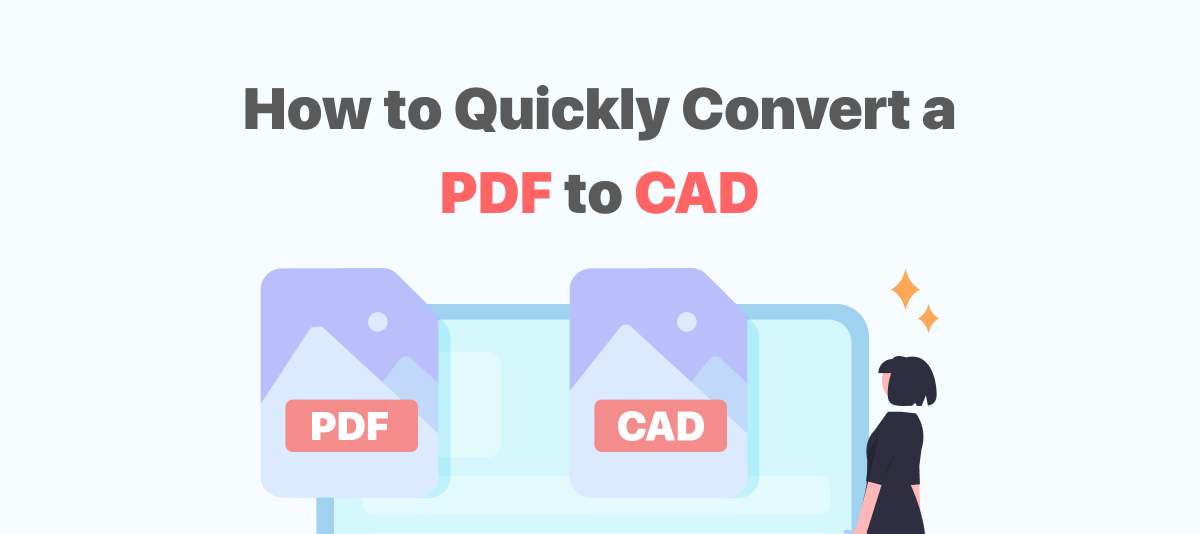 Some designers who need to preserve layer data and custom font styles may need an easy-to-use PDF to DWG converter to save CAD documents as PDFs or import PDF files into AutoCAD or other design software. Here in this post, we will list several PDFs to DWG converters for your reference.
How to Convert PDF to CAD with Desktop Programs
This section will revolve around how to export PDF documents to CAD files on Windows and Mac. Users of different operating systems
SwifDoo PDF
SwifDoo PDF is an all-around PDF converter on Windows 10, 8, and 7. By integrating more than ten converting features, SwifDoo PDF covers your basic needs for PDF conversion. Among these features, PDF to CAD is a newly developed feature favored by users in the design industry. It enables users to convert PDFs into DWGs. Here's the guide on how to convert PDF to DWG: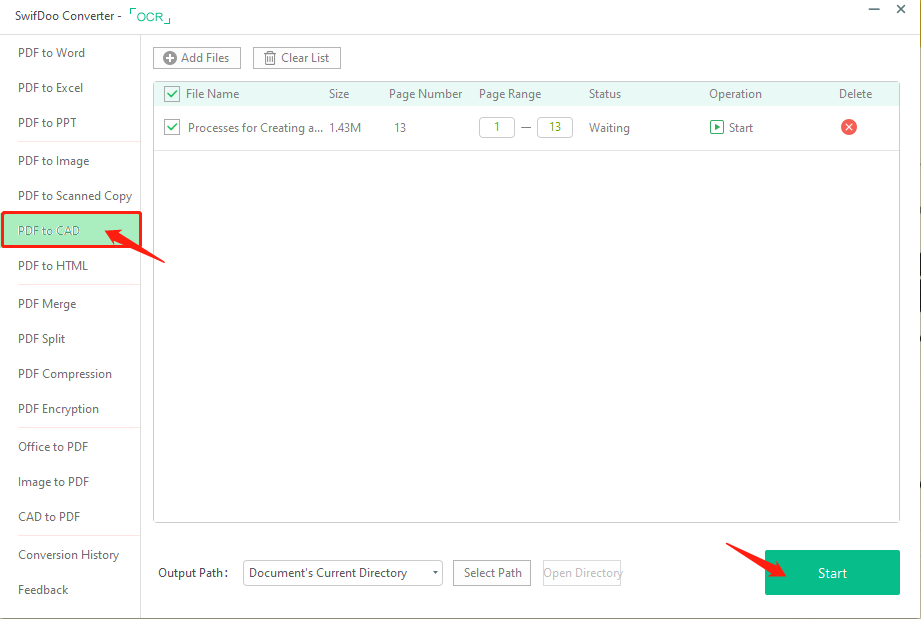 Step 1: Download and install SwifDoo PDF on your PC;
Step 2: Open a PDF document, and then click on the Convert button to choose PDF to CAD;
Step 3: When the SwifDoo PDF Converter window pops up, make sure the PDF that is added to the workplace is correct. If everything's okay, choose Start to convert the PDF document.
SwifDoo PDF supports batch convert, and once you need to export multiple PDFs simultaneously, click "Add Files" to proceed.
Tips:
SwifDoo PDF will automatically convert your PDF document into a DWG file since the DWG format is widely accepted and compatible with different design software.
As we mentioned above, SwifDoo PDF is not merely a PDF to CAD converter. It can help handle multiple conversion tasks, including but not limited to PDF to MS Office formats, images, and scanned copies.
Read on for more information if you wonder how to save a PDF as a DWG file on macOS.
How to Convert PDF to CAD on Mac
Able2Extract
It is a comprehensive PDF converter that is compatible with Windows, Mac, and Linux. It supports converting among different file formats and batch converts, such as PDF to MS Office formats, CSV, HTML, publisher, AutoCAD, and more. Here is the guide to convert a PDF to AutoCAD on macOS:

Step 1: Download and install the PDF to DWG converter on your mac;
Step 2: Import the PDF to the workplace;
Step 3: Hit the Convert button and choose AutoCAD as the output format;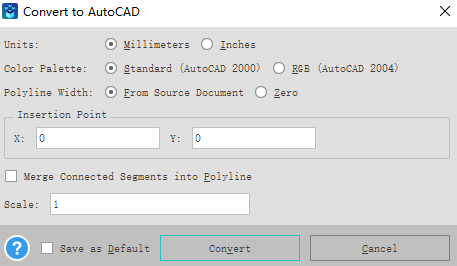 Step 4: Press the Convert button before ensuring all the units, color palette, polyline width are correctly set.
Note:
Able2Extract
is a user-friendly PDF program. Every new user will gain a 7-day free trial when opening this converter. Before the trial expires, you can access all features, such as "Sign and Secure", "Edit Form", "Compare", and "Custom Excel".
How to Convert PDF to CAD Online
Zamzar
Well, personally, I need to give Zamzar the thumbs up. It is the only web-based PDF converter with the most file formats I have ever tried and reviewed. Zamzar has covered most file formats, from image files, document formats, music formats, e-book formats to video presets.
With an intuitive interface, users can readily figure out how to execute PDF conversion tasks. Let's dive into how to convert PDFs to DWGs online: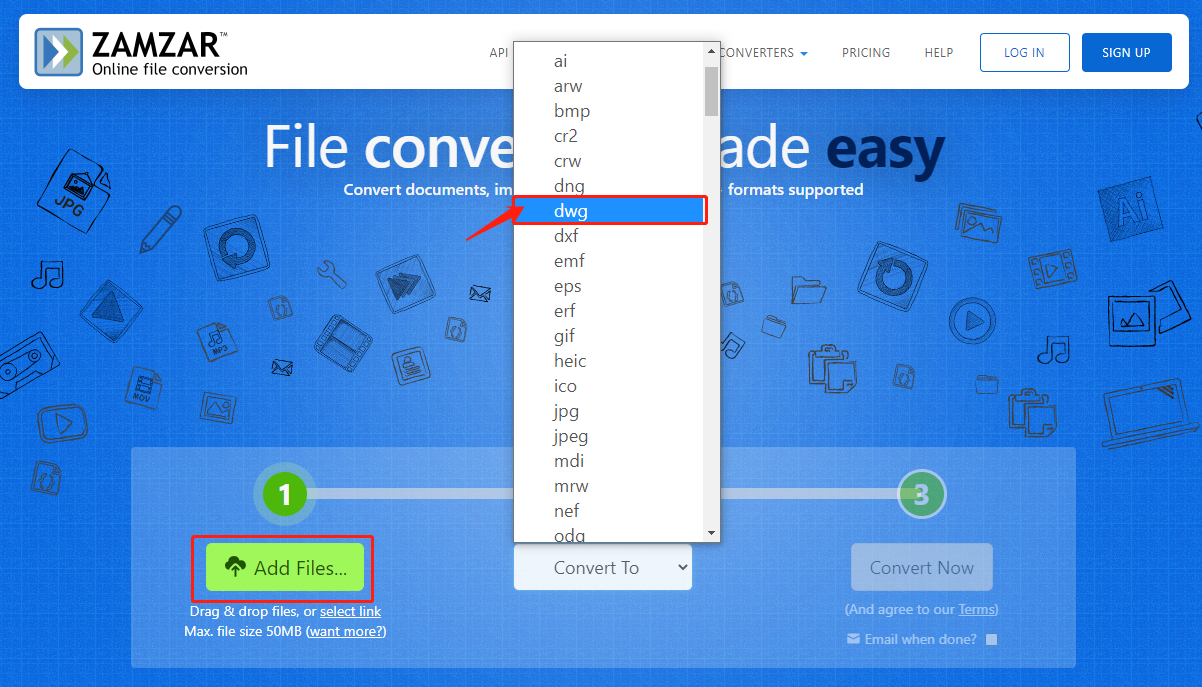 Step 1: Type the URL on the search bar and visit the official website;
Step 2: Click DOCUMENT CONVERTERS in CONVERTERS drop-down menu;
Step 3: Load the file up on the workstation, and then click the Convert to menu to choose dwg format in Image formats;
Step 4: Select Convert, and your file will be automatically converted.
Zamzar is a web-based PDF to DWG converter free of charge. However, nothing comes for free. For every free user, Zamzar has up to 2 free tasks every 24 hours. So don't waste your chance. If you are satisfied with their converting service, consider paying a basic subscription plan at $9/month.
AutoDWG Online Converter
As the name suggests, this is a professional online PDF to DWG converter dedicated to providing high-quality CAD-related software to users. It can convert files of PDF, DWG, DXF, DWF, SWF, and GIF formats.
Meanwhile, AutoCAD Online Converter can retain arcs, lines, texts, and solids by integrating OCR technology, which makes the conversion results more accurate. Let's see how to work with this converter:
Step 1: Enter the URL on the search bar;
Step 2: Click Browse a file and upload a PDF document from local folders;
Step 3: When the conversion process is over, hit the Download DWG to export the newly converted DWG document.
Note:
The DWG file is in a zip package. Users need to unzip the package on their own. Besides, AutoDWG Online Converter has a desktop version available. Its desktop version can provide more accurate conversion results, together with more conversion options. Please visit the website for more information.
Final Thoughts
To sum up, it is found that most PDF to DWG converters are web-based. Most desktop programs are unable to convert PDFs into DWGs, with the exclusion to SwifDoo PDF. We strongly recommend this all-in-one PDF to AutoCAD converter if you are looking for a powerful PDF converter on Windows 10, 8, or 7. At the same time, Zamzar proves to be a useful one because of its multiple conversion choice.