A larger PDF file takes a longer time to load and open and is cumbersome to share on many platforms. To make PDF files easier to access and more shareable, it's always a necessity to reduce PDF file size. For whatever purpose, when you want to make a PDF smaller, the best way might be to use a PDF size reducer.
A variety of software tools can help reduce the file size of a PDF. They may allow you to achieve the goal by compressing PDFs, or other operations. It's important to choose quality tools. This article introduces how to reduce PDF file size with great PDF size reducers. Totally 3 ways for Windows and Mac.
How to Reduce PDF File Size with SwifDoo PDF
When you have a large PDF file and want to reduce the file size without sacrificing quality, get the SwifDoo PDF software for help. The software for Windows provides different options for users to reduce PDF file size. The most efficient and popular way is to compress PDFs with its PDF compression tool. You can specify the desired compression level or quality.
Here is the guide on how to reduce a PDF file's size without losing quality.
Step 1: Download and launch SwifDoo PDF on your Windows, and open your PDF file with it;
Step 2: Click Edit on the top and choose the Compress option;

Step 3: Pick a compression level such as Low or Medium, and select the saving path;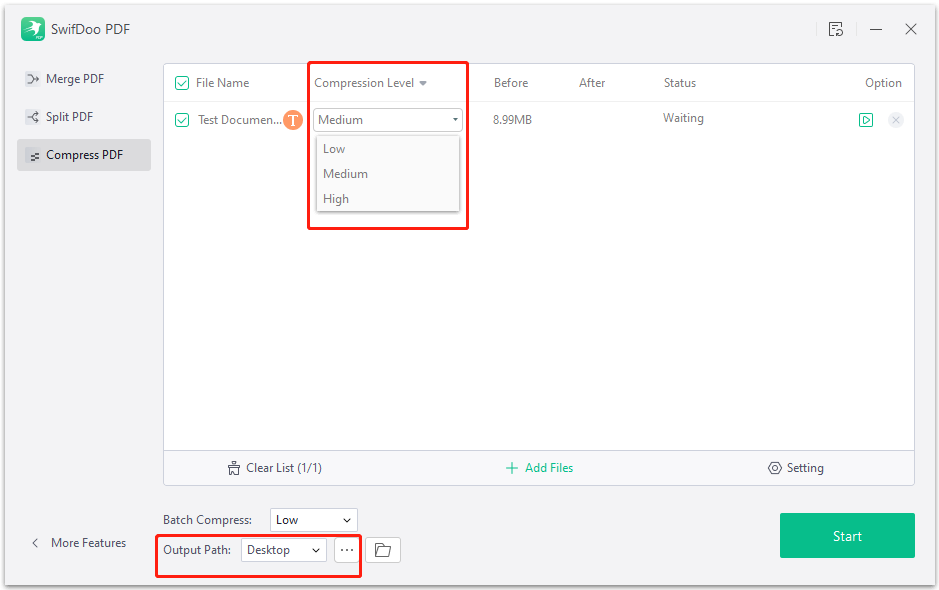 Step 4: Press the Start button to compress and reduce the file size of the PDF.
After the above process, you have shrunk the PDF file size and the resulting PDF size will be displayed. The higher the compression level you choose, the smaller the file size. To check the file size later, open the PDF and navigate to "SwifDoo" > "Document Properties".
Besides compressing, you can also reduce PDF file size by changing the PDF page size. SwifDoo PDF allows you to do that by page cropping, page size setting, and printing. This extra method is worth a shot if you don't mind modifying the page dimensions.
In addition, the PDF software enables you to reduce the size of a PDF file while scanning. If you have the need, choose "SwifDoo" > "New PDF" > "From Scanner", set the page size, and select a lower resolution to scan your paper into a PDF. That will scan your document into a reduced-size and smaller PDF. Whether to reduce scanned or regular PDF file size, SwifDoo PDF is a stellar solution. You can reduce the size of your PDF file for free with a free trial.
Adobe Acrobat PDF Software to Reduce PDF File Size
Adobe Acrobat is a leading software program to reduce PDF file size without losing quality for Mac users. Using it, you can check your original and reduced PDF file size through "File" > "Properties". To perform the PDF size reduction task on Mac, you need the pro version of the software (Adobe Acrobat Pro DC). The software offers two options to reduce the file size of a PDF. You can utilize either the Reduce File size feature or its PDF optimizer.
Check how to reduce PDF file size in Adobe Acrobat when running a Mac.
Step 1: Drag and drop your PDF file into Acrobat Pro;
Step 2: Tap File, click Save as Other and choose the Reduced Size PDF option;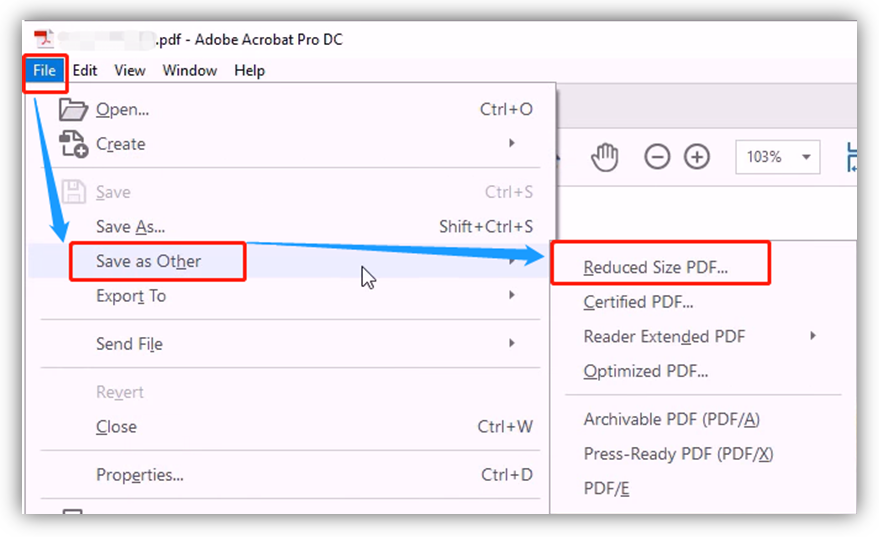 Step 3: Select proper compatibility settings and click OK;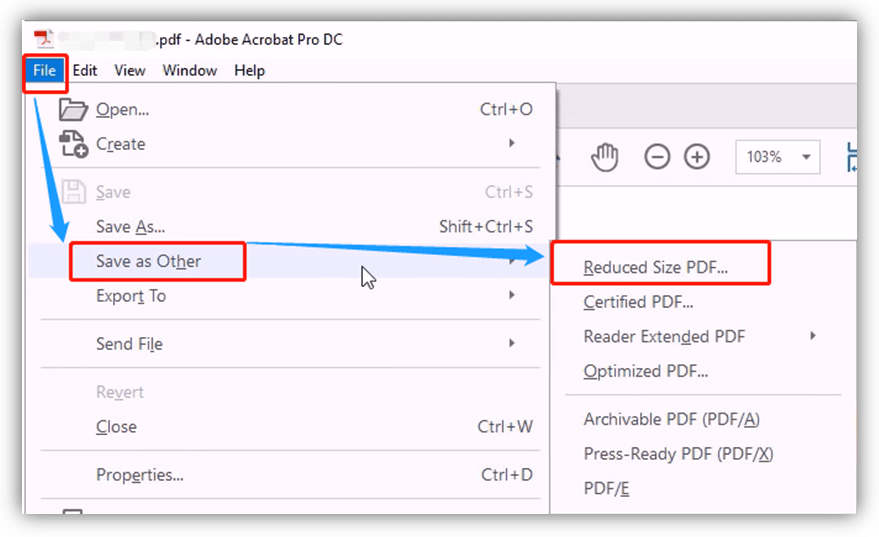 Step 4: Name and save the PDF to decrease the size of it.
By viewing the document properties, you will see how large the reduced-size file is. Apart from the above method, you can turn to Acrobat's PDF optimizer to reduce PDF file size. The process is to go to "Tools" > "Optimize PDF", click a tool option in the top menu bar such as "Advanced Optimization", change the settings, and click "OK". This method lets you optimize images in PDFs. To reduce a PDF file's size and keep image quality, choose lossless quality.
Note: No feature is available to reduce PDF file size in free Adobe Acrobat Reader DC. Only the premium Pro version has the ability.
How to Reduce PDF File Size in Preview
Perhaps you are wondering if reducing PDF file size can be done without external software. Mac users are recommended to resort to Preview, the built-in PDF viewer on macOS. With the software application, you have tools to annotate, combine, and split PDF files as well. All the tools are free to access.
Read the steps to reduce PDF file size for free using the Preview software on Mac.
Step 1: Right-click on your PDF, choose Open with and Preview;
Step 2: Click File to select Export in the drop-down list;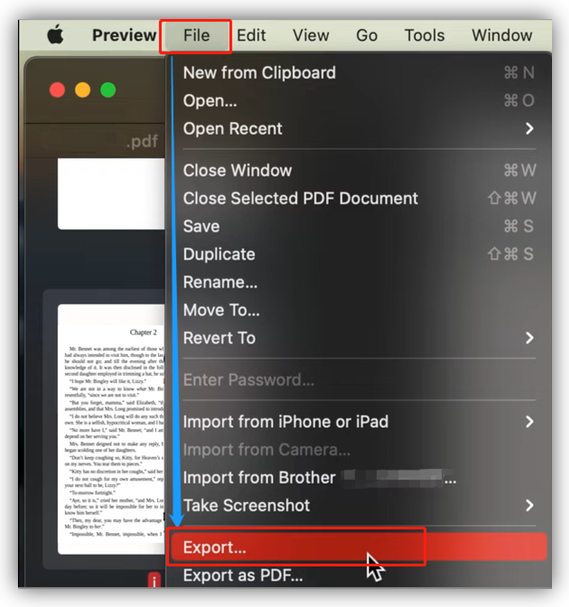 Step 3: Pick PDF from the Format menu;
Step 4: Select Reduce File Size in the Quartz Filter drop-down menu;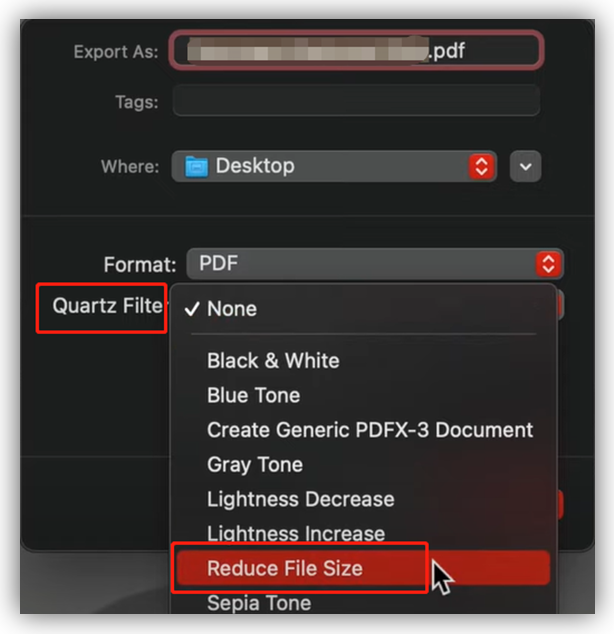 Step 5: Hit Save.
In seconds, you will successfully reduce the file size of the PDF on your Mac.
Why Reduce the File Size of PDF
PDF files are one of the best file types for file transferring across devices. However, most of the apps or other platforms have a transfer limit on file size. PDFs with heavy content are difficult to send. So, it's common to reduce PDF file size. According to PDF usage scenarios, several top benefits of reducing a PDF's size are outlined below.
Effective PDF Emailing: Mail clients often limit the email attachment size. Smaller PDF files within the limit can be effectively attached and sent out.
Easier Sharing: When you lower your PDF file size to a universal size, the PDF may be supported and shareable in more places.
Space Saving: It's critical to reduce PDF file size when your device has less space. This way you can store more resources in the limited space.
Fast Loading and Download: It's faster to open, view and download a small PDF than a big one. If you publish a PDF document online, PDF size reduction can make people download and access the PDF more quickly.
Conclusion
It's now simple to reduce Adobe PDF file size for emailing or uploading. You can get the job done with the three software tools and explained how-to steps.
To significantly reduce PDF file size, it's necessary to compress PDFs with professional software. Adobe Acrobat users can make use of the mentioned two features included in the software. SwifDoo PDF has three compression options and the practical application works for Windows 11, Windows 10, 8, and 7 PCs. The Mac Preview program is suitable for those who want to slightly reduce PDF file size.
Frequently Asked Questions
How to reduce file size when converting from Word to PDF?
To convert your Word document to a PDF file with a reduced size, open the Word document, go to "File" > "Save As", select PDF as the exported format, check the "Minimum size" checkbox in the "Optimize for" section, enter a file name and click "Save". That's it. To further or greatly reduce PDF file size, adopt a dedicated PDF size reduction tool like SwifDoo PDF.