Introduction:
CAD files are often converted to PDF documents for better sharing, viewing, and collaboration. In some cases, architects need to display the exact measurement data in a PDF file to let the customers or team members understand the details. Then, you may need an explicit PDF measuring tool to measure distance in PDFs straightforwardly to save time.
How can you measure in PDF documents? To find out the answer, check out this article. It summarizes 7 PDF measuring tools online and offline to help you measure PDFs precisely. You can effortlessly measure distance, area, and perimeter in a PDF.
Is There a PDF Measuring Tool
Yes, there are several PDF measuring tools accessible online and offline. Though the PDF measurement feature is not common, some PDF toolkits release the tool to meet up to their users' needs. A PDF scaling tool makes it easier to measure distance and other data from a design drawing saved in PDF format and is more convenient to add markups to annotate the file.
7 Best PDF Mearusing Tools Online & Offline
What is the best app to measure PDF files? If you are eager to find out an exceptional PDF scaling tool to measure PDF documents, the next section recommends 7 useful PDF programs to perform the task.
SwiDoo PDF (Windows)
SwifDoo PDF is a reliable PDF toolbox providing top-notch features to solve PDF-related problems, including a PDF measuring tool. This PDF scaling tool allows you to measure distance, area, parameter, and scale ratio with a few clicks. This makes it easy to measure PDF files so that you can mark the dimensions in the document. Besides, the annotating feature enables you to conveniently add notes to your PDF for any updates to better collaborate with your colleagues.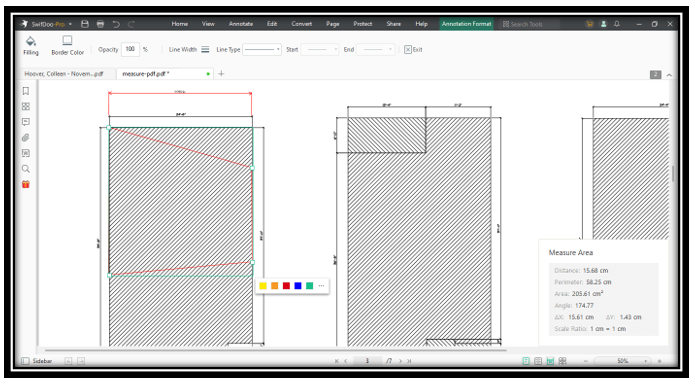 To measure in PDF with this tool, open your file and go to "Annotate". Find "Measure" and click the drop-down button to select the option you need. Then click on the design drawing to start PDF measurement.
Preview (Mac)
When it comes to the free PDF measuring tool on Mac, Preview is the most popular one to help you measure PDF files without charge. As the in-built PDF and image editor on Macbook, Preview offers several basic PDF editing and annotating tools to handle PDF documents with ease. You can measure distance in PDFs or images by simply drawing a unit you like.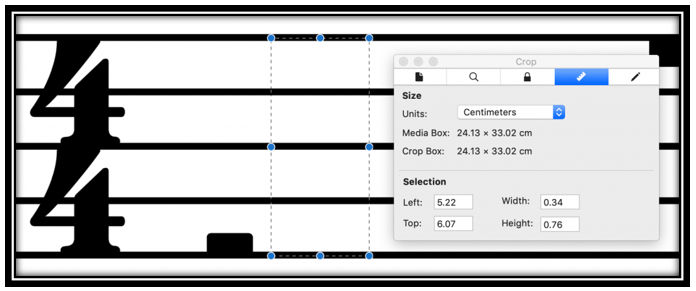 If you want to enable the PDF measurement feature, open the PDF file in Preview and click "Tools". Select "Show Inspector" and click and drag your cursor to measure PDF.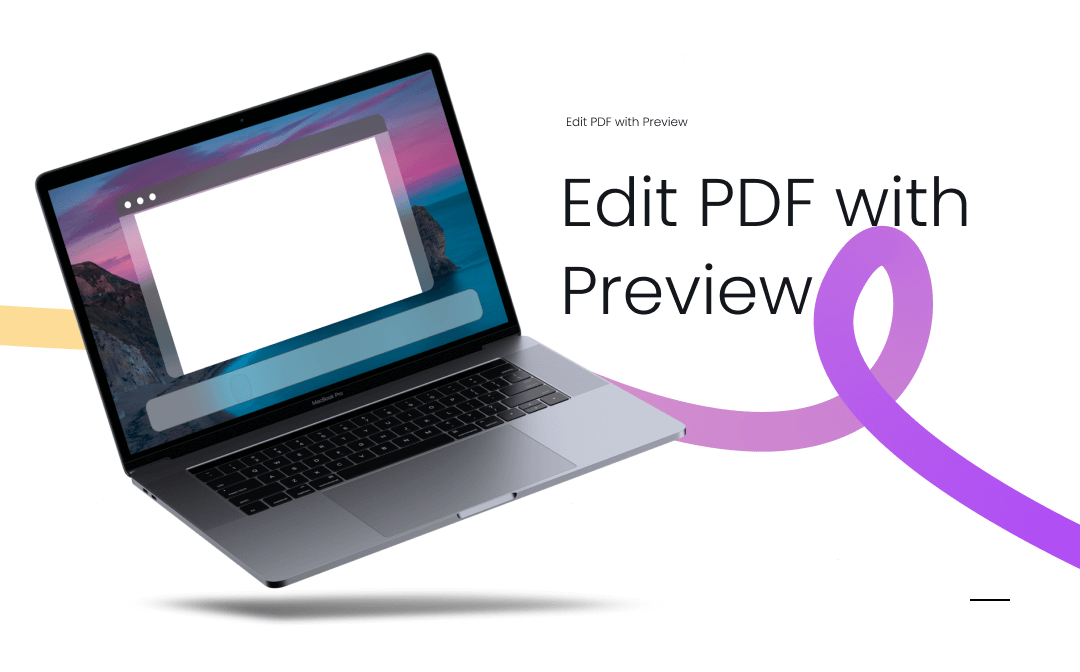 How to Edit PDF with Preview on Mac
If you're a new user who has never used Preview app before, it's highly recommended that you click this page to learn details on how to edit PDF with Preview.
READ MORE >
PDF Expert (iOS)
Another PDF measuring tool for iOS is provided by PDF Expert. This proficient PDF editing tool can help you measure PDFs with three options: distance, area, and perimeter. It lets you flexibly measure distances and scales presented on a CAD design drawing accurately to assist your design works. The PDF scaling tool works seamlessly with an Apple pencil and there is no lag. One advantage of this PDF measurement feature is that it can automatically recognize the area you selected and add markups to differentiate the target unit from others.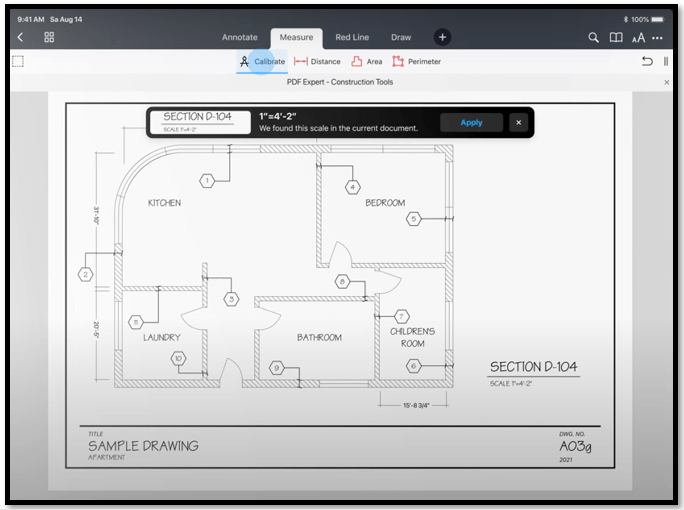 i2PDF (Online)
If you want to measure in PDF files with an online PDF measuring tool, i2PDF is one of the top options. It can measure scales, distance, and perimeter to present the results. Furthermore, considering the need to measure areas in different shapes, the tool lets you measure a round or polygon area. When finishing the PDF measurement, click "Measure PDF" to save the changes.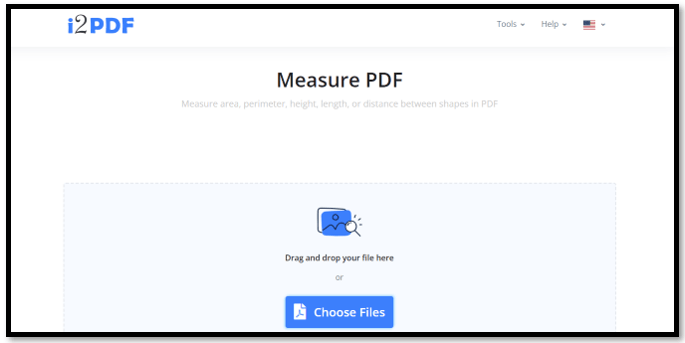 The drawback of the PDF measurement tool is that the way to measure distances in PDF is not flexible. It only allows you to drag and change the default ruler shown on the file to measure distances or scales, instead of letting you choose the desired area freely with a few clicks.
FoxyUtils (Online)
FoxyUtils is a collection of PDF editing and annotating tools and it newly releases an online PDF measuring tool to help architects. After uploading your file, you can use the preview feature to locate the page where you want to perform the PDF measurement. It enables you to measure distances and areas in PDF without registration and add text boxes to the PDF to mark up the results. However, to measure PDFs, you must calibrate the page with a know distance by drawing a line first on the page.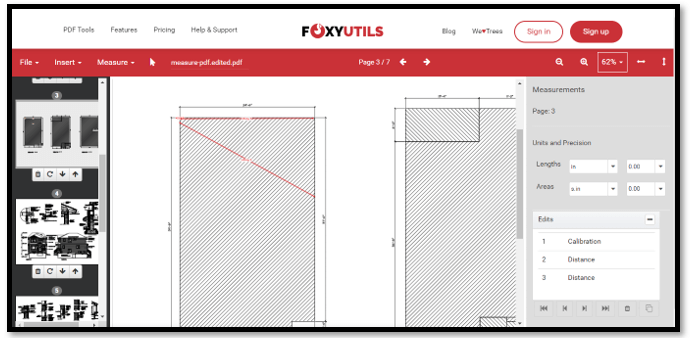 PSPDFKit (Online)
PSPDFKit is another site offering a free online PDF measuring tool. It is a platform with versatile features to deal with PDF documents, including PDF measurement and OCR software. Five options The web-based application can accurately measure in PDFs by entering the calibrated length. A magnifier displayed when drawing a line to measure distances also decreases measurement errors. Multiple units of length are available such as in, ft, and mm.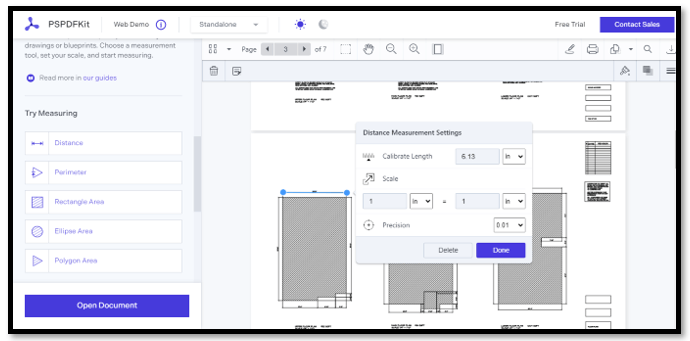 Kreo Software (Online)
If you are looking for a professional construction tool to measure PDFs with precision, Kreo is the optimal choice. It is a construction takeoff integrated with AI to promote measurement accuracy. The online PDF measuring tool lets you upload your PDF to the cloud and encourage online collaboration. This is an easy way to measure in PDFs and share the data with your teams efficiently.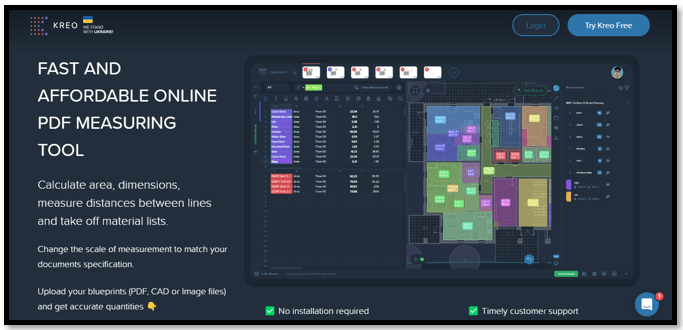 In addition, the platform enables you to add different shapes to your PDF design drawing to highlight a desired area. On the flip side, Signup is necessary to use the PDF measurement tool and its subscription plans are a little expensive.
Bottom Line
After reading this post, we hope you find your preferred PDF measuring tool. Both online and offline programs are listed to help you measure PDF files across different operating systems. If you are a Mac user, Preview saves you the trouble of downloading an additional application to do PDF measurements and iPad users can capitalize on PDF Expert. Several online tools enable you to measure distance in PDFs via a browser.
If you want to measure in PDFs on a Windows computer, try SwifDoo PDF, which provides a precise scaling tool to help you complete the task.