Filling out PDF forms is a common scene in daily work or life. A handy PDF filler to use at that moment would be nice and efficient. While so many online and desktop PDF fillers are prevailing on the internet which makes it hard for you to choose. Therefore, this blog prepares you with 2 PDF fillers: one is an online version and another is a desktop version. You can fill PDFs easily no matter at home or on the go now. Just read the content below: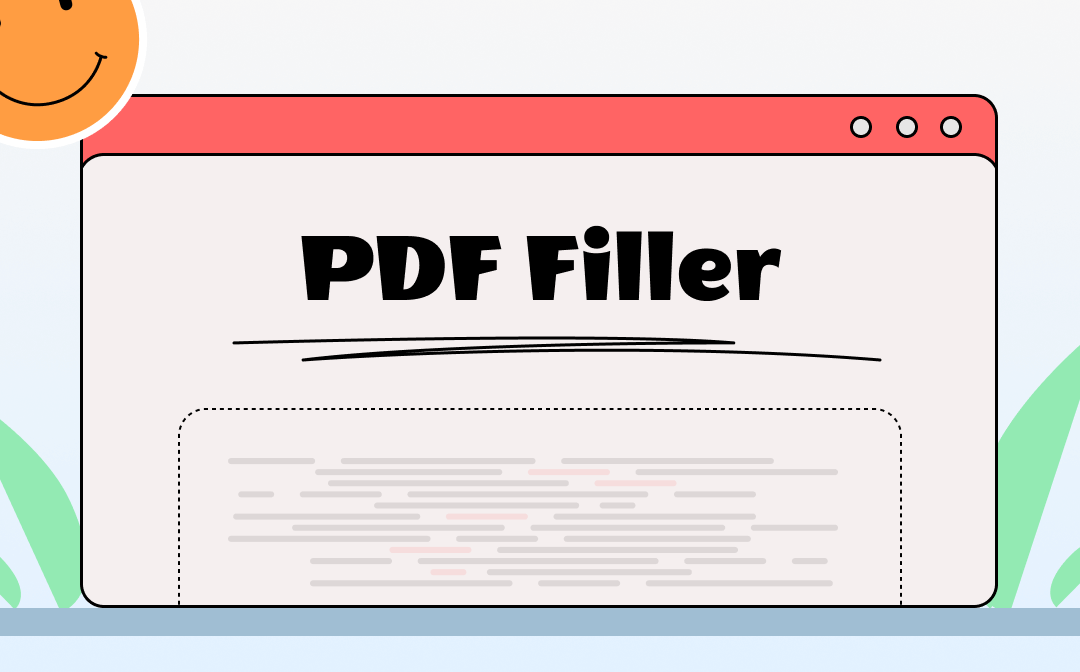 pdfFiller: Best Online Free PDF Filler
Online PDF filler is convenient to use for you can open it on any device. And pdfFiller is such an online tool for you. You can easily open PDFs on its website and fill in information quickly.
And this blog list some reasons why pdfFiller stands out:
Convenient Filling Experience
Opening PDF forms with this tool, your mouse would turn into an enter mark and you just need to click it to enter texts. Assistant lines would help you locate texts accurately and keep the format of your documents. A minimal toolbar would appear when texting, you can move, delete, adjust the font size, and confirm your texts by using it. For boxes that need to enter marks, pdfFiller also prepares you with check and cross marks in advance. Last, signatures can be uploaded or written by yourself. Using its templates is also OK.
All your changes can be saved automatically in case you forget.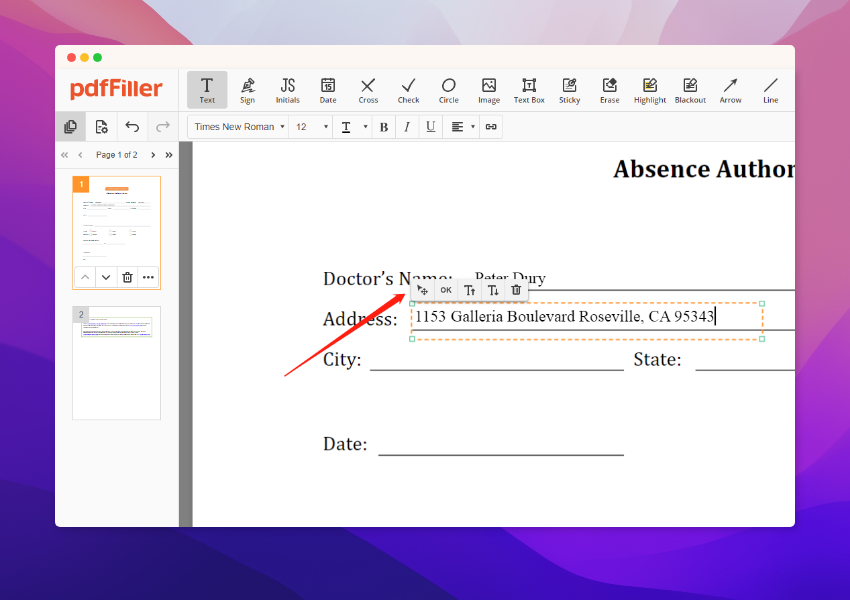 An All-in-one Toolbar
Besides the features mentioned above in the toolbar, pdfFiller has more for you.
For inserting, you can add more things like:
Date
Image
New Text Box
Sticky Notes
Highlight
Arrow/Line
For deleting, you can erase or simply blackout unnecessary content with the Erase and Blackout tool. After talking about the toolbar, the following is the sidebar offering PDF page management. Users could adjust page order, delete useless pages, rotate pages, etc. there.
30 Days Free Trial
It's free to use pdfFiller after signup and choosing a subscription plan for 30 days. Exporting PDFs after editing will just ask you to sign up for an account or log in to it. Using a Google account or Apple ID to log in is also OK, then you need to choose a plan and fill in the payment information to export your PDFs.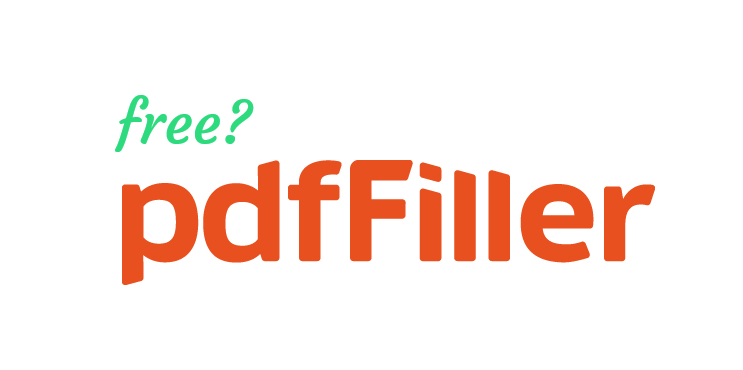 This is the end of this online PDF filler. Though it is already great to use, it cannot offer a no-login service and a completely free service. So, a more powerful free PDF filler for the desktop is waiting for you in the next part.
SwifDoo PDF: Best PDF Filler Free on Desktop
For desktop users, here is a better choice for the PDF filler. SwifDoo PDF is introduced here. It's a comprehensive PDF editor that can provide you with PDF filling, editing, converting, and compressing services, etc. More information about using it to fill PDFs is listed below:
Free PDF Filler
Yes. You can use SwifDoo PDF for free. Edit, fill, convert… all the features are available and require you for nothing. First, you can use this free PDF filler without login. After editing, you can export PDF files for free, no need to sign up for an account or choose a subscription plan. What a bargain it is! Don't hesitate, just download it for free now!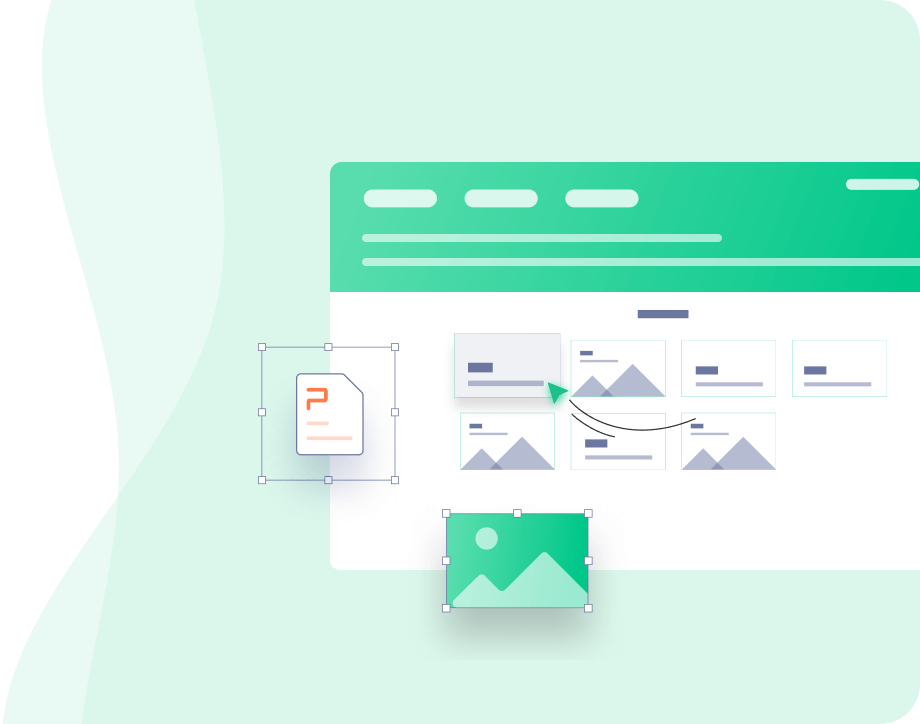 SwifDoo PDF - All-in-One PDF Editor
Annotate PDFs by adding notes, bookmarks, etc.
Convert PDFs to Word, Excel, and other editable files
Edit, compress, organize, and split PDFs
Free Download
Windows 11/10/8.1/7/XP
Fill PDFs Freely
Same as pdfFiller, SwifDoo PDF enables you to fill in texts anywhere you want. Just click your mouse at those blanks on PDFs and enter texts. You can adjust the font, size, color, etc. of texts in the head toolbar. For inserting shapes like lines and arrows, you can find them in the Annotate. Signatures can be input and uploaded by yourself, or you can also use handwriting to create a new signature. The software would store your signature and you can add it directly when the next time you need it.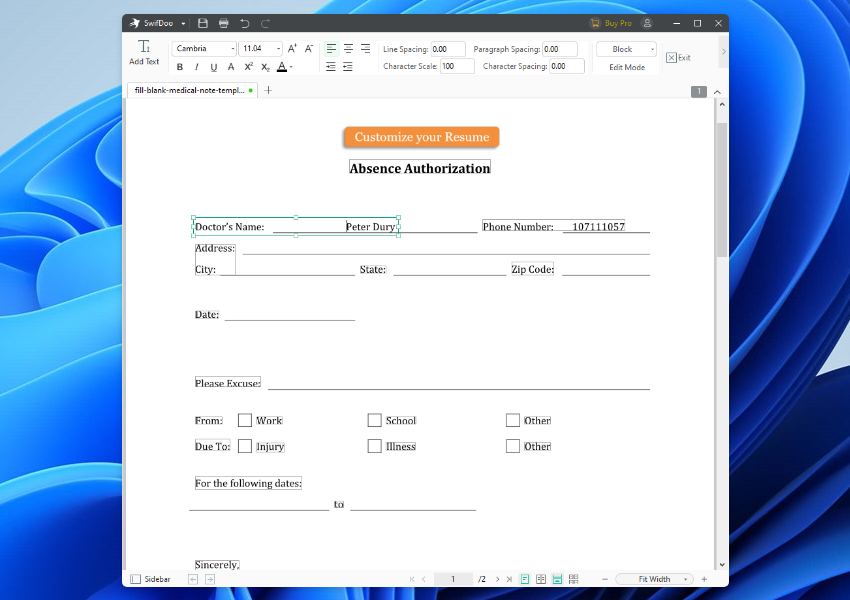 More Than a PDF Filler
As mentioned above, SwifDoo PDF can help you do lots of things. Converting PDFs to MS Office files, images, HTML, etc., and vice versa, protecting PDFs with passwords and removing passwords from PDFs… All these features can be easily found in the SwifDoo PDF.
The Bottom Line
This is the end of this blog. 2 PDF fillers are introduced to you: an online tool - pdfFiller and desktop software - SwifDoo PDF. Both tools are great to use. Just pdfFiller would ask you for a subscription to export files. While SwifDoo PDF offers you a no-login service and a free trial for 15 days. No limit for editing and exporting during the trial. Try this free PDF editor now!