Introduction:
It's a frequent task to publish office documents as PDF files in daily work. Sometimes you may publish and save a PDF with the wrong aspect ratio and a smaller size. Without keeping the original document, how do you increase PDF size to meet your actual requirement? To solve this issue, you will need PDF resizer software.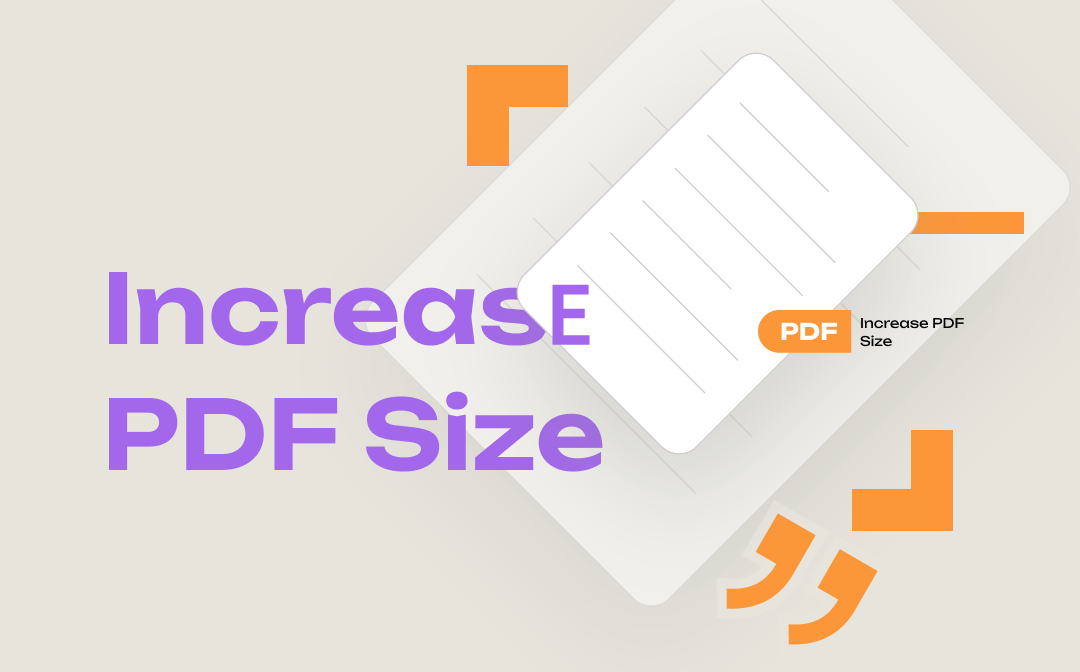 Whether you want to change the PDF page size, size a PDF file, or do something other to PDFs, PDF software like SwifDoo PDF is the workaround. These software tools running offline or online may provide different methods to reach the PDF size increase. Read the following content to learn how to increase PDF size in two ways.
Increase PDF Size with SwifDoo PDF
SwifDoo PDF is a tiny and powerful software application for tackling PDF-related challenges. It allows you to alter or increase PDF size in multiple methods. Most commonly, you can use the PDF resizer to shrink or enlarge a PDF file by setting a standard size or custom size. The software also has tools to convert, edit, and organize PDF pages and do many more. When needed, you have the option to reduce PDF file size by compression.
Steps to increase PDF size with SwifDoo PDF are as follows.
Step 1: Open a PDF File
Download and install the software first. Launch the software, and click Open in its start interface to open your PDF file for size increase. You can directly drag and drop the PDF into the application.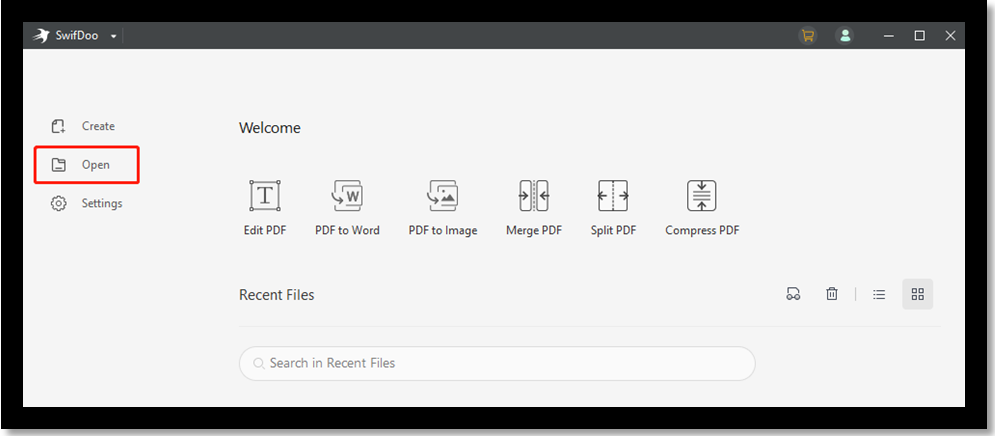 Step 2: Choose Page Setup Option
Tap the Page tab on the top menu bar. In the pop-up secondary toolbar, choose the Page Setup option for page size setting.

Step 3: Pick the Increased Size
In the dialogue box that appears, select a mostly used page size or type customized page width and length in the Resized Page section. You can change the page orientation according to the chosen size.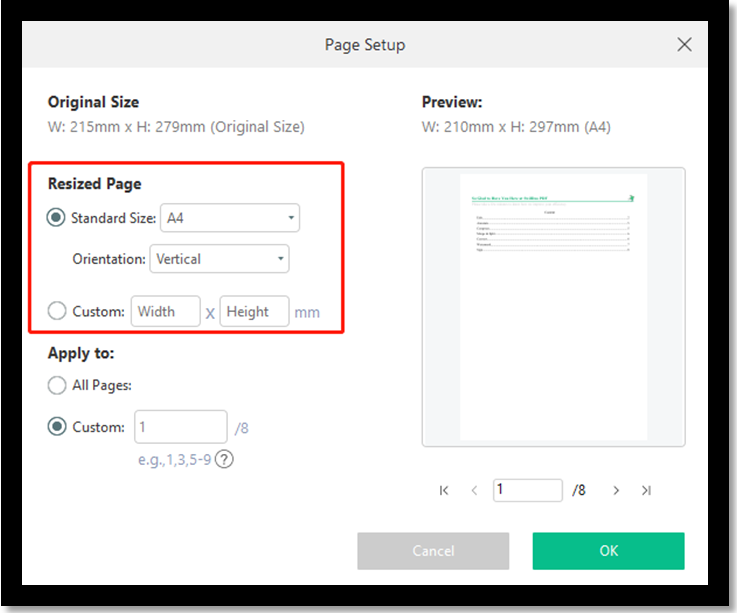 Step 4: Increase PDF Size
Determine which PDF pages to apply the size setting. Remember to check the All Pages radio button if you want all pages to be resized. Then click OK to realize the PDF size increase.
The above method enables you to increase PDF size without editing the PDF content. Another possible method to adopt is to go to "SwifDoo" > "Print" in the software, select a preset size from the "Page Sizing and Handling" drop-down menu, and tap "OK". By setting the options in the printing dialogue box, you can size PDF pages to fit the selected paper size, shrink only oversized pages, or scale PDF pages in percentage.
Resizing a PDF by page setting or printing will decrease or increase the PDF file size down or up to a certain value in KB or MB. If you want to check the original or resulting PDF size in KB or MB, choose "SwifDoo" > "Document Properties".
Features of the offline SwifDoo PDF software:
Change the PDF page size to a specific dimension and increase PDF file size in KB or MB
Crop PDF pages, and cut page margins
Edit text and images in PDF, and create PDF from scratch
Delete, extract, replace, and add pages in a PDF file
Convert PDFs to Word, Excel, PowerPoint, images, and more files without losing quality, and vice versa
Increase PDF Size with PDF2Go
PDF size increase can be done using the online free PDF resizer, PDF2Go. This web software is equipped with a set of useful tools for editing and optimizing PDF files. It allows you to increase PDF size to a regular size or a customized size. The process of performing the task on its website is quite simple. You only need to make sure a good internet connection. The interface is clean without ads.
Discover how to increase PDF file size online for free with PDF2Go.
Step 1: Open the online software's website, tap All tools, and choose Change PDF page size;
Step 2: Click Choose File to upload the PDF to increase size;
Step 3: Hit the Choose from a preset drop-down button to select a size, or enter your preferred page size;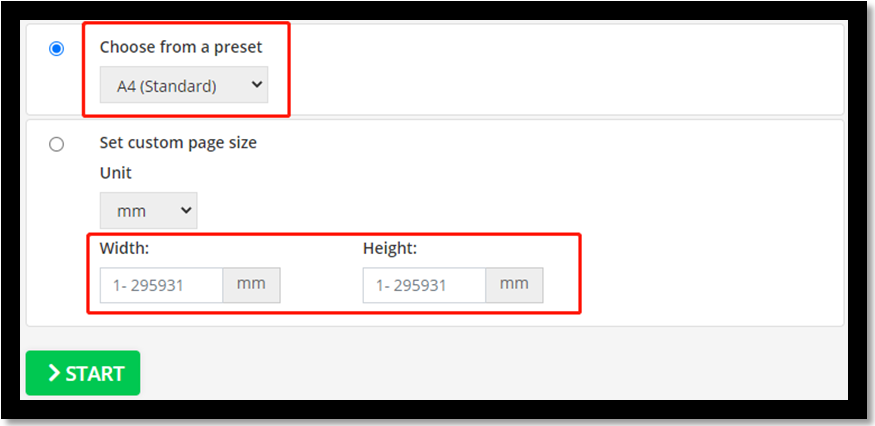 Step 4: Press the START button, then download the size-increased PDF after processing.
Without app download or installation, you'd end up with a PDF with a higher size. While it's fast and convenient to increase PDF size online, using an online tool has some notable downsides:
The online software uploads and processes PDF files much slower than desktop applications like SwifDoo PDF. It's inefficient for busy users.
Very few online tools support editing a PDF. If you need to increase the size of a PDF with images, text, or other media content, PDF2Go cannot help.
Compared to more professional desktop software, online applications are less powerful. They always offer just basic options for every feature. For example, the above web application doesn't allow you to specify pages in a PDF to increase size.
There is a file size limit on the uploaded PDF. You will fail to deal with a large file using PDF2Go.
You have to face file privacy and security risks when using the online tool to increase PDF size or make other manipulations. It's better not to upload your important or business documents to others' websites.
Conclusion
If you struggle to increase PDF size without a suitable method, this article has the fix. PDF file size increase can be accomplished with either an offline or online software tool. No matter if you are looking to magnify or reduce a PDF, edit, convert, merge, compress, or password-protect your PDF files, SwifDoo PDF is here to get the job fulfilled in no time. To scale a less vital PDF on the go, the mentioned online PDF resizing software is worth trying.
Depending on your preferences, read the explained steps to increase the size of your PDF file without a hassle. SwifDoo PDF is recommended for file security and outstanding ability. It lets you increase a single page size in a PDF.
FAQs about Increase PDF Size
How do I enlarge a PDF without losing quality?
You may resize a PDF from a smaller size to a larger size by changing the page size with SwifDoo PDF. Its Page Setup option makes it easy to increase PDF size with a reliable result. Find out the how-to guide from this post.
How do I increase the MB of a PDF?
Perhaps you sometimes need to increase PDF size in MB or KB for some reason. In this case, you can utilize the PDF editing ability of the SwifDoo PDF software. The editing feature allows you to increase the font and image size, and insert high-resolution images in PDFs. That will change the MB of a PDF.
Additionally, an excellent way to achieve your goal is to convert your PDF to images with high DPI resolution, then combine the images into a PDF. That's how you can increase a PDF's MB without modifying the PDF content. The size of the newly created PDF will be much greater than the previous one.