Introduction:
Are you getting stuck on how to write a cover letter? Growth in the social economy and educational attainment of the population has led to fierce competition for jobs. A cover letter plays a vital role in getting a job offer, however, what goes into writing a good cover letter for a job?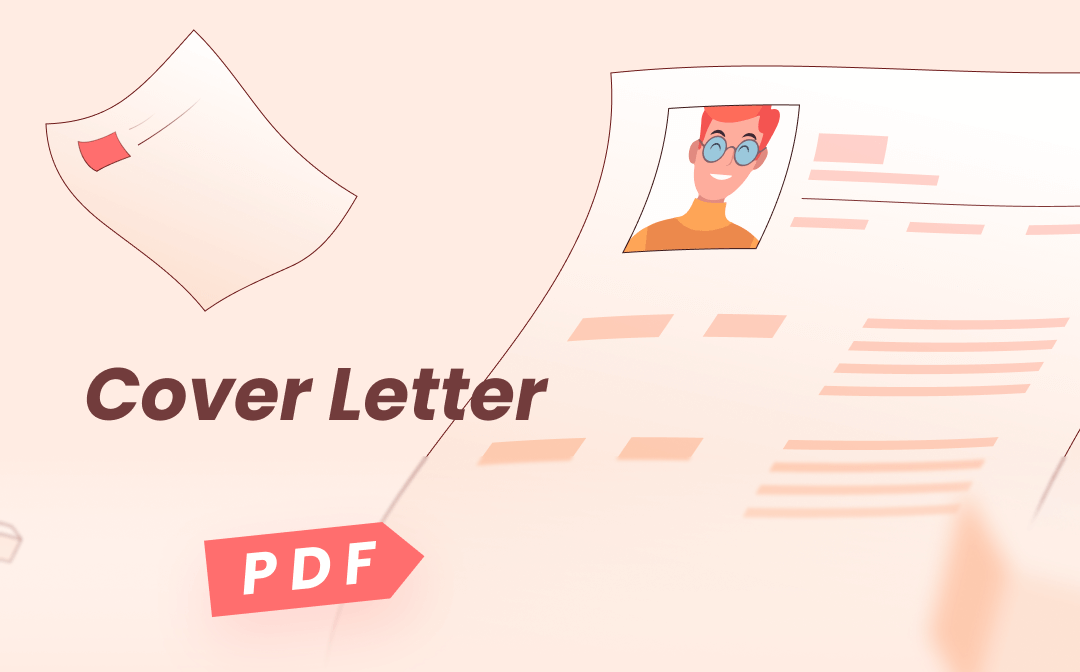 Based on proper cover letter formats and what to include in the letter, this post will walk you through how to write a cover letter and submit it via SwifDoo PDF for increasing the likelihood of being hired.
What Is a Cover Letter?
A cover letter is a document that you write to highlight your experiences, skills, and other abilities fit for the specific position and company. It is also used to express your great interest in the job. Knowing the definition of a cover letter is important when we talk about how to write a cover letter.
A cover letter or application letter is oftentimes sent as an additional attachment together with a resume. As the name suggests, it is a letter commonly composed of paragraphs. The purpose of a cover letter is to tell recruiters why you are qualified and great for them. It is quite important for making yourself stand out.
How to Format a Cover Letter
A proper cover letter format counts for a lot in impressing employers. Whether you are a student who needs to submit a cover letter for an internship application, a teacher looking for a teaching job, or a job seeker in any other field, your letter layout or structure should follow several essential guidelines. Check how to write a cover letter in a standard format.
Contact: The name, email, phone number, and address of you and the hiring manager if there is one, on the top of the letter.
Greeting: Greet the recruiter at the beginning.
Introduction: Simply tell what position you want to apply for.
Body: Write how your education and relevant work experience, as well as skills, will bring value to the job and company. A proper cover letter format should be in chronological order. Try to use bullets, and data to intuitively show what you have achieved in the last company.
Closing: Express your desire to join the company and thank the hiring manager for viewing the application letter.
Signature: Sign your name at the end.
Regarding the format of a cover letter, you should also take font size, style, spacing, page margin, and some other factors into consideration. The total length of a letter should preferably be half a page or no longer than 1 full page.
What File Format Should a Cover Letter Be in?
When you are about to finish your letter writing and formatting in Microsoft Word or Excel, it will be time for you to think about sending the digital copy. Sometimes, a human resources specialist will specify which file format you should send your application document in, but if they don't? While you can attach the letter as a Word, Excel, or PDF document, it's best to understand the differences between them so that you can choose the most suitable file format.
Advantages of Word/Excel Cover Letter
A Word or Excel document is easy to edit.
Some applicant tracking systems may work better with Word files.
Advantages of PDF Cover Letter
A PDF file will display completely the same on any device or in any software.
All the formatting and layouts will be retained when HR specialists receive your PDF.
PDF files cannot be edited without a PDF editor, which prevents your information from unexpected changes.
A cover letter in PDF format can be read by and go through applicant tracking systems.
Obviously, if the employer didn't require which file format your letter should be in, PDF is always the ideal option with its broad compatibility and security. As you may know that unless the Word processor (such as Microsoft Word) versions you and the recruiters use are the same, formatting issues may arise, which will harm their impression of you.
To make your Word document a PDF without any hassle, you can rely on both desktop PDF software and an online converter that will be introduced in the coming parts.
How to Convert a Cover Letter to a PDF File with a Desktop Program
We already know that PDF cover letters have many benefits over Word or Excel versions, but how do we convert them to PDF format? SwifDoo PDF understands and values your needs well, and enables you to easily turn an Excel or Word file into a PDF without losing quality. It supports XLSX, XLS, DOC, DOCX, PPTX, TXT, and many other formats.
Let's dive into how to convert your cover letter to a PDF file.
Step 1: Launch the software and click PDF to Word in the Home tab to access SwifDoo PDF Converter;

Step 2: Select Office to PDF on the left side of the converter window, then tap Add Files to import your application letter;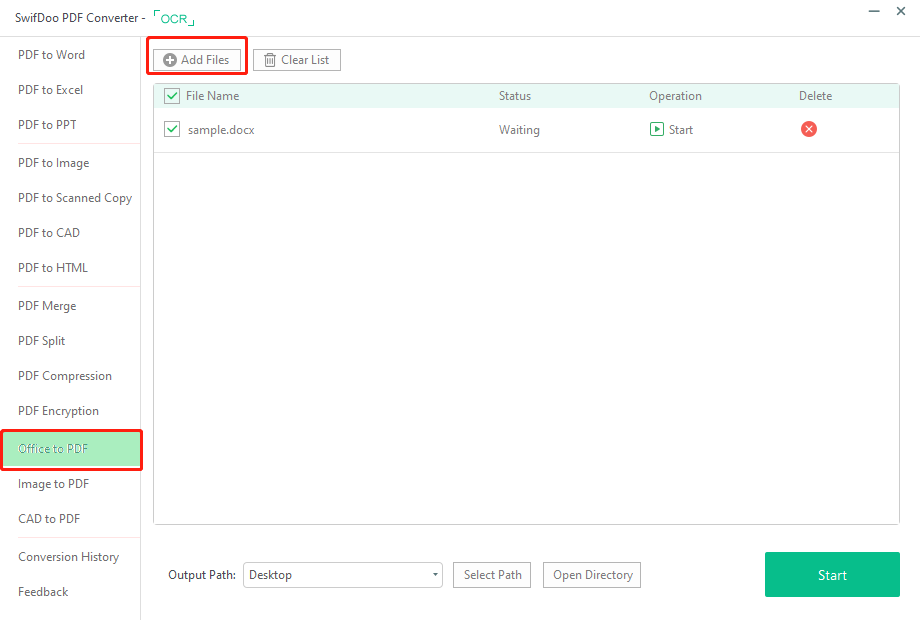 Step 3: Choose where to save the PDF and hit Start.
In seconds, your letter will be converted to a PDF, and you can go to "Share" > "Send to Email" to send your PDF cover letter to the recruiter.

If you have several slightly different letters, SwifDoo PDF allows you to effortlessly batch add and convert them all in one go. In addition, you can utilize the program to directly write your cover letter in PDF format by creating a blank PDF without converting from another format. The PDF editing tool, SwifDoo PDF makes it easy to add text, images, hyperlinks, set page margins, and do more with the PDF file.
Among heaps of desktop software, SwifDoo PDF outperforms many others with only a 10MB size, quick response, simple interface, and rich feature set. One of the keys to writing and submitting your cover letter is to make it good looking. Use SwifDoo PDF to customize your PDF page size, background, headers, footers, and more.
How to Convert a Cover Letter to a PDF File with an Online Converter
For those who are reluctant to install an application on their devices, SwifDoo PDF offers an online converter for free use. The method to convert a cover letter to a PDF file online is simple.
Step 1: On the top of the SwifDoo website, click Convert PDF;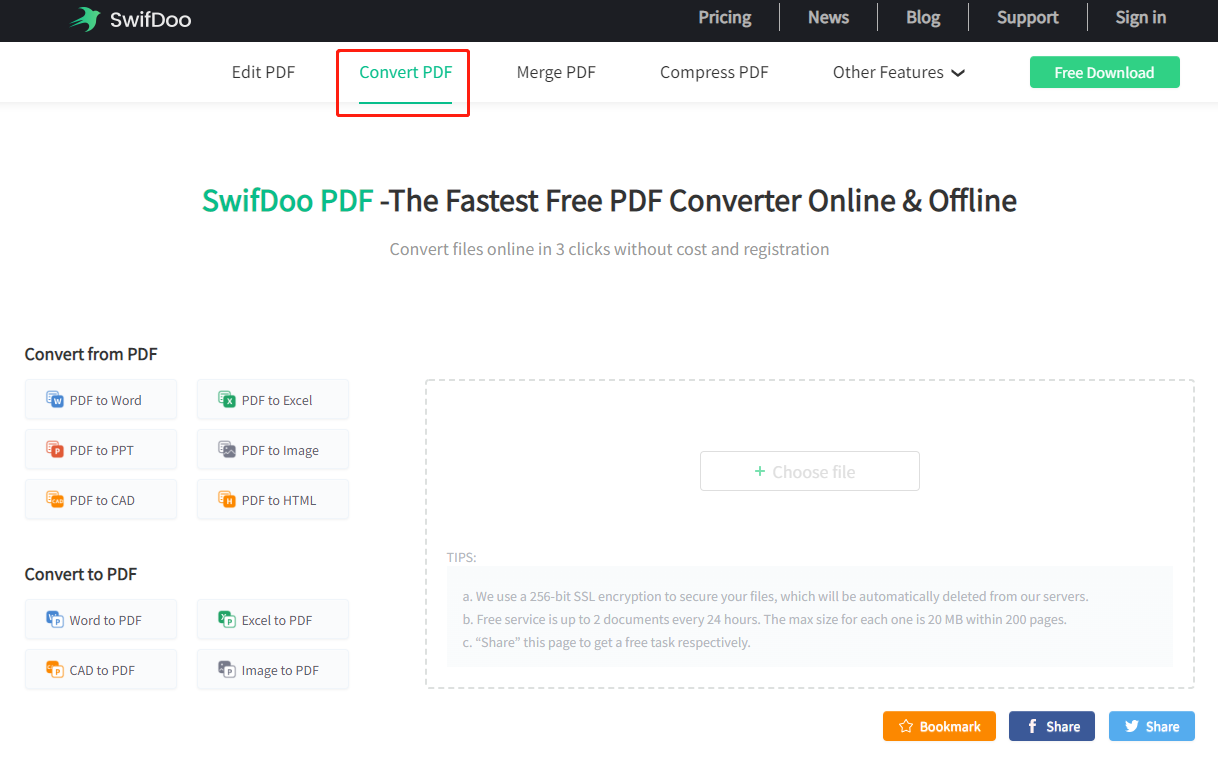 Step 2: Choose Word to PDF, or Excel to PDF as needed, and tap Choose file to upload your letter;
Step 3: When the conversion is completed, hit the Download button to save your PDF.
In Closing
According to a survey conducted by a resume builder provider, ResumeLab, most recruitment specialists are more willing to interview and hire the candidates who sent cover letters. Therefore, whether those job ads require a cover letter or not, it's always better to send it along with your job application to let your strengths shine.
When it comes to how to write a cover letter, always remember to include the basic things mentioned in this article, which play an outline role. An outline will well organize the content and make your expression more logical and understandable. Also, be sure to keep your cover letter short but powerful. Last but not least, send your cover letter in PDF format unless the hiring managers ask you to send it in another format.
FAQ: Where Can I Find a Cover Letter Template?
To write a cover letter without designing it from scratch, you may want to download and use a template. Thankfully, many developers have been aware of that demand, and specially designed many templates for downloading. From sites such as Template.net and Resume Genius, you can get a lot of free cover letter samples and templates for Google Docs, Word, and PDF software.
Google Docs and Word templates are easily edited, what if you have downloaded a cover letter sample PDF? No worries, SwifDoo PDF is here to help you convert the PDF to an editable Word file for easy editing or making direct changes to it.