Introduction:
A resume is a must-have today whenever we hunt for a job and some job seekers may also like to submit a cover letter along with it to recruiters. A cover letter oftentimes provides more details than a resume about your skills, experiences and abilities. To impress your potential employer, it will be necessary to write a cover letter and send it with other job application materials together. But how?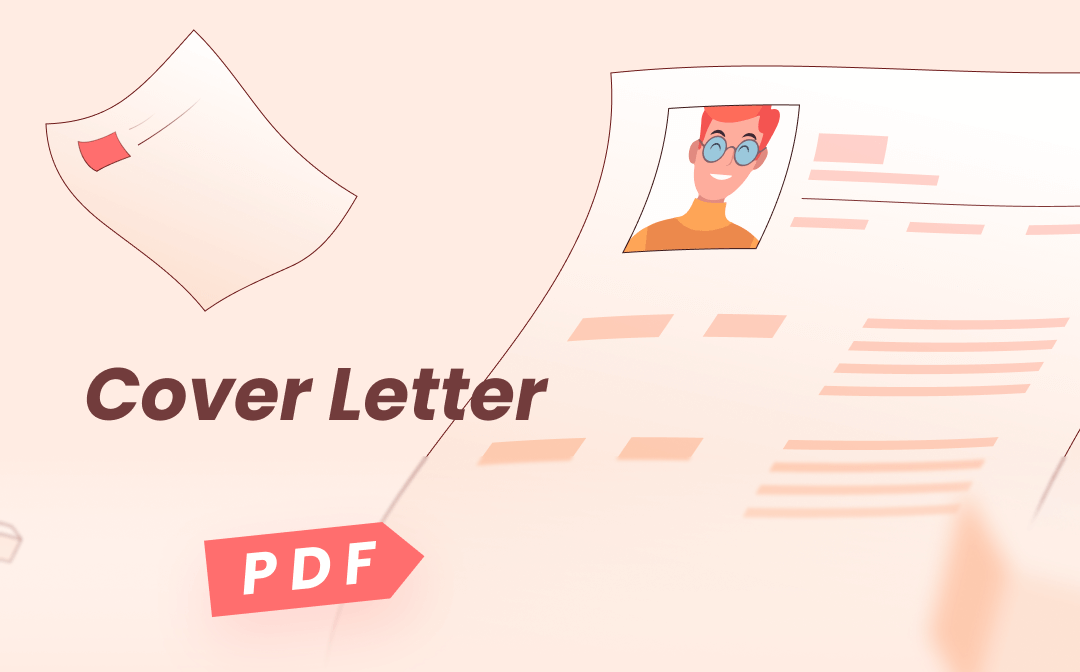 Based on proper cover letter formats and what to include in the letter, this post will walk you through how to write a cover letter and submit it via SwifDoo PDF for increasing the likelihood of being hired.
What Is a Cover Letter?
A cover letter is a document that you write to highlight your experiences, skills, and other abilities fit for the specific position and company. It is also used to express your great interest in the job. Knowing the definition of a cover letter is important when we talk about how to write a cover letter.
A cover letter, application letter or motivation letter is oftentimes sent as an additional attachment together with a resume. As the name suggests, it is a letter commonly composed of paragraphs. The purpose of a cover letter is to tell recruiters why you are qualified and great for them. It is quite important for making yourself stand out.
What Does a Cover Letter Need to Include?
A proper cover letter format counts for a lot in impressing employers. Whether you are a student who needs to submit a cover letter for an internship application, a teacher looking for a teaching job, or a job seeker in any other field, you need to know how to format a cover letter. Your letter layout or structure should follow several essential guidelines. Learn how to write a cover letter for a job in the following standard format.
1. Create an impressive header:
The key to your professional success lies in the first impression of your letter, so it's important to know how to start a cover letter. A header should be included on the upper left corner of your letter, which contains your contact details like: your full name; job title; address; phone number; email ID; city and date.
2. Information of the company you apply for:
Writing a cover letter also requires mentioning the details of your hiring manager and the company you are applying for. It includes: hiring manager's name and job title; company name and address.
3. Write a personalized salutation:
One of the major issues in cover letter writing is how to address a cover letter. Make sure to address your manager by their name to hook all the attention. For example, prefer writing Dear (name of the hiring manager) instead of generalizing the salutation of your letter by writing 'To whom It Might Concern' or 'Hey team,' etc.
4. Write a hook-worthy opening paragraph:
In terms of how to write a good cover letter, you should write a catchy enough opening paragraph to hook the recruiter's attention. Highlight and quantify your achievements in metrics. Design the section to showcase your enthusiasm and how you can fit the manager's needs.
5. Sing the tune of your potential:
You must know how to sell yourself. To be sold, you need to have some potential and be aware of them. Convince your manager how your potential topped with your professional commitments, can serve them in the best way possible.
6. Express your eagerness to join:
Avoid any generic data. Express how that specific job makes an impression like no other on you. Entail your passion and enthusiasm towards the position. You can exemplify an ongoing or an upcoming company project and how your zeal and wisdom can contribute to making it successful.
7. Necessary call of action:
Speaking of what to include in a cover letter, the closing paragraph is essential. Provide additional value by taking the necessary call of action. Express to meet in person to explain to them what all you have to offer and how your offerings can make a considerable difference in achieving the company goals.
8. Choose the professional formal closing style:
After writing all the heading and body parts, it's time to question how to end a cover letter. Never forget to close your letter by signing off formally and thanking the hiring manager for their valuable time.
9. Add a postscript:
To write a great cover letter, a postscript is a good idea to scream for your manager's attention until the end. An interesting 'P.S.' can further impress your recruiter to shortlist you for another meeting. It can contain an interesting fact about you that may or may not relate directly to the job.
Aside from the above major points, you should also take font size, style, spacing, page margin, and some other factors into consideration. Additionally, regarding how to write a cover letter, some pro tips and general rules are given in the later part of this post.
If you have no idea what a cover letter looks like, see the picture below or go to Zety and other sites recommended at the end of the post to download some
cover letter examples.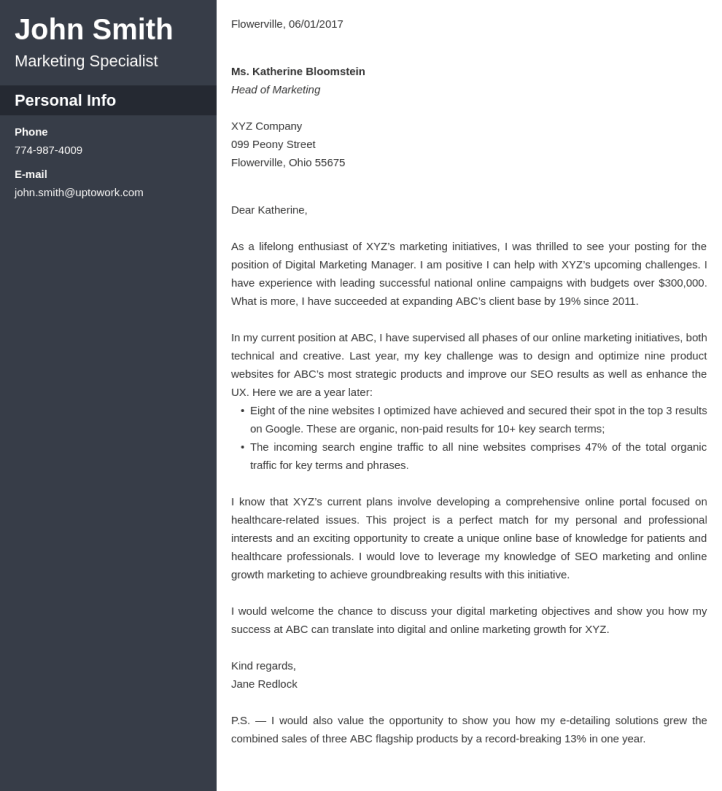 What File Format Should a Cover Letter Be in?
Whether you write a cover letter in Microsoft Word, Excel or PDF software, when you're about to finishing, it will be time for you to think about sending the digital copy.
Sometimes, a human resources specialist will specify which file format you should send your application document in, but if they don't? While you can attach the letter as a Word, Excel, or PDF document, it's best to understand the differences between them so that you can choose the most suitable file format.
Advantages of Word/Excel Cover Letter
A Word or Excel document is easy to edit.
Some applicant tracking systems may work better with Word files.
Advantages of PDF Cover Letter
A PDF file will display completely the same on any device or in any software.
All the formatting and layouts will be retained when HR specialists receive your PDF.
PDF files cannot be edited without a PDF editor, which prevents your information from unexpected changes.
A cover letter in PDF format can be read by and go through applicant tracking systems.
When talking about how to write an effective cover letter, you should attach importance to the file format. If the employer didn't require which file format your letter should be in, PDF is always the ideal option with its broad compatibility and security. As you may know that unless the Word processor (such as Microsoft Word) versions you and the recruiters use are the same, formatting issues may arise, which will harm their impression of you.
To make your Word document a PDF without any hassle, you can rely on SwifDoo desktop PDF tool and SwifDoo online converter that will be introduced in the coming parts.
Convert a Cover Letter to a PDF File with SwifDoo PDF
Since PDF has many benefits over Word or Excel format, how do you convert them to PDF after writing your cover letter? SwifDoo PDF understands and values your needs well, and enables you to easily turn an Excel or Word file into a PDF without losing quality. It supports XLSX, XLS, DOC, DOCX, PPTX, TXT, and many other formats.
Let's dive into how to convert your cover letter to a PDF file.
Step 1: Launch the tool and click PDF to Word in the Home tab to access SwifDoo PDF Converter;

Step 2: Select Office to PDF on the left side of the converter window, then tap Add Files to import your application letter;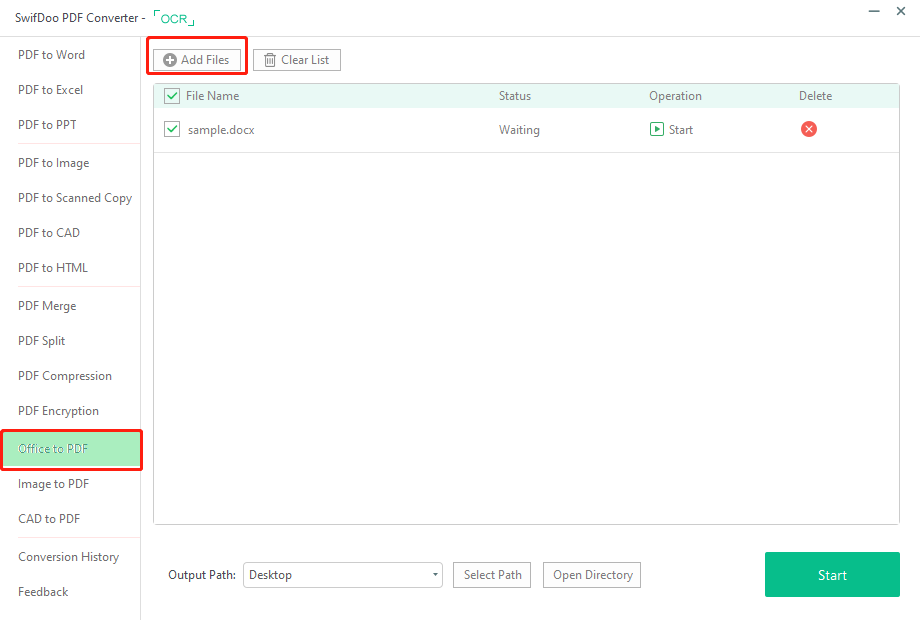 Step 3: Choose where to save the PDF and hit Start.
In seconds, your letter will be converted to a PDF, and you can go to "Share" > "Send to Email" to send your PDF cover letter to the recruiter.

If you have written several slightly different letters, SwifDoo PDF allows you to effortlessly batch add and convert them all in one go. In addition, you can utilize the program to directly write your cover letter in PDF format by creating a blank PDF without converting from another format. The PDF editing tool, SwifDoo PDF makes it easy to add text, images, hyperlinks, set page margins, and do more with the PDF file.
Among heaps of desktop software, SwifDoo PDF outperforms many others with only a 10MB size, quick response, simple interface, and rich feature set. One of the keys to writing and submitting your cover letter is to make it good looking. Use SwifDoo PDF to customize your PDF page size, background, headers, footers, and more.
Convert a Cover Letter to a PDF File with SwifDoo Online PDF Converter
For those who are reluctant to install an application on their devices, use a free online PDF converter to convert the cover letter. Let's see how to create a PDF cover letter online.
Step 1: On the top of the SwifDoo website, click Convert PDF;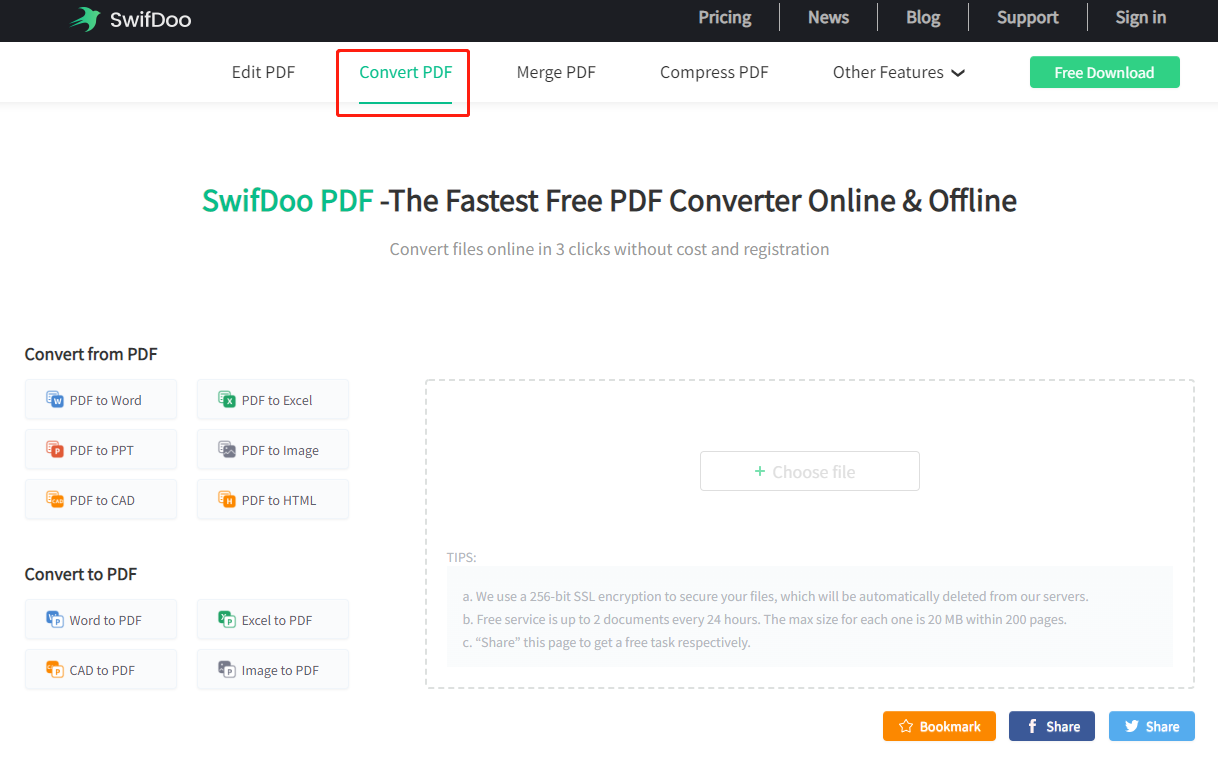 Step 2: Choose Word to PDF, or Excel to PDF as needed, and tap Choose file to upload your letter;
Step 3: When the conversion is completed, hit the Download button to save your PDF.
Pro Tips to Make Your Letter Sound More Confident
Anyone can write a motivation letter, but only a few can make it impressive. Make sure to fall in the category of those 'few' by following these pro tips while writing the perfect cover letter:
Always address your manager by their name.
In the absence of your recruiter's name, you can greet it to the department you are applying to or can also write 'Dear Hiring Manager.'
Cover your meaty content in three paragraphs: grab attention, your skills, and capabilities, and prove that you are the perfect match.
Avoid using typical and cliched lines.
Be creative to hook the attention of your hiring manager.
Apart from focusing on the job, talk more about what you have to offer the company.
Always follow up on the application.
Generic Rules to Write a Compelling Cover Letter
There are always some general no-fail rules that you cannot afford to miss. So in case you cannot recall them, we have listed these rules here for a quick reminder.
Always keep your letter short.
Don't write a letter more than a single page.
Choose a perfect layout for your covering letter.
Prepare a blueprint of your letter before drafting the final one.
Do rigorous research on your hiring manager, job title, and the company.
Ensure to make a list of necessary job keywords to highlight your skills and qualifications around them.
Be true to your words.
Remember to proofread for spell check before submitting it.
Choose proper action verbs and powerful words to create a distinct impression for your motivation letter.
In Closing
According to a survey conducted by a resume builder provider, ResumeLab, most recruitment specialists are more willing to interview and hire the candidates who sent cover letters. Therefore, whether those job ads require a cover letter or not, it's always better to write one and send it along with your job application to let your strengths shine.
When it comes to how to write a cover letter, always remember to include the basic things mentioned in this article, which play an outline role. An outline will well organize the content and make your expression more logical and understandable. Also, be sure to keep your cover letter short but powerful. Last but not least, send your cover letter in PDF format unless the hiring managers ask you to send it in another format.
FAQ: Where Can I Find a Cover Letter Template?
To write a cover letter without designing it from scratch, you may want to download and use a template. Thankfully, many developers have been aware of that demand, and specially designed many templates for downloading. From sites such as Zety, Job seeker, Novo resume, Template.net and Resume Genius, you can get a lot of free cover letter samples and templates for opening in Google Docs, Word, and PDF software.
Google Docs and Word templates are easily edited, what if you have downloaded a cover letter sample PDF? No worries, SwifDoo PDF is here to help you convert the PDF to an editable Word file for easy editing or making direct changes to it.