Introduction:
PDF documents are essential for modern world. They provide a consistent layout and formatting for all users and contribute to digital workflow. You may have come across a situation where you need to add text to a PDF form. For those unfamiliar with manipulating PDF files, it may be a daunting task. PDFs were indeed not created to be editable, but it's easy to type on a PDF form in fact.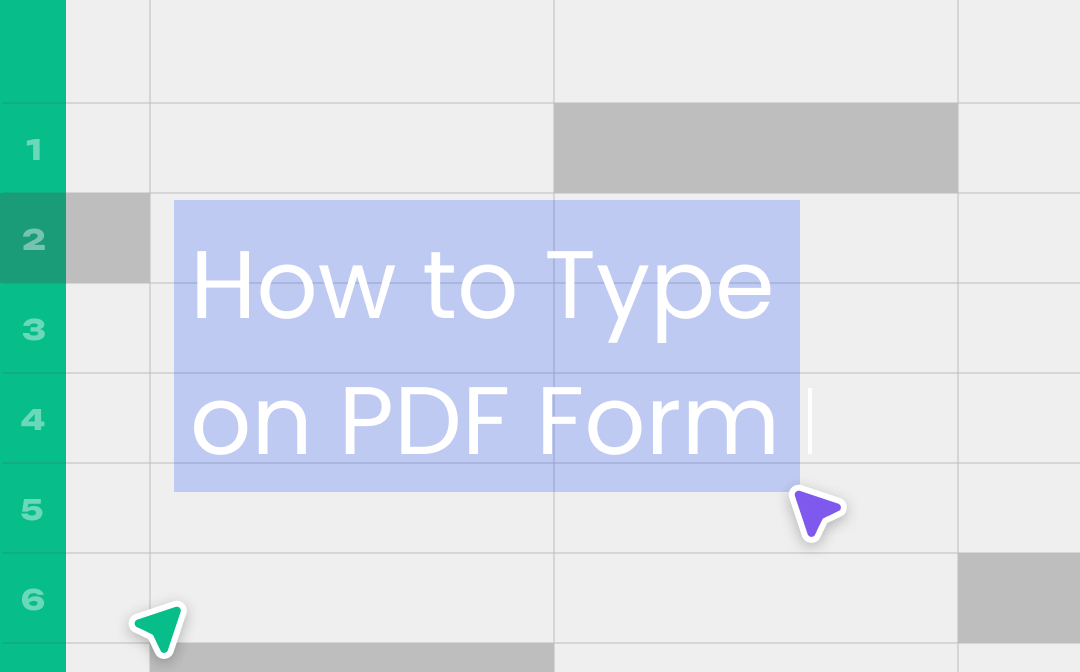 There are tons of methods to complete the task. Typing on a PDF is a basic PDF annotating need. You can either use the native support on your device or turn to dedicated PDF software. This article will walk you through how to type on a PDF form quickly in 4 best ways. All the mentioned methods let you do that for free.
How to Type on a PDF Form with SwifDoo PDF
SwifDoo PDF is an all-around PDF software application available for Windows 7/8/10/11. It offers the ability to type on a PDF form and do many more. It is a PDF annotator, PDF editor, converter, signer, etc. You can add text to any place of a PDF in just a couple of clicks. The software program allows you to set and change the text properties. It's simple to edit and delete what's typed as well.
Read the steps below to get how to type on a PDF form.
Step 1: Launch SwifDoo PDF, and click Open to select and open the PDF you want to type on;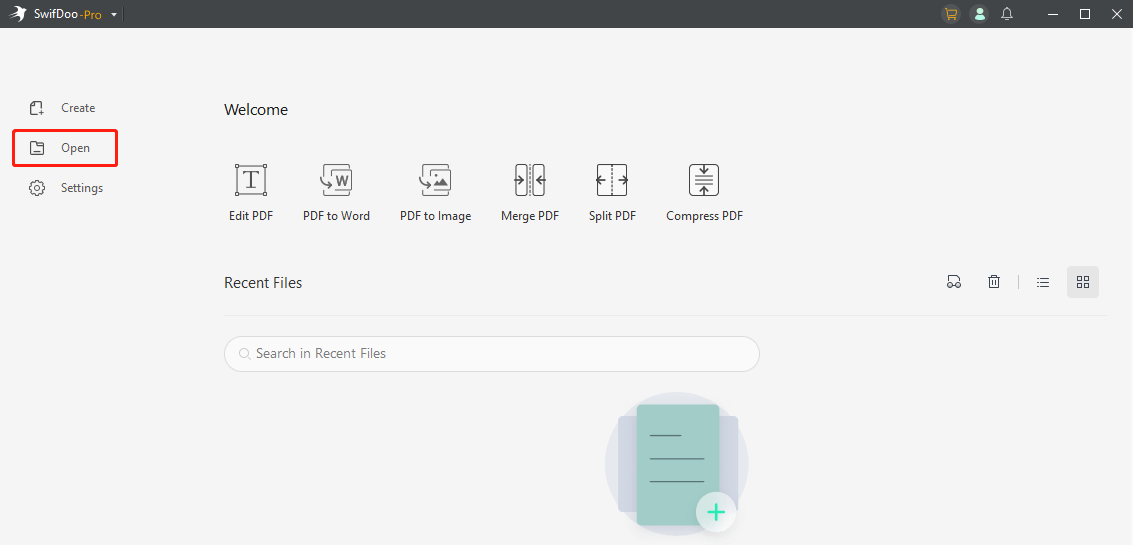 Step 2: Tap Annotate on the top, and choose Typewriter in the pop-up menu bar;

Step 3: Click on the PDF to type text. Make more changes if needed, then save the file.

It's clear now how to type on a PDF form or any other PDF document. If you don't like the default text appearance later, changing is a piece of cake. Double click the former added text and use the floating bar to change the font size. You can change the font color and drag to move the text without a trouble as well. SwifDoo PDF can help change the font size of existing text in a PDF form when necessary.
SwifDoo PDF also allows you to type on a PDF with its PDF editing feature. Specifically, under the "Edit" tab, the "Insert Text" tool enables you to add text boxes to PDFs. Editing existing text and images in a PDF is not difficult within the application.
Tips:
Depending on your need, you can
convert PDF to Word
to type your content in the Word program.
How to Type on a PDF Form in Microsoft Edge
A convenient way to type on a PDF form is to utilize your web browser. The Microsoft Edge browser has a built-in PDF viewer with PDF annotation capabilities. It lets you add text, highlights, and freehand drawings to PDFs. You can alter the text color, size and spacing while typing. When you saved the changes and reopen the PDF, the added text still can be modified. Edge and some other major browsers also provide a method to split a PDF file.
Here is a brief look at how to type on a PDF form for free in your browser.
Step 1: Right-click your PDF form in File Explorer, choose Open with and select Microsoft Edge from the context menu;
Step 2: Once the PDF is opened in the browser, right click where you need to type and choose the Add Text option;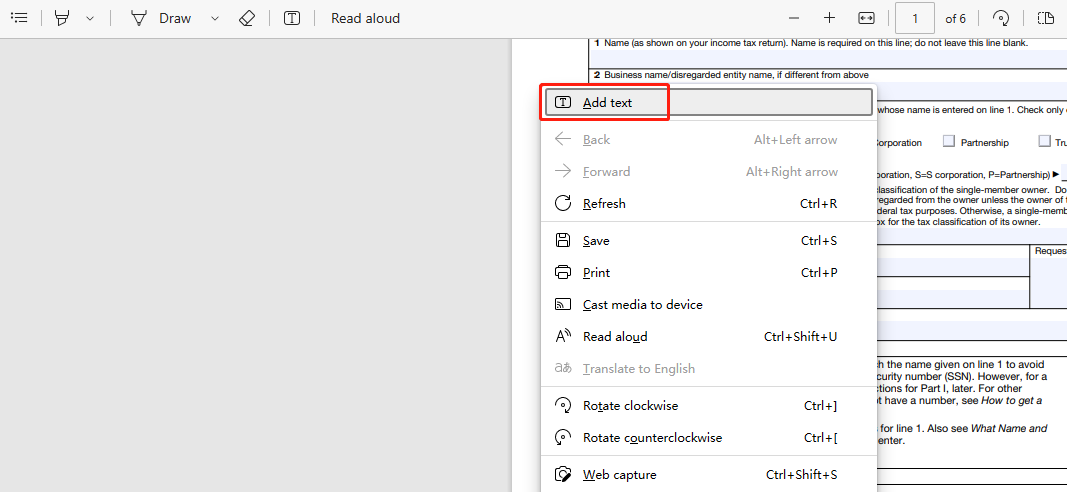 Step 3: A text box appears, and type on the PDF as you like.
Type on a PDF Form Using Preview
If you are a Mac user, typing on a PDF form can be done with the Preview application. No need to download or switch to third-party software. The preinstalled tool is your free PDF and image viewer. It's packed with common annotating and editing functions. You can utilize it to convert PDFs and images as well as separate PDF pages. It's absolutely a useful gift from Apple Inc.
Discover how to type on a PDF form on a Mac device without paying anything.
Step 1: Control click the PDF you wish to write on, choose Open with and Preview to open the file;

Step 2: Tap the marker icon in the upper bar to show markup toolbar of the application;

Step 3: Click the text adding tool (letter A or T inside a rectangle), hit the target place, click into the text box and start typing;

Step 4: Click the Aa button in the markup toolbar, and you can change the font type and make bold type on the PDF form;
Step 5: When you finish, save the PDF.
If you want to type on a PDF form to sign your name, you can choose the line drawing tool to do. Or, sign the PDF with the Preview's signature option. Click the "Sign" button in the toolbar, use your trackpad to draw a signature or let the camera to capture your handwritten signature.
How to Type on PDF Form with Adobe Acrobat Reader DC
When it comes to how to type on a PDF form, Adobe Acrobat Reader DC is always one of solutions to mention. The software is the free version of the family of Adobe Acrobat software. It's equipped with many useful tools to comment, fill out, and electronically sign PDF files. With the program, you can fill out a PDF form without breaking a sweat, regardless of a flat or fillable form. The PDF application is downloadable on Windows and Mac.
Check how you can type on a PDF form with Adobe Reader on a PC or Mac. This also applies to Adobe Acrobat Pro DC.
Step 1: Open your PDF in Reader, tap Tools on the top left to choose the Fill & Sign tool;

Step 2: Click the position to be filled, and type your information on the PDF form;

Step 3: If the PDF is fillable, directly click the text fields to type.

When you have accessed the Fill & Sign tool, you can also sign the document by typing or drawing your signature. Just click the "Sign yourself" button.
Conclusion
With the 4 explained ways, you can swiftly type on a PDF form you downloaded or received. You don't have to turn to external software applications. Adobe Reader is surely a stellar way to write on a PDF document on Windows and Mac for free. If you are looking to do more with PDFs, there are some best PDF editors like SwifDoo PDF to use.
FAQs
Why can't I type in a PDF form?
There are different reasons why you can't type on a PDF form. Mainly two of them are as follows:
# One is that your PDF is restricted from annotating or editing with a password protection. You can remove the protection from the PDF to enable editing.
# If you can't type into a form field in a fillable PDF, the reason might be that the PDF reader you use doesn't support fillable or interactive PDFs. It neither recognize the fillable form fields nor make them fillable. For this reason, you can try opening your PDF in Chrome or Edge browser or Adobe Reader to fill them out online or on your computer.
How do I write on a PDF file on my iPhone or Android mobile?
# To type on a PDF form on iPhone or iPad, make use of the markup tool on your mobile.
Step 1: In the "Files" app, click to open your PDF, and tap the markup tool on the top right corner;
Step 2: Click the plus icon appearing at the bottom and choose "Text";
Step 3: Double click the created text box and start typing. Click "Done" on the top left corner to save the changes.
# Regarding how to type on and fill a form in a PDF on Android, you can download and install the Adobe Reader app to do.
Step 1: Launch Adobe Reader on your phone, and click "Files" at the bottom to select your PDF form;
Step 2: Locate where you want to type and choose the pencil icon;
Step 3: Hit "Fill & Sign" to select the "Ab" button, then tap on the PDF to add text. Click tick mark to end the process.
How to Type on a PDF in Word?
Another way to type on a document in PDF format is to open the PDF in Microsoft Word. Specifically, right-click your PDF, choose "Open with" > "Microsoft Word", choose "File" > "Open" in Word to open the PDF, and click "OK" in the message window. Once the PDF is converted to a Word document, you can type and edit text with ease.
How to Type on a PDF in Google Docs?
Google Docs can open PDF documents so it makes typing on a PDF form possible.
Step 1: Log into Google Drive with a Google account, go to "My Drive" > "File upload" to upload the PDF you want to type on;
Step 2: Open the uploaded PDF, and tap "Open with" to open the file with Google Docs;
Step 3: Add your desired text to the form, and go to "File" > "Download" to download the file.