Introduction:
Living in the digital era, we frequently take photos using our mobile phones. When we are in pursuit of high resolution, smaller storage space is much needed as well. Apple has noticed this need and subsequently rolled out HEIC; a brand-new image format, to replace the conventional image format JPG (JPEG), starting from iOS 11 and Mac OS High Sierra.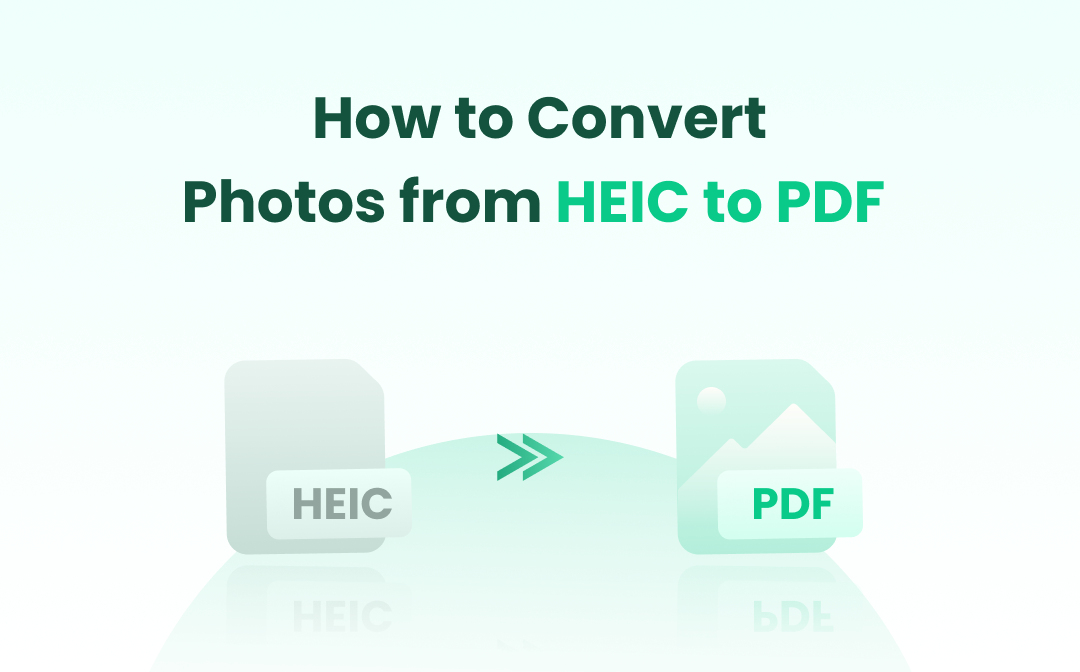 However, if you are not equipped with HEIF image extensions, you may struggle when trying to open a HEIC image on a Windows operating system. Users will then need to find another method to open HEIC images. One method is converting HEIC to PDF. This post will analyze why and how to convert HEIC to PDF.
Why Convert HEIC to PDF
PDF stands for Portable Document Format, which is a universally used format and can be opened on any operating system. In addition, PDF usually has a smaller file size and is useful for storing and printing larger-sized documents. The most important thing is that the high quality of the original image will be unaffected even through conversion.
Online HEIC to PDF Converters
Online HEIC to PDF converters are usually free of cost and require no download or registration process. Let's see how to change HEIC to PDF using online programs.
Convertio
As its name suggests, Convertio is a dedicated converter based on the network. This converting service provider is an absolutely all-round online program. From images, documents, and videos, to ebooks, audios, fonts, and archives, Convertio can convert all the file formats imaginable. This tool also adopts a clean and modern user interface which creates a superb and memorable user experience. Check out how to make use of this product to change HEIC to PDF easily.
Step 1: Type the URL on the search bar;
Step 2: Upload your HEIC file(s) to the workstation by clicking on the Choose Files, from your local device, Google Drive, or Dropbox;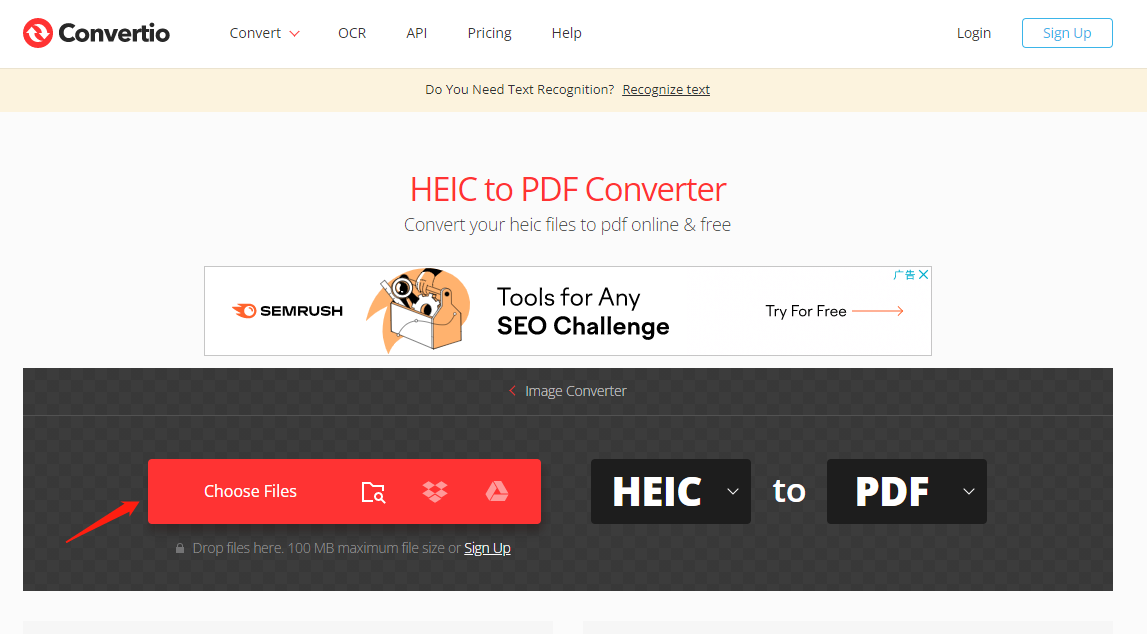 Step 3: When your file is ready, choose Convert to save this HEIC file as a PDF document.
If you need to batch convert your existing HEIC files to PDFs, just select the "Add more files" tab to upload more HEIC files to the workstation. This online tool also has a Chrome extension; users can install the extensions and access the service every time they launch Google Chrome. However, Convertio has paid ads on the website, but this is the only downside of this free online HEIC to PDF converter we've found so far.
Google Drive
Honestly, many online PDF programs share the same features as Convertio. In this part, we provide a brand-new solution free of charge, namely by using a cloud storage service.
When we refer to cloud platforms, which product first comes to mind? This is typically Google Drive. Without further description, let's have a look at how to convert HEIC to PDF on Google Drive.
Step 1: Click New > File upload to import a HEIC file or multiple files from your local folder to the Drive's workspace;
Step 2: When ready, right-click on the picture to select Open with. Then in the drop-down menu, choose CloudConvert;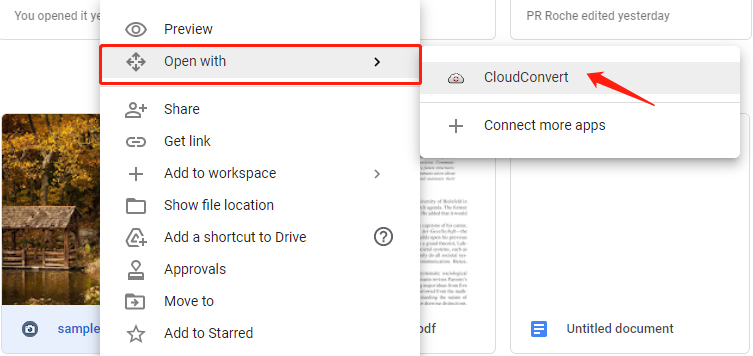 Step 3: At this step, CloudConvert will ask you to register an account. Following registration, users will be taken to the page where they can convert HEIC to PDF. Navigate to the Convert button when you make sure everything is set.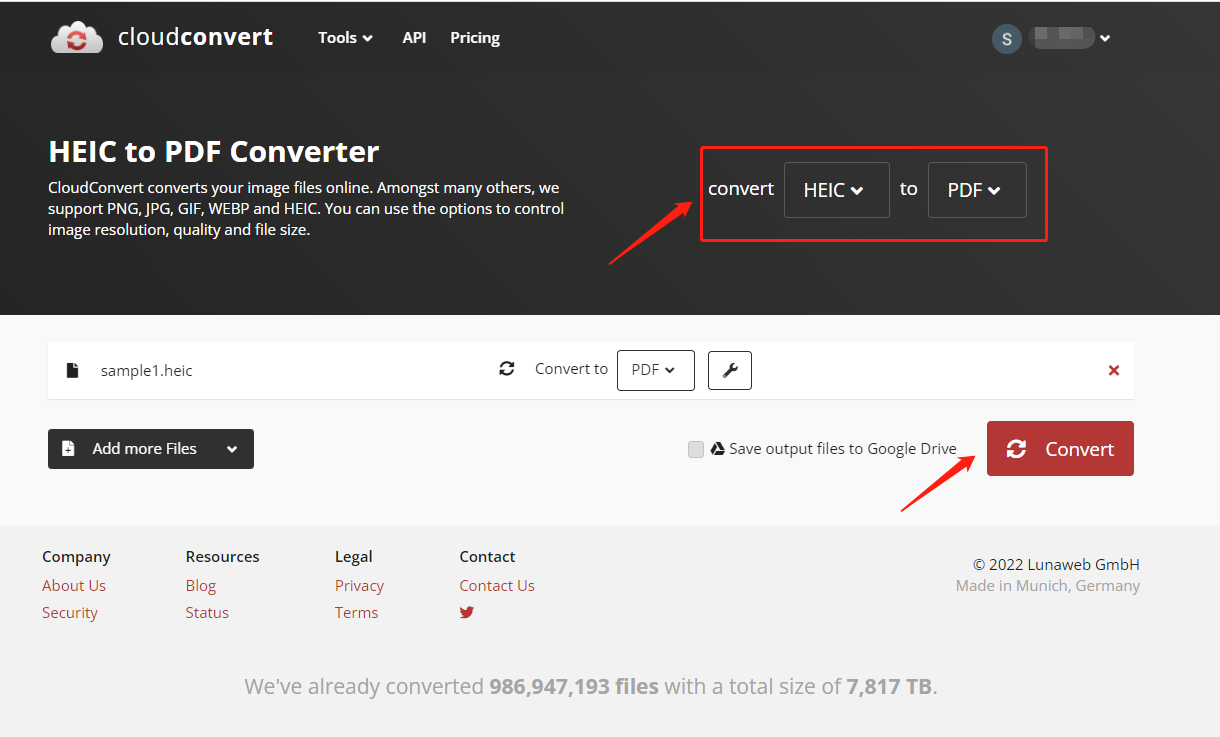 Tips:
Several minutes later, the HEIC to PDF conversion task is completed and the PDF document is saved to your Drive space automatically.
The above steps outline how users can convert HEIC files to PDFs with the help of Google Drive. Google Drive is a cloud service provider which cannot perform HEIC to PDF conversion. However, Google Drive has a similar App Store, Google Workspace Marketplace, to integrate different apps within it, and hence it is more than a cloud storage platform.
HEIC to PDF Converter on iPhone and Mac
iPhone
iPhone users actually have an easy and free solution to convert HEIC to PDF, and more importantly, no external software or application is needed. Have a closer look at how to use Print to PDF on your iPad or iPhone:
Step 1: Open your Photos and click on any HEIC photo that needs to be converted to PDF;
Step 2: Tap on the Share button on the left button and then choose Print;
Step 3: When you arrive at the Print Options window, perform a zoom-in gesture over the photo's preview;
Step 4: Next, navigate to the bottom left and click on the Share button again. Users can decide to open the PDF with other applications or save it to files.
Converting HEIC files to PDFs is a not-so-difficult task if you figure out how to do it. However, if you need to change HEIC files to PDF documents in batches, this is not the best solution as iOS or iPad can only perform one HEIC to PDF conversion task at a time.
Moreover, the PDF after conversion has an increased file size. Let me give you an example, the original HEIC file is 1.6 MB while the converted PDF file has 8.4 MB. As you can see, this method does not effectively reduce file size.
Mac
Likewise, Mac users don't need third-party apps to complete HEIC to PDF conversion simply because of the default PDF and image viewer on macOS, Preview. This built-in image viewer can edit media types and convert between image formats. Let's dive into how to convert high-quality HEIC images to PDF on macOS:
Step 1: Double click on the HEIC file if your default image viewer is Preview;
Step 2: On the toolbar, navigate to File and then choose Export;
Step 3: In the Export window, specify where to output this file, which kind of format is needed, and whether to create a PDF/A or encrypt the new file. When ready, hit the Save button to change this HEIC file to a PDF.
Preview is indeed an easy-to-use and free HEIC to PDF converter on Mac, however, it doesn't support batch conversion. If users need to save HEIC files as PDFs, a professional PDF converter is required. PDFpen and Wondershare PDFelement have trusted PDF converters on macOS.
HEIC to PDF Converter on Windows
GIMP
The next recommendation is GIMP, neither a PDF converter nor an image viewer. GIMP is also known as GNU Image Manipulation Program. This is a free and open-source image editor with the capabilities to manipulate and edit images between different image file formats. Follow the steps below to convert HEIC images to PDFs on Windows 7 and later versions:
Step 1: Download GIMP from the official website and install the software on your PC;
Step 2: Launch the program and navigate to the main menu and choose File > Open to upload the HEIC image to the working area;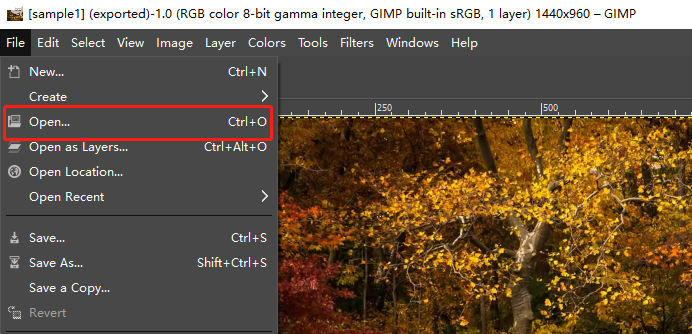 Step 3: When ready, click on the File again to choose Export;
Step 4: In the Export Image window, change the filename extension in the Name field or choose the Portable Document Format by clicking Select File Type.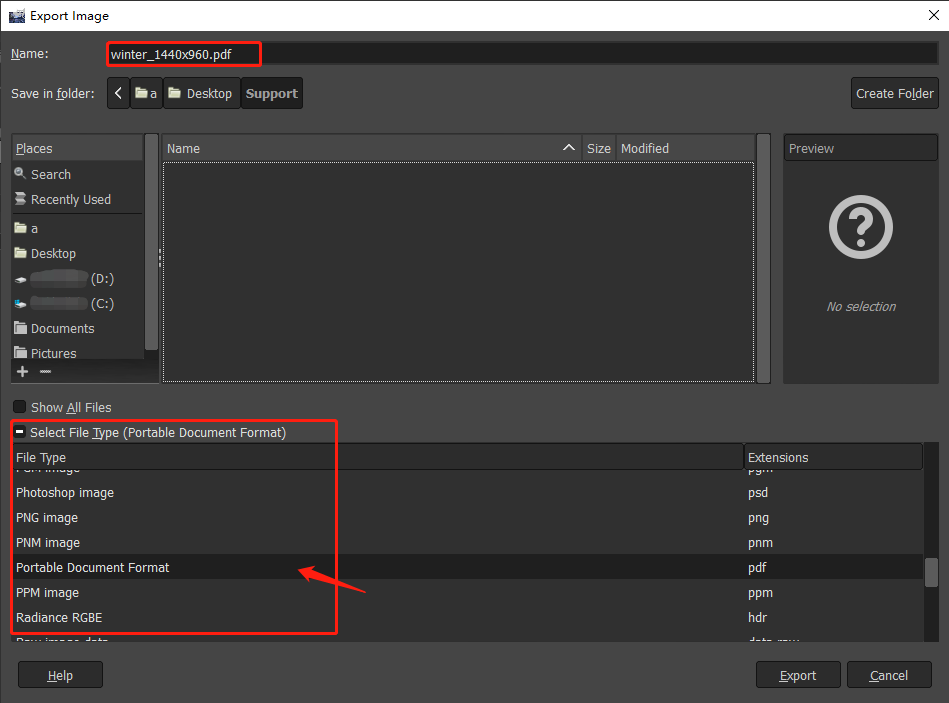 GIMP is a reliable image converter, which can import and export images such as BMP, JPEG, GIF, TIFF, HEIC, Autodesk file animations, Corel PaintShop Pro images, and PS documents. More to the point, GIMP can perform HEIC to PDF conversion with high quality.
Best Free Image to PDF Converter on Windows
If you are seeking an all-in-one dedicated image to PDF converter on Windows, SwifDoo PDF is one you cannot ignore.
This desktop converter can convert your PDFs into TIFF, JPG, BMP, PNG, and vice versa. SwifDoo PDF enables users can either save each image in a separate PDF or selected images in a PDF file. That is to say, users can easily combine two image files into one PDF document.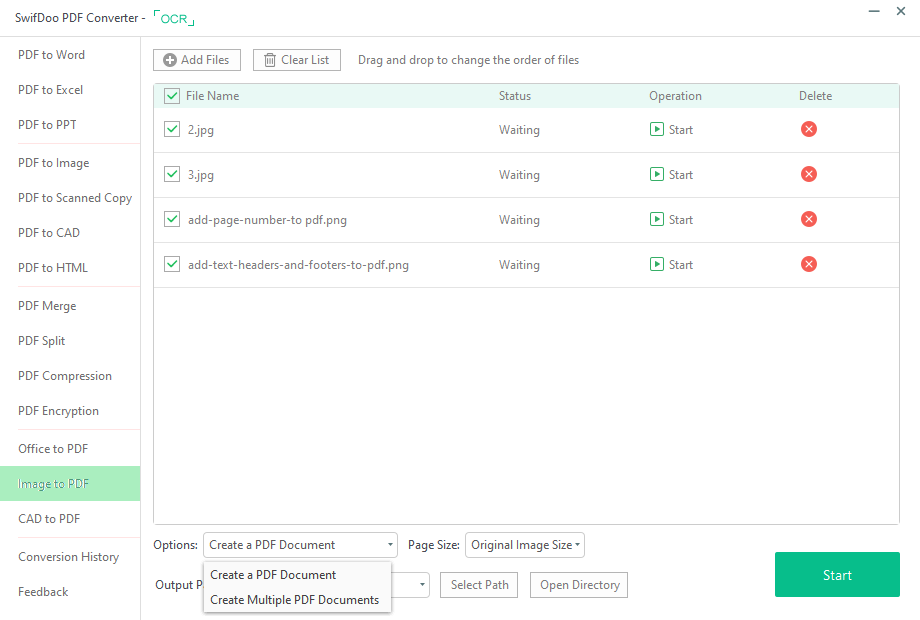 In addition to these features, SwifDoo PDF is a powerful PDF editor and annotator. If your daily work involves frequent use of PDF documents, this feature-rich PDF program won't let you down. Go download the software and enjoy the free trial.
Final Thoughts
Maybe non-Apple users may find difficulty opening and editing HEIC files, we hope the provided solutions above can address your problem and convert your HEIC files to PDFs in no time.