Backing up WhatsApp chats can be useful and important for a variety of reasons. If you're inactive, especially, your messages on WhatsApp can only be stored on its server for around 30 days, and chats will be automatically deleted after this period. However, if you know how to export WhatsApp chat to PDF, you don't need to worry about data loss anymore.
By exporting WhatsApp chat to PDF, you can read your chat history anytime, anywhere, even if there's no Internet available. And PDF files are naturally uneditable, so you don't need to worry about your messages getting changed by accident. But do you know how to send WhatsApp chats as PDF files? If the answer is negative, you've really come to the right place!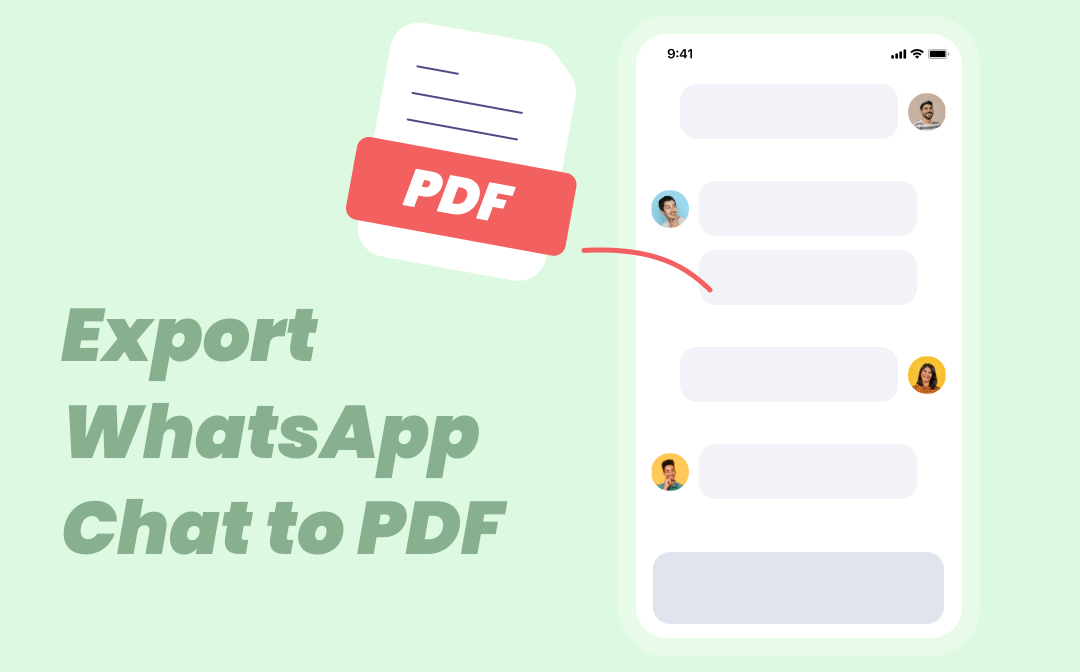 Before Exporting WhatsApp Chats
It's easy to export WhatsApp chats to PDF on all devices since this application has a built-in export feature that enables you to transfer your WhatsApp chats to TXT files. However, before starting using WhatsApp Chats, there are a few things you should keep in mind:
German users need to update WhatsApp to activate the export chat feature.
All individual and group chats can be exported to PDF files, but you can only handle each thread individually.
Once media in chats are selected, most media files will be exported as attachments.
If you choose to export with media, you can send 10,000 latest messages at most. However, if you leave media files unselected, the number would be 40,000.
How to Export WhatsApp Chat to PDF on iPhone
Exporting WhatsApp chats to PDF on the iPhone requires no third-party applications. You'll finish this with the help of email and Microsoft Word. Let's find out how:
Step 1. Open one chat thread and tap your friend's name or portfolio;
Step 2. Click Export Chat and select Attach or Without Media. Then select Mail;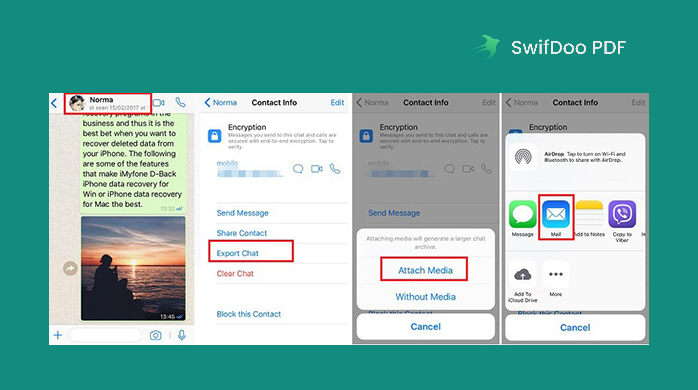 Step 3. Input your email address and click on the Send button. And you'll receive a text file with WhatsApp chat history contained in your email inbox;
Step 4. Copy and paste all text contents into a Word document. Then save this Word document as a PDF file.
Now, you'll get a PDF file copy of the selected WhatsApp chat. In other words, you've managed to export WhatsApp chats to PDF on your iPhone without much hassle. You can encrypt this PDF file and save it to a local folder to protect and store it for a long time.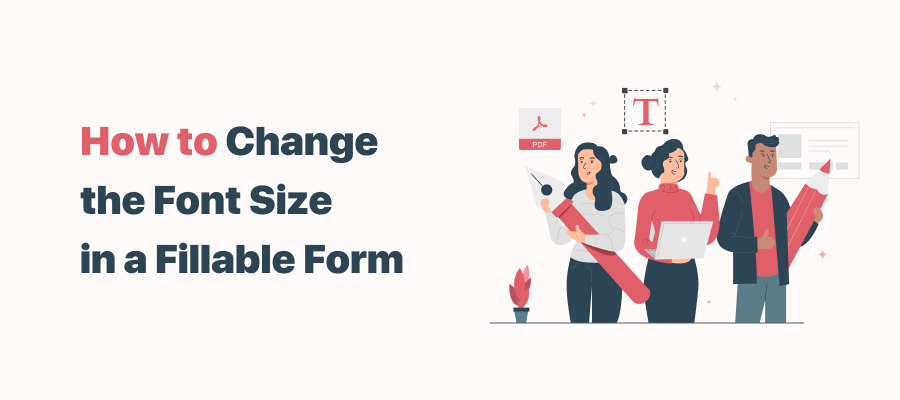 5 Approaches to Change the Font Size within a PDF Form Field
If you want to figure out how to edit or change the font size in a fillable PDF form to make the PDF look more consistent, this post can help.
READ MORE >
How to Export WhatsApp Chat to PDF on Android
The steps are nearly the same on the iPhone and Android. To export WhatsApp chat to PDF on Android, check the guide below:
Step 1. Open WhatsApp on your phone and find the conversation you want to transfer to a PDF file;
Step 2. Click the three-dots icon in the top right corner and tap on More;
Step 3. Select Export Chat and select a location where you want to store your chat history;
Step 4. You'll get a TXT file at your destination. You can copy and paste all the content to Word and save it as a PDF file, as we've mentioned before. Or, you can use a PDF converter to turn this TXT file directly into a PDF.
Also Read: Free Ways to Do PDF Word Count >>
Export WhatsApp Chat to PDF with a Dedicated Tool
These two methods mentioned above can only help you transfer WhatsApp chat to a TXT file, and you need to convert the TXT to a PDF file manually. Therefore, we've prepared you with an easier solution: using WooTechy WhatsMover, a professional and simple WhatsApp message export tool.
WooTechy WhatsMover allows you to output WhatsApp chats to PDF, HTML, CSV, and XLS file formats. And you can read these chats as a log file without any limitations. Most importantly, WooTechy WhatsMover enables you to export chats with over 40,000 messages to PDF all at once. It's very helpful if you have a lot of chat threads that need to be backed up.
Simple Steps to Export WhatsApp Messages to PDF with WooTechy WhatsMover:
Download this app and connect your phone
After downloading and installing WooTechy WhatsMover, select Back Up WhatsApp on Devices from the left pane. Then connect your phone to your computer via USB and click on the Back Up button.
Back up WhatsApp chats
WooTechy WhatsMover will start to back up your WhatsApp data automatically. Once finished, you can choose a chat and click Export to Computer to output this file from the application.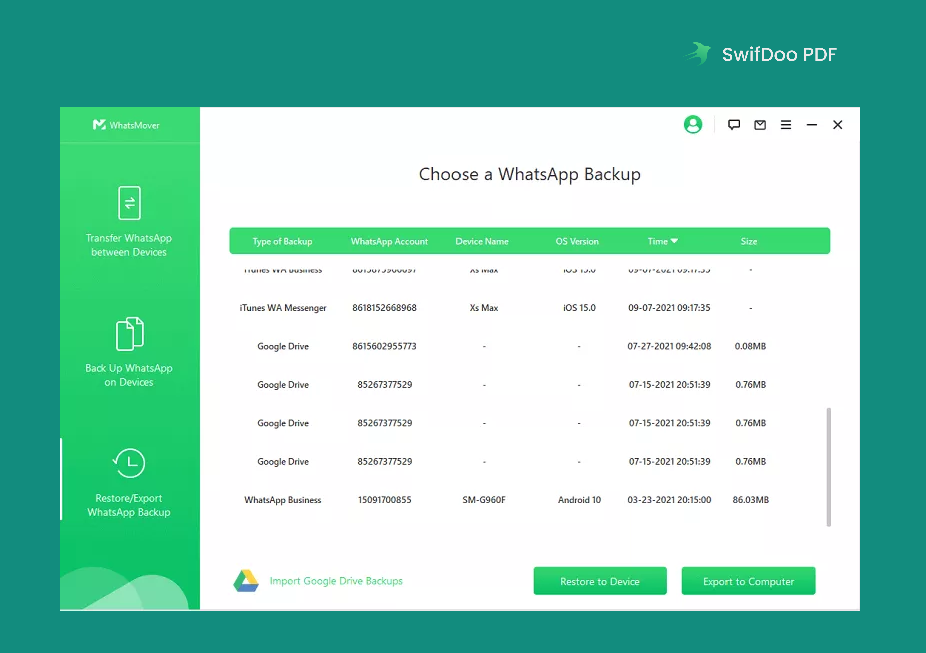 Export WhatsApp chat to PDF
Select a destination and choose PDF from the Save as drop-down menu. Then click Export.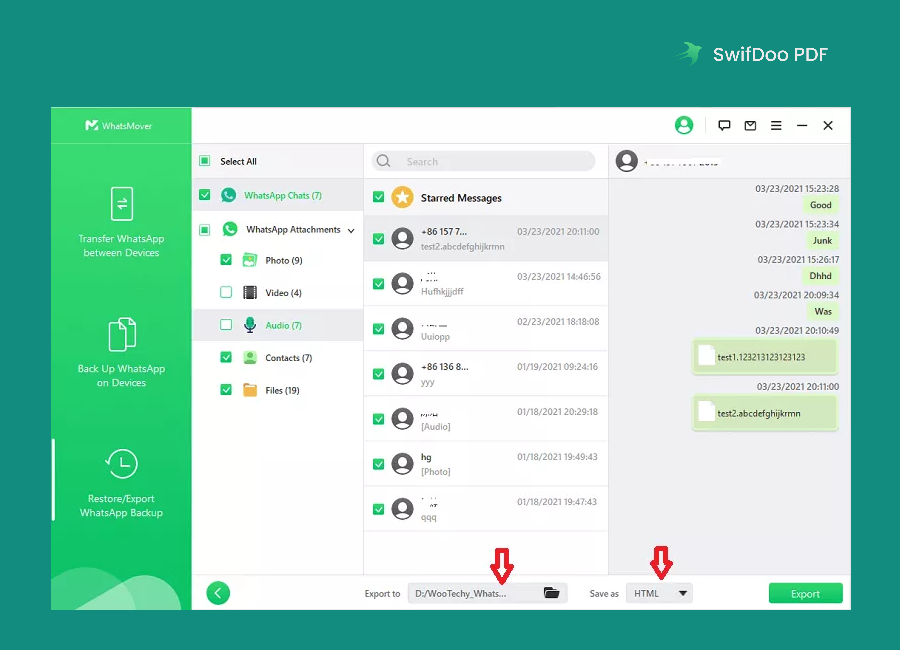 You May Also Like: Free Methods for Adding Hyperlink to Your PDF >>
Bonus Part: A Comprehensive PDF Editor
After exporting WhatsApp chat to PDF, a comprehensive PDF editor can help you edit or annotate your PDF files as necessary. Luckily, there is an all-around PDF solution that can help you address all PDF-related issues without breaking a sweat: SwifDoo PDF.
If you haven't installed any PDF editor on your PC, SwifDoo PDF would be a decent addition to your software library. SwifDoo PDF lets you edit, annotate, convert, and encrypt PDF files, among other things. With this PDF assistant, you'll find that editing a PDF file is as easy as editing a Word document. Download SwifDoo PDF now and become more productive!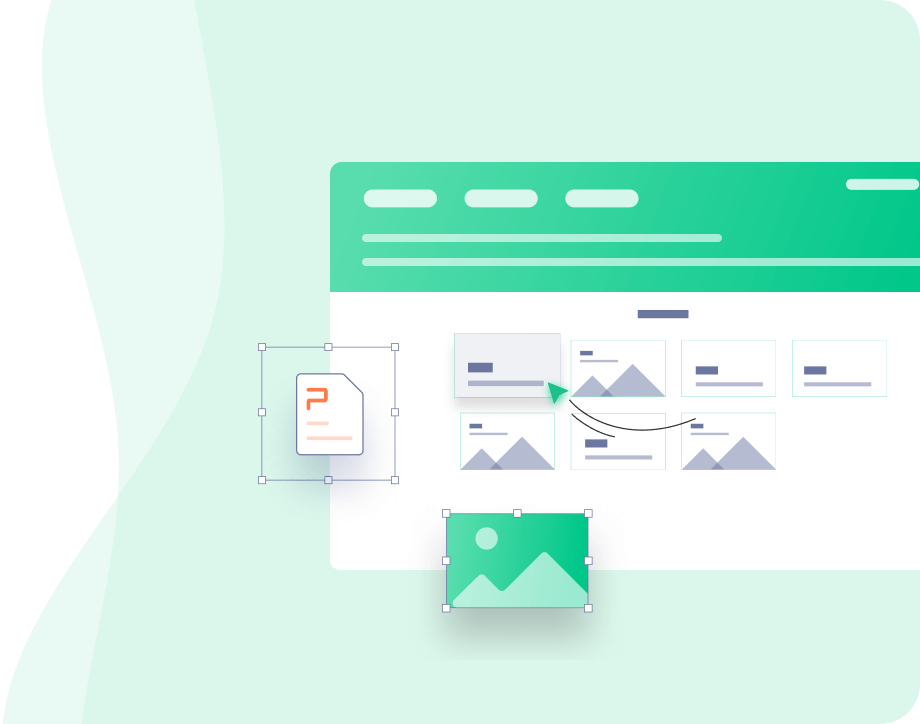 SwifDoo PDF: All-in-One Free PDF Software
Annotate PDFs by adding notes, bookmarks, etc
Convert PDFs to Word, Excel, and other editable files
Edit, compress, organize, and split PDFs
Free Download
Windows 11/10/8.1/7/XP
Conclusion
That's all about how to export WhatsApp chats to PDF. Apparently, it's not as difficult as you may have thought before. WhatsApp provides you with a built-in feature to extract chat history, so you can do this without asking for help in other applications. Of course, dedicated data extractors are also available in this market to offer you more convenience. Feel free to use any method and get a PDF copy of your WhatsApp chat with ease!
Meanwhile, don't forget to download SwifDoo PDF on your PC, in case you need to make annotations to those PDF files. By installing this professional PDF editor on your computer, managing PDFs can be extremely easy!