In today's digital age, electronic signatures have become an essential tool for businesses and individuals alike. These signatures allow you to sign important documents quickly and easily, without the need for pen and paper. But how exactly do you create electronic signature? In this blog post, we'll take a look at the different methods for creating electronic signatures and help you choose the one that's right for you. Whether you're a business owner looking to streamline your workflow or an individual who wants to sign documents from the comfort of your own home, we've got you covered. So let's get started!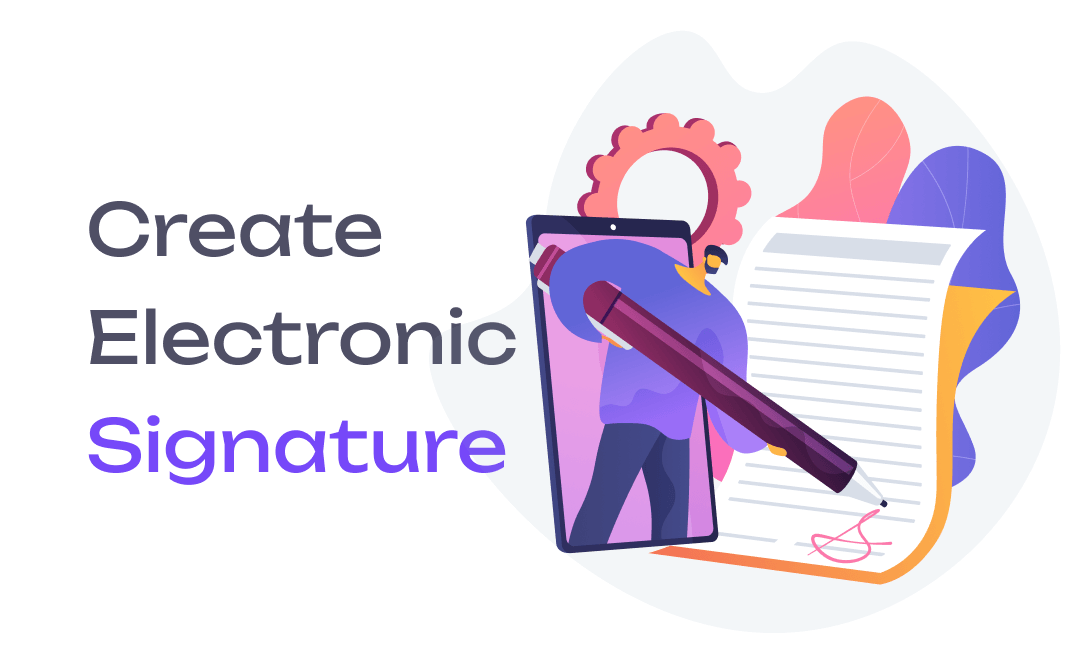 What Is an Electronic Signature?
An electronic signature, also known as an e-signature, is a digital form of a signature that is used to sign electronic documents, transactions, and other forms of online communication. It is a legally binding way to authenticate a document or a transaction, just like a physical signature.
The use of electronic signatures has become increasingly popular in recent years, especially with the rise of remote work and digital transactions. Electronic signatures are recognized as a valid form of signature in many countries and are often used in legal, financial, and other industries where the authenticity and security of documents and transactions are critical. They offer a convenient and secure way to sign documents and conduct business online, and they are likely to become even more common in the future as more businesses and individuals embrace digital technologies.
SwifDoo PDF: Create E-signatures for Free
If you need to create e-signatures for PDFs, look no further than SwifDoo PDF! SwifDoo PDF is an all-in-one PDF editor that enables you to create electronic signatures and insert them into your PDF files effortlessly. Using electronic signatures can protect your PDFs from being stolen or physical damage, improve your efficiency, and enhance security.
Speaking of creating electronic signatures with SwifDoo PDF, you're offered three methods to design and use e-signatures on a PDF, including uploading an image, typing your name directly, and handwriting one with your mouse. Each method has its advantages, and you can select one according to your needs.
Here's how to create electronic signature by using SwifDoo PDF:
Step 1. Free download and install SwifDoo PDF on your PC.
Step 2. Open the PDF you need to create an e-signature within this software and click Protect > Signature.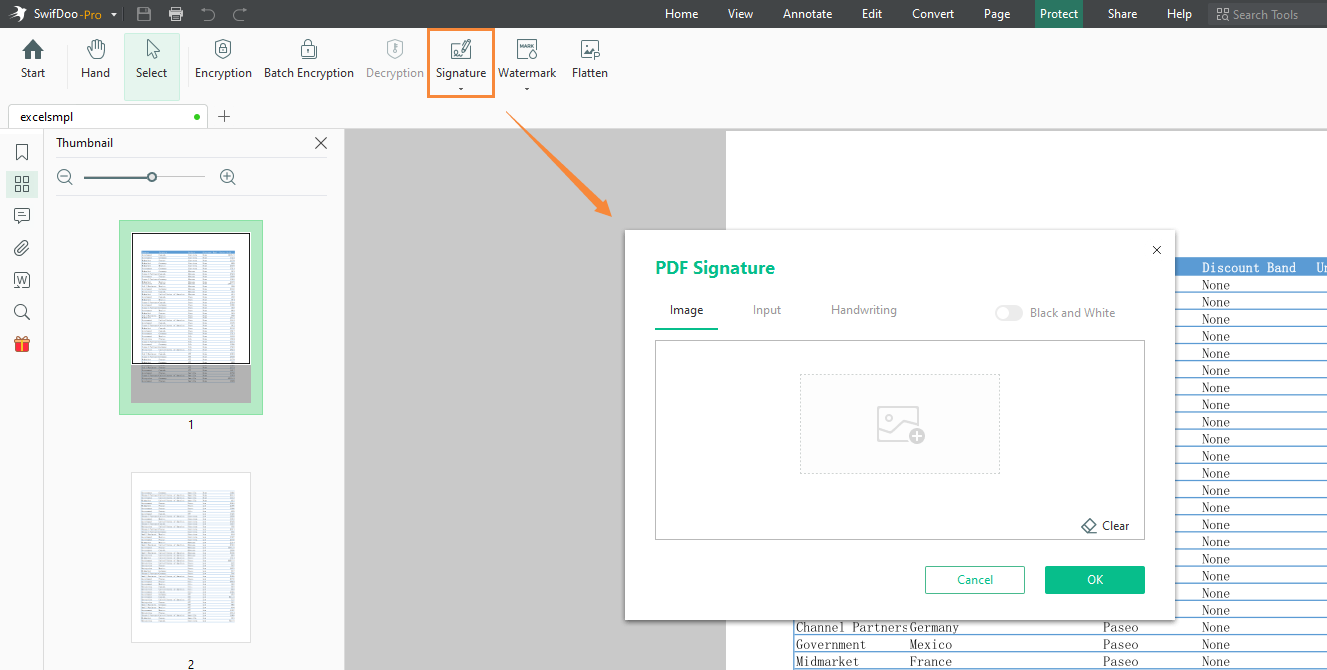 Step 3. Upload an image from your local folder and open the Black and White button.
Step 4. Click OK and drag the electronic signature anywhere in your PDF.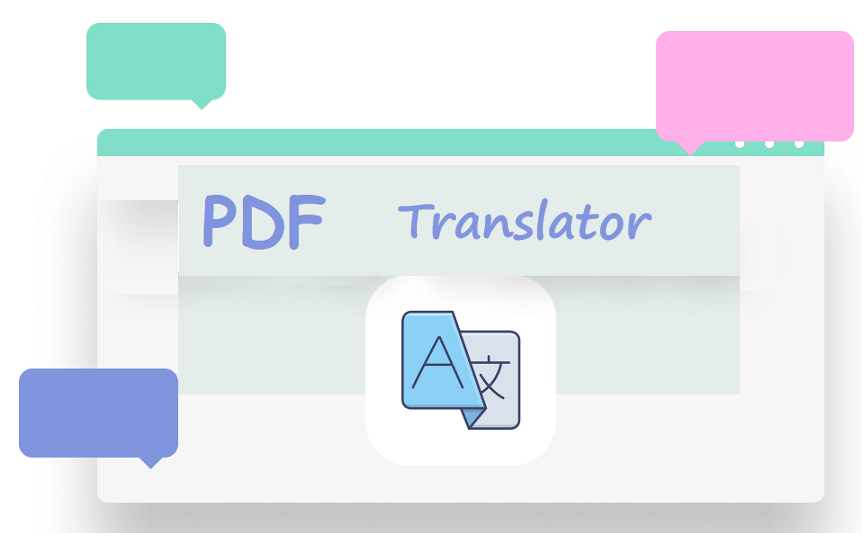 Top 7 Best PDF Translator That You Must Know in 2023
Check this post to find out the 7 best PDF translators in 2023. We've tested and selected them from different aspects to help you translate your PDF documents.
READ MORE >
CreateMySignature: Online E-signature Generator
CreateMySignature is a free online eSignature creator that allows you to draw signatures on any platform and insert them into your documents straightforwardly. With CreateMySignature's aids, you can draw your name with your finger or mouse, as well as type in with the keyboard. After creating your electronic signature with this tool, you're offered two options: sign your files online or download the e-signature for offline use.
Speaking of designing an electronic signature for yourself, drawing by hand can help you get a unique one while typing in a name offers different styles of fonts that you can use directly. Currently, though only six font templates are available in this tool, they can basically meet your requirements on most occasions.
SignWell: Design Electronic Signature Online
SignWell is another popular online electronic signature maker with a clear and simple interface. When entering its website, there are two direct tabs that indirect you to the Draw Signature or the Type Signature page. No dazzling pictures or text contents display on the annoying website. And the process of creating electronic signatures within this tool is quite simple that only takes several seconds.
Likewise, SignWell also supports two ways to generate e-signatures, and when downloading the electronic signature images, you can apply transparent background in one click. Moreover, SignWell can also be a great choice if you need to sign a document online, though you need to log in with an account and pay for an extra quota.
Preview: Make Electronic Signature on Mac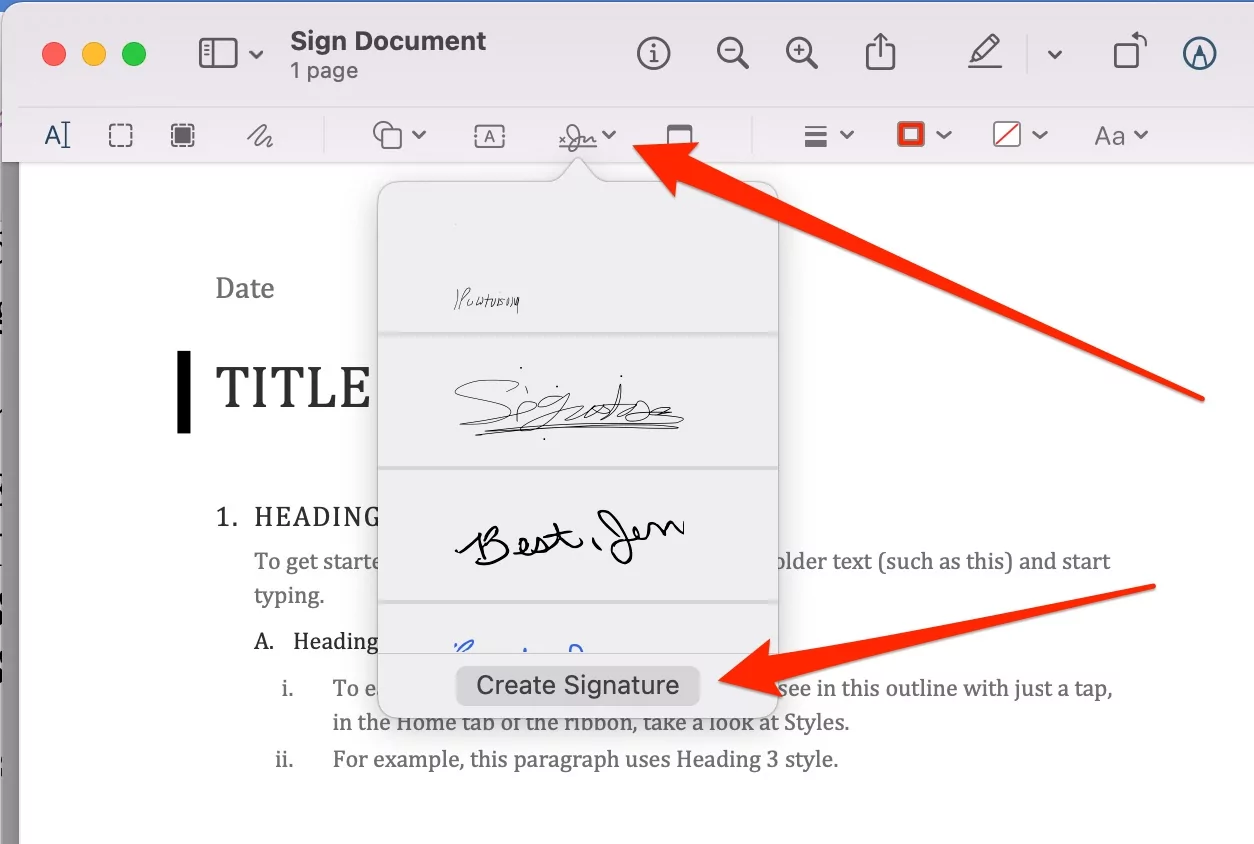 Preview is a Mac-only PDF editor that can help create electronic signatures for free. This PDF tool is preinstalled on all macOS, offering Mac users a free solution to edit PDFs effortlessly. With Preview, you can easily create a digital signature that can be inserted into any PDF document, eliminating the need for printing, signing, and scanning. Additionally, Preview allows you to customize the appearance of their digital signature, making it look just like their handwritten signature.
Another advantage of using Preview as an electronic signature generator is its compatibility with a wide range of file formats. You may insert your signature into any PDF document, but can also use it with other file formats such as JPEG, PNG, and TIFF.
Acrobat Sign: Cross-Platform E-signature Maker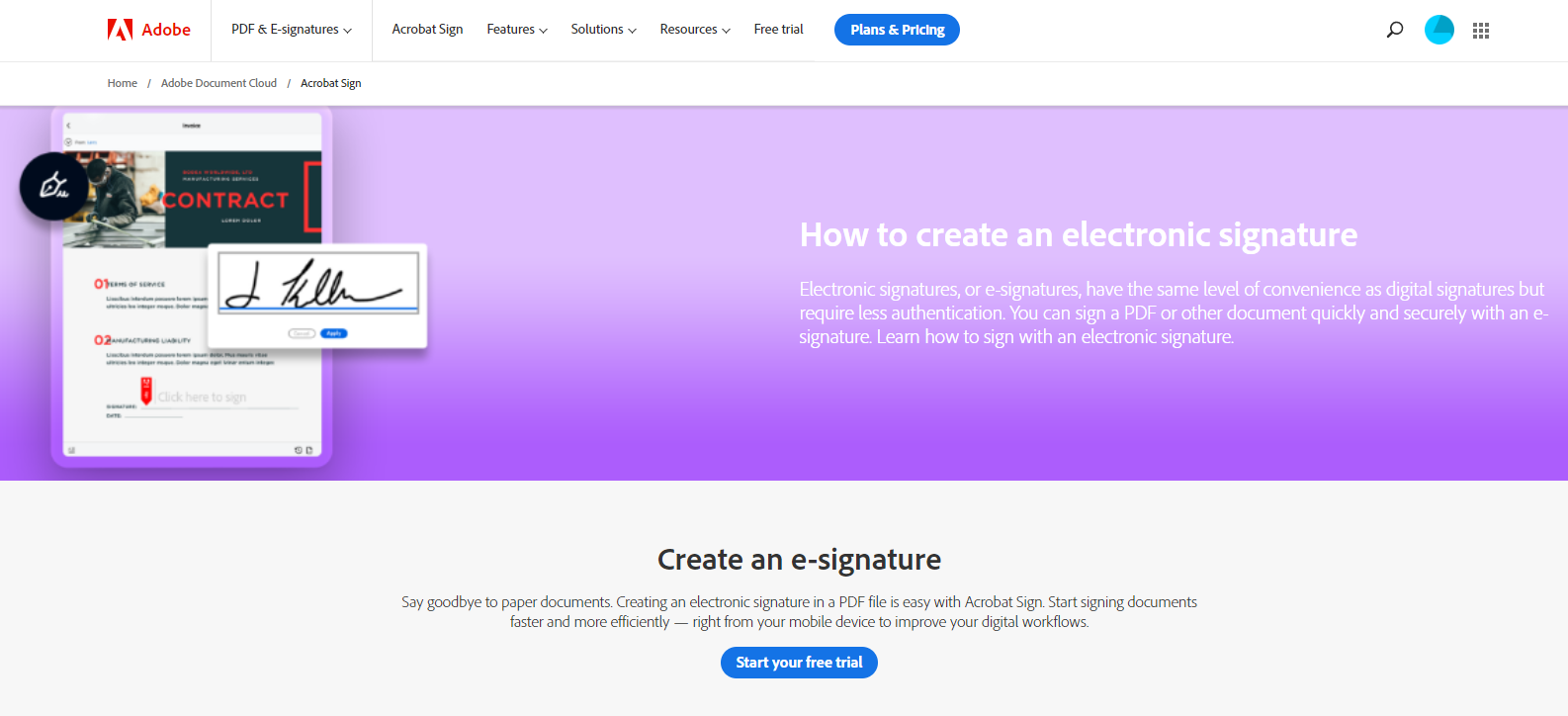 Acrobat Sign is a cloud-based electronic signature service offered by Adobe. It allows you to sign and send documents digitally. And with Acrobat Sign, you can create legally binding signatures that are secure, easy to use, and compatible with a wide range of file formats.
Acrobat Sign provides a variety of signature options, including typed signatures, drawn signatures, and pre-built signature stamps. You can also customize signatures by choosing from a variety of fonts and styles. Once a signature is created, it can be added to any document using the Acrobat Sign web or a mobile app.
One of the benefits of using Acrobat Sign is its integration with other Adobe products, such as Acrobat Reader and Acrobat DC. This allows you to seamlessly create and manage electronic signatures across different Adobe applications.
You May Also Like: Free Methods for Adding Hyperlink to Your PDF >>
Final Thoughts
Electronic signature generators offer a convenient and efficient way to sign documents digitally. From built-in software applications like Preview to cloud-based services like Acrobat Sign, or third-party tools like SwifDoo PDF, there are a variety of tools available to meet different needs and preferences. Whether you're signing a contract, filling out a form, or adding a personal touch to a document, electronic signatures save time and reduce paper waste. Consider trying out some of the options we've covered to see which one works best for you.