Introduction:
PDF can be considered one of the most acceptable and useful file formats in this century, simply because of its integrity and stability. However, there may be situations when we need to convert a PDF to another format, such as
JPG
. As a result, there may be concerns such as
how to convert PDF to JPG on Windows 10
.
If you have no third-party PDF programs to display your PDF, or you need to incorporate a PDF in your online post, it is convenient and SEO-friendly to use a professional PDF to JPG converter to convert a PDF into a high-quality JPG.
PDF to JPG conversion is a must-have feature for most PDF products, so in this post, we recommend several free PDF to JPG converters to change PDF to JPG on Windows 10.
SwifDoo PDF
Everyone who turns to a professional PDF converter wants to greatly improve his/her working efficiency, and SwifDoo PDF is a good choice. As for file conversion, it now supports converting PDF to JPG (JPEG), BMP, TIF, and PNG, with different resolution options available. SwifDoo PDF recently rolled out an online converter to make file conversions much easier. See how to convert PDF to JPG online and on Windows.
Online Version: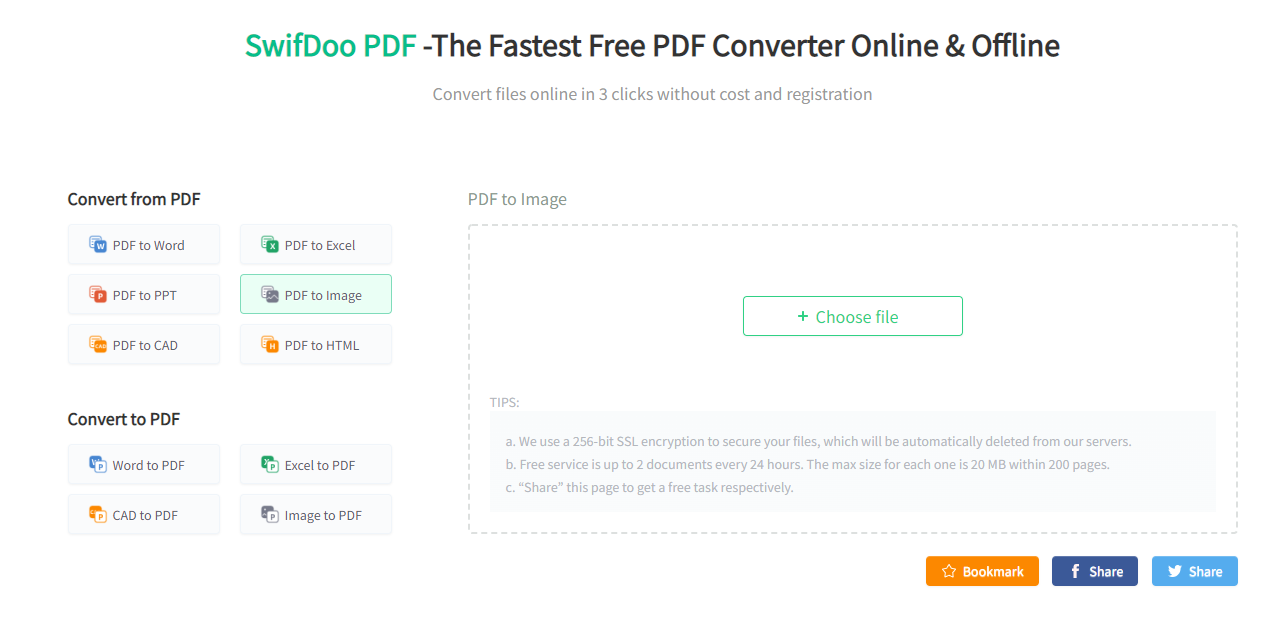 Step 1: Navigate to the SwifDoo PDF Online PDF to JPG Converter, then click on the PDF to Image button;
Step 2: Select Choose file to upload the PDF file;
Step 3: When ready, hit the Download button to save your JPG locally.
Isn't it easy to use? Similar to other web-based PDF to JPG converters, SwifDoo PDF provides every user with two free tasks a day. Sharing this page to other social platforms or bookmarking the online converter can gain an extra one free task.
Windows Version:
SwifDoo PDF has a Windows version which is a competitive PDF product on the market. Thanks to its functionality, Windows users can count on this converter to change PDF to JPG in a few clicks.

Let's see how to open a PDF using MS Paint with a few clicks:
Step 1: Download SwifDoo PDF at the official website and install it on your PC;
Step 2: Open or upload your file from the local folder;
Step 3: Click PDF to Image in the tab Convert;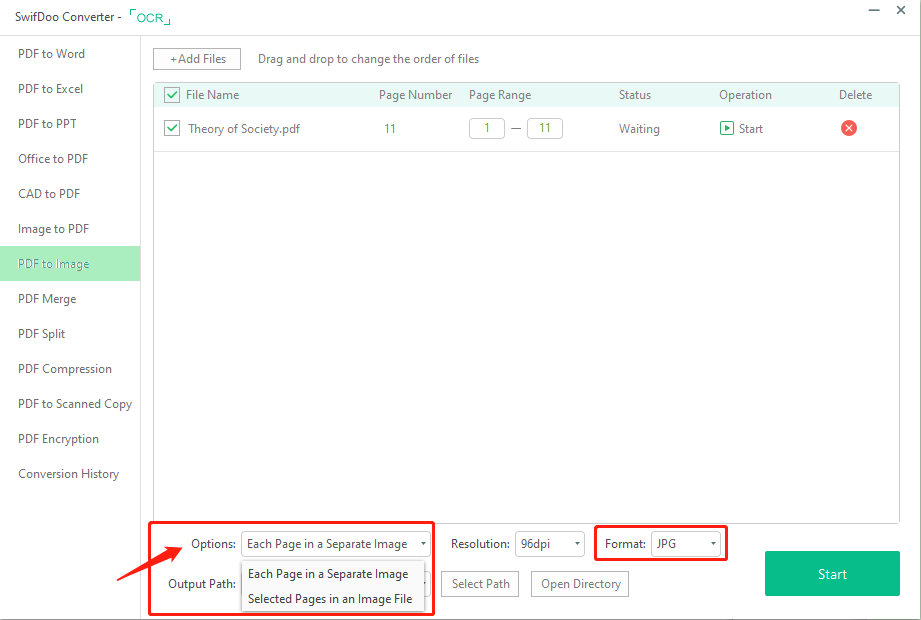 Step 4: Press the Start button;
Step 5: Open the newly created JPG in Paint.
When you need to extract selected pages in a single document, don't forget to tick "Selected Pages in an Image File". If you are required to convert a PDF with too many pages, then the exported JPG file will be presented in a long picture with relatively lower quality (up to 96 dpi). In addition, if you need to open a PDF in Paint, the first thing you need to do is to export this PDF into a format supported by MS Paint.
Pros:
Longer free trial: SwifDoo PDF now provides a 30-day free trial. During this month, you have access to all of the features without any limits;
Intuitive design: This PDF program has changed its outfit and made its new version much more modern. A Word-like interface can narrow the distance between you and a brand-new product. This design style does not require a steep learning curve for users.
Cons:
Limited version: It is only compatible with Windows systems currently, and does not provide online tools, which is not so friendly for users of other operating systems;
Soda PDF
Soda PDF is an all-in-one PDF program that aims to save time and increase efficiency. In terms of file conversion, Soda PDF develops different features to support more file conversions. With Soda PDF, you can easily convert your PDF into JPG, PNG, GIF, BMP, and TIFF. Aside from some common formats, it can save PDFs as PDF/A, TXT, RTF, and HTML.

The steps to save a PDF as a JPG are as follows:
Step 1: Download Soda PDF;
Step 2: Install and launch the program;
Step 3: Upload the PDF document and click Convert;
Step 4: Choose PDF to Image in the tab Export.
If you only need to convert a small portion of the original PDF, you need to click "Pages to Export" to specify which pages need to be converted. Unlike SwifDoo PDF, you cannot choose the image quality within Soda PDF.
Pros
Ease of use: without any formal training or complicated tutorials, users can easily navigate to what they want Soda PDF to do;
Intuitive design: different from SwifDoo PDF, Soda PDF does not maintain the MS Word design style. They have its thought which makes its interface unique from other competitors.
Cons
Poor update experience: Soda PDF crashes and fails every time you update the software.
Incompatible fonts when editing: when a user edits a PDF, the font is not always compatible with the original text, which makes the newly added changes noted.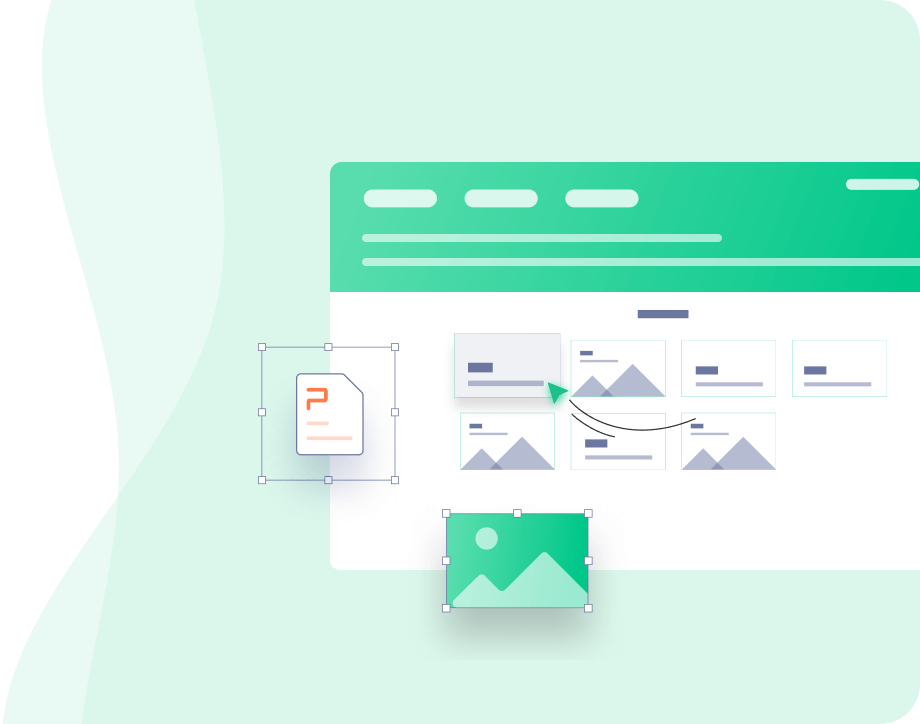 Solutions: How to Convert PDF to JPG on Windows [Online & Offline]
A useful PDF to JPG converter online and on Windows;
Ability to conduct different file conversion tasks;
15-day free trial.
Free Download
Windows 11/10/8.1/7/XP
PDFCandy
PDF Candy Desktop is a versatile PDF to JPG converter that enables you to easily work with different conversion tasks. Created by the Icecream Apps team, PDF Candy has reliable technology to provide high-quality service. This platform has both web versions and desktop versions, which incorporate more than 30 features. Regarding image conversion, it can also help export a PDF to JPG, BMP, PNG, and TIFF.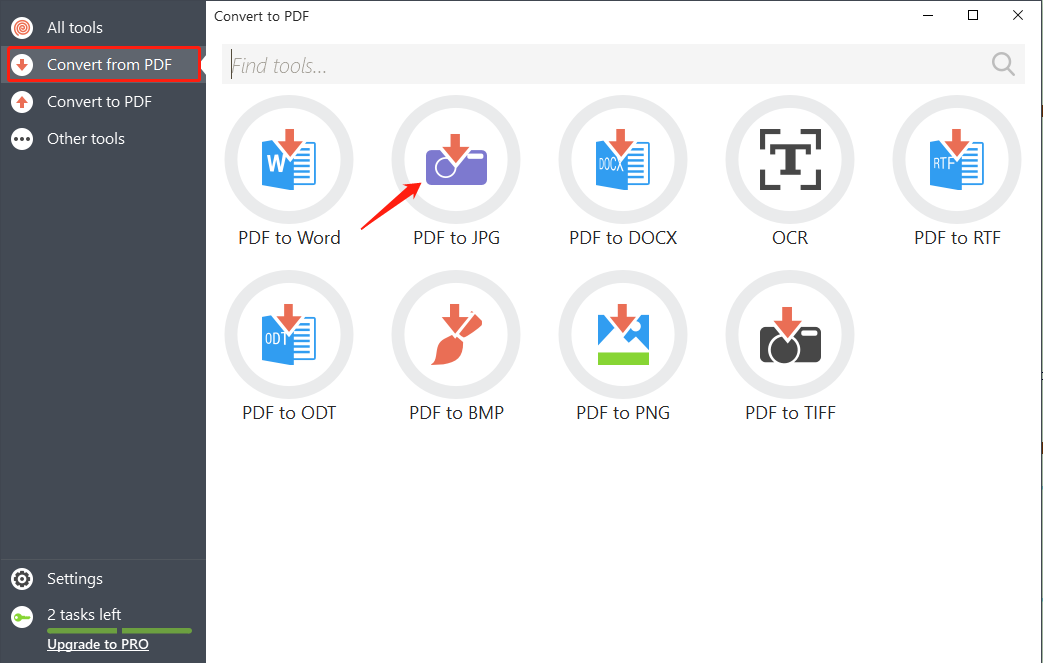 PDFCandy has a simple process when performing PDF to JPG conversion as well:
Step 1: Download PDFCandy from the link;
Step 2: Install it on your device and open the program;
Step 3: Click PDF to JPG in the tab Convert from PDF;
Step 4: Upload the PDF and wait for the conversion.
Pros
Multiple Features: PDFCandy integrates more than 40 features in its web version, from converting, and editing, to protection.
Multi-platform: it is available both online and offline. Users can even install the PDF Candy Chrome extension, which simplifies everything you do with PDF.
No internet connection: users don't need to have an internet connection when using the desktop version.
Cons
Limited access: a non-paid user can only process two free tasks per day. The file size and page number cannot exceed a certain limit.
iLovePDF
iLovePDF.com is a free online service provider which integrates more than 20 features for users. To simplify how people process simple PDF tasks, this online converter enables you to export your PDF into PDF/A, Microsoft Office formats (Word, PowerPoint, and Excel), and JPG. If you wonder how to convert PDF to JPG for free on any device, this web-based PDF to JPG converter addresses your need.

Within several steps, iLovePDF makes it easy to save a PDF into a JPG file:
Step 1: Open the official website on any browser;
Step 2: Find the PDF to JPG button and click it;
Step 3: Upload your PDF from Google Drive, Dropbox, or local folders;
Step 4: Select Page to JPG and then choose Convert to JPG.
Pros
Features: multiple features can meet different users' needs and better fix their problems;
Batch-process: iLovePDF lets you convert a bunch of documents simultaneously;
Multi-language service: this online PDF program supports 25 languages;
Multi-platform: iLovePDF.com provides multiple choices to reach a wider range of users: Windows 64bit (32bit and MacOS in development) and mobile apps (Android and iOS).
Cons
Limited access: free users can only access all features or process two tasks per day, and the file you upload to it should be kept within a certain limit;
Internet connection: it is an online version that only works with an internet connection.
FreePDFConvert
As its name suggests, FreePDFConvert is a free PDF to JPG converter dedicated to exporting different documents into PDFs and vice versa. This online platform provides multiple conversion choices for users: Microsoft Office file formats, JPG, OpenOffice, eBooks, and iWorks to PDFs. Apart from these features, it can also help you combine, separate, and password-protect your PDF documents. See how to convert PDF to JPG online for free:

Converting a PDF to a high-resolution JPG file is not difficult:
Step 1: Visit its official web on any browser;
Step 2: Upload the PDF file from Drive, Dropbox, or URL;
Step 3: Select a suitable output image resolution (web 72 dpi, screen 150 dpi, and print 300 dpi), and then click Apply Change to finalize the conversion process.
Pros
Powerful conversion: this online converter has 12 conversion tools to assist users in converting PDF to JPG and other formats.
Cons
Limited access: a non-paid or unregistered user can only process 1 document per hour;
Limited features: As we said before, this online platform is a qualified PDF converter, however, it is far from being a comprehensive and versatile PDF program as users cannot edit or annotate the documents.
EasePDF
EasePDF aims to simplify every PDF task and allows you to process PDFs with ease. Now they have more than 30 features from Convert PDF, Edit PDF, Organize PDF, to Protect PDF. To change your PDF to a JPG image, EasePDF can convert PDF to JPG, PNG, BMP, and GIF for free. Additionally, this program can help you export your PDF to RTF and HTML.

Have a closer look at how to change a PDF to a JPG online:
Step 1: Visit the official website, and upload multiple documents from OneDrive, Google Drive, Dropbox, or URL to the panel;
Step 2: Click Convert to start the process, and then download the zip package to cloud storage platforms.
Pros
Access: An unregistered user can access all PDF features, including converting PDF to JPG;
Batch convert: users can batch convert PDF to JPG at the same time (please note the file limit)
Download method: Though inconvenient, EasePDF adopts to save your exported JPG file in a package to ensure lossless compression.
Cons
File limit: A non-paid user can only deal with 2 free tasks per day; the file you upload to this platform is up to 10 MB and 50 pages.
Conclusion
The above-listed PDF to JPG converters, regardless of being online or offline, can save your PDF as a JPG on Windows 10. Notably, most desktop PDF to JPG converters provide a one-week or two-week free trial. Among them, SwifDoo PDF enables users to change PDF to JPG in high quality and provides a longer free trial, which is worth the shot. Online converters usually provide two or three free tasks. That is to say, once you exceed the limit, all features are unavailable.