The Painted Veil has been published for nearly 100 years. It's one of the most famous novels written by W. Somerset Maugham. This book explores the growth of a woman, from a mean, selfish, shallow person to a responsible one, starting to help others without any bias. By reading this book, you'll reconsider the meaning of life, encouraging yourself to be more mature. Here, we're going to offer you a book review of The Painted Veil. Before you read this book, let's learn more information about it!
contents
About the Author: W. Somerset Maugham
William Somerset Maugham, born in Paris in 1874, was a British short-story writer, playwright, and novelist. After graduating from high school, he studied at the University of Heidelberg in Germany, but he didn't finish his study. From 1892 to 1897, he studied medicine in London and qualified as a physician. But then he started to write and publish novels in 1897. During WW1, Maugham went to France and joined the first aid team, later he entered the British Intelligence Department to collect enemy information, and then, he went to Russia to persuade Russia to withdraw from the war.
In 1916, Maugham started to travel around the world. From 1919-1920, he went to China and visited several countries, including Hong Kong, Shanghai, Beijing, and Shenyang. Based on his experience in China, he wrote a travel book (On a Chinese Screen, (1922)) and a novel (The Painted Veil (1925)). Maugham made his last trip to the Far East area and died in 1965 in Nice, France.
About the Book: The Painted Veil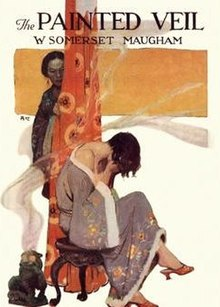 The Painted Veil was first published in 1925, which title alludes to Percy Bysshe Shelley's 1824 sonnet: Lift not the painted veil which those who live/Call Life. Maugham traveled to China from 1919 to 1920, and he wrote The Painted Veil with a Chinese background. The main storyline was carried in Hong Kong and a small Chinese village.
The story starts with Kitty Garstin, a pretty upper-middle-class debutante, who married a man she doesn't love, Walter Fane, a bacteriologist and physician. The newlyweds came to Hong Kong for work needs. However, Kitty fell in love with the assistant colonial secretary, Charlie Townsend, and they began an affair for over two years.
Walter eventually confronts Kitty about the affair and offers her two options: persuade Charlie to divorce and marry her or go to a village on the mainland beset by an outbreak of cholera. Of course, Charlie refused to leave his wife because his wife is the one who can give him wealth and power.
With feelings of suspicion and pain, Kitty went to the village eventually. However, she started to grow up in all aspects and explore a more meaningful life. Being influenced by Walter and some French nuns, Kitty also began to care for the older children at the convent. Unfortunately, Walter fell ill in the epidemic and died soon. Then, Kitty returned to British and settled in the Caribbean with her father and child.
Read/Annotate The Painted Veil PDF eBook
To read The Painted Veil, traditionally, go to a bookshop and buy a physical book, or you can go to a library and borrow it for free. However, these two methods may be time-consuming and troublesome. In addition, reading a physical book requires carrying it wherever you go.
Fortunately, there's a more effortless way to read The Painted Veil: reading The Painted Veil PDF eBook. Reading eBooks becomes a popular trend since it eliminates the trouble of carrying a paper book. You can read all the books you want to read on an eBook reader. Even more, with the popularity of the PDF file format, you can easily read PDF eBooks on any device without losing the original formatting. And, since PDF files are often smaller than other documents when they contain the same data, you don't need to worry that reading PDF eBooks may cause any pressure on your devices.
To read The Painted Veil PDF eBook, follow the command below: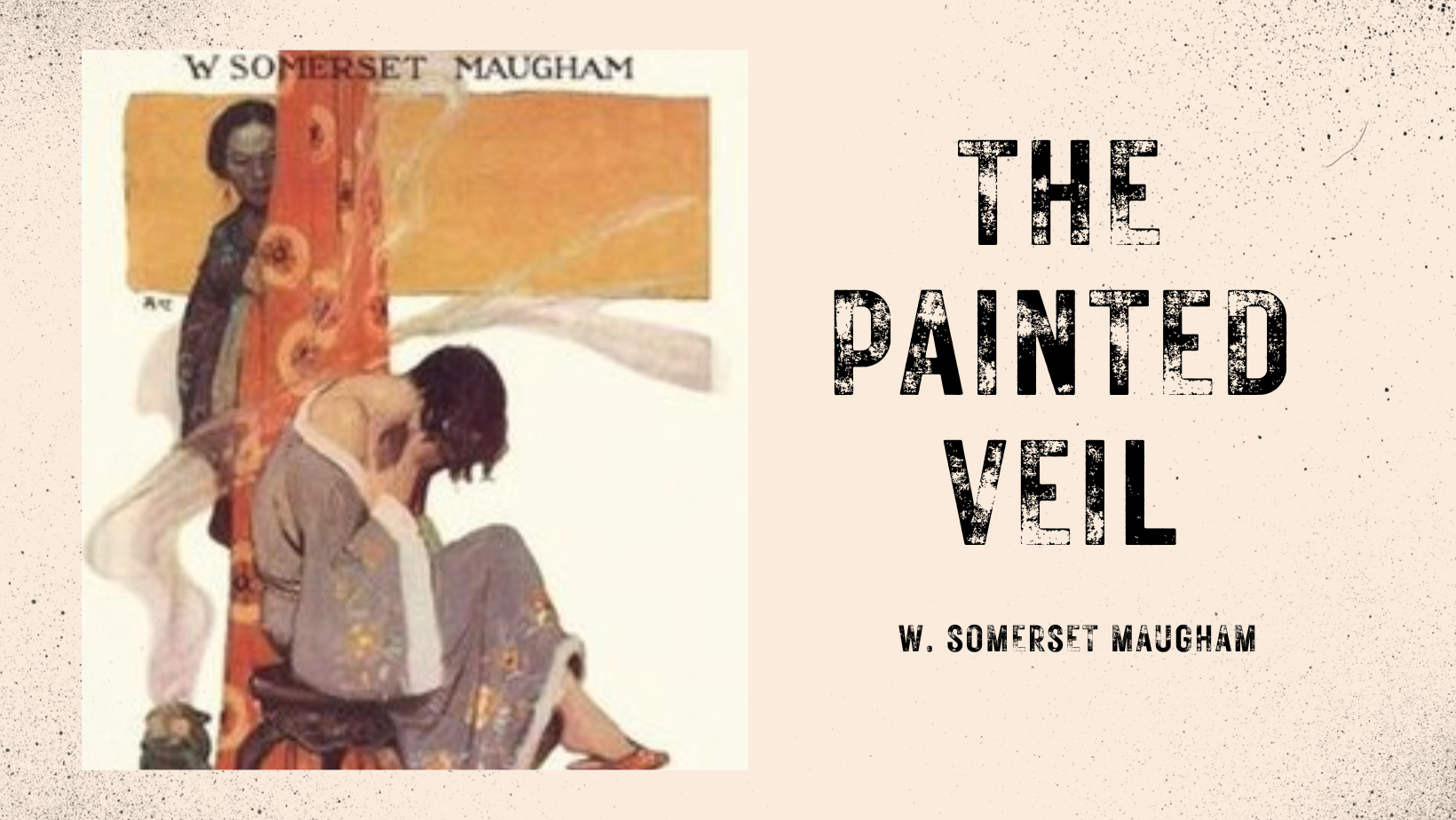 If you have ever purchased or downloaded The Painted Veil from online ebook stores or any other sources, and are looking for a tool to convert the ebook formats in order to read on a selected device, you must download SwifDoo PDF to have a try.
It offers the most powerful functions for decrypting and converting any ebooks to PDF and ePub.
Or you can continue reading The Painted Veil online.
If, in any case, you need to annotate a PDF book, such as inserting bookmarks or adding notes, a specialized PDF editor is required.
Here's a popular PDF editor named SwifDoo PDF waiting for being introduced to you. With the help of SwifDoo PDF, no matter whether you want to read PDF/EPUB eBooks or annotate them, you can easily get a tool in this PDF editor. For instance, you can utilize any reading mode for a better experience, word count PDF file and easily get basic information about this eBook, split screen and compare PDFs, tap to translate any language to your familiar one, etc., all becomes effortless.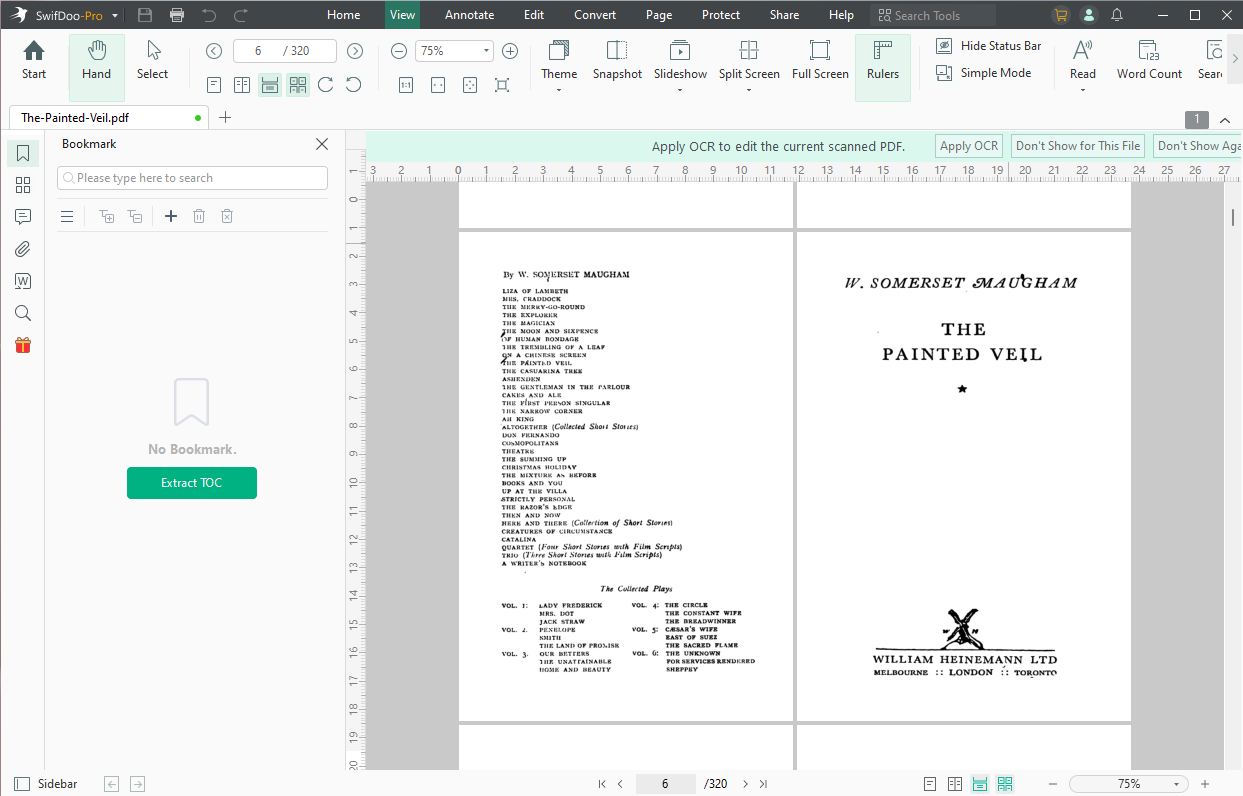 Download SwifDoo PDF and read/annotate your PDF/EPUB eBook without breaking a sweat!
The Painted Veil Summary
Kitty Garstin is the focal character of this novel, and it's a story of the discovery of her true self. After reading this book, you can see how Kitty changed after she went to a village ravaged by cholera. At the very beginning, Kitty was a shallow, selfish, vain, mean, ignorant woman without any redeeming qualities. However, she eventually gained good qualities, with a sense of responsibility, being more tranquil, and started to help others.
The Painted Veil shows a woman who is engulfed by the times, from being simply beautiful and stupid to learning to refuse temptation, discovering herself without attaching to anyone, and then, unveiling the veil of life.