"That's how hearts get broken, you know. When you believe in promises."
Well, whether you know this or not, Kathleen made it evident in her raw, unnerving, and breathtaking debut novel, Girl in Pieces, and it is one of the renowned quotes from this book.
As adults, we tend to trigger easily. More so, with the use of social media and digital engagement, we are moving farther from our roots and relationships, losing the warmth which once existed before technology took over.
The pressure of social media is such, especially in teens, that self-harm and mental illness have become common, and every other person falls prey to it. But of course, it takes great courage to discuss such issues and seek help rather than doing any harm to your body.
Anyway, regardless of the issue, Kathleen Glasgow talks about self-harm and the recovery journey through her Girl in Pieces book.
So join us in a thoughtful read about the Girl in Pieces summary, review, and PDF, and know what the message of this beautiful book is. Let's get started.
Girl in Pieces: Book Info
Book Name: Girl in Pieces
Originally Published: 30th August 2016
Author: Kathleen Glasgow
Original Language: English
Genres: Young Adult Fiction, Romance, Mental Health and Illness, Contemporary Fiction, Realistic Fiction, Coming of Age
Girl in Pieces: The Author
Kathleen Glasgow is an American author born in 1969 who has written many renowned books. She is, in fact, the New York Times best-selling author of Girl in Pieces (2016), The Agathas (2021), You'd be Home Now (2021), How to Make Friends with the Dark (2019), and other books. Currently, she lives and writes in Tucson, Arizona.
Kathleen has been passionate about becoming a writer since childhood and finally debuted with a Young Adult Contemporary novel, Girl in Pieces, in 2016. Since then, Kathleen has never looked back and is growing stronger, authoring 14 books in total, with the latest, The Night in Question, released in 2023 and co-authored by Liz Lawson.
Girl in Pieces: The Summary
In a nutshell, Girl in Pieces is about the protagonist, Charlotte (or Charlie) Davis, who's broken and lost at seventeen than most people in their entire lifetime. Here is a book summary. If you refuse any spoilers, skip this part.
Charlie has lost her dad to suicide, been physically abused by her mother, her best friend suffered brain damage from a failed suicide attempt, been threatened with rape many times, and ended up homeless for a year.
She is exposed to drugs and alcohol and has also witnessed sexual abuse. The Girl in Pieces book tells that Charlie finally reaches a point in her life where she attempts to end her life but fortunately ends up in a hospital (treatment center) where she sees other self-harmed girls. There she gets the much-needed help as these patients impact Charlie's life as she becomes friends with them, the ones she can count upon.
But soon, due to lack of insurance, she is discharged, and from there, she decides to take charge of things independently, including her life, and sets out on the road to recovery. Charlie succeeds in finding true friends that help her emotionally and letting go of the people who once hurt her. The entire focus of the Girl in Pieces book builds the plot on Charlie and her journey to recovery despite the obstacles and includes all the ups and downs.
Girl in Pieces: The Review
Girl in Pieces is written in first person, and like other novels, you cannot expect a happy ending here. Kathleen's thick writing style and expressing emotions are loud and convincing, yet fall sparse on pages. The plot speaks of tragedies and covers 416 pages of mental illness and recovery struggles to cope with the same. The book delivers a gritty, raw, and real story of self-harm and recovery to charm you in an unusual way.
Girl in Pieces discusses a raw and unflinching plot that can be triggering as it includes the theme of self-harm, suicide, physical abuse and violence, drug abuse, alcoholism, homelessness, and other crucial topics.
Charlie is a likable character that gives you the vibe of a girl next door. The character is portrayed so relatable and familiar that it makes you realize that anyone around you could be in place of Charlie fighting their inner demons.
Girl in Pieces PDF
Charlie's life at the young age of seventeen is not easy. But she has learned how to forget it. The book is for every soul that's suicidal and prey to depression, anxiety, mental health, addiction, self-harm, drug addiction, alcoholism, therapy, recovery, and so on. Girl in Pieces is a profoundly moving portrait of pain and survival.
So if you haven't got an opportunity to read the novel yet, download the Girl in Pieces PDF today to access or read it online while hopscotching to different places and during your commute. You can read or get the PDF online from sites like Internet Archive.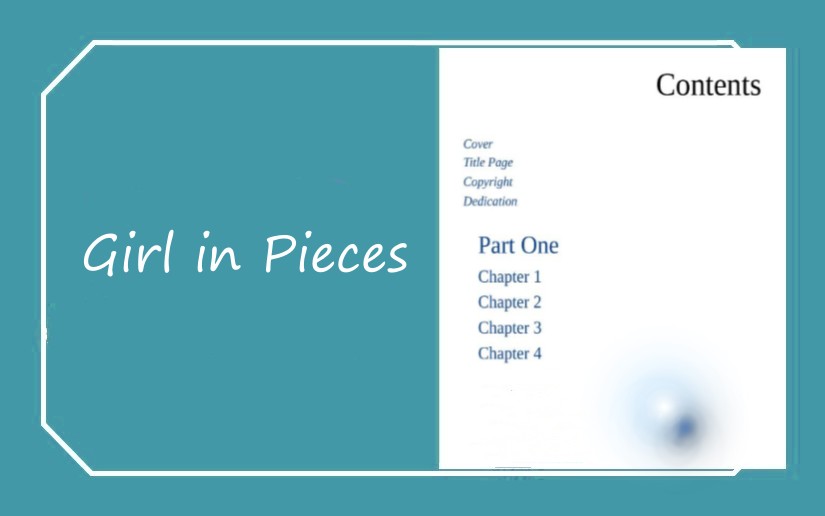 Girl in Pieces
If you have ever purchased or downloaded Girl in Pieces from online ebook stores or any other sources, and are looking for a tool to convert the ebook formats in order to read on a selected device, you must download SwifDoo PDF to have a try.
It offers the most powerful functions for decrypting and converting any ebooks to PDF and ePub.
Or you can continue reading Girl in Pieces online.
Read Online
A PDF file gives you the ease and comfort of stepping in the protagonist's shoes as and when desired. You need not carry a physical copy everywhere you go. Instead, just open your device, and there it is at a click to welcome you into its world with open arms. With a PDF reader, SwifDoo PDF, you are able to view, bookmark, and annotate the PDF book as you like.
When you want to listen to the Girl in Pieces PDF, have the PDF reader read the PDF aloud. So you have time to do other work.
What is the Point of Girl in Pieces?
Mental illness is a common issue today, especially among teens and young adults. In the process, self-harm comes naturally to broken and affection-deprived soles. In our lives, we encounter people like Charlie daily in the form of a friend, family, or acquaintances.
Girl in Pieces is about Charlie and how she figures out a way to create a new life. The thought-provoking and gritty subject is about the struggle of people who end up in desperate situations. It doesn't glorify addiction, self-harm, homelessness, drugs, smoking, etc., but empathizes with people who struggle with severe issues and the concept of enabling - they are not alone.
The book has a message for everyone who self-harms. At the conclusion of Girl in Pieces, Kathleen explains how self-harm doesn't grab attention but just mars your skin to cope with emotional turmoil. Self-harm does not necessarily mean you are suicidal but acts as a coping mechanism to get out of a dangerous mess nurturing your mind and heart.
Setbacks are normal; they are not failures that define you. You must always be hopeful of someday reaching a point where you no longer feel the need to self-harm. Even if you are recovering from a setback, the process can be long or maybe never-ending, but ups and downs are part and parcel of life.
And for everyone who reads the Girl in Pieces book, there's a famous quote "She's not a cookie or a book, or a record on a shelf. You can't just play with her and then put her back." More Girl in Pieces quotes like "People aren't nice, people aren't nice, you should know that by now."
So treat your girls and, in fact, everyone nicely.
The Final Thoughts
Girl in Pieces narrates a story about how people can be cruel to themselves - it teaches how one should be gentle. The plot explores the piercing desire for its characters to improve and help themselves in every possible way giving the message of persistence of hope even in the darkest of times.
So if you know someone, like anyone, who is going through mental illness or engages in self-harm, the Girl in Pieces PDF is an excellent recommendation that can help you with an idea of what the other person must be going through, what reason behind their acts, and how you can help them. So instead of taking it as a taboo, the Girl in Pieces book tries to remove the stigma associated with mental health.
So grab your copy today! But as a parent, you must be aware of the trigger warnings of self-harm, suicide, drug abuse, and alcoholism before you see your kid reading it.