An Offer from a Gentleman is the third book in the Bridgerton series by Julia Quinn. The Bridgerton series has been adapted for Netflix, available as Bridgerton. It describes the love story of Benedict Bridgerton and Sophie Beckett, retelling the story of Cinderella. Quinn is a romance master who always creates engaging and attractive plots. If you want to read a delightful romance novel, just start with An Offer from a Gentleman.
About the Author: Julia Quinn
Julia Pottinger (pen name: Julia Quinn), born in 1970, is an American author of historical romance novels. She studied at Hotchkiss School and Harvard with a degree in Art History. Without understanding what to do, she entered Yale School of Medicine and wished to be a doctor. However, a few months later, Quinn realized that she preferred writing rather than medical study. So, she left Yale and became a full-time writer.
Quinn has published over 30 books since she started writing, and these books have been translated into 41 different languages and sold all over the world. Her books also have achieved 19 times for The New York Times Bestseller.
Book Review to An Offer from a Gentleman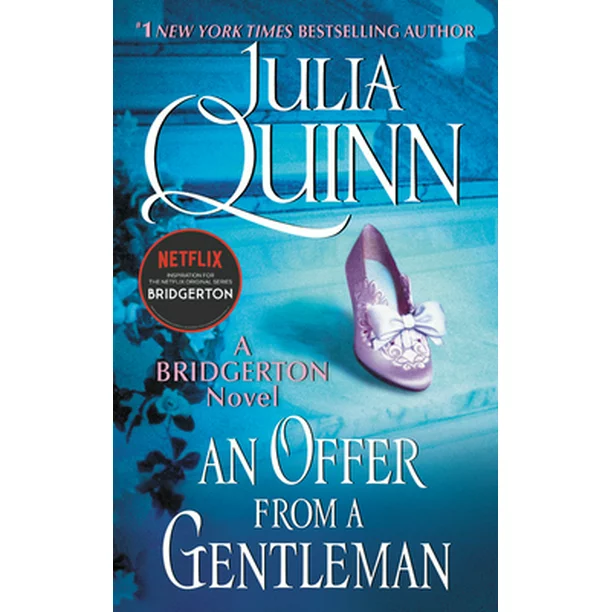 Have you ever read the story of Cinderella when you were young? If the answer is yes, it's easy to follow this book. An Offer from a Gentleman is a romance fiction that retells a Cinderella-like story. This book mainly focuses on Sophie Beckett, the illegitimate daughter of the earl of Penwood who is hated by her stepmother, and Benedict Bridgerton, the second boy in the Bridgerton who is tall, lanky, and impossibly handsome.
Sophie's mother died when she was very young. Her grandma sent Sophie to her father, but Sophie was never officially admitted by this family. When she grew older, the Earl of Penwood married a lady who had two daughters. From this time on, Sophie was treated as a servant and lived a dark life.
In Sophie's teens, she accidentally attended a masquerade ball and met Prince Charming, Benedict Bridgerton, the most eligible bachelor in the town. Romantically, Benedict falls in love with Sophie even though they don't have much communication. After the masquerade ball, Sophie is thrown out of the town by her stepmother, so, Benedict cannot find Sophie even if he has searched every corner in London.
However, three years later, Benedict happened to save Sophie from trouble (near-rape). Sophie recognized Benedict immediately, while Benedict didn't. Nevertheless, this man still falls in love with Sophie again.
Even so, they're still facing difficulties and struggling with their feelings for each other. Sophie's stepmother, their principles, the gap between a member of the nobility and a servant, etc., all prevent them from being together. What's worse, Sophie's stepmother made her life even more tough and miserable.
"Quinn brings a fresh approach to this charming retelling of the Cinderella story, enhancing the tale with a strong Regency setting and the warmth of Benedict Bridgerton's large family. Quinn has a reputation for witty dialogue and endearing characters, and she delivers both in this delightful novel."
--Lois Faye Dyer
Read/Annotate An Offer from a Gentleman PDF eBook
One of the best ways to read An Offer from a Gentleman is to read a PDF eBook. PDF is an ideal format for reading eBooks since it's the most stable format that can be opened on any device and platform.
PDF eBooks are often in small file sizes, taking less space than other formats, and all the formatting and layouts in a PDF file can be conserved well.
To read An Offer from a Gentleman PDF eBook, we highly recommend you use SwifDoo PDF as the go-to PDF reader. It opens PDFs in seconds and provides multiple reading modes for a better reading experience.
In addition, with the help of SwifDoo PDF, you can easily insert bookmarks to any page in a PDF file, which is useful when you need to add comments to eBooks while reading. Moreover, SwifDoo PDF enables you to translate a whole PDF file from any language without a hassle. With its aid, it's effortless to read books written in foreign languages.
You May Also Like: Top 11 Best PDF Translator That You Must Know in 2023 >>
Best An Offer from a Gentleman Quotes
In this part, we'll give you some beautiful quotes from An Offer from a Gentleman. Check them below:
"It suddenly made sense. Only twice in his life had he felt this inexplicable, almost mystical attraction to a woman. He'd thought it remarkable, to have found two, when in his heart he'd always believed there was only one perfect woman out there for him. His heart had been right. There was only one."
"In her heart she longed for this man, dreamed of a life that could never be."
"It has oft been said that physicians make the worst patients, but it is the opinion of This Author that any man makes a terrible patient. One might say it takes patience to be a patient, and heaven knows, the males of our species lack an abundance of patience."
"I can live with you hating me," he said to the closed door. "I just can't live without you."
"He loved her. Suddenly the world was a very simple place. He loved her, and that was all that mattered."
"She saw him, and it was as if, after twenty-five years of life, her heart finally began to beat."
To find out more, simply read An Offer from a Gentleman online or buy a physical book. Start with this book if you've never read romance novels.