Introduction:
Almost all major browsers have no problems uploading and checking WebP images, including Chrome, Edge, and Firefox. However, some browsers don't support viewing WebP images, for example, Safari, the default browser of iOS and macOS devices. In addition, WebP files are hard to edit because no image editor supports this image format. But, if you know how to convert WebP to PNG, things would be much easier.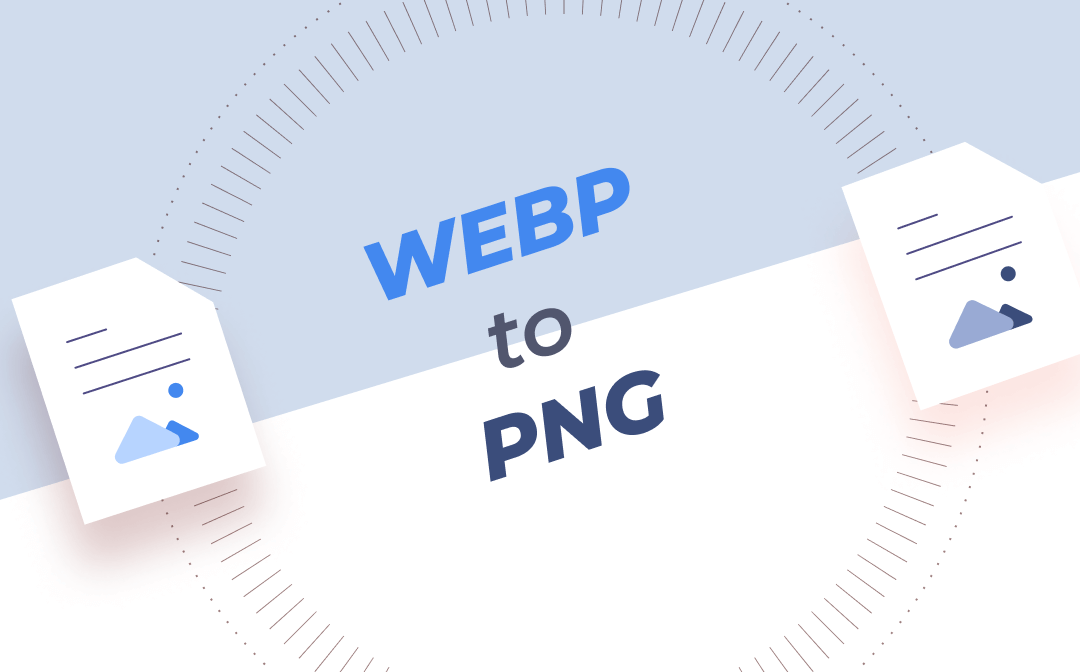 In this post, we have introduced you to some useful WebP to PNG converters. All tools are free and easy to use, and we also explained their main features, so you can choose your favorite one.
What Is a WebP File?
WebP is a browser image format that uses both lossy and lossless compression with a .webp suffix. It was designed by Google itself to replace other image file formats because WebP files are much smaller than them. Like GIF, WebP also supports online animation but requires fewer bytes, making it much more popular. The WebP file format is now more widely used on websites and many mobile apps.
What Is a PNG File?
PNG image files also use lossless compression. It's an open-source format that requires no copyrights. In addition, PNG is a universal file format that works on all devices and browsers, which makes it one of the most popular image formats. The PNG file format is mainly used for logos, line drawings, and icons. It supports transparent effects, which means it will look more naturally no matter what background you use to open a PNG file.
CloudConvert: Convert WebP to PNG in a Breeze
CloudConvert is an online WebP to PNG converter. It supports converting more than 200 file formats, including audio, documents, images, videos, eBooks, archives, spreadsheets, and presentations.
CloudConvert allows unregistered users to convert up to 25 files per day for free, which can meet most needs for daily use. More importantly, it also supports batch conversion, so you can add multiple files to the operating area and convert them to a targeted file format at one time.
Convert WebP to PNG with CloudConvert:
Step 1. Open CloudConvert WebP to PNG page.
Step 2. Select the WebP image from the local folders to open, then click Convert.

Step 3. Click Download to save the converted PNG image to your computer.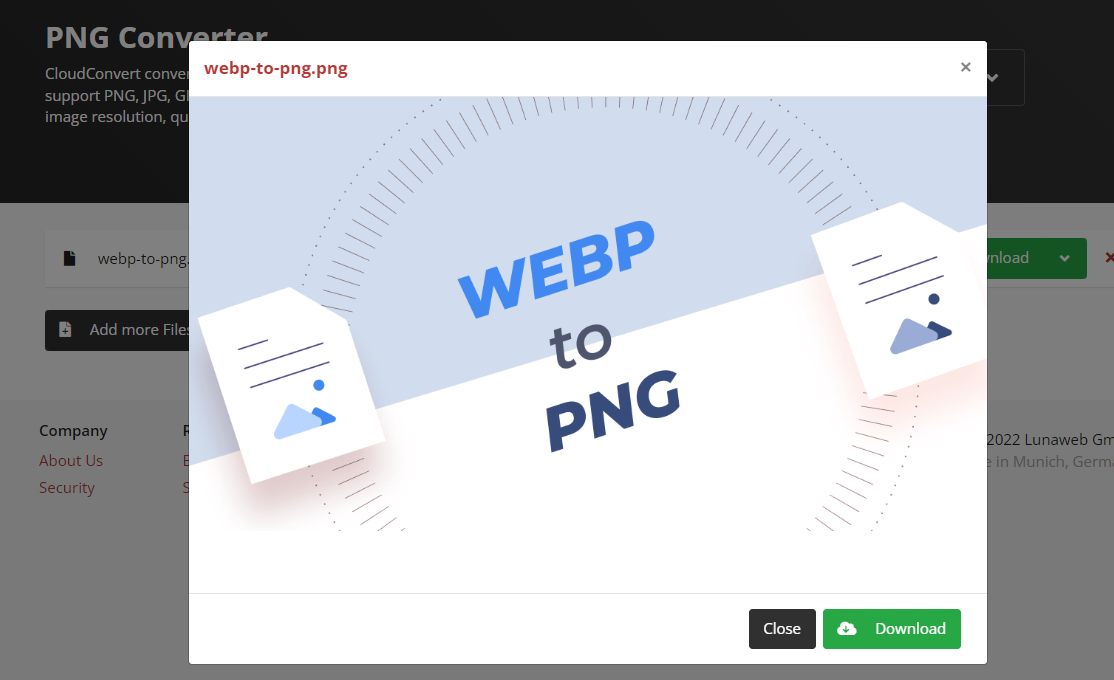 Pricing Plans:
CloudConvert provides two pricing plans:
Packages: $17 for 1000 conversion credits
Subscriptions: $9 for 1000 conversion credits per month
The Package plan is a one-time payment plan, and your quota won't get expired. The purchased quota is valid for a long time until you use it up. However, the Subscriptions plan has a time limit on usage. It provides the user with the appropriate quota monthly.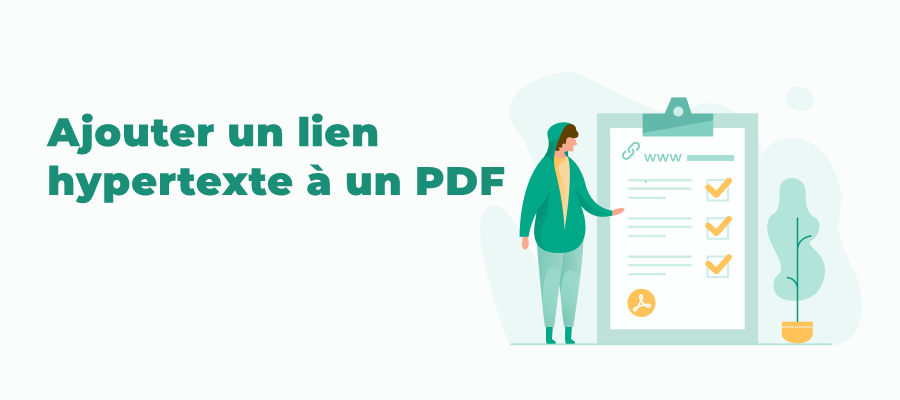 Free Methods for Adding Hyperlink to Your PDF
Adding a hyperlink to a PDF can provide detailed information for the audience. Check out this article to know how to link to a PDF
READ MORE >
Convertio: Easy Tool to Convert WebP to PNG Online
Convertio is also an all-around online converter that allows you to convert videos, audio, documents, images, etc. It supports converting almost all the formats that you will use.
Like CloudConvert, Convertio also supports batch converting WebP to PNG. If you're a paid user, you can even get unlimited concurrent conversions. Furthermore, Convertio allows users to upload files from local folders, Dropbox, and Google Drive.
For unregistered users, the original file has a size limit of up to 100 MB. Convertio offers monthly and annual plans for users to subscribe to, and each has three different quotas with corresponding prices.
Save WebP as PNG with Convertio:
Step 1. Head to the Convertio WebP to PNG page in your browser.
Step 2. Open the WebP image, then click Convert.

Step 3. Click Download to save the PNG image to your device.

Convertio will save all your converted files for 24 hours in case you can't find them. If you don't want your files kept by this converter, you can also choose to delete them manually.
Monthly/Annual Plans:
Light: $9.99/month; $5.99/month
Details: 500 MB maximum file size; 25 concurrent conversions; high priority.
Basic: $14.99/month; $8.99/month
Details: 1 GB maximum file size; 50 concurrent conversions; higher priority.
Unlimited: $25.99/month; $15.58/month
Details: Unlimited file size and concurrent conversions; highest priority.
For monthly plans, you can cancel them anytime you don't want to use this tool anymore.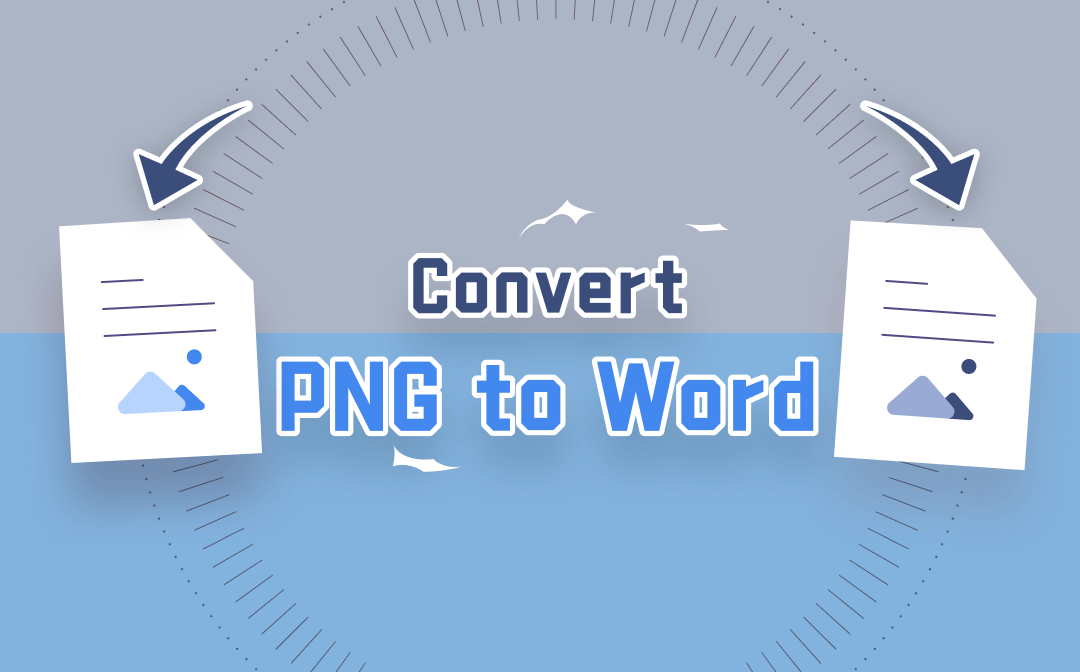 3 Ways to Convert PNG to Word in 2022
Converting PNG images to Word documents helps edit or extract text in the image files. Find out 3 ways to convert PNG to Word in this post.
READ MORE >
SwifDoo PDF: A PDF Tool That Also Serves as an Image Converter
SwifDoo PDF is a comprehensive PDF tool, and it can also be used to turn WebP into PNG. It offers both online and offline versions, and there are no advertisement pop-ups on its interface.
SwifDoo PDF supports converting images among JPG, PNG, BMP, ICO, etc., as well as saving Office documents as images, converting PDFs to images and vice versa, all becomes effortless. Moreover, this PDF editor also serves as a handy image compressor, and is warmly welcomed by its users. Therefore, you can turn a WebP image into a PNG using SwifDoo PDF in a hasty manner. To put it more specifically, save a WebP image as a PDF document first, then convert this PDF file to PNG.
In addition, SwifDoo PDF provides all users with a 7-day free trial, during which you can use all its features without any restriction, and thus offering you a thorough experience before purchasing. What's more, SwifDoo PDF's pricing plans are much more reasonable than many other PDF tools.
How to Convert WebP to PNG with SwifDoo PDF
Step 1. Download and install SwifDoo PDF on your computer, then launch it;
Step 2. Click on the SwifDoo in the upper left corner, then select Save as to convert this WebP image to a PDF file;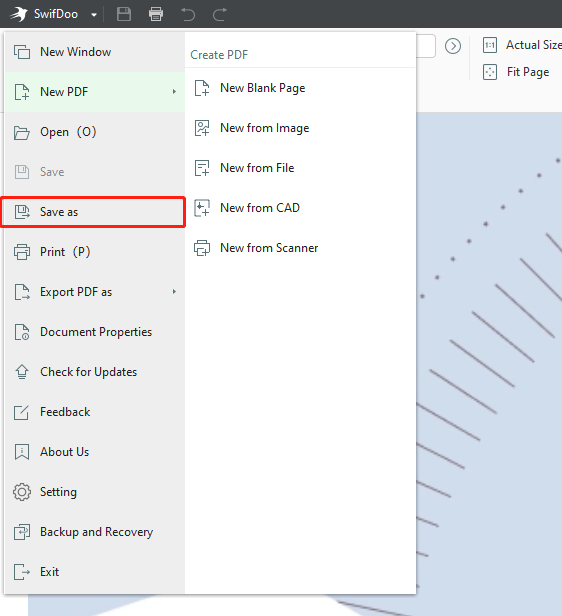 Step 3. Open the converted PDF file with SwifDoo PDF, and click Convert > PDF to Image;
Step 4. The default output image format is PNG, and you can choose the proper resolution as you want, then hit Start.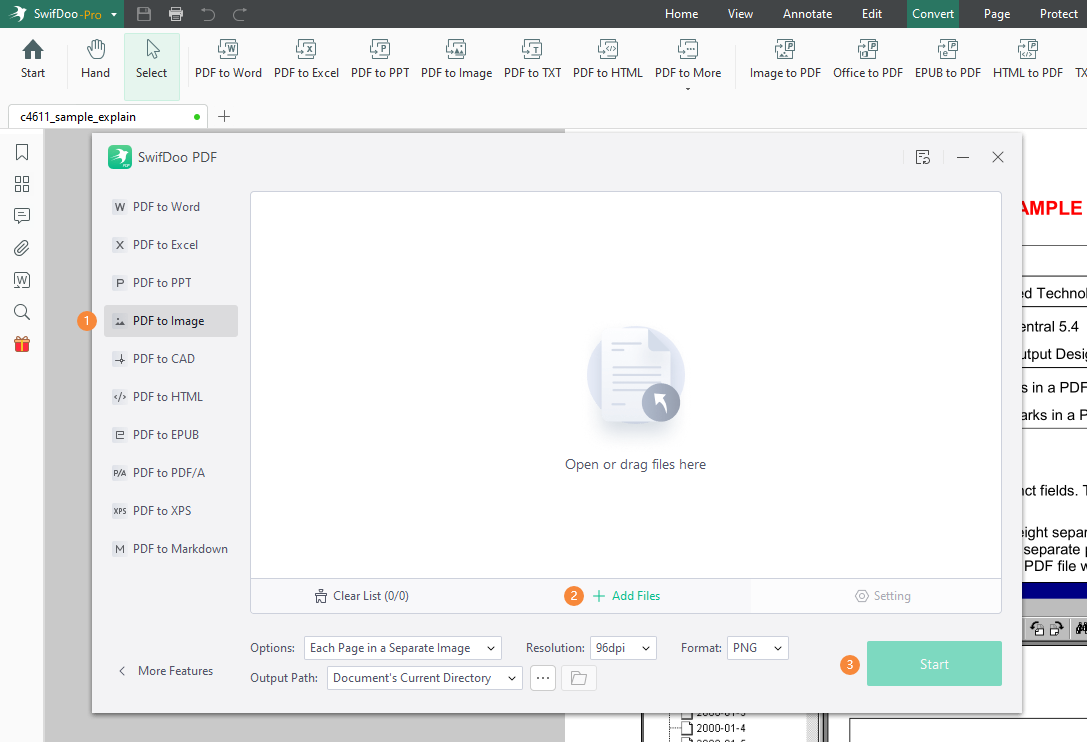 In this way, your WebP images have also been converted to PNG format successfully. Compared to those dedicated image converters, using SwifDoo PDF seems like it would not be that convenient. But if you want to make some changes to your images, SwifDoo PDF is a good choice to help you edit images and convert them.
SwifDoo PDF's Pricing Plan:
Monthly Subscription: $20/month/1 end device
Annual Subscription: $61.2/year/2 devices simultaneously
Perpetual License: $151/perpetual/2 end devices simultaneously
Final Words
Though many image converters help you convert WebP to PNG, you may have no idea which one is better. In this post, we've introduced you to three tools that are easy to use, gave a rough explanation, and provided detailed pricing plans and operation steps for better comparison. You can choose the preferred one directly!