Introduction:
People from Kannada-speaking regions can translate Hindi documents and books to enjoy reading and learning or do something other. If you wish to translate Hindi to Kannada for PDFs, it's obviously difficult due to the hard-to-edit nature of PDF files. You'd better go with a good PDF translator to simplify the work and save time. Read this post to get to know the 5 fast and easy-to-use desktop and online translators.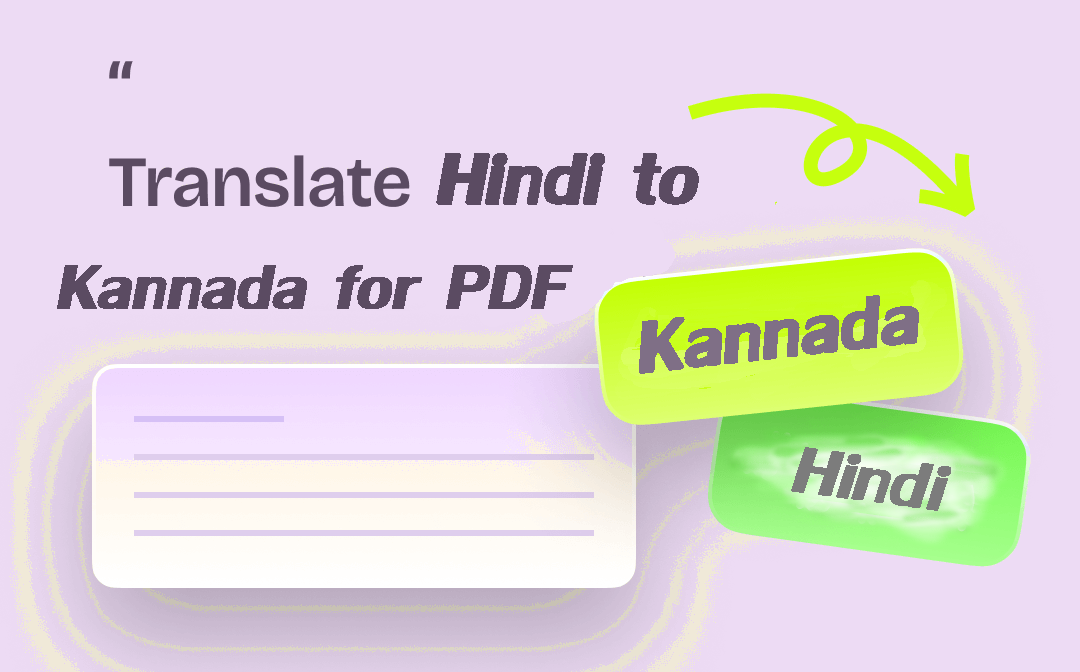 Translate Hindi to Kannada for PDF with SwifDoo PDF
SwifDoo PDF is a trustworthy translator to translate Hindi to Kannada for PDFs, as one of the most recommended PDF editors on PCWorld. It's a lightweight and fast app for Windows that can translate both whole PDF documents and text in PDFs efficiently. The user interface and translation workflow are friendly to novice and experienced users. The PDF translator also supports English, Marathi, Sinhala and 100+ languages to Kannada translation.
Translate Hindi to Kannada for PDFs effortlessly with the below steps.
Translate Entire PDF
The Hindi to Kannada translation on a PDF can be done within just a few clicks. You can specify only certain pages to translate if needed.
Step 1: Open Your PDF
Start the downloaded PDF translator on your computer, and open your PDF in it.
Step 2: Choose Document Translation Option
Under the Home tab, click Document Translation to open the translation window.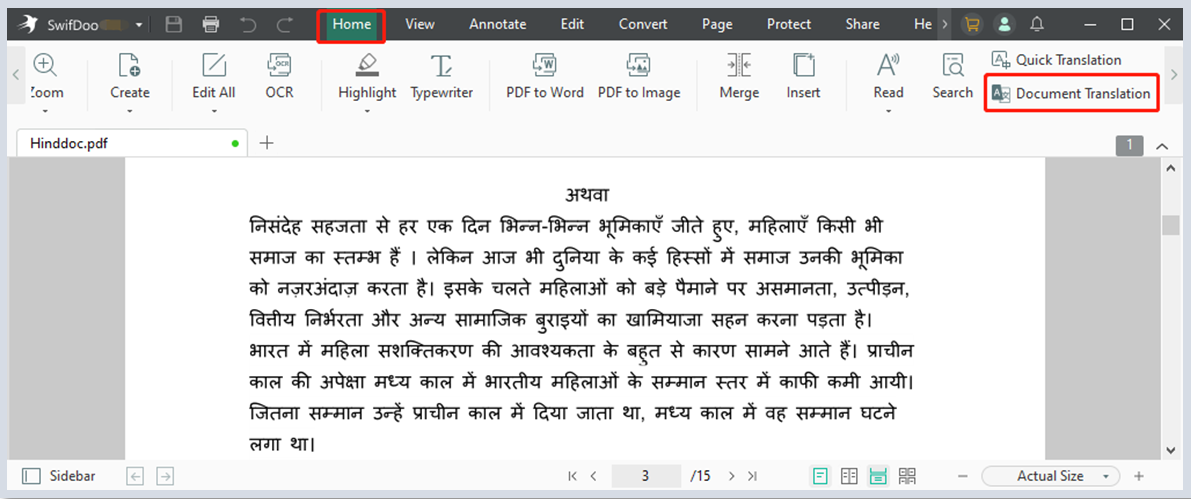 Step 3: Translate Hindi to Kannada for PDF
Set the document language and the translated language, select a saving location, and click the Translate to Kannada button to start the Hindi to Kannada PDF translation. Enter a page range for the pages you want to translate.

Translate PDF Text
SwifDoo PDF translator allows you to instantly translate paragraphs or any selected text while you are viewing a PDF. Check the method to translate Hindi to Kannada for PDFs.
Step 1: Open your PDF file by clicking Open in the translator app or drag-and-drop;
Step 2: Select the text your need to translate, and click the Quick Translation icon in the floating toolbar;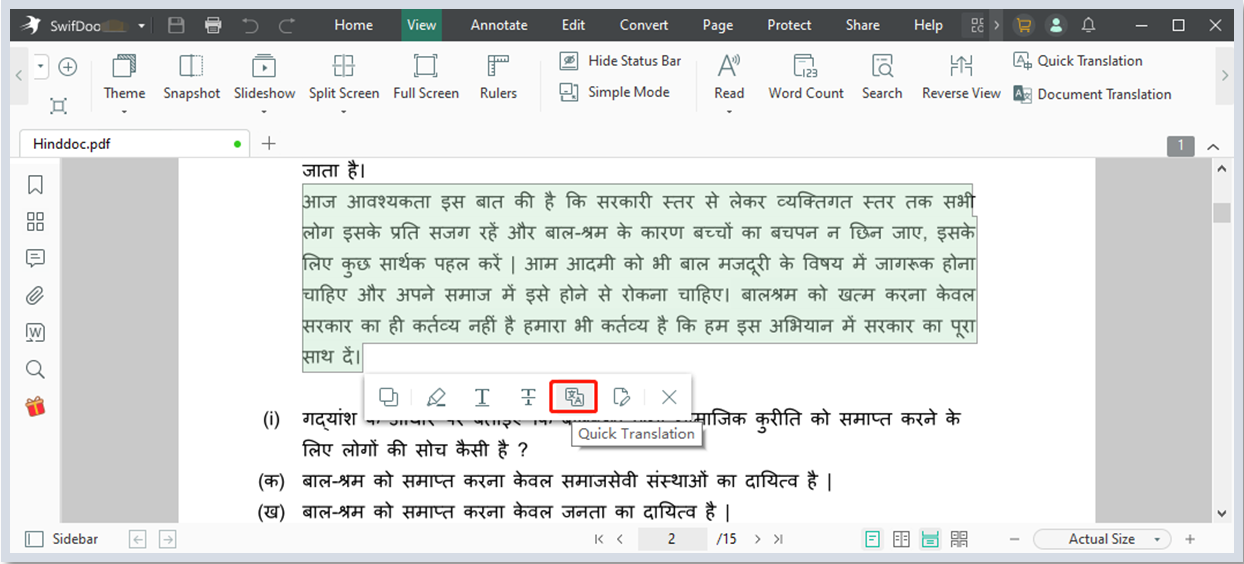 Step 3: Choose the original and your target languages, and the translator starts working immediately.

The issue you may have come across when you translate Hindi to Kannada for PDFs is the PDFs are scanned. SwifDoo PDF can help deal with image-based or scanned PDF document translation. It enables you to convert scanned PDFs to Word files without losing much formatting or layout using OCR. So you are able to resave the converted file as a text-based PDF to translate with the PDF translator.
Key Features:
Translate Hindi to Kannada for PDFs - whole documents, words, sentences, and longer text.
Convert PDFs to copyable and editable text documents to make scanned PDF translation possible.
Extract, delete and separate PDF pages to save only your wanted pages.
Edit and annotate PDFs.
Download the software to get a 15-day free trial to access most features for free.
Translate Hindi to Kannada for PDF with 4 Other Translators
An alternative way to translate Hindi to Kannada for PDFs is using an online translator. Thankfully, there are a few online translator options that allow you to do Hindi to Kannada translation on PDFs directly or translate larger amounts of text. Compared with other software on the market, they come with a cleaner interface and more powerful ability.
#1. Google Translate
The desktop online Google Translate is a stellar tool to translate Hindi to Kannada for PDFs. The Google's service is basically used for text-to-text translation and can also translate full documents including PDFs, PPTX and DOCX. Web page translation is supported. To perform the Hindi to Kannada translation on a book in PDF format for free, upload the PDF smaller than 10MB, and change the language settings to translate.

The file pages are watermarked after you translate Hindi to Kannada for PDFs and download the translated files from Google Translate. Another drawback of the translator is its no support for scanned PDFs. You can utilize a comprehensive PDF application like SwifDoo PDF to remove watermarks from PDFs and convert PDF scans to Word files to translate.
#2. Online Doc Translator
Online Doc Translator lets you translate Hindi to Kannada for PDFs online for free without registration or copy-pasting text in and out. The PDF translator intelligently extracts, translates and inserts text to create a translated copy. The maximum file size cannot exceed 10MB. It is also one of the best English to Hindi translators and processes over 100 other languages.

The downside of the translator is the longer uploading and translating time. When you translate Hindi to Kannada for PDFs with the machine translation service, make sure you open the right page otherwise there will be many intrusive ads.
#3. Google Docs
Google Docs is another cloud-based platform with the ability to translate and convert Hindi to Kannada for documents. The online service is free to use and allows you to open and convert a PDF document to a Google Doc file. To translate Hindi to Kannada for PDFs, all you need is to log into Google Drive, upload your PDFs and open them with Docs, then go to the menu bar to choose the translation tool.

The web software can only translate PDFs from other languages to Kannada or a different language by changing the PDF format, so the formatting or layout may be lost.
#4. indiatranslate.in
You can resort to indiatranslate.in to translate Hindi to Kannada for PDFs. This is an online free language translator specially designed for Indian languages such as Marathi, Gujarati and Tamil. Better than most other similar software, it allows you to type or paste over 4900 characters with spaces. The user interface is quick to navigate and ad-free.
Most of the time you can copy text page by page to convert and translate Hindi to Kannada for PDFs in less time. If your PDF is text-based and doesn't have too many pages, the translator is worth a try.
Conclusion
From the above content, you can see that all the introduced language translators can assist you in translating a PDF language. However, the most straightforward ones should be the most recommended, like SwifDoo PDF, which lets you translate Hindi to Kannada for PDFs and make further edits to them or the translated files.
It stands out with its software security and feature richness. Please be aware that no PDF translator can give 100% accurate results and you will need some modifications to perfect them.
FAQs
How to translate a whole PDF in Hindi?
SwifDoo PDF is the best PDF translator to translate a whole or partial PDF document in Hindi to any language. Whether to translate Hindi to Kannada for PDFs or translate between the other two languages, just open your PDF with the app, choose the "Document Translation" tool, select the languages you need to translate from and to, and click the "Translate to" button. So simple.