Introduction:
Together with fast-growing technologies, connectivity has completely changed our lifestyle, integrated with the way we worked, and thus gives rise to numerous brand new concepts. One of these new concepts is a paperless office. In this post, we will recommend a piece of paperless office software, SwifDoo PDF, to resolve all PDF-related issues.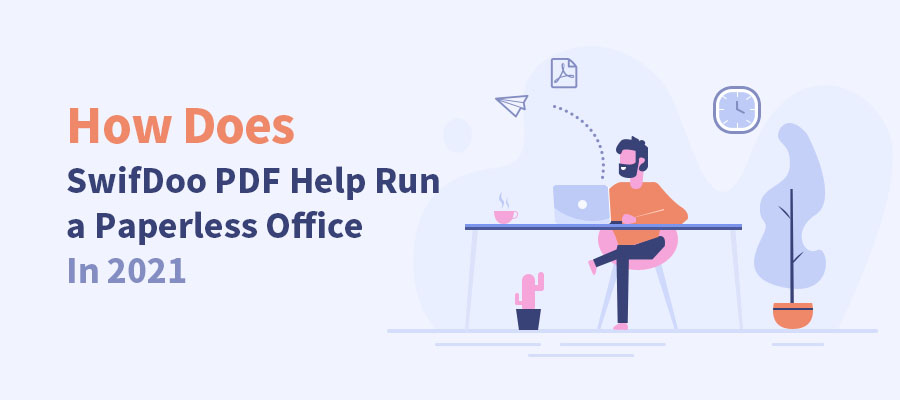 The idea of a paperless office has existed since the use of personal computers became a necessary element in modern offices. If you need a paperless office software program to deal with PDF documents, then SwifDoo PDF is qualified for the task.
What Can SwifDoo PDF Help in Going Paperless?
To make the switch toward digitization, the first step is to eliminate the need for paper. This is where PDF software that replaces the need for physical documents, takes the spotlight. In the race toward digitizing documents, PDFs' characteristics have declared winning laurels on the matter. The following are several reasons why PDFs can truly help realize digitization.
The PDF is the best helper in storing E-files. Here are whys:
Smaller Size: In comparison with other formats, PDF doesn't occupy too much temporary memory space, thus allowing more space for the operating system. When it comes to memory size, the SwifDoo PDF tool can compress your PDF document into smaller ones.
Optical Character Recognition: This is a technology that distinguishes text within an image for instance .jpg and .png or scanned documents, allowing users to export their information into editable content. Fortunately, most PDF tools are equipped with OCR to achieve conversions among different formats.
That means, you can digitize all your paper documents for convenience and money-saving while doing so, and this is extremely crucial to the financial, legal, accounting, and medical fields. One such choice of software is SwifDoo PDF, a tool of 10 MB, that can scan all pages with ease and place the content into a new PDF document. This whole process won't alter the original layout of your file!
File Format: With a variety of useful PDF tools available, file format is only a matter of preference. SwifDoo PDF can convert a wide range of files into PDFs with the inclusion of Microsoft Office formats (Word, PowerPoint, and Excel) as well as images. Regardless of chosen format, the content will remain unchanged.
Edit: Though being a popular file format, PDF is often criticized for its non-editable attribute. Remember an instance where you had to turn in key documents before the deadline but couldn't make any changes to them? Let's be honest. You probably don't ever want to face a situation where you feel so powerless again.
What would be an accurate solution to such an issue? That's right! Through the use of various PDF tools, starting with SwifDoo PDF. With its help, one can easily make changes to any document on hand.

Batch Process: To multitask means to process numerous files simultaneously. How does one multitask without the SwifDoo PDF batch process feature? As a jack-of-all-trades, SwifDoo PDF can perform many tasks, including annotating, editing, converting, viewing.
Are you in need of batch processing a high volume of documents? Launch SwifDoo PDF, set up task queue, click more options to select the output format, choose your destination folder, hit the Convert button, and you're done! The process CAN be so easy. Are there any better ways to automate the conversion process while sitting in front of your PC?
Saving Space: As described above, one of the benefits PDF formats can bring is space-saving. Nowadays, almost every company has confidential or significant documents that aren't necessarily needed for frequent use. In this case, PDF may be a choice second to PDF/A.
This is a special subset of PDF created for archiving important documents. It sets a more rigid standard compared with those used by PDF. Editable content, such as audio or video will be disallowed by PDF/A. Images and fonts must be embedded within the document but PDF has no similar requirements.
With PDF/A, one cannot add external references and encryption. All these features together cement PDF/A's place in long-time storage. It is this feature that makes PDF/A a prevalent format in official governments and large-scale organizations. Luckily, SwifDoo is adept at converting important archives into PDF/A.
Annotation: Traditionally, making comments on paper documents and sending them back was a time-consuming process, sometimes taking up to a week or more to obtain the awaited response. This adds increased pressure in offices and usually requires multiple print-outs of the same document. Each one engaged in this project would be asked to print out the document.
In a paperless office, however, all these changes can now be completed online. SwifDoo PDF provides powerful annotation tools, such as highlight, sticky note, stamp, caret, strikethrough, and more. This feature greatly helps teachers, students, proofreaders who need to annotate the document.

Protection: Password protection was developed to secure private information. SwifDoo is a reliable assistant if you want to leave your mark on a file by providing three electronic signature ways. In addition, two levels of password, namely open password and permission password, can be applied to a document when you want to limit access to your PDFs or prevent any unwanted changes made by others.

Advantages of Paperless Office
For several years now, companies have strived to realize so-called digitization to reduce paper usage. The truth is, many companies buckle down in an attempt to move toward digitization; however, only a mere 18% are said to successfully make the paperless switch. What is even worse, 57% of US companies still count on paper. Such companies are continuously spending money on keeping these paper files, notably on staff and storage, such as filing cabinets.
One of the greatest and most common issues with paper files is the amount of time and energy wasted when urgently searching for a specific document. It's very much like looking for a needle in a haystack. Understandably, "old habits die hard," as they say, and paper has long been anchored in our way of life. On the positive side, more and more companies are joining the paperless movement and acknowledging the long-term benefits. Here are four reasons to go paperless, just to name a few:
Save Time, Space, and Money
Time spent on retrieving, arranging, and searching for documents can be distributed in profit-making projects rather than dull desk work. Employees will be relieved of such time-wasting tasks because files are stored electronically and securely, and no one has access to it without permission.
By simply entering the search bar's file name, employees can precisely pinpoint what they want within seconds. This not only streamlines file management but also saves both physical floor space and money by eliminating the need to purchase large cabinets and reducing office supplies such as paper and printer consumables.
Increase Mobility and Smooth Information Exchange
Let's take a look at the core reason for going paperless. Digitization was born for improving efficiency. Why would anyone insist on such nonsense otherwise? A paperless office is of great help in information exchange, both between colleagues and clients. People won't have to send physical paper files to clients or managers for signing as these procedures can be completed electronically.
For employees who work from home, digitization is equally saving them quite some trouble, especially during these unique times when COVID-19 smothers the entire globe. Within nothing more than a few clicks, PDF files can easily be sent directly to a colleague's email inbox. To a certain extent, a paperless office simultaneously enhances mobility and refines communication methods.
Data and File Security
Physical documents are difficult to manage and organize simply due to their large volume. Files, with just a moment's inattention, can get lost, misfiled, or even corrupted. Hiring someone to take charge of such a task may seem inconceivable in the 21st century. But how does one ensure that their files and data security are prioritized?
Thankfully, there's no reason to worry, as we now have encryption technology and cloud-service products to safeguard confidential documents. The conventional way of storing documents in filing cabinets is now a thing of the past. Your documents have never been better guarded by passwords than they are today!
Environmentally Friendly
Going paperless is so much more than just reducing the need for physical documents. Reducing the dependency of companies and offices on the use of paper also contributes to the reduction of carbon dioxide emissions, the culprit of global warming. Producing paper impacts air quality and uses precious resources; using less paper minimizes these issues and requires fewer trees to be cut down.
Companies who aspire to go paperless can reduce the overall size of their carbon footprint. Taking all this into consideration, have you thought about switching your current work mode to a more paperless style?
FAQs
Q:What is a paperless office?
As its name suggests, a paperless office, also called a paper-free office, is a working environment where people are inclined to use digital documents, which significantly reduces or even eliminates the use of paper.
We are all aware of the importance of digitization, but do you know its essence? Exactly, a paperless office! The first step towards a paperless office is the digitalization of documents. With the ultimate goal of improving efficiency, time, money, and the environment, going paperless has already been advocated for decades.