Introduction:
Whether you are a translator, proofreader or document creator, you must always need to ensure the doc is not too long or too short. So, you have to stay mindful of the file's word count. However, when it comes to PDF word count, it can be challenging as not many PDF readers can do that. An efficient and free PDF word counter will save you time and cost.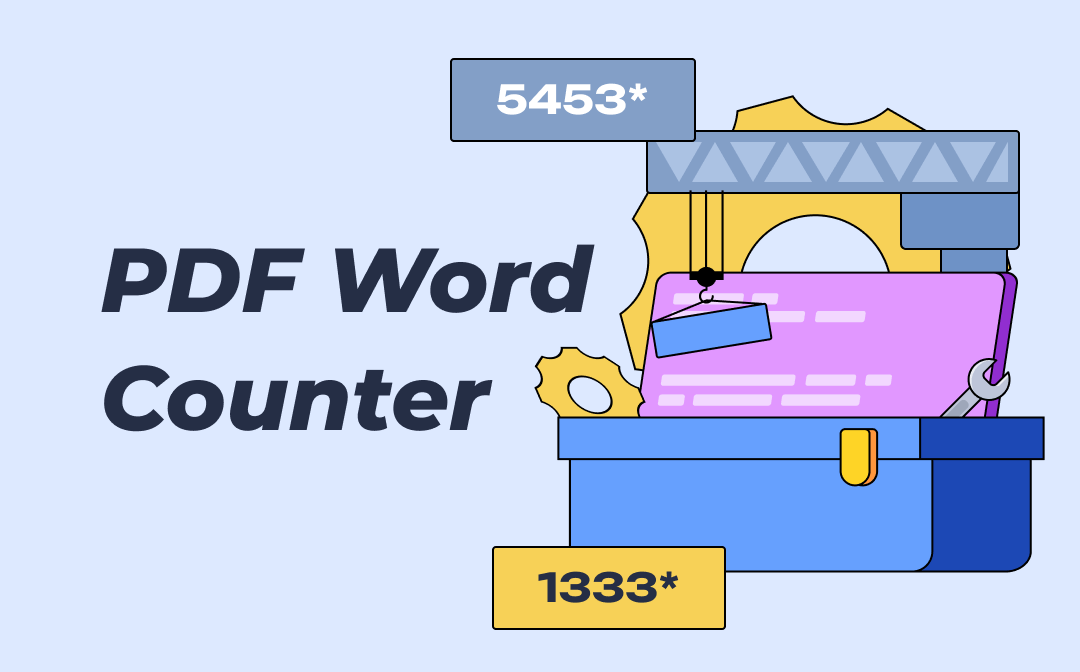 Perhaps you often or seldom need to count words and prefer a desktop app or online tools. Regardless of your requirements, this post introduces the best 5 free PDF word counters to ease your work, including the small and fast SwifDoo PDF.
#1. SwifDoo PDF - The Top Free PDF Word Counter for Windows
SwifDoo PDF is PCWorld's recommended PDF editor for Windows that enables you to do a word count in PDF for free. Regardless of an entire PDF or selected text, it gives you accurate word count results. The PDF word counter allows you to check not only the word, but also pages, characters, and lines count in a PDF in a blank of an eye.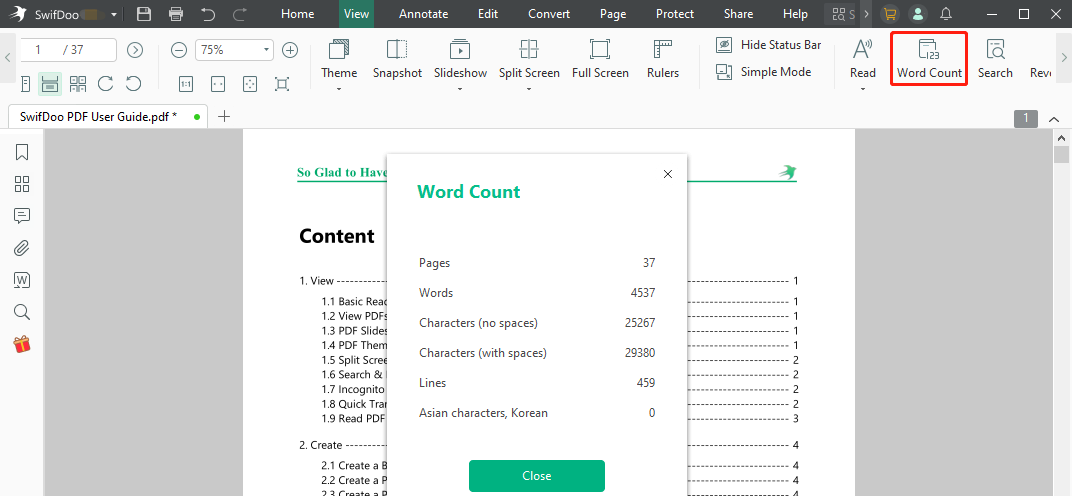 The software also works as the best free word frequency counter for PDFs. Its advanced search feature allows you to search for a word in a PDF and get the total number of it rapidly. Besides a PDF word counter, SwifDoo PDF lets you read PDFs aloud, view PDFs in multiple modes and add annotations. When needed, you can utilize it to edit, convert and do many more with PDF documents.
#2. Foxit PDF Editor
Foxit PDF Editor is one of the few PDF software that has a word counter for PDFs and is available on Mac. The PDF word counter can count words, pages, lines, and characters in a whole or part of your document, like in Microsoft Word. It allows you to convert and save PDF to Word to calculate the number of words using the Word's counter.

More than a word counter to count information in PDFs, the software can also edit, fill and sign PDFs but its program is too heavy.
#3. Google Docs
One PDF word counter you can try is Google Docs, an online document creator, editor and storage service. Google Docs lets you do word processing online for free using your Google account. You can format, watermark and do a lot more to the document. Once you uploaded a PDF to Google Drive and opened it in Docs, you can access the online PDF word counter tool from the Tools menu.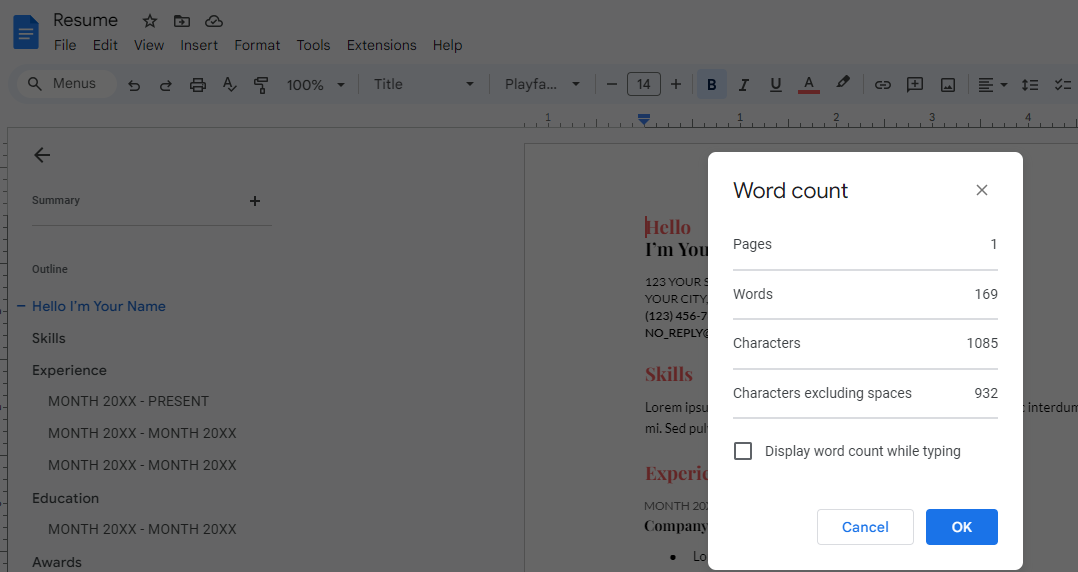 You can not only use the web app as a PDF word and character counter, and also use it to translate a PDF.
#4. Doc Word Counter
Doc Word Counter is a completely free online software that can convert and split a PDF and do the PDF word count for free. The PDF word counter requires no sign-up or installation. All you have to do to use it is upload your PDF and click the "Count the words in my document" button. It supports a PDF document of up to 10 MB. The popular PDF document word counter runs on any device including Linux.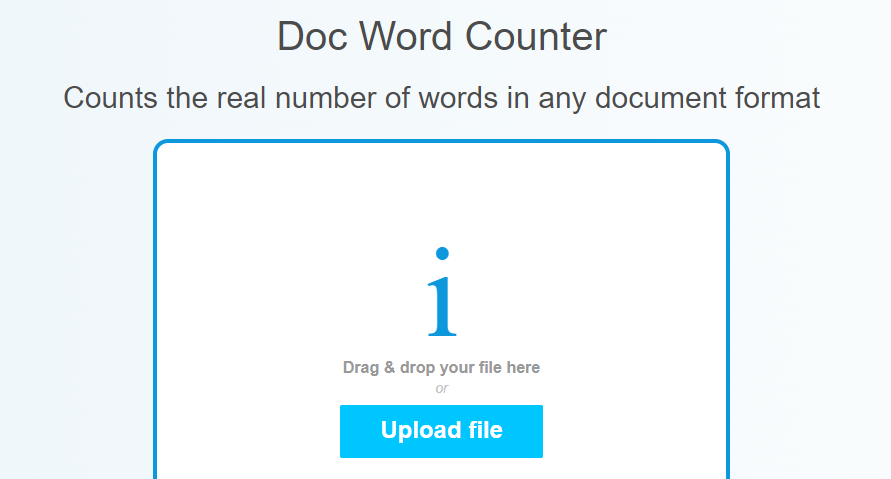 One thing to be noted before you start to do a word count with this PDF word counter is it is slow and has ads on the interface. If you prefer a safe and time-saving PDF file word counter, turn to a desktop program like SwifDoo PDF.
#5. Monterey Language Services PDF Word Counter
Monterey Language Services has the ability to do word count in PDFs. The PDF word counter can exclude numbers such as years and dollar amounts from the word count. It is free and easy to access and the user interface is clean and doesn't have any intrusive things. The downside when you get a word count on a PDF using it is the inefficiency. The word counter tool for PDFs can't count the number of pages or characters.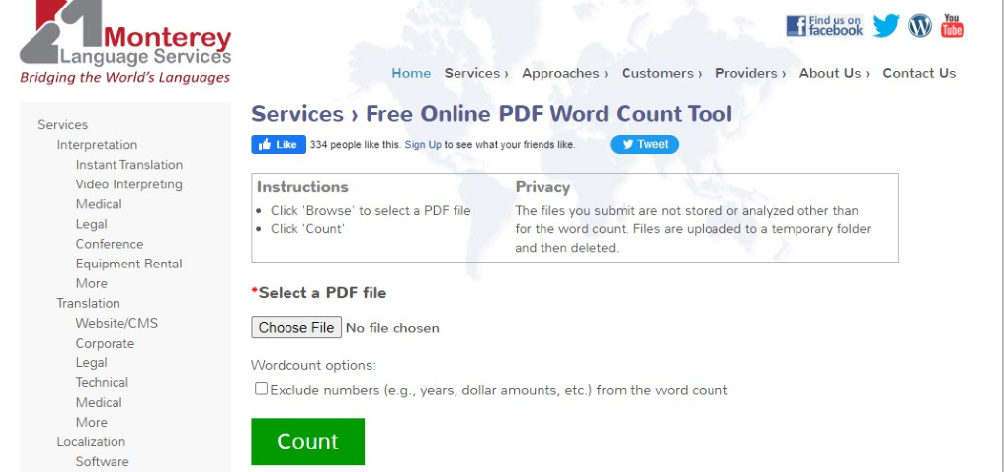 Conclusion
The PDF word counters in this post help perform your PDF word count task quickly without a hassle. Online tools are convenient to utilize in your browser. But we suggest you download the free PDF word counter app, SwifDoo PDF to securely get your job done.
FAQs
Can I do PDF word count in Adobe Acrobat?
No. Adobe Reader or Acrobat doesn't have a PDF word counter to directly count words or other info in PDFs. You can resort to SwifDoo PDF, one of the best Adobe Acrobat alternatives to do a free word count.
How do I count words in a PDF on my iPhone?
You can convert a PDF to a Word doc using
SwifDoo PDF online free converter
on iPhone, open the Word file in the Google Docs app, tap three dots on the top right corner and choose "Word Count". The numbers of words, characters, and characters excluding spaces are displayed right away.