In our cities, the towering skyscrapers, museums, beautiful parks, and bustling streets form a wonderful urban picture. All of these modern miracles can not live without the great designs of architects and urban planners. Have you ever wondered, besides their expertise and professional skills, what helps architects draw up those complex blueprints? To find out the answer, you should first know what is CAD files.
What Is A CAD File
CAD is the abbreviation for computer-aided design. It is a computer software program aiming to assist in creating, revising, and improving 2D and 3D designs. A CAD file is a kind of file format saved by CAD software, and it includes drawings, models, and assemblies.
You might simply mistake the file extension of CAD files for .cad, but it is noteworthy that CAD files do not contain just a single file format but various file formats depending on the CAD software the file uses.
At first, the default CAD file extension is .dwg. However, the rapid growth of CAD programs leads to an increasing demand for new CAD file formats across different CAD platforms. Hence, now file formats of DWT, RML, DST, and others are common for CAD files.
What Are CAD Files Used for
Architects, engineers, and even animation concept designers are the typical users of CAD files. Replacing manual drawings, the CAD file has emerged as an outstanding assistant to provide a more visualized structure and perspectives to adjust designs. There are two categories of designs that use CAD files: 2D and 3D.
For a 2D system, the files are good at viewing technical drawings and drafting floor plans, landscaping layouts, and so on because it is able to offer higher precision.
For a 3D system, the CAD file presents a detailed structure of a certain product, which can accurately display not only its exterior but also the comprehensive composition of the internal parts. In addition, several CAD files also support 3D printing.
Besides, as CAD files are stored in the cloud, users of a team can quickly open a CAD file, edit it, and exchange opinions more readily.
How to Convert CAD Files to PDF
Given the fact that the use of CAD files is relatively limited in specific fields, and it might be troublesome to send it to someone unfamiliar with it, converting the CAD file to PDF might be a good choice.
Several applications can help with the CAD file conversion, for example, SwifDoo PDF. You can convert your CAD files with SwifDoos online PDF converter for free.
Step 1: Go to the URL of SwifDoo's online PDF converter;
Step 2: Choose CAD to PDF;

Step 3: Click Choose file to upload;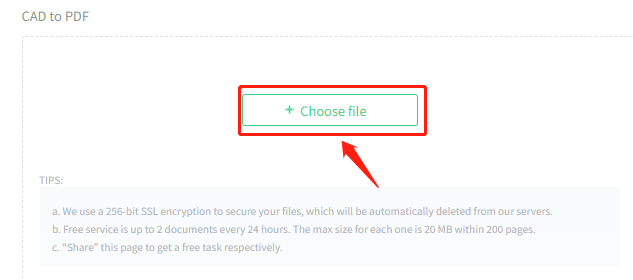 Step 4: Download the converted file.