You may often receive large PDF files with unwanted pages contained, or you may have important information on one PDF page that you want to hide from others. At this moment, you can ask for help from a PDF page remover to delete this special page from your PDF file. In this post, 5 PDF page removers are introduced with details. Let's read on and check them out.
Quick Takeaways of the Best PDF Page Removers
| | | | | |
| --- | --- | --- | --- | --- |
| | Price | Supported OS | Bulk Editing | Online Editing |
| SwifDoo PDF | Free | Windows 11/10/8.1/7/XP | √ | × |
| Adobe Acrobat | Paid | Windows, Mac, Linux | √ | √ |
| Sejda PDF | Free | Windows, Mac, Linux | × | √ |
| Preview | Free | Mac | × | × |
| PDFsam Visual | Paid | Windows, Mac, Linux | × | × |
#1. SwifDoo PDF
SwifDoo PDF is a fully-fledged PDF editor that can help you work with PDF documents smoothly. This software is developed by an experienced team and has been warmly welcomed among its users. SwifDoo PDF can address all your problems with PDF files, such as editing, merging, compressing, converting PDFs, etc.
Follow the steps below to see how to use SwifDoo PDF as a PDF page remover:
Step 1. Download SwifDoo PDF and install it on your PC;
Step 2. Click Open to select the PDF file which you want to delete pages;
Step 3. Go to the top navigation bar and select Page;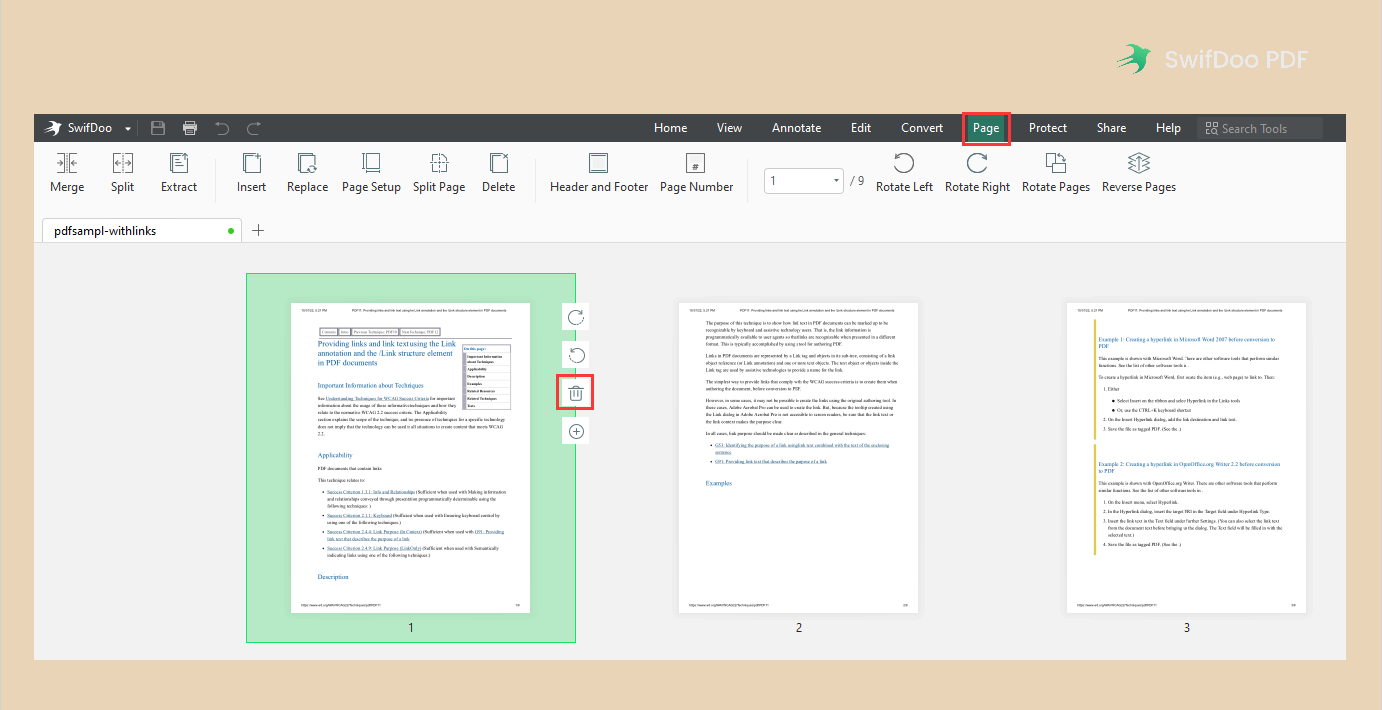 Step 4. Put your mouse over any page in your PDF files, and you'll see a mini toolbar. Click the delete icon to remove the selected page from your PFD file.
Step 5. Click SwifDoo in the top left corner and choose Save as to apply your changes.
SwifDoo PDF allows you to do more than just delete pages from PDF files; it also supports rotating PDFs, inserting new pages, extracting PDF pages, adding page numbers, and so on. You can rely on it to solve all your problems with PDF files.
#2. Adobe Acrobat
Acrobat is one of the most professional PDF editor programs on the market. It's compatible with all major operating systems, including Windows, Mac, and Linux. It has been almost 30 years since Acrobat was released, and this program remains a leader in this area.
As a PDF page remover, Acrobat enables you to delete pages from PDFs in several steps. You only need to open your file with Acrobat, and then select the "Organize Pages" tool from the right pane. Select the page you want to remove and click the delete icon.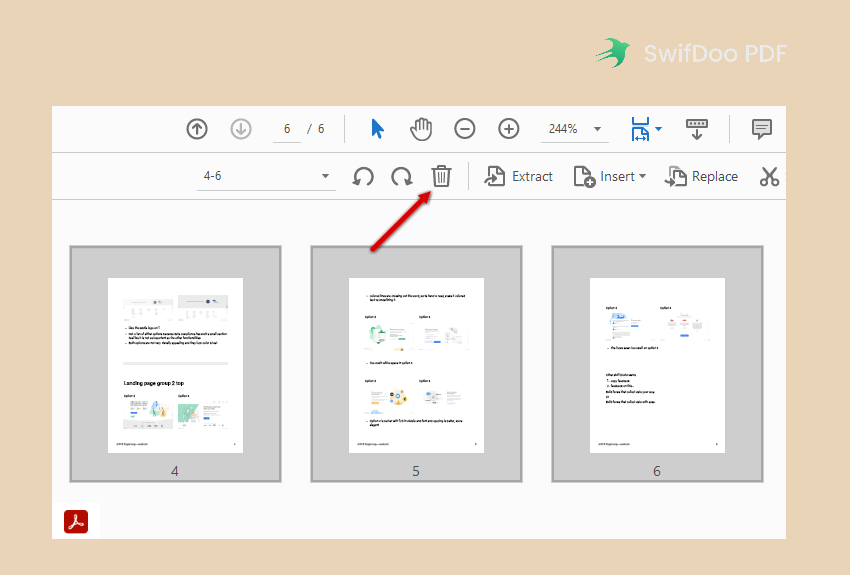 For any advanced or basic editing needs, you can get a solution in Acrobat, and your problems will be solved in a very short time. The only flaw in using Acrobat is that you need to spend more money to get a license key than other PDF editors. And for regular users, the interface of Acrobat is too overwhelming for them.
#3. Sejda PDF
Sejda PDF has both online and offline versions that you can use conveniently. Its online tool enables you to remove PDF pages without downloading any desktop program.
Sejda PDF has a dedicated "delete PDF pages" webpage, so you don't have to spend time searching around for the feature you need. And it's also very easy to use Sejda PDF's online PDF editor to remove PDF pages. You only need to upload your PDF files to this utility, and you'll see a thumbnail of all PDF pages with a small delete icon in the top right corner of every page. You don't need to worry about any mishandling.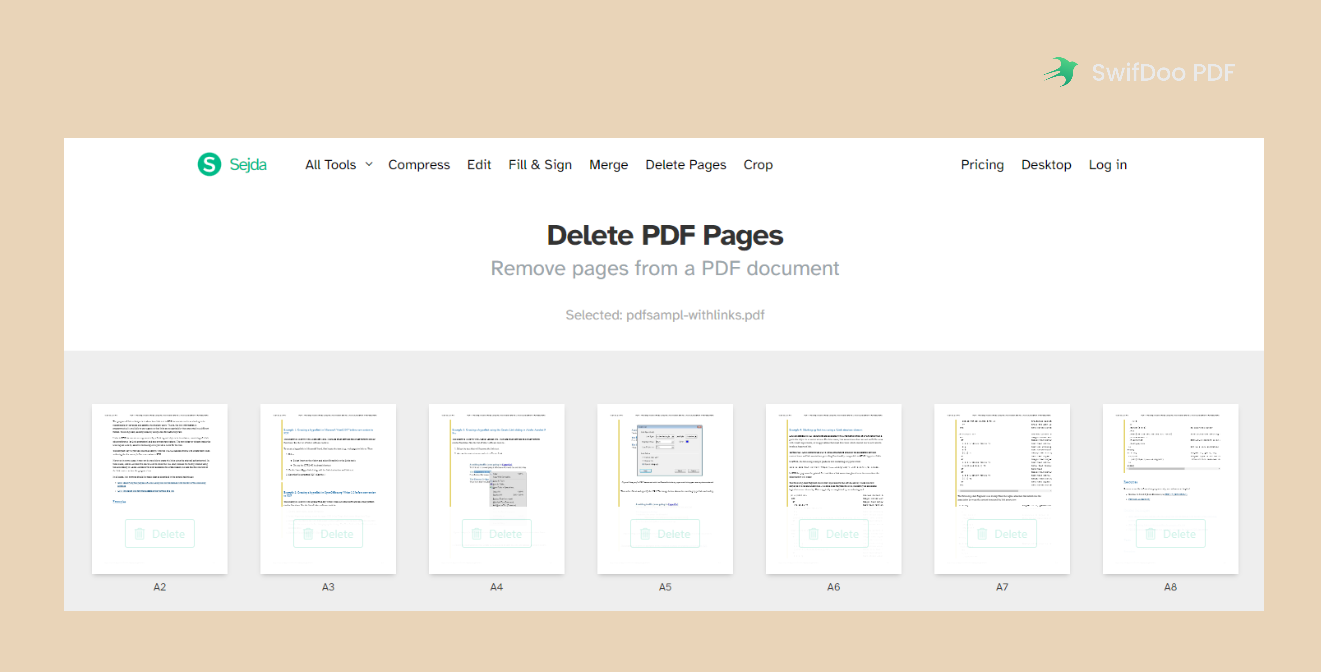 Sejda PDF asks for payments for advanced usage. However, if you're a regular user, you can use its free service for documents up to 200 pages (or 40 MB) and 3 tasks per hour. This quota is quite adequate for daily use.
#4. Preview
Preview is a free PDF page remover that every Mac device has installed. It isn't a dedicated PDF editor like other applications mentioned in this article. However, for regular users, Preview is definitely the go-to tool to manipulate PDF files.
When using Preview to remove PDF pages, you don't need to pay a bill or download it manually since it is pre-installed on all MacBook. And there are no advertisements that appear on your screen to distract you while you are working.
To delete PDF pages with Preview, you only need to open your PDF file in Preview, show all thumbnails, and click Edit > Delete to remove the pages you don't need.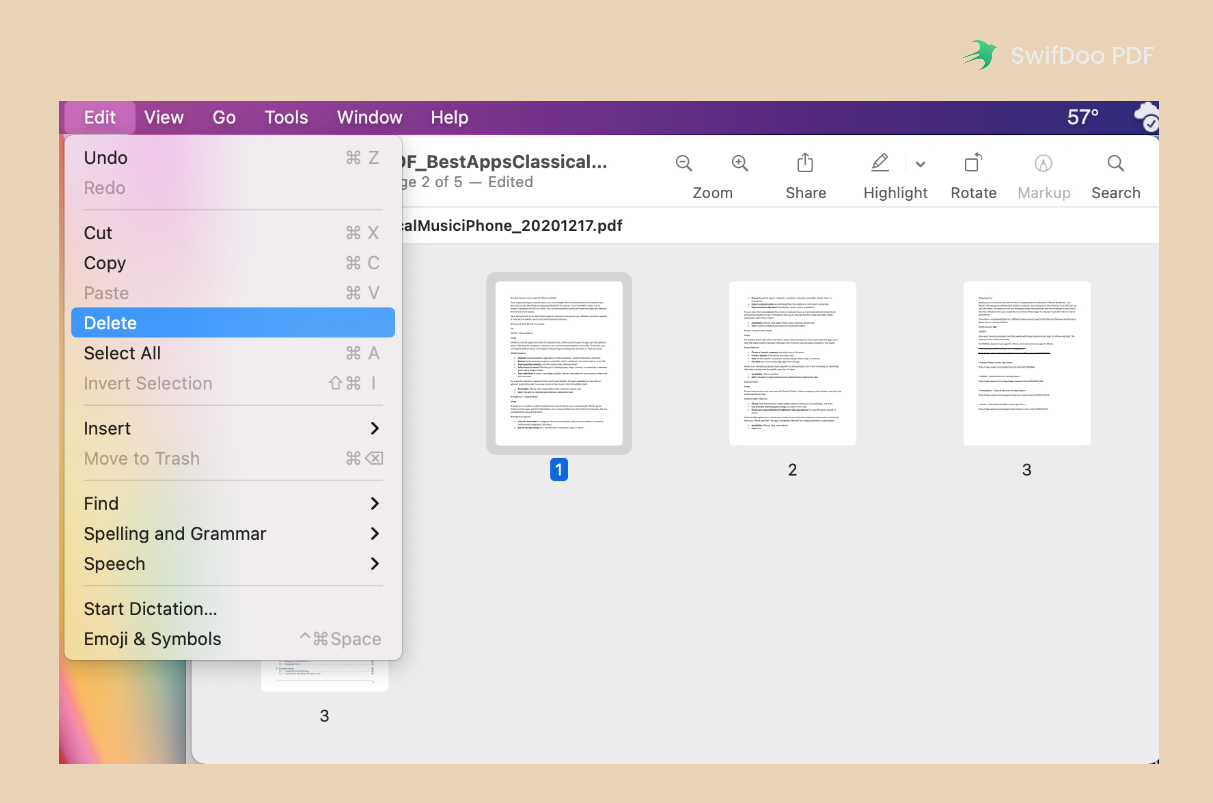 Also Read:How to Remove Watermarks from PDFs >>
#5. PDFsam Visual
Like Adobe Acrobat, PDFsam Visual is also a paid PDF page remover. The "sam" part comes from "split and merge," which explains the main features of this program. Deleting PDF pages is advanced functionality, and you must pay for this service.
When using PDFsam Visual as a PDF page remover, you need to download this software and get a subscription plan in advance. Then open your PDF file in this program, select all the pages you want to remove, and confirm your changes. Remember to save the edited PDF file as a new one in case you want to use the original PDF file one day.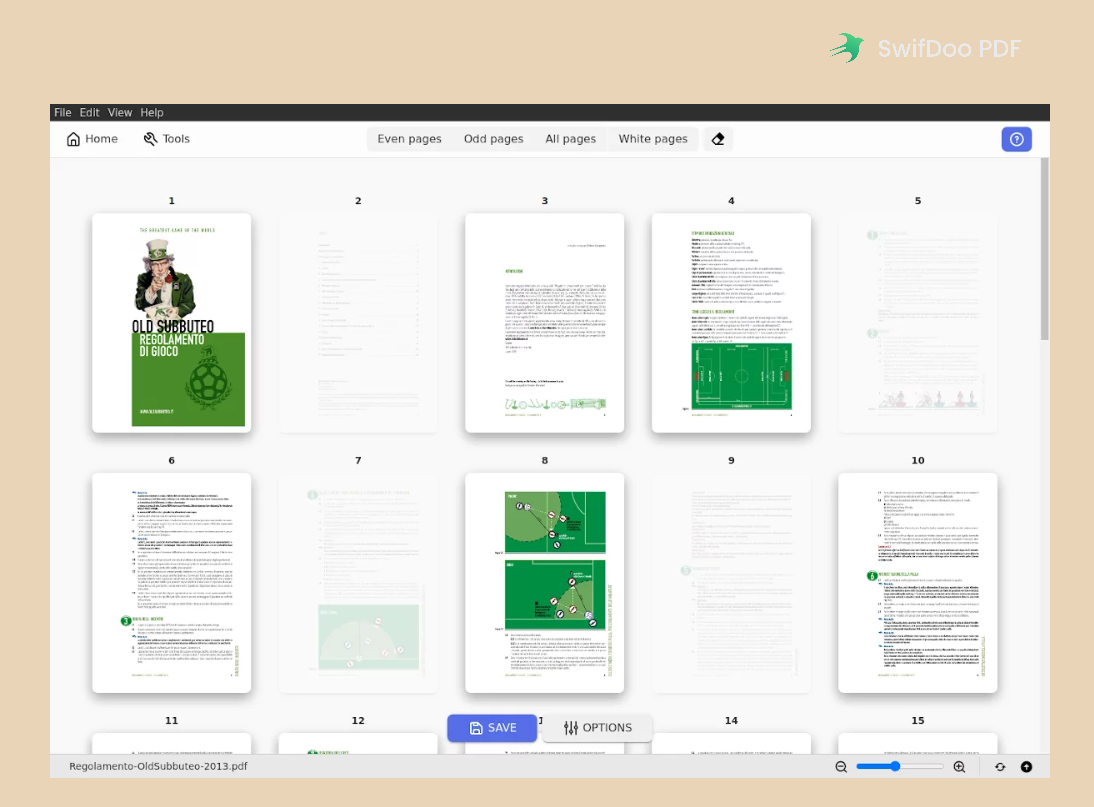 PDFsam has released three PDF editors in total: PDFsam Basic, PDFsam Enhanced, and PDFsam Visual. The Basic version is mainly used to merge and split PDFs, and it's a free PDF editor. The Enhanced version focuses on editing, converting, inserting, reviewing, and signing PDF files with ease. And the Visual version is designed for combining, organizing, deleting, and compressing PDF files. The first step in finding a good PDF editor is determining your requirements.
The End
With a PDF page remover installed on your computer, you can edit your PDF files at any time and delete unwanted pages for better management. With no bias, SwifDoo PDF is the best PDF page remover on Windows operating systems. It's powerful, advertisement-free, simple, and easy-to-use. Free download and use it right now!