Introduction:
DocuSign offers an easy and reliable way for businesses and individuals to sign files and agreements anywhere at any time from any device. It changes the traditional signing mode, making you more productive. With the help of DocuSign, you can easily sign any type of file online, including Word documents, PDFs, etc.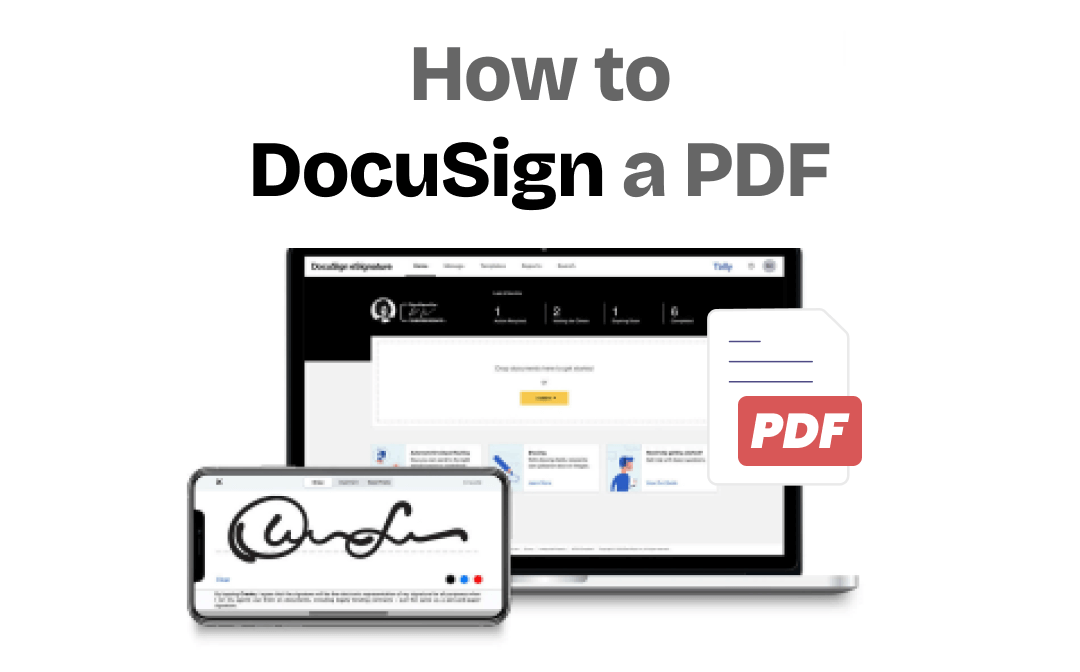 In this blog post, we'll show you how to DocuSign a PDF with all the details. By exploring these advanced features of DocuSign, you can confidently e-sign your PDFs without breaking a sweat, ensuring your PDFs are legally binding and secure. So, keep reading and find out how to DocuSign PDFs like a pro.
What Is DocuSign?
DocuSign, founded in 2003, is a popular electronic signature service and digital transaction management tool that enables you to securely e-sign, send, and manage documents. It's designed to streamline the process of creating electronic signatures for various types of documents, such as contracts, agreements, forms, etc., all becomes effortlessly. With the help of DocuSign eSignature, you can upload documents in formats such as Word, PDF, and other common formats and e-sign them seamlessly.
How to Get a DocuSign Account
Before DocuSigning PDF files, you need to sign up for a DocuSign account to get access to this e-signer. Check the step-by-step guide below:
Step 1. Navigate to the official website of DocuSign and select Electronic Signature in Products.
Step 2. Start the signing-up process by tapping TRY FOR FREE.
Step 3. Input your email address. Check the verification code sent to your email and type it in DocuSign. Then, set a password.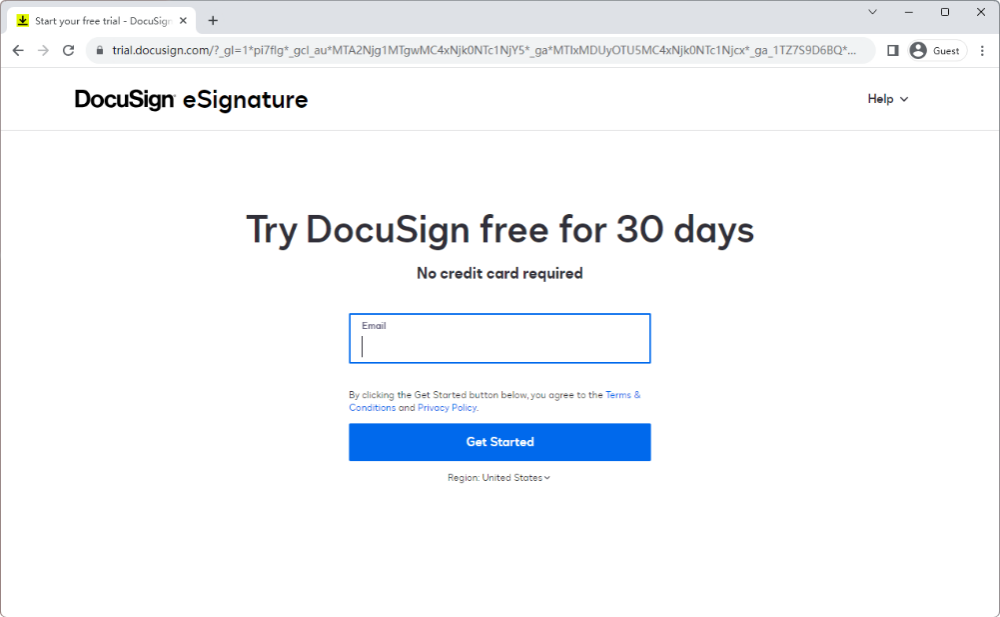 Step 4. Enter your basic information to get started, including first name, last name, phone number, industry, etc. This tool will design an electronic signature automatically.
How to DocuSign a PDF
After getting a DocuSign account, you're granted a 30-day free trial to sign documents without spending a penny. During this free trial period, you can easily get a one-stop solution to sign PDF files and send them away. Moreover, DocuSign also enables you to collaborate with colleagues and sign on the same file efficiently, which helps improve the overall efficiency of your operations.
Steps to DocuSign a PDF are available below:
Step 1. Log into your DocuSign account and tap Start to process.
Step 2. Upload the PDF file you need to sign with DocuSign.
Step 3. Enter the name and email of other recipients if others are needed to sign the same PDF. Otherwise, turn on "I'm the only signer."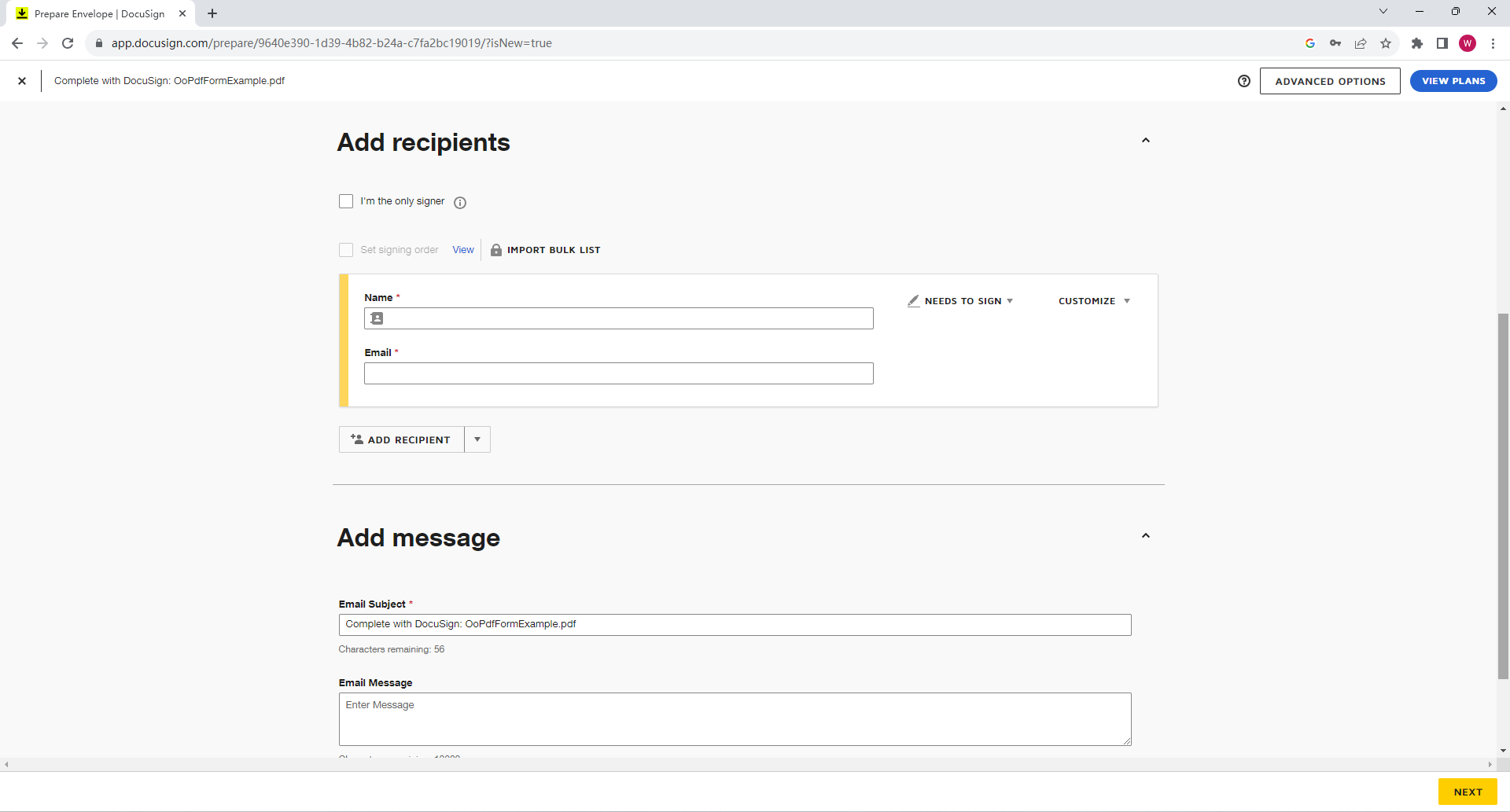 Step 4. Write an email subject and message for this signed PDF. Then click SIGN.
Step 5. From the left pane, click Signature, select your e-signature, and place it in your PDF.
Step 6. You may adjust the size of the signature. After setting, tap FINISH to apply your changes. Then, enter an email address to send the signed PDF away.
Key Features and Functions of DocuSign:
Electronic Signatures: No matter where are you, DocuSign enables you to electronically sign documents effortlessly. And these electronic signatures designed by DocuSign are legally recognized in many countries, making it a convenient and efficient alternative to traditional paper-based signings.
Document Preparation: You can upload your documents to DocuSign and prepare them for electronically signing, as well as add signing fields where needed. Furthermore, DocuSign provides templates for you to use directly.
Sharing and Tracking: Once a document is signed, you can send it to others via email on DocuSign platform. DocuSign also keeps you up to date on the status of your documents, including when they have been opened and signed.
Integration: It integrates with popular online services such as Microsoft Office, Google Workspace, Salesforce, etc., making it easy to incorporate your files online.
Compliance: DocuSign is designed to meet various compliance and regulatory standards, including the US ESIGN Act and the European Union's eIDAS regulation.
Security: To protect the integrity and confidentiality of your documents, this platform employs robust security measures, including encryption, audit trails, and tamper-evident seals.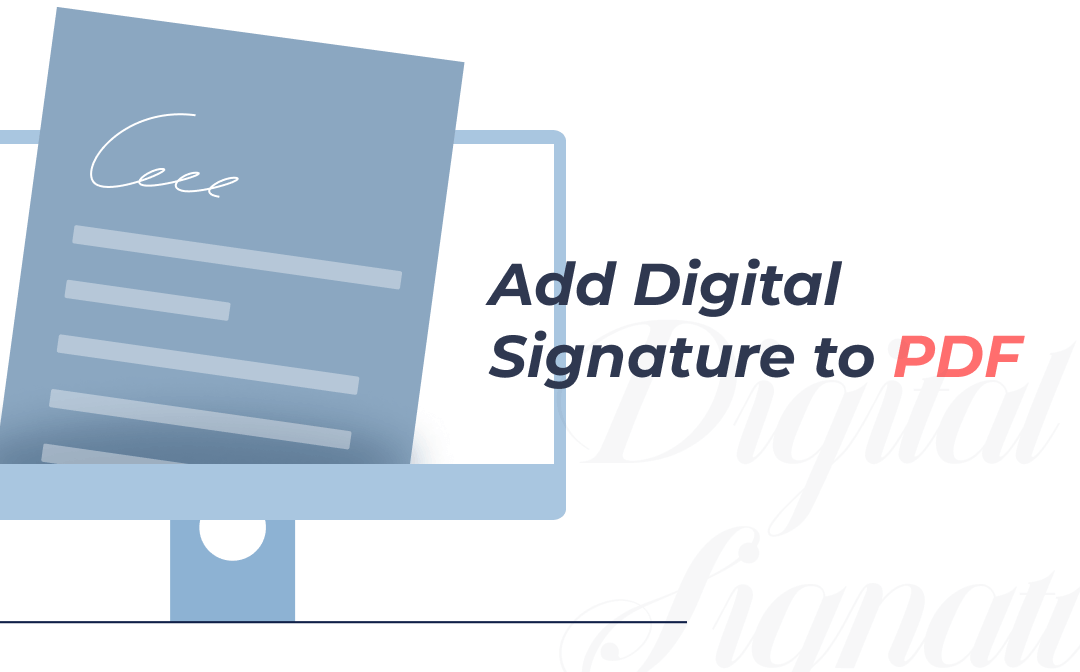 How to Digitally Sign a PDF in 3 Easy Ways
Are you troubled by not knowing how to digitally sign a PDF? This post explains to you 3 easy ways to digitally sign or add digital signatures to PDFs.
READ MORE >
Alternatives to DocuSign PDF Files
In addition to DocuSign PDF, we have a better option for e-signing PDF files: using SwifDoo PDF. It's a desktop PDF editor that enables you to insert electronic signatures effortlessly. Without any fancy bells and whistles, SwifDoo PDF just does its core job fine. You can find all the tools you need to edit PDFs. These tools are well sorted into eight main tabs, and other specific features are classified into these buttons. With the help of SwifDoo PDF, you can easily design unique e-signatures and sign PDFs safely.
Here's how you can electronically sign PDFs for free with the DocuSign alternative:
Step 1. Free download and install SwifDoo PDF on your PC. Then sign up for a 15-day free trial.
Step 2. Open the PDF file you need to sign and click Protect on the top navigation bar.
Step 3. Click Signature > Create New Signature.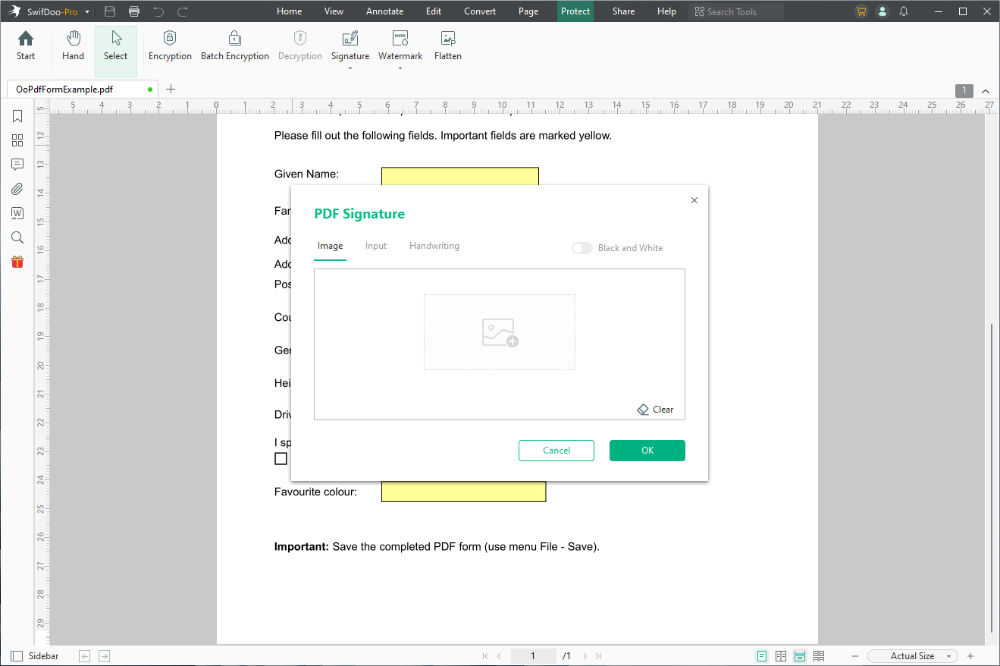 Step 4. Place your e-signature anywhere in your PDF file. SwifDoo PDF will keep all the signatures you've used, making it convenient to sign other PDF files directly next time.
Tips:
Three methods are available to create electronic signatures in SwifDoo PDF: uploading an image, inputting with the keyboard, and handwriting. Feel free to select one according to your requirements.
Conclusion
This blog post offers you a detailed guide for exploring how to DocuSign a PDF. From signing up for a DocuSign account to sending signed PDFs away, we've also got you covered. Electronically signed PDFs has many benefits, reducing paper use, boosting productivity, and streamlining workflow. Throw out your pen and e-sign your files now! Don't forget to try SwifDoo PDF, which is considered a strong alternative to DocuSign when signing PDF files. It has a more intuitive interface and is easy to use. Free download it now!