Introduction:
As remote working has become the new normal, many businesses have started to include accelerating digitization in their growth plans. The use of digital signatures is one of the steppingstones toward that goal. Formerly, we used to sign a document with handwritten signatures but now sign with digital signatures. When you add a digital signature to a PDF, you approve and digitally sign the file. Digital signatures decrease our dependency on paper and optimize the workflow. Do you want to learn how to digitally sign a PDF?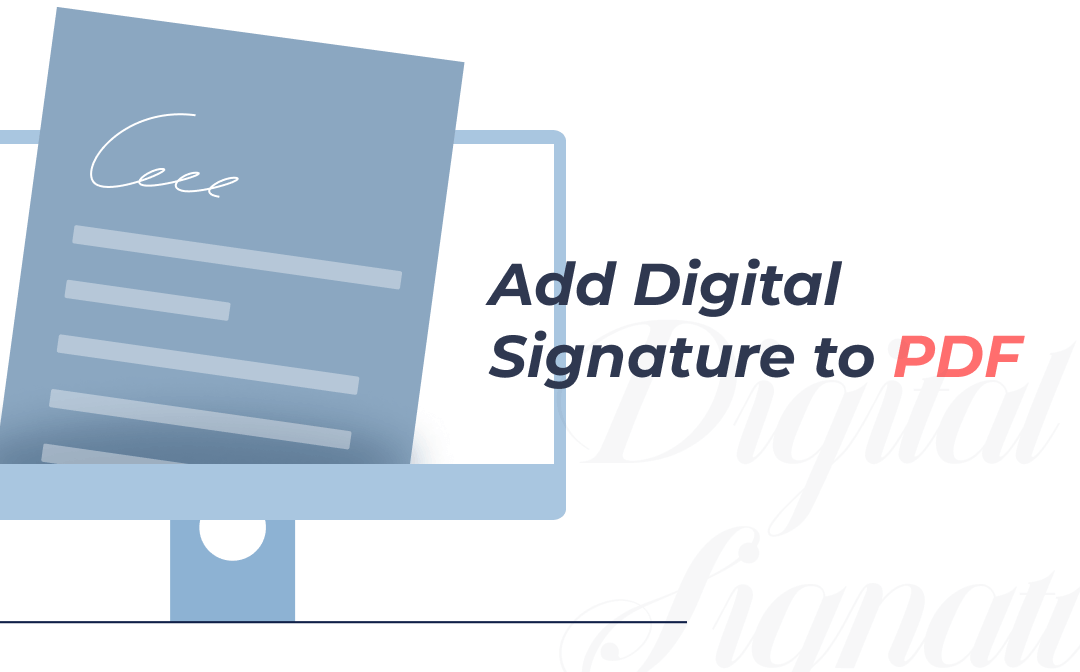 Commonly we electronically sign a PDF by placing our name or the scanned image of the signature on it but digitally signing a PDF is more than that. A digital signature is our unique identity that can be validated to protect the information in the document.
This post introduces to you how to digitally sign a PDF in 3 different ways and some knowledge of digital signatures.
What Is a Digital Signature and How Does It Work?
A digital signature is a particular type of electronic signature. Both signatures are as legally binding as a handwritten signature in many countries, but the digital signature offers more security for documents. When you add digital signatures to PDF, Public Key Infrastructure (PKI) technology is used for identity encryption and future authentication.
Specifically, when we digitally sign a PDF, a digital signature is created with a unique identity and encrypted with a private key. Once the receivers have opened the file in the PDF software, they can decrypt the signature using the signer's public key, authenticating the signer's identity and verifying the transferred document is not tampered with.
After a simple introduction to digital signature and how it works, let's go into the details about how to digitally sign a PDF.
How to Digitally Sign a PDF with Adobe Acrobat Reader DC
Creating a digital signature in Adobe Acrobat Reader DC is a piece of cake. The software enables users to add digital signatures to PDF with date and time stamps. Developed by Adobe Inc., the inventor of Portable Document Format (PDF), Adobe Reader comes with a series of essential features that let you view, comment, sign, share, and print PDF documents for free. The freeware is currently available on Windows, macOS, iOS, and Android.
Here is a look at how to digitally sign a PDF with Adobe Acrobat on Windows and Mac.
Step 1: Launch Adobe Reader and go to File > Open to open your PDF document;
Step 2: Tap Tools on the top and navigate to Certificates;
Step 3: Click Digitally Sign, hit OK, and use your cursor to drag and draw a rectangle area where you want to sign the PDF digitally with your signature;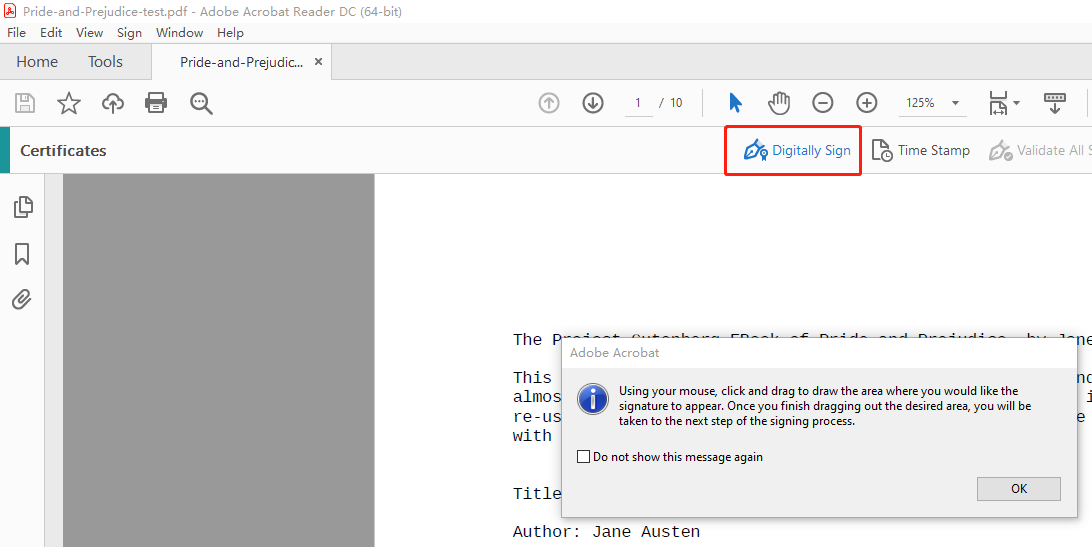 Step 4: Select Create a new Digital ID in the pop-up dialogue box, click Continue, then choose Save to File > Continue in the new window;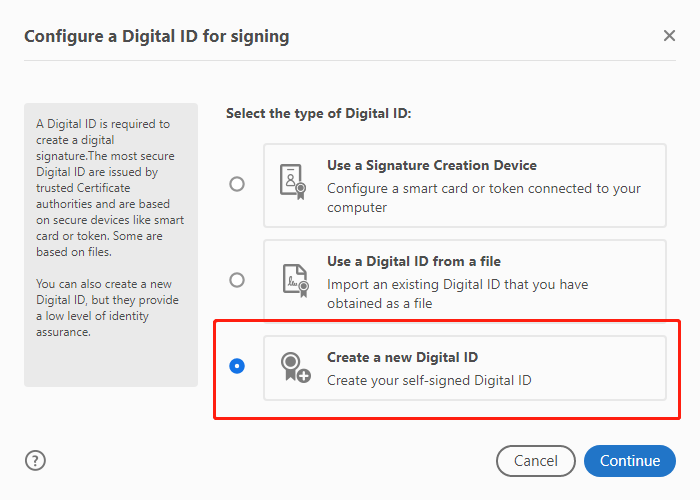 Step 5: Enter your name, email address, and other identity information to create the digital ID. You can decide whether to use the ID for digital signatures or data encryption, or both;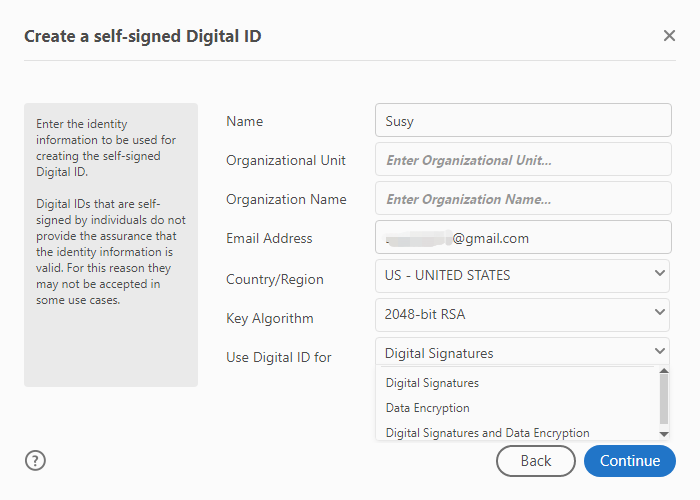 Step 6: Select a location on your computer to save the digital ID, set a protection password for it, and tap Save;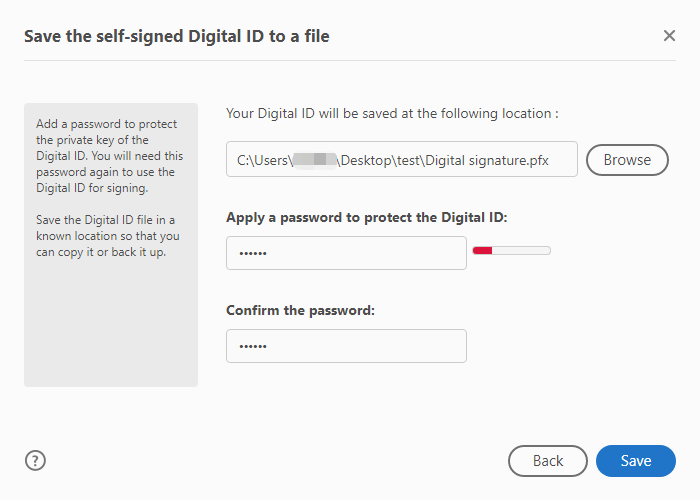 Step 7: Choose the digital ID you want to use, enter the password, click Continue > Sign and select a folder to digitally sign your PDF.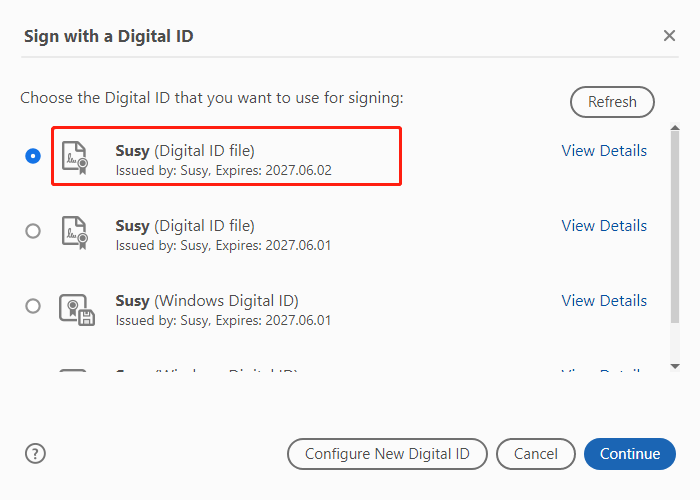 In terms of how to digitally sign a PDF or add digital signatures to PDF, Adobe Acrobat Reader provides users with three options. In addition to creating a self-signed digital ID, you can use a saved digital ID file (denoted by the extension .pfx on Windows and .p12 on Mac OS) or a certificate stored on your smart card or USB token. The latter is ordered from Certificate Authority.
Once you have digitally signed a PDF and sent it to someone, the recipient can open the file and click the signature to validate the identity of the signer and the integral of the document. Adobe Reader or some similar applications enable you to validate digital signatures.
Tips:
After knowing how to digitally sign a PDF, you may wish to learn how to
remove the signatures
with ease. The method is to right-click on signature fields and select "Clear Signature" to remove digital signatures from PDF.
When needed, you can use Adobe Reader's "Fill & Sign" feature to add electronic signatures to a PDF document. The Adobe Sign mobile app helps add signatures to PDFs on iPhone and Android devices.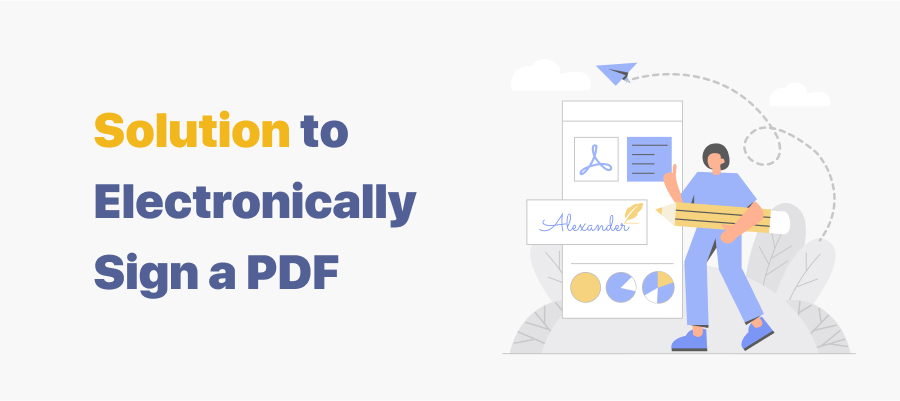 Two Methods to Electronically Sign a PDF [Online & Desktop]
E-signature is accepted by more people because it simplifies signing process. Read this article to know how to electronically sign a PDF.
READ MORE >
Digitally Sign PDF Documents with Nitro PDF Pro
Nitro PDF Pro is a PDF tool popular with small businesses and individuals. Its rich features allow you to create, edit, convert, secure, sign, and do more with PDF files. As a digital signature creator, it lets you digitally sign a PDF with a digital ID and lock the file from being unwanted changed. Nitro Pro supports the use of PKCS#12 digital ID files and digital IDs stored in the Windows Certificate Store. The desktop software is compatible with Windows.
The following steps explain how to digitally sign a PDF with the software.
Step 1: Open your PDF file with Nitro PDF Pro, tap the Protect menu on the top, and choose Sign in the secondary toolbar;

Step 2: Hit the place where you need to add a signature, then select a signature from the Signature profiles or click Create to create a new signature;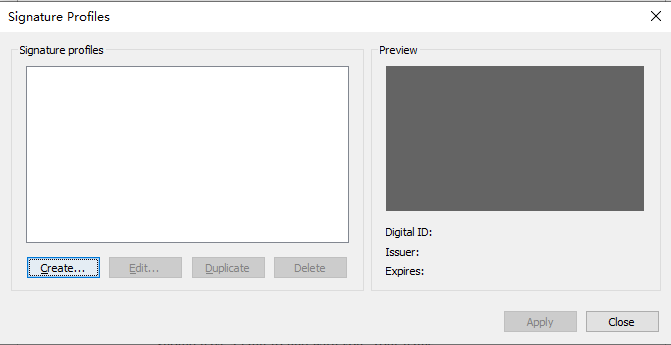 Step 3: Choose the digital ID you wish to use for digitally signing the PDF document or import an existing digital ID file. Tap Next;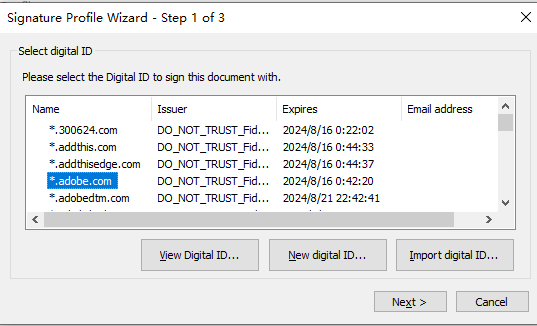 Step 4: Add more signature details and change the appearance options in the new dialogue box;
Step 5: Give a new file name and click Finish;
Step 6: Tap Apply to digitally sign your PDF.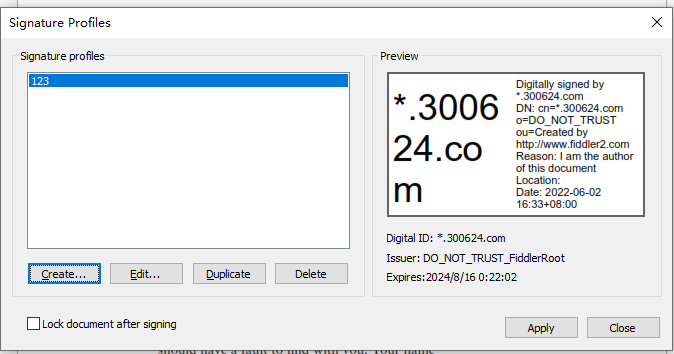 The PDF software allows you to lock the document after you digitally sign a PDF. Locking a document disables the features that can alter the document, such as editing, annotating, and form filling.
To validate the digital signatures you have added to the PDF, open the file in Nitro PDF Pro, Adobe Reader, or other PDF software and click on the signatures. Usually, most programs will automatically validate or prompt you to verify the digital signatures once you have opened the PDF.
How to Sign a PDF File Digitally with JSignPdf
JSignPdf is a small, neat, and free application that enables you to digitally sign PDF documents on Windows, Mac, and Linux. It supports certificates stored in Windows Key Store or digital ID files in JKS or PKCS#12 formats. To sign a document with the certificates, you must enter the correct passwords. You can add your name, an image with a description, or other information to the signature. Find out how to digitally sign a PDF file using this tool.
Step 1: Open the application, select what digital ID you want to use from the Keystore type drop-down menu, then choose the PDF file you wish to sign and where to save it;

Step 2: Tick the Advanced view checkbox to show its advanced interface. You can set the options to encrypt the signature, lock the PDF, and more;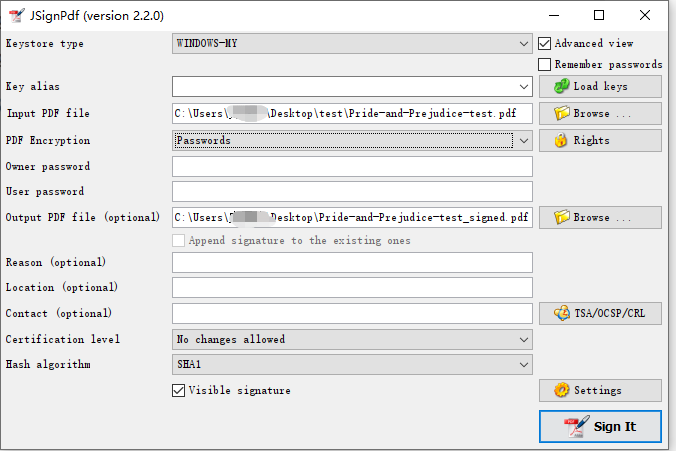 Step 3: Check the Visible signature box and click Settings;
Step 4: Change the signature settings to determine where to place the digital signature, and how it appears, then hit Close;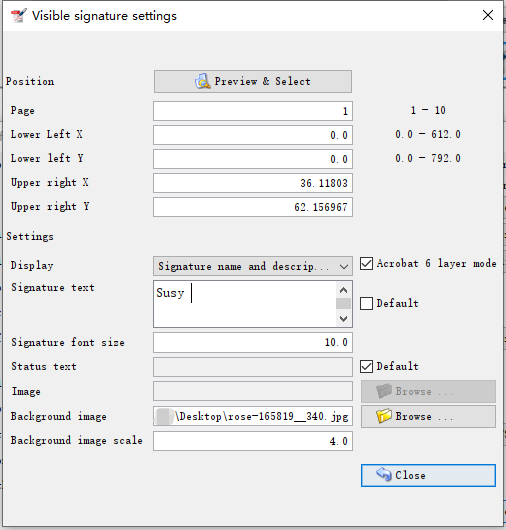 Step 5: Tap Sign it and close the pop-up window.
If you want to learn how to digitally sign a PDF without Adobe, this tool and method come in handy. When you set the appearance of digital signatures, you can preview the scale and location of the signatures. The entire process of digitally signing a PDF document takes just a few seconds using the program.
Conclusion
The digital signature makers in this post let you easily add digital signatures to PDF documents or perform other complicated tasks. Medium and large enterprises can apply for and purchase digital certificates from Certificate Authority (CA) to digitally sign their files. Small businesses may use self-signed digital IDs or certificates. The signature creation tools allow you to remove digital signatures from PDFs when you don't need them anymore.
To add regular electronic signatures to PDF, SwifDoo PDF is a great option. Understand your needs well and choose the right tools and methods.
Frequently Asked Questions about How to Digitally Sign a PDF
Why can't I digitally sign a PDF?
If you fail to add digital signatures to a PDF, the reason may be that the document has some permission restrictions and is protected from being signed. You can decrypt the PDF with the permission password to allow signing. Besides, make sure you have updated to the latest software version for digitally signing your PDF.