People that create online courses, resumes, ebooks or product catalogs might need to save their documents in PDF format. Creating PDFs is in great demand. That's because PDF files is a universal file type and are compatible with the vast majority of devices and software. So you can share your files without a hassle. Thankfully, it's now convenient to create PDF online with a PDF creator or maker. This article is here to show you how.
Regardless of what your document is about, you can learn how to create a PDF online for free using the 4 best online software. Detailed steps are listed for your quick start.
Create PDF Online with SwifDoo PDF Online Converter
SwifDoo PDF online converter is the first tool recommended to create PDFs online. It can create a PDF from a Word, Text, Excel, JPG, PNG, or a vector drawing file. Every day it allows you to perform free tasks. In addition to converting files to PDFs, the online converter also has tools to convert PDFs to many other formats. It converts PDF to PowerPoint, HTML, and some different Office documents.
To create a PDF online with the free converter, follow the simple steps below.
Step 1: Tap Convert PDF on the SwifDoo PDF site;
Step 2: Select a conversion option under the Convert to PDF section;
Step 3: Click Choose file to upload your document, and the converter will create a PDF instantly.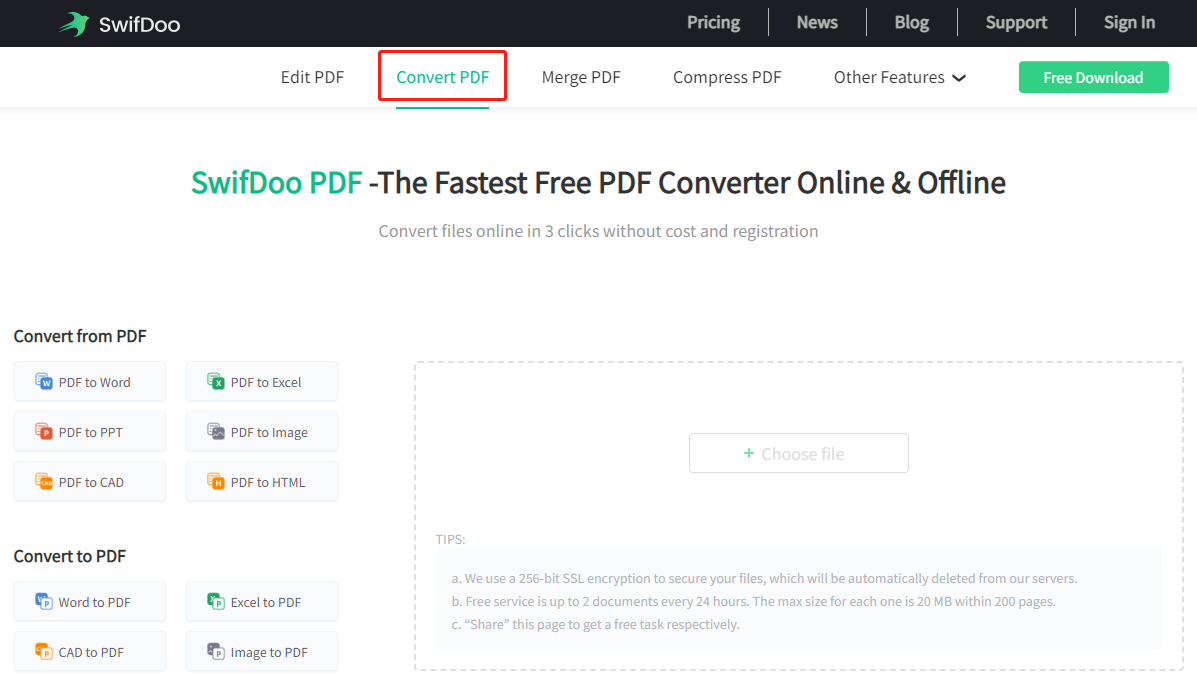 For just a few files, you can swiftly create PDFs online from them with the online PDF converter. If you have numerous documents to convert, it's recommended to turn to a desktop application. SwifDoo PDF comes with an offline desktop version. It supports batch processing while keeping the formatting and layout intact. The software offers more conversion tools to create PDFs, such as EPUB ebook to PDF, TXT to PDF and XPS to PDF converter. It's also a powerful PDF editor.
Create PDF Online with iLovePDF
One of the most popular ways to create PDFs online is to access the iLovePDF site. This online software enables you to convert JPG, Word, PowerPoint, and Excel files to PDFs and vice versa for free. It can combine multiple images into one PDF or create individual PDFs from the pictures. If you need to merge several PDF files to create a new PDF, it is at your service. The site also has PDF splitting and organizing tools.
Take a look at how the free PDF maker lets you create PDFs online in a flash.
Step 1: Get into the iLovePDF site, click CONVERT PDF and choose a PDF creation tool;

Step 2: Upload the document you wish to convert;

Step 3: Hit Convert to PDF to make a PDF, then download and save it. Repeat the steps to create all the PDFs you need.
Better yet, the software can help scan documents into PDFs.
Create PDFs Online Using Sejda
Creating PDF files can be effortlessly done with the help of Sejda. Using the software, you are able to create PDFs online from photos or Word documents for free. It empowers you to create a single PDF with multiple images and put multiple other documents (such as Word doc) into one PDF in one click. The web application converts webpages to PDFs as well. It allows 3 tasks per hour.
Check how to create a PDF document online for free with Sejda.
Step 1: Choose All Tools on the top of the PDF creating software, and navigate to CONVERT TO PDF;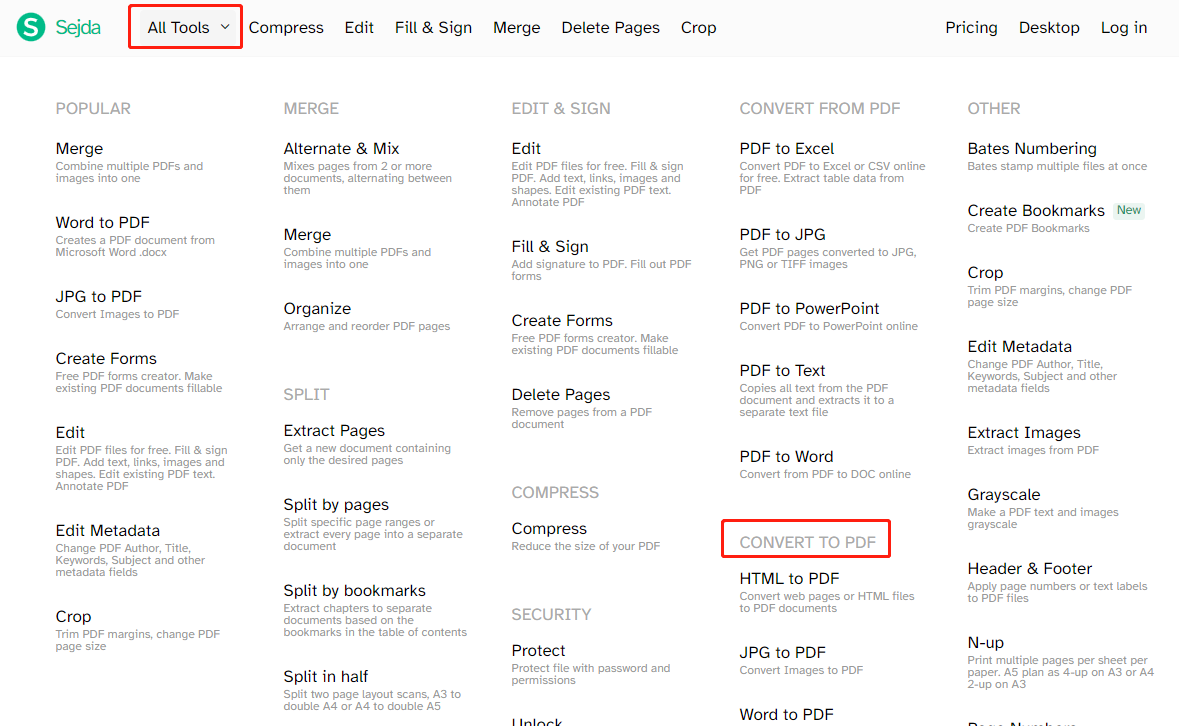 Step 2: Select the conversion option you want and upload the original file;
Step 3: Wait for the file to be converted and download the created PDF.
Sejda allows you to create a multi-page PDF from individual PDFs online for free. To do that, you should choose "Merge" on the top bar of the site. In addition, the software enables you to create fillable PDF forms online for free. The method is to go to "All Tools" > "Create Forms". Then add text fields, radio buttons, check boxes and dropdown menus to create a fillable and interactive PDF. The created PDF can be filled out with any online or offline PDF form filler.
This online software not only lets you create PDFs online but also makes editing, watermarking and signing a PDF easier than ever.
Create a PDF Online with PDF24
PDF24 is a one-stop solution to various PDF-related needs. From annotating and editing to comparing and compressing PDFs, it provides you with free service to perform all the tasks. One of its vital capabilities is to create PDFs online fast without requiring payment. It encompasses a PDF scanner for creating a PDF with a camera and can convert ODT, TXT, and EPUB to PDF.
Here is how to use the software to create PDF files online from Word, Excel, PowerPoint, images or other files.
Step 1: Navigate to PDF Converter on the site, and choose the Convert to PDF option;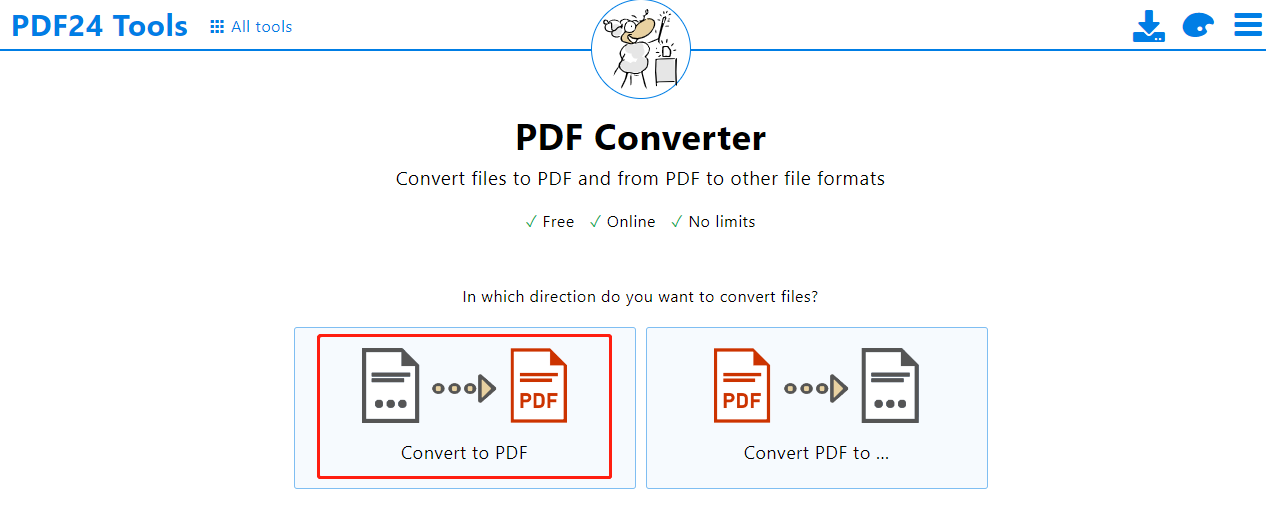 Step 2: Select files to upload, and click the Convert to PDF button to create PDFs online;
Step 3: Download the PDF files in a zip file.
PDF24 also has a PDF merger for users to create a PDF portfolio online for free.
Conclusion
Are you still troubled by not knowing which tools to take to create PDFs online? You've had the 4 best PDF creators and the step-by-step guides after reading this post. They all let you create PDF documents online for free and some have a desktop version for advanced functions. Switch these software to use to get your job accomplished without breaking a sweat.
FAQs
How do I create a PDF online in Adobe?
Adobe Acrobat online service allows you to create PDFs online for free. You can create from Word, PPT, Excel, JPG, and scanned documents. On the Acrobat online site, tap the Convert menu on the top, choose a Convert to PDF option, upload a source file and make a PDF at once. The free service only supports creating one PDF for the first time. To continue the work, you have to subscribe to its annual or monthly plan.