Introduction:
Whether giving a lecture or delivering a speech, PowerPoint is always the most preferred tool to use for presenting information. When you have a document only in PDF and want to create a presentation with it, what should you do? The easiest and best way to achieve that might be convert PDF to PowerPoint.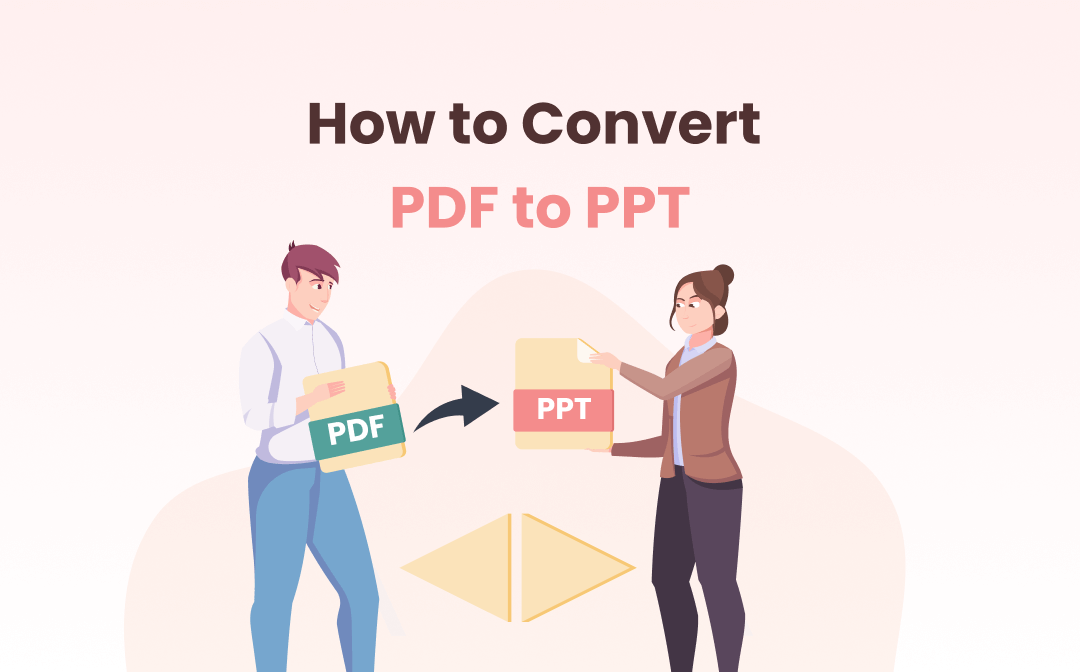 PowerPoint has two common file extensions, PPT and PPTX, in which the former is for saving presentations in PowerPoint 2003 and older versions while the latter is the default format in PowerPoint 2007 and newer versions. Based on different devices, this post provides 5 good-to-use conversion tools to explain how to convert PDF to PowerPoint (.ppt, .pptx) on PC and Mobile.
How to Convert PDF to PowerPoint PPT/PPTX on PC
Most of the time we work on a desktop computer or laptop, thus it's important to know which PDF to PPT/PPTX converters to use and the ways to convert the two formats on these devices.
Convert a PDF to a PowerPoint File on Windows
SwifDoo PDF makes PDF to PowerPoint (.pptx) conversion simple as ABC. Its powerful converter has ability to convert PDF to PPTX without changing format or losing quality. The desktop application compatible with Windows OS can also turn PDF to Excel, Word, CAD, HTML, JPG (or PNG, TIF, BMP), TXT, and vice versa.
Let's dive in to how to convert a PDF document to a PowerPoint PPTX file on PC (Window 7, Windows 10, 8, 11).
Step 1: Free download SwifDoo PDF application software on your desktop computer or laptop. Open up your PDF file with it;
Step 2: Tap on Convert on the top and select PDF to PPT in the secondary menu bar;

Step 3: Once SwifDoo PDF Converter dialog box appears, specify which pages in the PDF to be converted to slides by entering page number;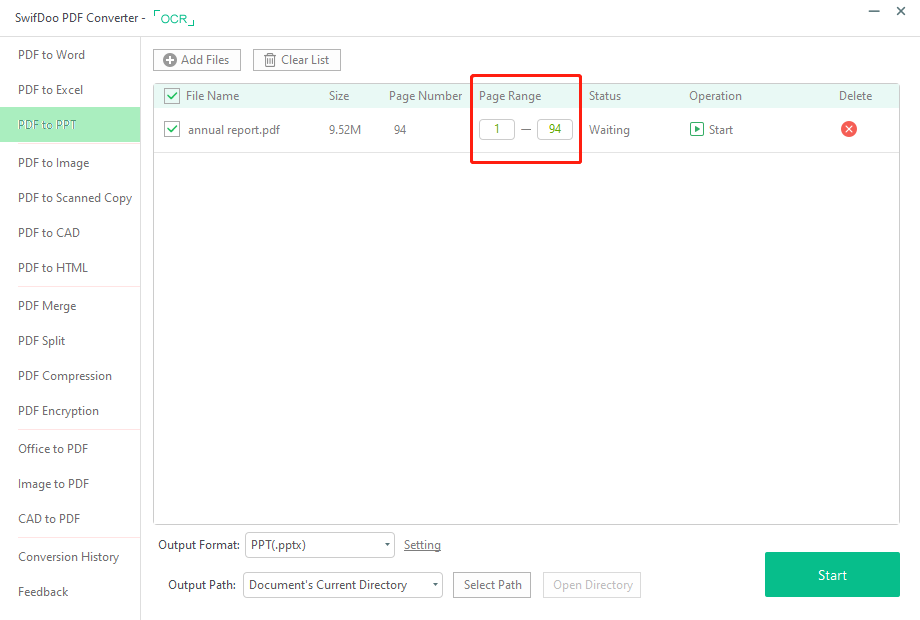 Step 4: Click Select Path at the bottom to choose a folder for saving the PPTX file. Hit Start button to convert PDF to PowerPoint.
When the conversion finished, you can open the PPTX document and adjust the appearance or add more elements to it easily.
Tips:
Additionally, by directly
copying the text and images
in a PDF to a PowerPoint file, a presentation can be created without converting the PDF. This is a viable method when you don't want to convert a PDF.
How do I convert multiple PDFs to PowerPoint files in one go?
SwifDoo PDF can convert PDF documents to PowerPoint files in batch. To do that, just click "Add Files" in the "SwifDoo PDF Converter" interface to import all the PDFs you wish to convert to PPTX slides. Alternatively, you can directly drag and drop your PDFs into the dialog box.
How do I convert a PDF to PowerPoint slides with/without OCR?
Optical Character Recognition (OCR) plays a vital role in converting a scanned PDF to an editable or searchable document. SwifDoo PDF' s OCR feature runs automatically when converting a file between two formats. Click "Setting" in the "SwifDoo PDF Converter", you can choose whether to enable OCR.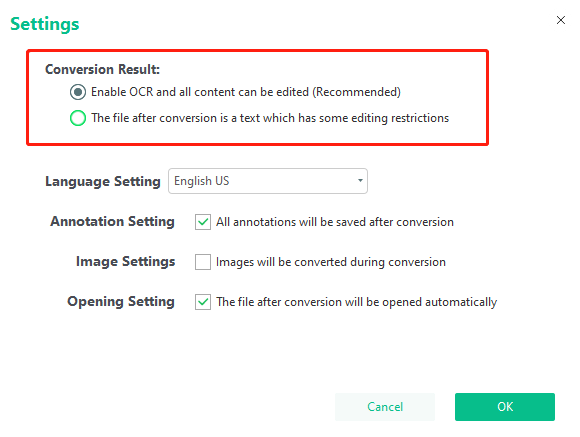 Tips:
In the "Settings" dialog box, you can choose the right language of your PDF for an accurate PDF to PPTX conversion result. The converter supports 12+ languages.
How do I convert PDFs to PowerPoint files without Email?
SwifDoo PDF provides 7-day free service for every new user without asking an email, during which you can access all features including transforming PDFs into PowerPoint files. Additionally, using an online PDF to PPT/PPTX converter introduced in the post also allows you to save PDF as PowerPoint presentations without email.
Convert a PDF to a PPT/PPTX File on Mac
Adobe Acrobat Pro DC desktop application is a good PDF to PowerPoint PPT/PPTX converter for Mac users. It transforms PDF documents into presentation files (.ppt or .pptx) without losing formatting including tables, layouts and fonts.
Furthermore, if it's not necessary to convert an entire PDF, Adobe Acrobat lets you select only specific content to export as a presentation file. Acrobat will run OCR automatically if the PDF is a scanned document.
Follow the step-by-step tutorial to change a PDF to an editable PowerPoint file on your Mac PC.
Step 1: Open a PDF you want to convert to a PowerPoint file in Adobe Acrobat;
Step 2: Choose Tools, Export PDF, then select Microsoft PowerPoint as the output format;
Step 3: Click Export, enter a file name and press Save button.
How do I convert a PDF to PowerPoint slides without Adobe Acrobat?
Though Adobe Acrobat is a front runner in PDF software industry, its high price and complex user interface may daunt you. To convert PDF to PowerPoint without Adobe Acrobat on Mac, the free online converters in the next part may come in handy.
Convert PDF to PPT/PPTX Online for Free
Zamzar
The desktop programs mentioned above can convert files from one format to another offline, but what if you want to perform conversions online? Zamzar is an ideal tool to help. This is a dedicated converter for all sorts of files including PDFs, images and e-books. Here is how to convert PDF to powerpoint (PPT or PPTX) using Zamzar without downloading software.
Step 1: Search the PDF to PPT/PPTX converter in Google Chrome or other search engine, click Add Files on the page of the online converter;
Step 2: Hit Convert To to choose the exported format as .ppt or .pptx;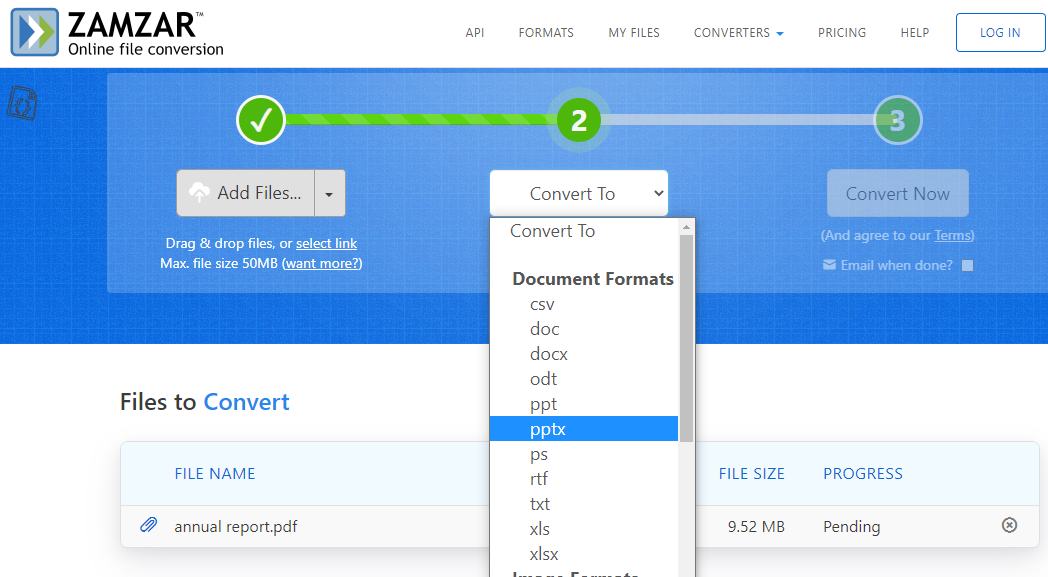 Step 3: Press Convert Now button to start the conversion.
The web-based converter lets you convert PDF to PPT or PPTX free online without email. After conversion, if you want to delete the uploaded files as soon as possible, you can submit a form to send the request. Otherwise all the files will be deleted within 7 days. The thing you should note that the free service allows converting a file up to 50Mb and maximum 2 files in 24 hour. For more conversions, go for a paid account.
convertpdftopowerpoint
To convert large and multiple PDFs to PowerPoint slideshows online for free, convertpdftopowerpoint website is useful. This PDF to PowerPoint converter has no limit on file size or conversion times. Its OCR engine will ensure high conversion quality. For file security, the web tool claims all uploaded files will be removed from their servers within six hours. Check out how to convert PDF to powerpoint.
Step 1: Click UPLOAD to upload a PDF file from your computer, Google Drive, Dropbox or OneDrive;

Step 2: Once the PDF is in the workspace, the online converter starts changing it to a PowerPoint (.pptx) file automatically. Press Free Download button to save the presentation.
Using the two online converters along with SwifDoo PDF and Acrobat, you are able to turn a PDF into a PowerPoint (.ppt or .pptx) document effortlessly on a laptop or desktop computer. Next, we will walk you through how to convert PDF to PowerPoint on mobile.
How to Convert PDF to PowerPoint on Mobile
Apowersoft PDF Converter is a cross-platform app that can convert a PDF or multiple PDFs to editable PowerPoint slides on an Android mobile phone. All the formatting will remain the same largely. Take a look at how to transfer PDFs to PowerPoint presentations on the go.
Step 1: Free download and install the PDF to PPT converter on your Android mobile;
Step 2: Launch the app, choose PDF to PPT, and import your PDF files;
Step 3: Click Convert to convert PDF to PowerPoint.
Which App or Software is Best for Converting PDF to PowerPoint?
The best app or software for converting PDF to PowerPoint is the one that fits your needs most. If you only deal with PDF files occasionally, the online converters can fully satisfy you.
But for frequent and high quality PDF to PowerPoint conversions, or converting large PDF files to PPT/PPTX presentations, we would recommend you to employ a desktop software product which is far more powerful, efficient and versatile than online tools.
Why SwifDoo PDF?
With the leading conversion technology of SwifDoo PDF, your PDF files can be swiftly converted to PowerPoint slides, or other types of files without losing overall formatting.
As a comprehensive application, SwifDooPDF can compress, split, edit, and do more with PDFs.
Much more cost effective than many other PDF editors, SwifDoo PDF allows annual and perpetual users to run the application on 2 Windows PCs/laptops simultaneously,and the subscription cost is affordable.