Introduction:
Those of you working with Office software may be very aware of Microsoft Word, but do you know many other word processors, such as
OpenOffice Writer, LibreOffice Writer, and iWork Pages
? Different from DOC or DOCX, some of these programs create files in ODT format. When you receive this type of file from others and need to share it in PDF format, how can you
convert ODT to PDF
?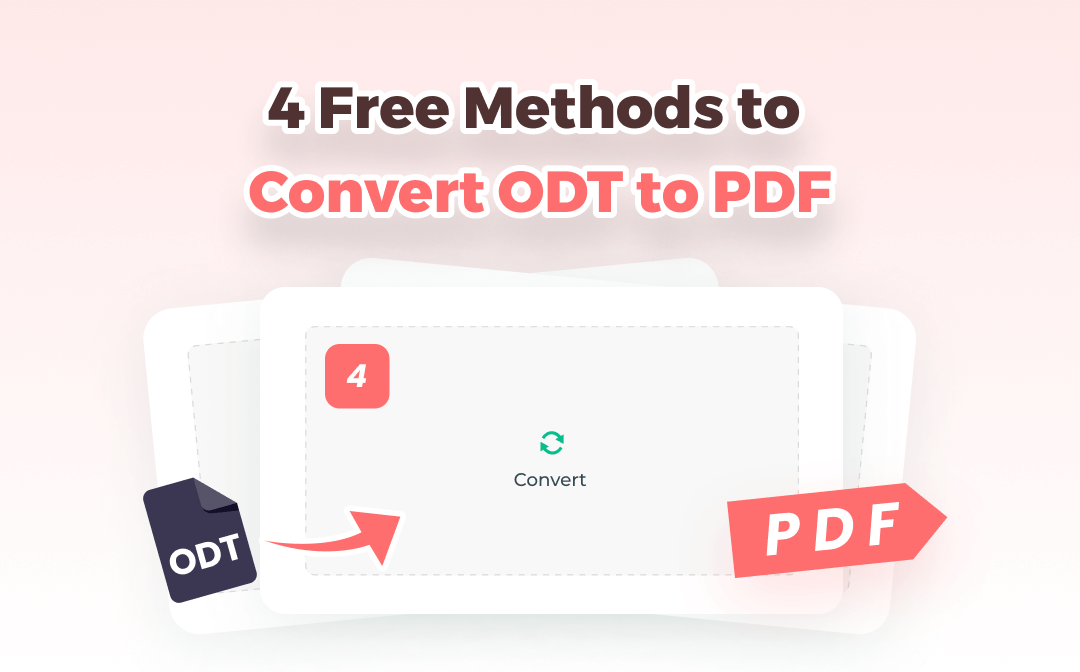 Thanks to modern technology, we now can easily convert one file format to another with software like SwifDoo PDF. This post will cover 4 different ways for free ODT to PDF conversion, including using word processing applications and online converters.
What Is ODT and an ODT File?
Before diving into how to convert ODT to PDF, let's take a quick look at what ODT and an ODT file are.
ODT is a format of OpenDocument files, which is similar to Doc and Docx and typically created in a word processor like OpenOffice Writer. There are some other formats used for OpenDocument files such as ODS, ODP, and ODG.
An ODT file may include text, images, and pages like a Word file does and can be opened and saved in Word and some other office suites.
Why Convert ODT to PDF
Portable Document Format (PDF), as the name suggests, is a format used to conveniently read, share and print files. According to the 2015 PDF Technical Conference, there might be more than 2.5 trillion PDF documents created every year. In the modern era, PDFs have been an indispensable part of virtually every industry and business. Here are 3 main reasons why we need to convert ODT to PDF.
Whether the ODT or Word files, when you send them across different application software or OS, the formatting and layout may differ, which will never happen to PDF documents.
After converting ODT to PDF, you or your co-workers can view the file through most platforms and browsers without the need to install a dedicated reader, which contributes a lot to team collaboration.
PDFs are more preferred than other types of files inbusiness world. The vast quantity of documents such as resumes, invoices, and contracts are in PDF format.
Convert ODT to PDF with Free or Open Source Software
Apache OpenOffice Writer
Since OpenOffice Writer can produce files in ODT format, you may already have guessed that it can export ODT as PDF just like Microsoft Word can save Word as PDF. This word processor, a component of Apache OpenOffice software suite, is free software and compatible with all common operating systems including Windows, macOS, and Linux. To convert ODT to PDF with the program, all you need is to download it and follow the steps below.
Step 1: Launch the program, go to File, and Open to open your .odt text file with it;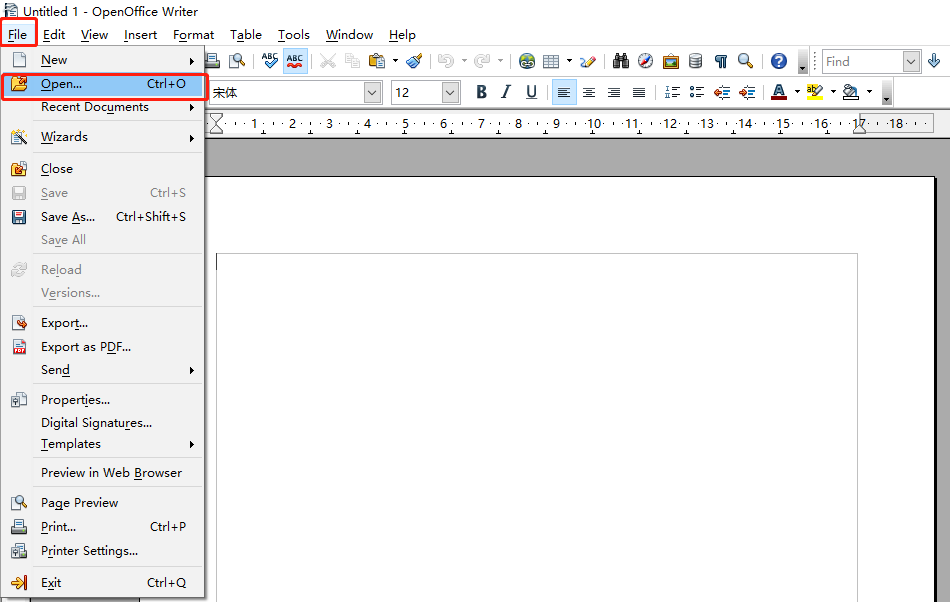 Step 2: Tap File again and choose Export as PDF;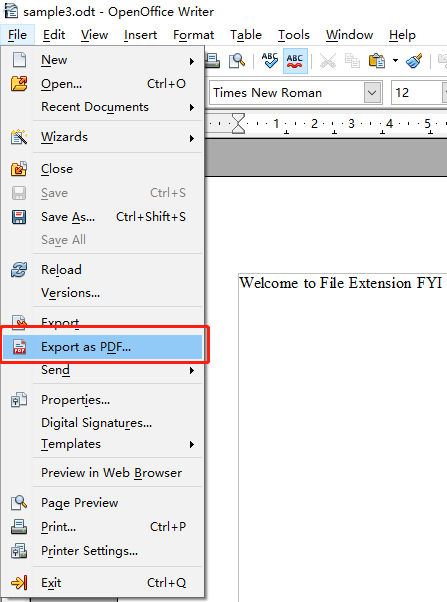 Step 3: In the pop-up PDF Options dialog box, select which pages to be exported, choose the image quality, and change other settings as needed;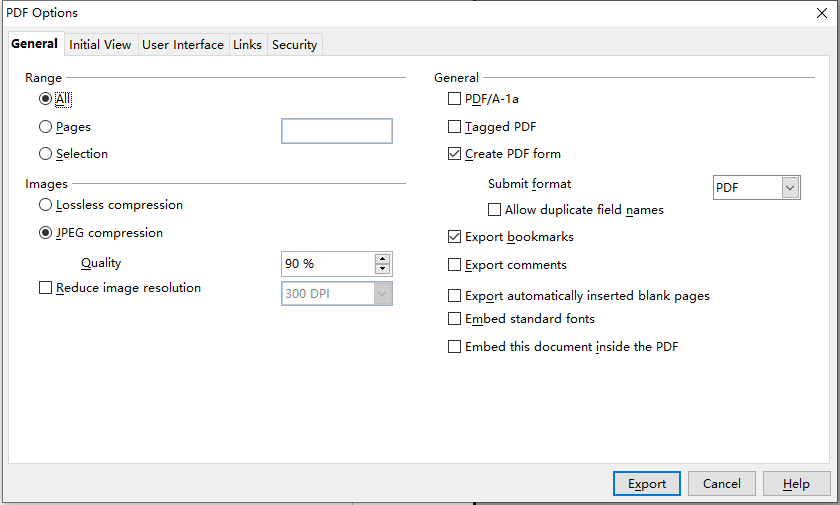 Step 4: Hit Export, enter a file name and then click Save to export the file from ODT to PDF.
When necessary, click "Security", "Links", or another option within the "PDF Options" dialog box to set a password for the PDF, and do more with it.
LibreOffice Writer
The free and open-source word processing software, LibreOffice Writer can act as an ODT to PDF converter. It is available on Linux, Mac OS X, Windows, FreeBSD, and some other OS, and can open and save files in many formats such as OpenDocument, DOC, and DOCX. Let's see how the Writer gets ODT to PDF conversion done.
Step 1: Right-click on your ODT file and choose Open with, LibreOffice Writer;
Step 2: Tap File in the top left corner, choose Export As and Export as PDF;
Step 3: Specify which pages you want to convert to PDF, choose whether to compress images or sign the PDF with a watermark;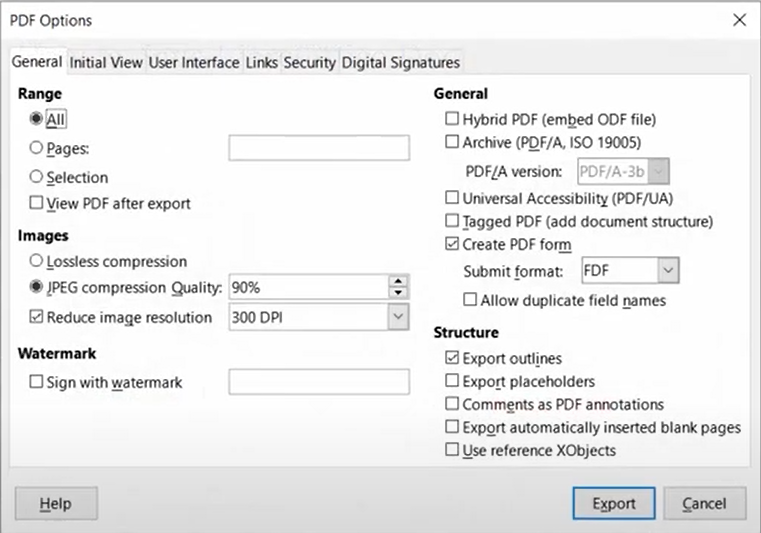 Step 4: Set other options as you like, such as adding a signature and password to the PDF. Click Export to save the ODT file as a PDF file.
Convert ODT to PDF with Google Docs
If you don't intend to install any desktop application on your computer, Google Drive enables you to convert an ODT file to a PDF through a web browser with its web-based document management application, Google Docs. Check out how to make an ODT file a PDF.
Step 1: Log into your Drive account in Chrome or any other browser, click New and File upload to upload your ODT file;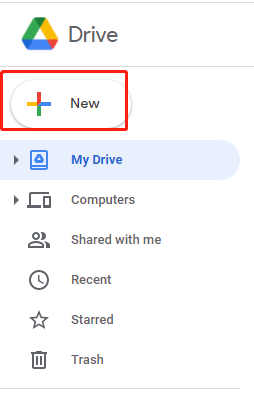 Step 2: Double click the uploaded ODT document, tap Open with on the top and choose Google Docs;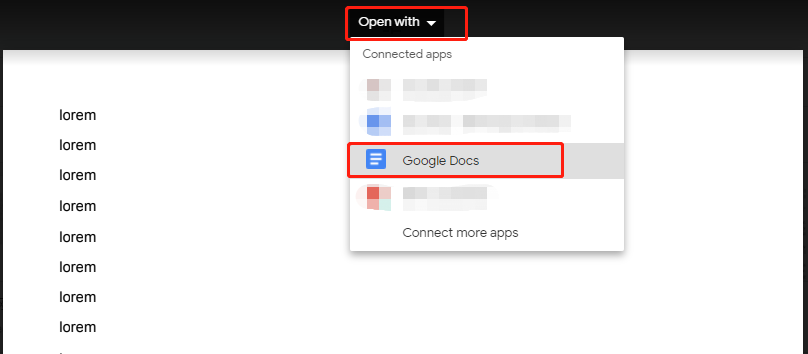 Step 3: Go to File in the top right corner, select Download, and then PDF Document to change the ODT to PDF format.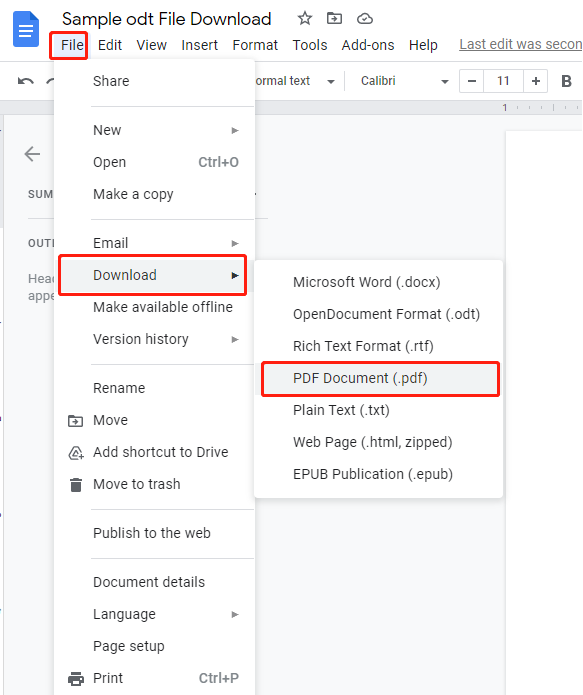 Once Google Docs converts the ODT file to a PDF, the PDF file will be automatically downloaded in the browser, and you can click to view or save it.
Convert ODT to PDF with Online Converter
Speaking of ODT to PDF conversion, an online converter like CloudConvert is recommended. It allows you to batch convert multiple ODT documents to PDFs at once via a browser. All you need is a good network connection.
Step 1: Search and access the ODT to PDF converter on the Internet. Click Select File on the home page to upload the ODT file you need to change to PDF;
Step 2: Tap the drop-down arrow to select the output format as PDF;
Step 3: Press Convert button to convert ODT to PDF.

If needed, you can click the wrench icon to enter the pages you need to change from ODT to PDF and use an open password to protect the PDF file.
Conclusion
With all the aforementioned ODT to PDF converters and word processors, it is no longer a hassle to convert ODT files to PDF documents for free. Users can choose their favorite method to address the problem.
If the need arises, you can also convert PDF to image (JPG, PNG), Excel, Word, and many other formats, and vice versa, or edit and annotate PDFs with software like SwifDoo PDF. That's all thanks to the technological development in the document management industry. In summary, never refuse to employ a productivity tool to streamline your workflow.